Warm Cinnamon Apple Chips
These Warm Cinnamon Apple Chips were a crazy favourite of mine and are so easy to make!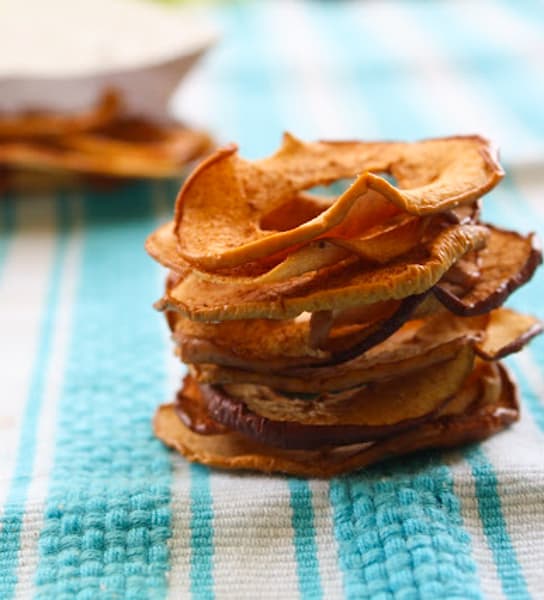 If I had a list of "snacks I'm not sorry I fell in love with" these Warm Cinnamon Apple Chips would be on it. Definitely near the top.
I've seen apple chips before and always thought it was a good idea but never tried it out. Then today, I grabbed 5 small apples aka about 2 1/2 regular sized apples, cored, sliced and just went at it!
Several slices and two filled baking trays later, I had my snack. Fast forward two and a half hours later, plus ten minutes cooling time…OKAY I opened the oven several times to "taste" the apples to ensure they were "baking correctly"…they're covered in cinnamon do you blame me? They take forever to bake at a low temperature so that they crisp up but don't burn; don't do this if you don't have 2 hours and patience!
Anyway, they are DELICIOUS. They become much crunchier once they've come out of the oven and the flavour..wow.
Yay Happy Healthy!! I'm enjoying Health Month at Jessiker Bakes.
Best Part? 1/4 cup of these babies is only 40 calories. BAM! 1 cup of chips later I was full, happy and still healthy.
Pfft. I didn't like potato chips anyway! Kinda…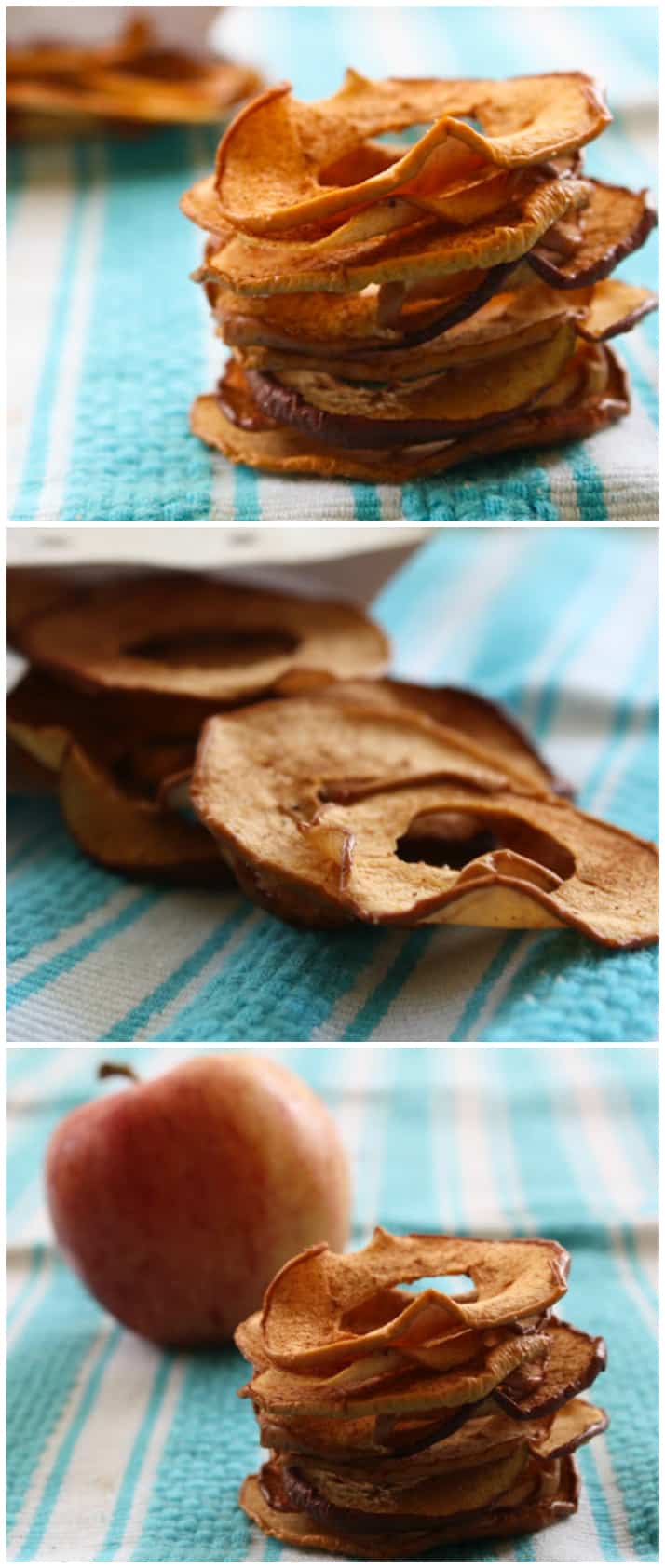 If you enjoyed these apple chips, then you'll definitely enjoy these Baked Sweet Potato Chips!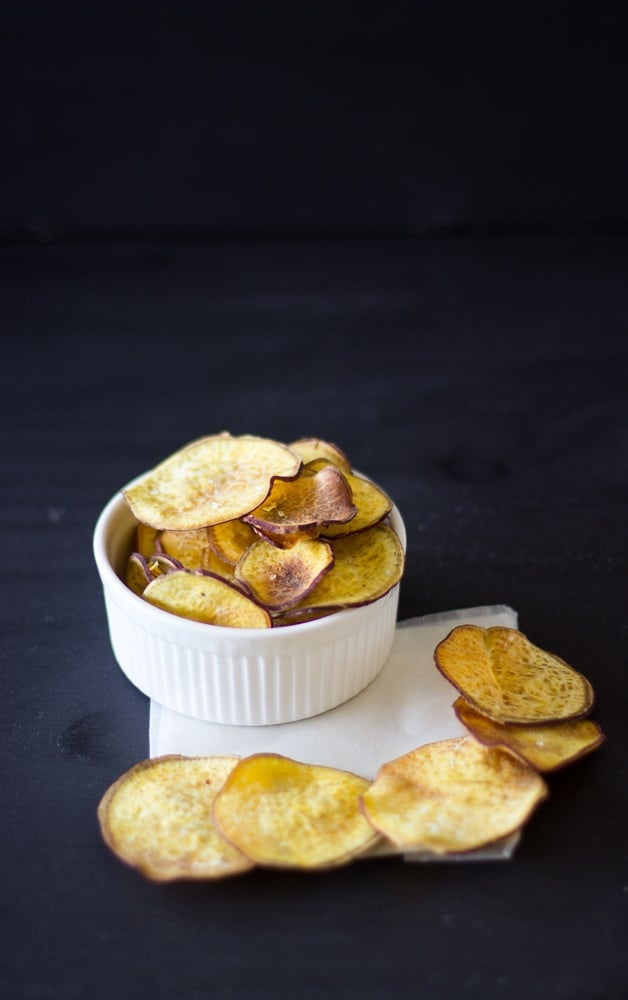 Or these Kale Chips, Three Different Ways!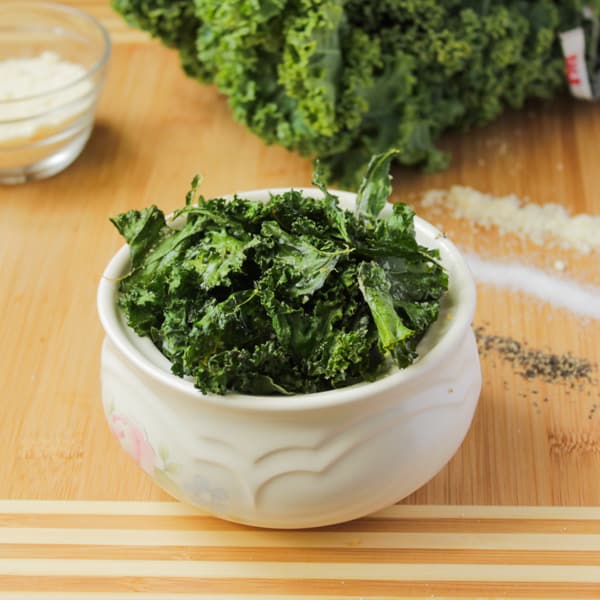 Go ahead and check out all my snack recipes!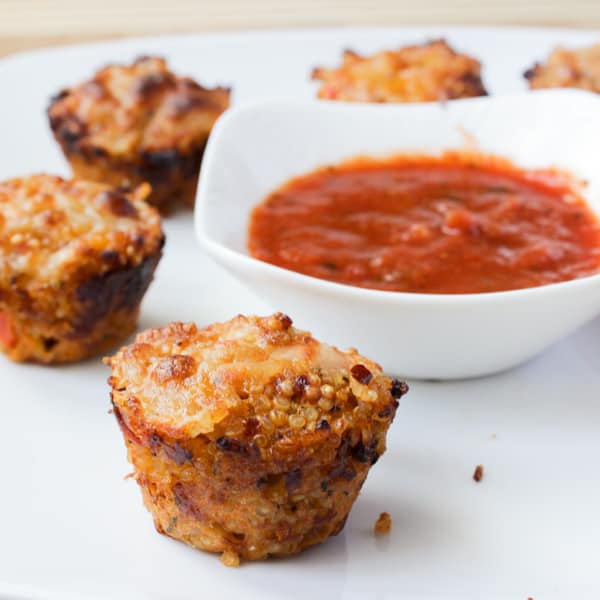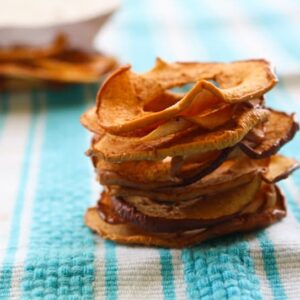 Warm Cinnamon Apple Chips
These Warm Cinnamon Apple Chips were a crazy favourite of mine and are so easy to make!
Ingredients
5 apples
2 teaspoons cinnamon
3 teaspoons brown sugar
Instructions
Preheat oven to 200 degrees fahrenheit.

Thinly slice apples with a mandoline. On a greased baking sheet, Arrange apple slices so they aren't overlapping.

In small bowl, combine sugar and cinnamon. Sprinkle on top of apple chips.

Bake on the top rack of your oven for 2 hours until chips are dry and crisp.

Remove from oven and let them cool completely. Store in a zipped plastic bag for up to 3 days to stay crispy.
Notes
Warm Cinnamon Apple Chips
Calories: 264kcal, Carbohydrates: 70g, Protein: 1g, Fat: 1g, Saturated Fat: 1g, Sodium: 6mg, Potassium: 487mg, Fiber: 12g, Sugar: 53g, Vitamin A: 246IU, Vitamin C: 21mg, Calcium: 47mg, Iron: 1mg
Disclaimer: Although jessicainthekitchen.com attempts to provide accurate nutritional information, kindly note that these are only estimates. Nutritional information may be affected based on the product type, the brand that was purchased, and in other unforeseeable ways. Jessicainthekitchen.com will not be held liable for any loss or damage resulting for your reliance on nutritional information. If you need to follow a specific caloric regimen, please consult your doctor first.