Mini Baileys Cheesecakes
Creamy and boozy Mini Baileys Cheesecakes topped with drizzled chocolate and whipped cream.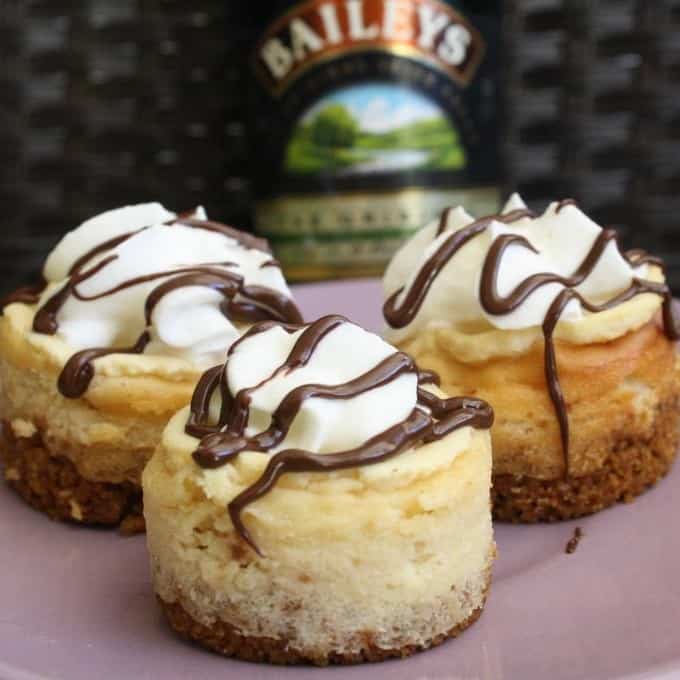 If I had to name a cheesecake I've had the most, it would be Baileys cheesecake.
I don't think it's possible to express how much I love Baileys cheesecake. Apart from the creamy but firm texture of cheesecake you have that lovely boozy taste of Baileys. That's why I love this cute miniature version – mini baileys cheesecakes!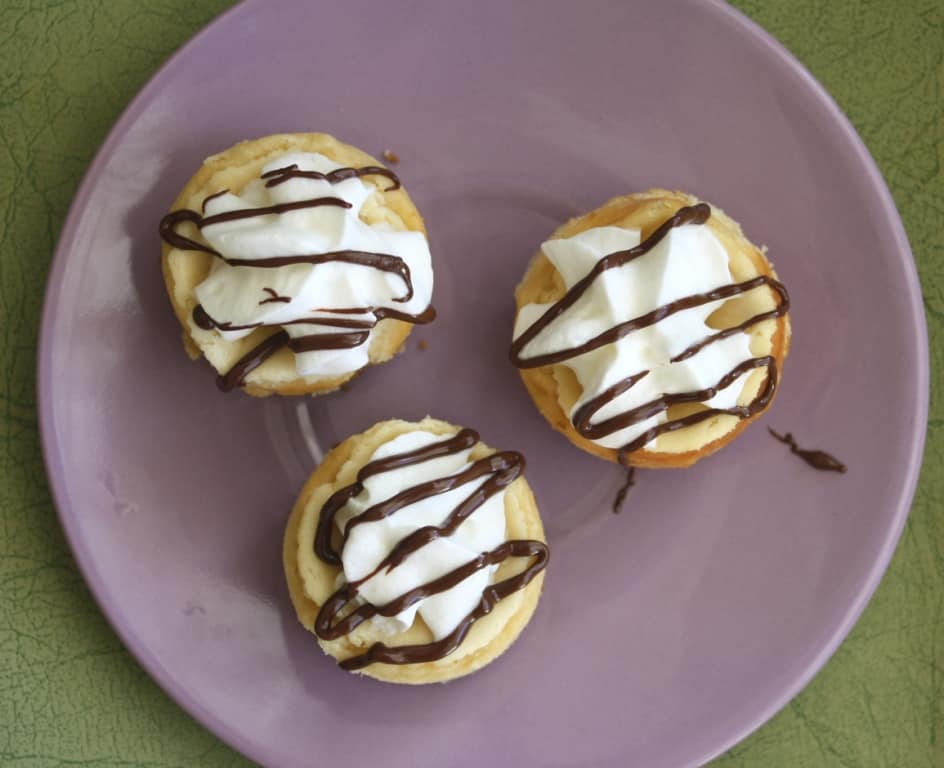 Ah, Baileys.
If you haven't tasted Baileys you really need to. It's an Irish whiskey cream that is in itself creamy and sweet but not too sweet. Personally speaking, it's my favourite liqueur but I am looking to try out some more.
Godiva chocolate liqueur anyone?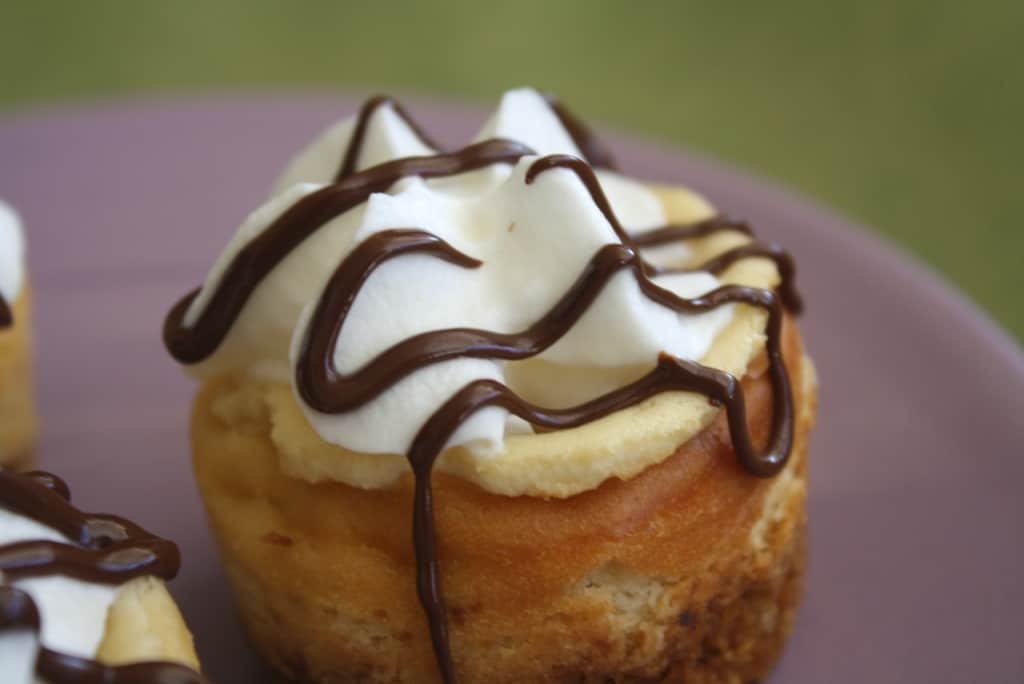 These Mini Baileys Cheesecakes are delicious. They are all the glory of a regular-sized cheesecake minus the calories. And the time! I topped mine with whipped cream and chocolate but you could use dulce de leche, caramel or even frosting which all go well with them. Now, if you'd excuse me, I need to go back to testing these out…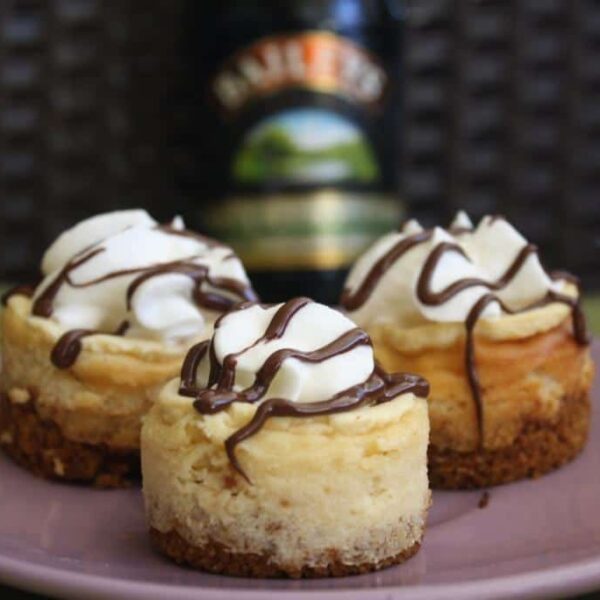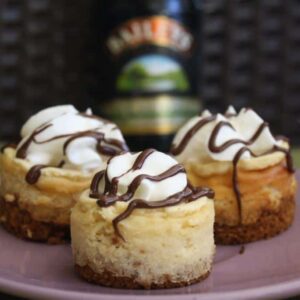 Mini Baileys Cheesecakes
Creamy and boozy Mini Baileys Cheesecakes topped with drizzled chocolate and whipped cream.
Ingredients
Ingredients for the base ::
1 cup graham cracker crumbs
3 tbsp of melted butter
2 tsp sugar, mixed in afterwards
Ingredients for the filling ::
1 packet, 8oz cream cheese
2 tbsp of heavy cream
2 eggs
1/3 cup sugar
1/4 cup Baileys
Instructions
Preheat oven to 350 degrees F.

In a food processor, mix graham cracker crumbs, sugar and melted butter until well combined.. Divide crumb mixture evenly between the mini cheesecake pan's 12 slots.

Using the back of a small spoon press crumbs firmly onto the bottom and set it aside.

Bake for 10 minutes.

Using a mixer, mix cream cheese and sugar until blended and combined, about 3 - 4 minutes. Add the eggs one at a time, allowing 15 seconds between each egg. Using a spatula, scrape down the sides of the bowls.

Add heavy cream and then the Bailey's.

Spoon cream cheese mixture into each hole (they should be 3/4 filled).

Bake for 18 - 20 minutes.

Allow to cool for at least 20 minutes until pan is cool enough to take cheesecakes out, and place on a wire rack.

Allow to cool completely and then chill in the fridge for at least 2 hours.

Top with whippped cream and other toppings such as chocolate, dulce de leche or caramel and enjoy!
Calories: 111kcal, Carbohydrates: 13g, Protein: 2g, Fat: 6g, Saturated Fat: 3g, Cholesterol: 38mg, Sodium: 58mg, Potassium: 23mg, Fiber: 1g, Sugar: 9g, Vitamin A: 164IU, Calcium: 13mg, Iron: 1mg
Disclaimer: Although jessicainthekitchen.com attempts to provide accurate nutritional information, kindly note that these are only estimates. Nutritional information may be affected based on the product type, the brand that was purchased, and in other unforeseeable ways. Jessicainthekitchen.com will not be held liable for any loss or damage resulting for your reliance on nutritional information. If you need to follow a specific caloric regimen, please consult your doctor first.