Jamaica Jerk Sauce – Homemade and Easy
This Jamaica Jerk Sauce is the real deal! Made with deliciously authentic ingredients, you get a mouthwatering punch of flavour made at home!
Today's post is a long long (too long) time coming. Throughout the years, I have always gotten the same question,
"Can I get more Caribbean recipes please??"
Okay friends. I have heard you! While I already have a few Caribbean recipes up here, here, there and here, I know you're ready for more. I always thought you guys were covered, I mean, there are so many Caribbean and more specifically, Jamaican recipes out there! However, one night Gav and I took a deep dive and realised that there weren't actually a lot of Jamaican recipes, by *actual* Jamaicans. SO, I've got you friends!!
I'm starting a new mini series here called the "Jamaica Series." Where I'll be making some great, authentic Jamaican recipes that may feature a *tiny* twist in order to veganise it. I'll also be sharing more of me in those posts and about my birth country, Jamaica! P.S. if you haven't checked out my Vegan Ackee and Saltfish recipe with a HOW TO video for a whole Jamaican breakfast, go check it out now!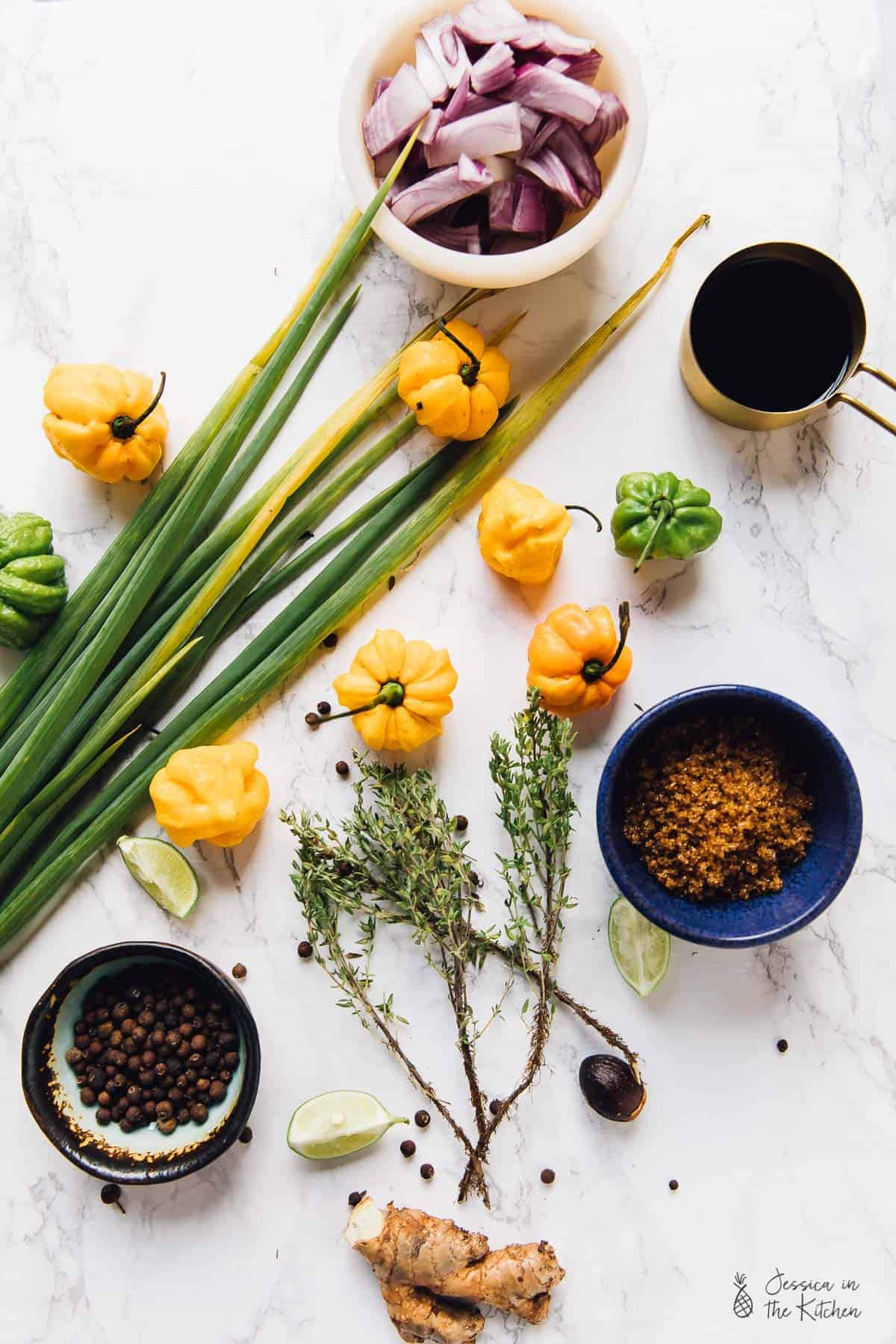 If you're from a culture who is fiercely protective of its traditional food, you may know how I feel right now. In my head for months I've avoided this because Jamaicans are pretty unforgiving about you changing their traditional recipes! However I realised I had to get over that because at the end of the day, I'm truly a Jamaican at heart, through and through, vegan or not.
So let's dive right in. We wanted to start with Jamaica Jerk Sauce because it is like, the hallmark of Jamaican cooking. Jerk sauce is actually one of two products made in Jamaica that are properly protected via worldwide trademark – the other one being our rum. "Jamaica Jerk" is a phrase you hear often, but of course here in Jamaica it's just jerk. If you've never tried jerk sauce, you're in for a treat. Think of the best spicy sauce that you know. Now get rid of that thought because you're about to truly meet the best ever. With a combination of scotch bonnet peppers, pimento (all spice), nutmeg, soy sauce and thyme amongst other seasonings, jerk sauce is JAMAICA in a bottle. You get hints of sweet, salty, lots of spicy and a kick of flavour that can only be described as "island-y".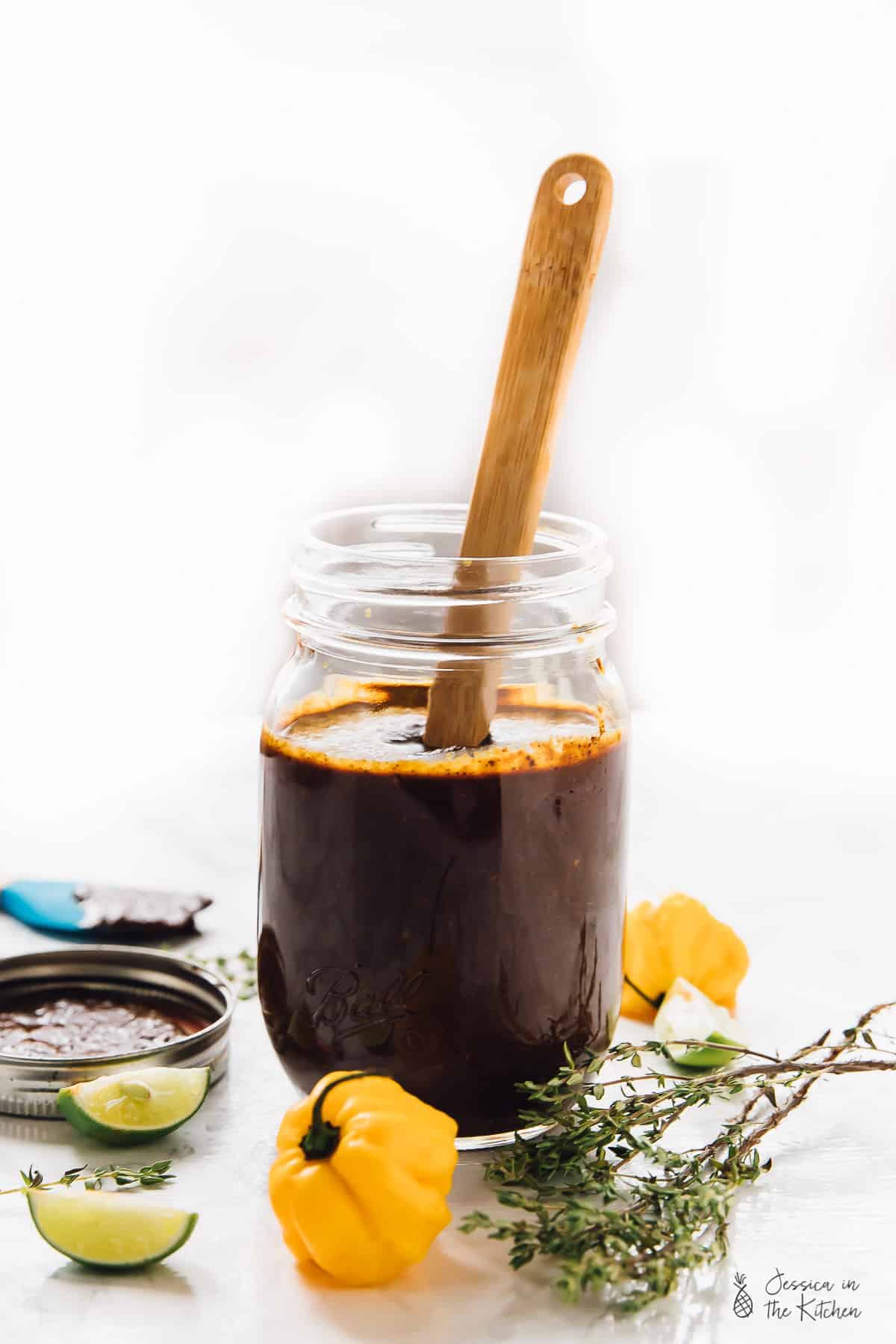 You can use jerk sauce for a multitude of ways. It could be used to add some heat to any ready made meal, or to use as a marinade. I've been known to add a dollop of jerk sauce to everything from:
spicing up quinoa/rice
adding it to veggie burgers before
Adding it to sandwiches as a spread
Using it as a marinade for veggies before bbqing
As a marinade for cauliflower steaks
Using it as a marinade for tofu
Swimming in it
These are just a few ways you can use jerk sauce, to show you its wide use.
In its current state, I've made the sauce so that its consistency is similar to an actual sauce – thin enough to pour, but thick enough to properly embody all the flavours. Want a thicker wet rub? Simply reduce the water a bit.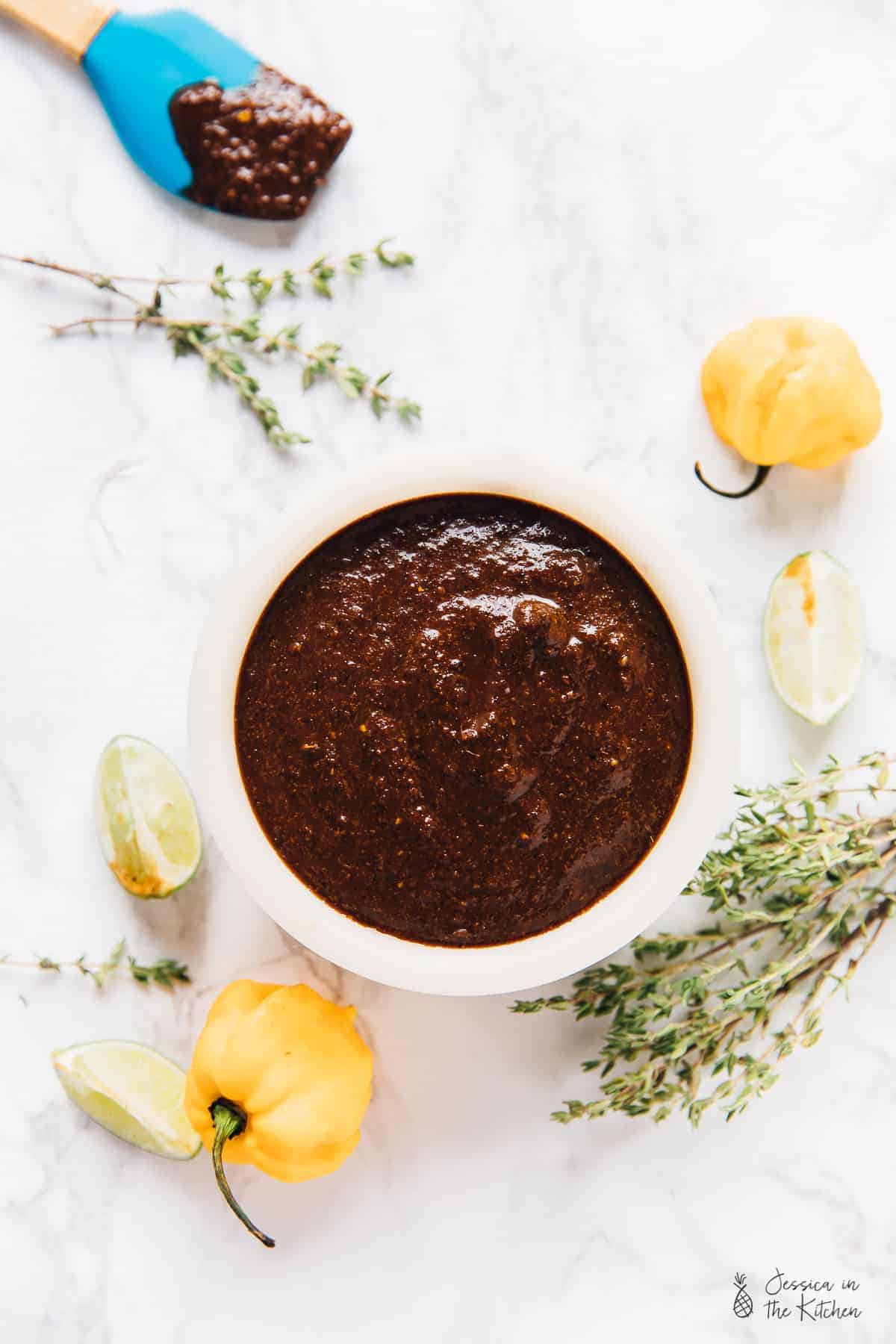 Let's talk about substitutes. If you can prevent it, please don't substitute *anything*. More than likely you can find all the ingredients in the international section of your supermarket, or if you're in Jamaica, definitely everywhere easily and cheaply. The only substitute that's totally okay is the amount of peppers. We used organic scotch bonnet peppers, which according to Gavin are "no joke on the heat scale compared to regular scotch bonnet peppers." Where he usually sweeps through a whole pack, one pepper suddenly lasted him up to three meals, since the flavour is much purer. I started this at a medium high heat level. Well, I think it's a great heat that allows you to actually taste the ingredients while still delivering a punch. Adjust accordingly for your taste buds. If you're not so sure, start with just one, and work your way up!
If you have to substitute and can't find scotch bonnet peppers, habanero peppers are your next best bet. They do not taste exactly alike, however will do in a pinch.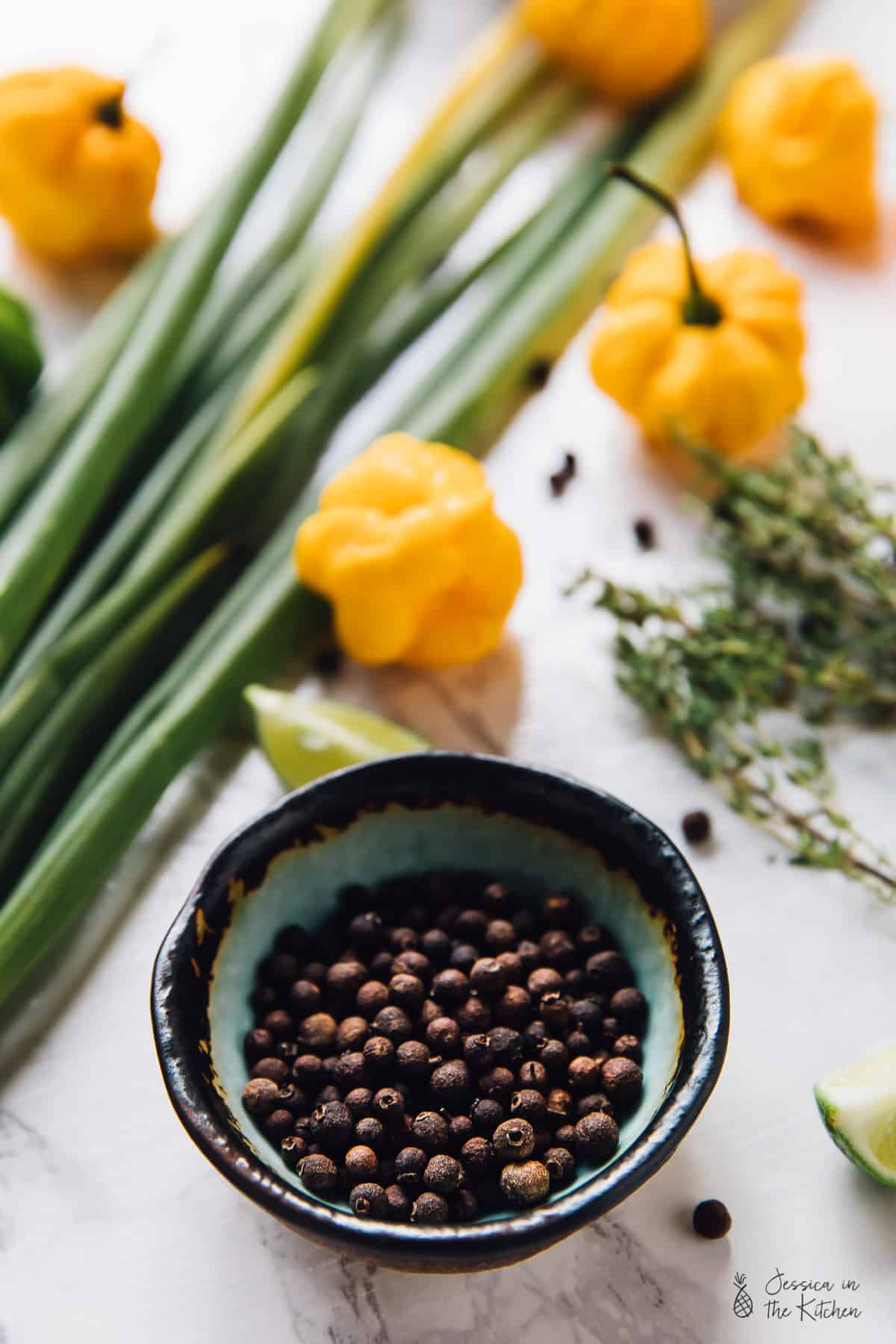 Okay friends. Dive into this recipe and I hope you enjoy! Please remember a few important tips:
This is spicy. When opening your blender do not stick your head over it because the flumes will fly right into your face.
Please – wear gloves while cutting your scotch bonnet peppers or managing them. Either that or wash your hands immediately. Let me tell you – getting that burn out from under your nails takes days.
This uncharacteristically lasted over a week in our house because we went on a trip the day after I made it. Gav tasted it again as soon as we came back and said that the flavours were really taken to the next level because they were allowed to sit. Great jerk sauce is like fine wine, or in this case, well aged rum.
Ingredients matter. If you're Jamaican, don't just grab what's already in your fridge or pantry if it isn't fresh! I know we all have a pack of scallion dying in our fridge – don't use that. I went out and even got some fresh pimento seeds which made all the difference. You truly taste it all here – down to the hints of nutmeg throughout when you use fresh and in season ingredients.
This was such a new experience for me to share this and I hope you truly love it! I'll be back with way more Jamaican recipes – enjoy friends!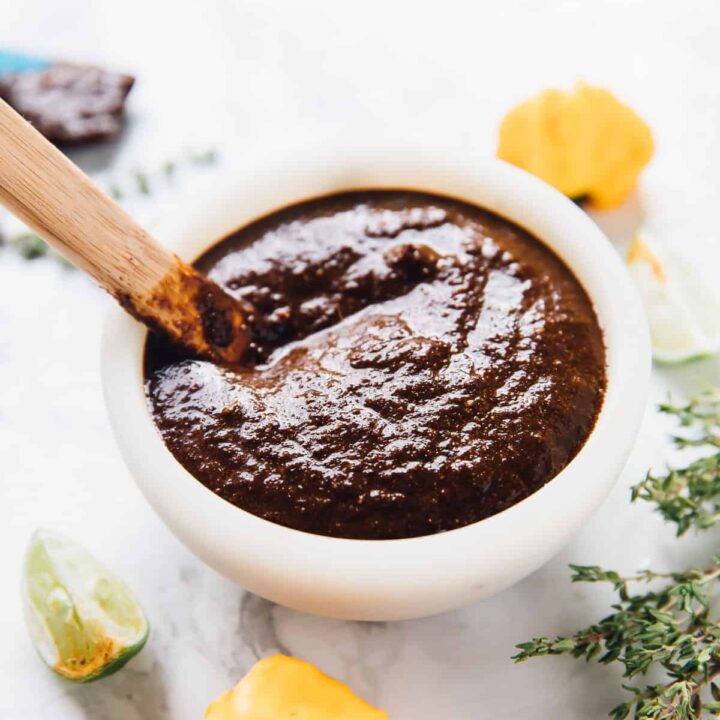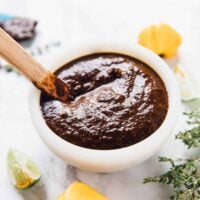 Jamaica Jerk Sauce – Homemade and Easy
This Jamaica Jerk Sauce is the real deal! Made with deliciously authentic ingredients, you get a mouthwatering punch of flavour made at home!
Ingredients
4 organic scotch bonnet peppers*, 3 ¼ oz
½ large red onion or 1 medium yellow onion, chopped
6 cloves garlic
5 stalks of scallion
1/4 cup white vinegar
1/4 cup soy sauce
1 ½ teaspoons sea salt
1 tablespoon ground black pepper
1 tablespoon grated fresh ginger
2 tablespoons fresh pimento seeds
2 tablespoons brown sugar, I used organic
1 teaspoon of freshly grated nutmeg
2 tablespoons oil
7 sprigs of fresh thyme
Squeeze lime
Instructions
Add all the ingredients to a high speed blender and blend until completely incorporated. Pour into a sanitised jar and place in your fridge.

You can enjoy immediately or let flavours meld together for as long as you like! Enjoy friends!
Notes
NOTES Organic scotch bonnet peppers are much hotter and larger, so if you're not using organic then you can up this to like 6 or 7. The sauce is very spicy, so use less scotch bonnet peppers for a mild sauce. Pimento is the same thing as allspice. I started this at a medium high heat level. Adjust accordingly for your taste buds. If you're not so sure, start with just one, and work your way up!
Calories: 45kcal, Carbohydrates: 5g, Protein: 1g, Fat: 3g, Saturated Fat: 1g, Trans Fat: 1g, Sodium: 564mg, Potassium: 76mg, Fiber: 1g, Sugar: 3g, Vitamin A: 119IU, Vitamin C: 8mg, Calcium: 24mg, Iron: 1mg
Disclaimer: Although jessicainthekitchen.com attempts to provide accurate nutritional information, kindly note that these are only estimates. Nutritional information may be affected based on the product type, the brand that was purchased, and in other unforeseeable ways. Jessicainthekitchen.com will not be held liable for any loss or damage resulting for your reliance on nutritional information. If you need to follow a specific caloric regimen, please consult your doctor first.