Classic, Chewy Fudgy Brownies (VIDEO)
These are the BEST classic, chewy fudgy homemade brownies made with chocolate chips. Dozens of readers have raved about it!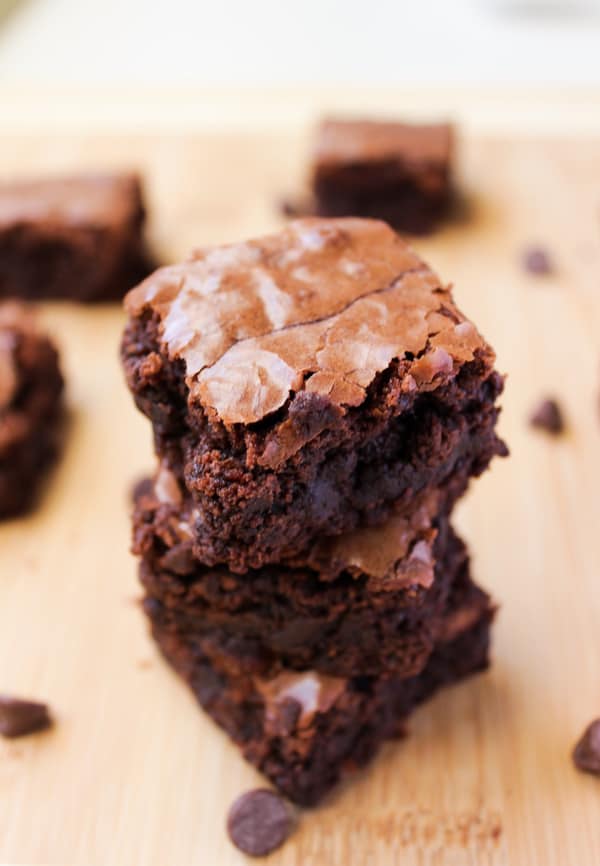 What's your favourite brownie? For me, it's these, the classic chewy homemade brownies with a touch of fudgy consistency with that crispy top. The type of brownie you bite into you and your world becomes a mix of all sorts of textures and flavours plus the addition of delicious partially melted chocolate chips.
I knew I had to come up with the ultimate chocolate brownie recipe.
I found that the easiest way to get these type of chewy fudgy brownies was without cocoa powder and to melt chocolate chips for the fudge consistency and chocolate base. Also, I opted for making these brownies using oil instead of butter, which in my experience makes brownies chewier and makes the brownies even more moist and seems to hold the brownie a bit more together.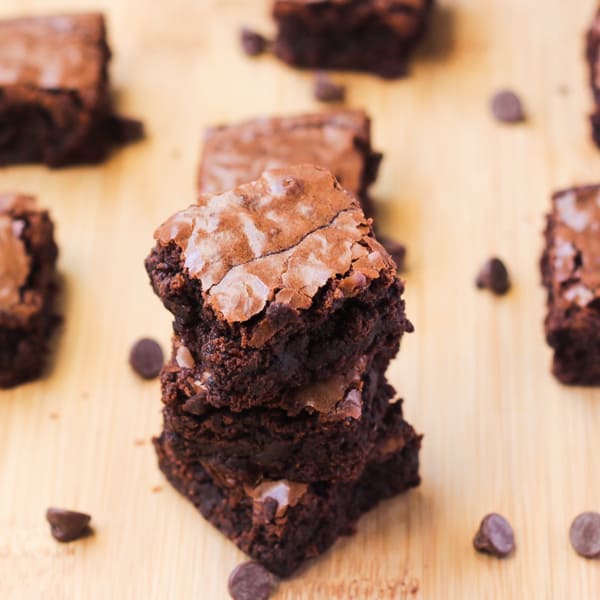 I made these homemade brownies for a charity event at school and kept hearing "the brownies are sooo good" then I got outed as the one who made it. Which resulted in a lot of smiling with teeth on my part, thank-yous and swelling of my head and ego. Wish I could tell you I reacted more modestly. Oops. Followed by "you should start your own baking company" and my friends who always seem to be convenient, paid-with-food awesome spokespersons go "she does." *flips hair* "She always make cheesecakes, cakes, cookies…"
My friends are the best.
If you want these reactions, make these chewy fudgy homemade brownies! But attempt to keep the head swelling down a bit. Or not.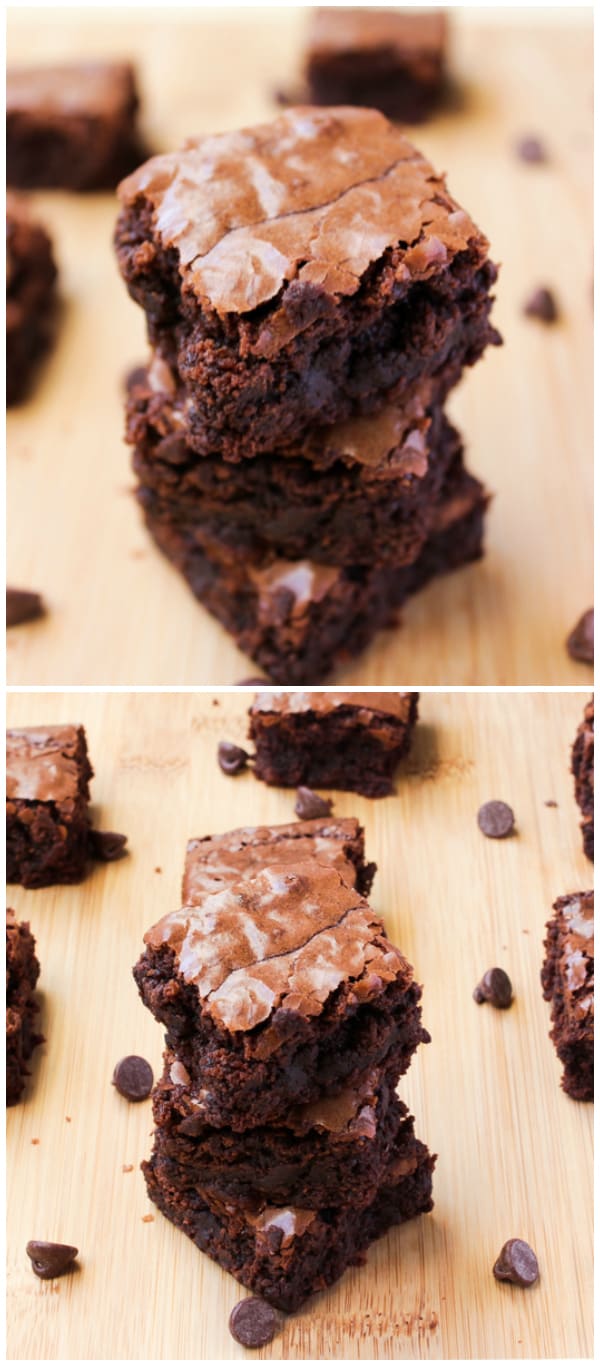 P.S. Here are some of the items I used to make this recipe if you'd like to use them too:
| WHAT YOU'LL NEED // SHOP MY FAVORITE INGREDIENTS & PREP PRODUCTS |


WATCH THE VIDEO TO SEE HOW IT'S MADE:
More Baked Recipes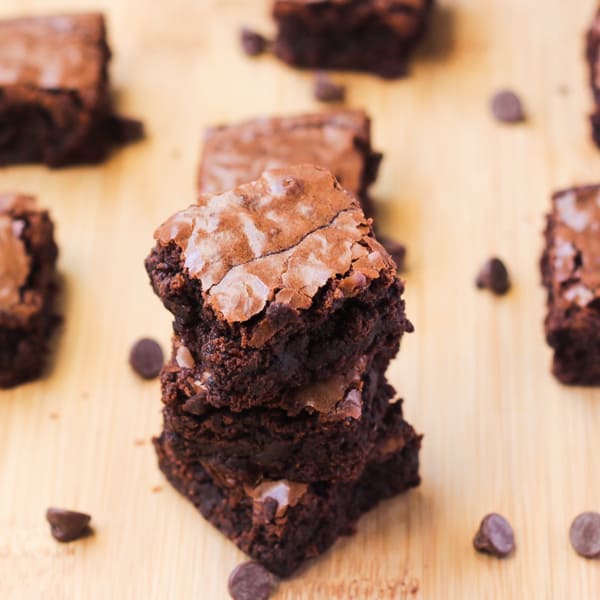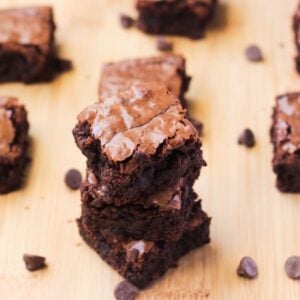 Classic, Chewy Fudgy Brownies (VIDEO)
These are the BEST classic, chewy fudgy brownies made with chocolate chips. Dozens of readers have raved about it! 
Ingredients
1 cup chocolate chips, melted - I recommend Ghirardelli, (188g)
3/4 cup all-purpose flour, (107g)
1/2 teaspoon sea salt
1/4 teaspoon baking soda
2 large eggs, (114g) in shells
3/4 cup brown sugar (I use raw brown sugar, cane sugar or coconut sugar), (158g)
3/4 cup melted coconut oil, 150g
2 tablespoons water, (28g)
1 teaspoon pure vanilla extract
1 cup chocolate chips, unmelted
Instructions
Preheat oven to 325 degrees F/165 degrees C.


Melt chocolate chips in microwave for a minute, stirring after to see if chips have melted. If not, microwave in increments of 30 seconds until completely melted. Alternatively, you can melt in over a small pot of boiling water (Not a lot of water in the pot) and put the chocolate chips it in a heat proof and melt proof bowl over the pot and stir until melted.

In a medium bowl, mix the flour, salt and baking soda until combined. Set aside.

In a separate bowl, add the eggs, sugar and oil and mix until combined for about 2 minutes. Add the water and the vanilla extract. Add to the dry mixture to the wet mixture and melted chocolate chips and stir for about 3 minutes until combined.

Stir in the last 1 cup (unmelted) chocolate chips.

Pour into a greased, parchment lined, or a greased foil-lined 8x8 square pan. Bake for 35 minutes.

When finished, remove from oven and allow to cool completely in pan on a wire rack. The pan should be completely cool. It can take up to an hour and a half to cool completely.
Notes
NOTES
It's up to you what type of chocolate chips you would want to use. You can use semi-sweet or dark chocolate based on the brownie you would like to achieve. I recommend semi-sweet since it's the best of both worlds. If you'd like a mix use semi-sweet for the base, and either milk or dark for the chips in the brownies.
Oil instead of butter in products tends to create a moister product. All you have to do is switch out equal parts of the butter for the oil.
The pan size makes a huge difference! If you do not use an 8×8 pan for eg if you use smaller, your brownies will not be ready in the right amount of time.
Ensure your oven is properly calibrated, and remember your brownies will not be properly set until they are cooled down. PLEASE wait until they are properly cooled, else they will NOT be set.
I would recommend definitely weighing out the ingredients on a kitchen scale, instead of just using measuring cups, since it can affect how much flour you add to the brownies, and ultimately how the brownies come out.
SOME readers have found that their brownies were still very wobbly at 35 minutes and so baked theirs for 45 minutes. If you find your brownies are still very wobbly at 35 minutes, you can do this.

If you try these Classic Chewy Fudgy Brownies, please let me know in the comment section below, or tag me on instagram with the hashtag #jessicainthekitchen! For more exclusive recipes follow me on Instagram AND on Snapchat: jessinkitchen.
Calories: 380kcal, Carbohydrates: 38g, Protein: 4g, Fat: 26g, Saturated Fat: 20g, Cholesterol: 36mg, Sodium: 179mg, Potassium: 49mg, Fiber: 2g, Sugar: 27g, Vitamin A: 53IU, Calcium: 48mg, Iron: 2mg
Disclaimer: Although jessicainthekitchen.com attempts to provide accurate nutritional information, kindly note that these are only estimates. Nutritional information may be affected based on the product type, the brand that was purchased, and in other unforeseeable ways. Jessicainthekitchen.com will not be held liable for any loss or damage resulting for your reliance on nutritional information. If you need to follow a specific caloric regimen, please consult your doctor first.