Vegan Fish Sticks (with Vegan Tartar Sauce)
These beer-battered Vegan Fish Sticks are crispy on the outside, tender on the inside, and perfect for pairing with homemade vegan tartar sauce!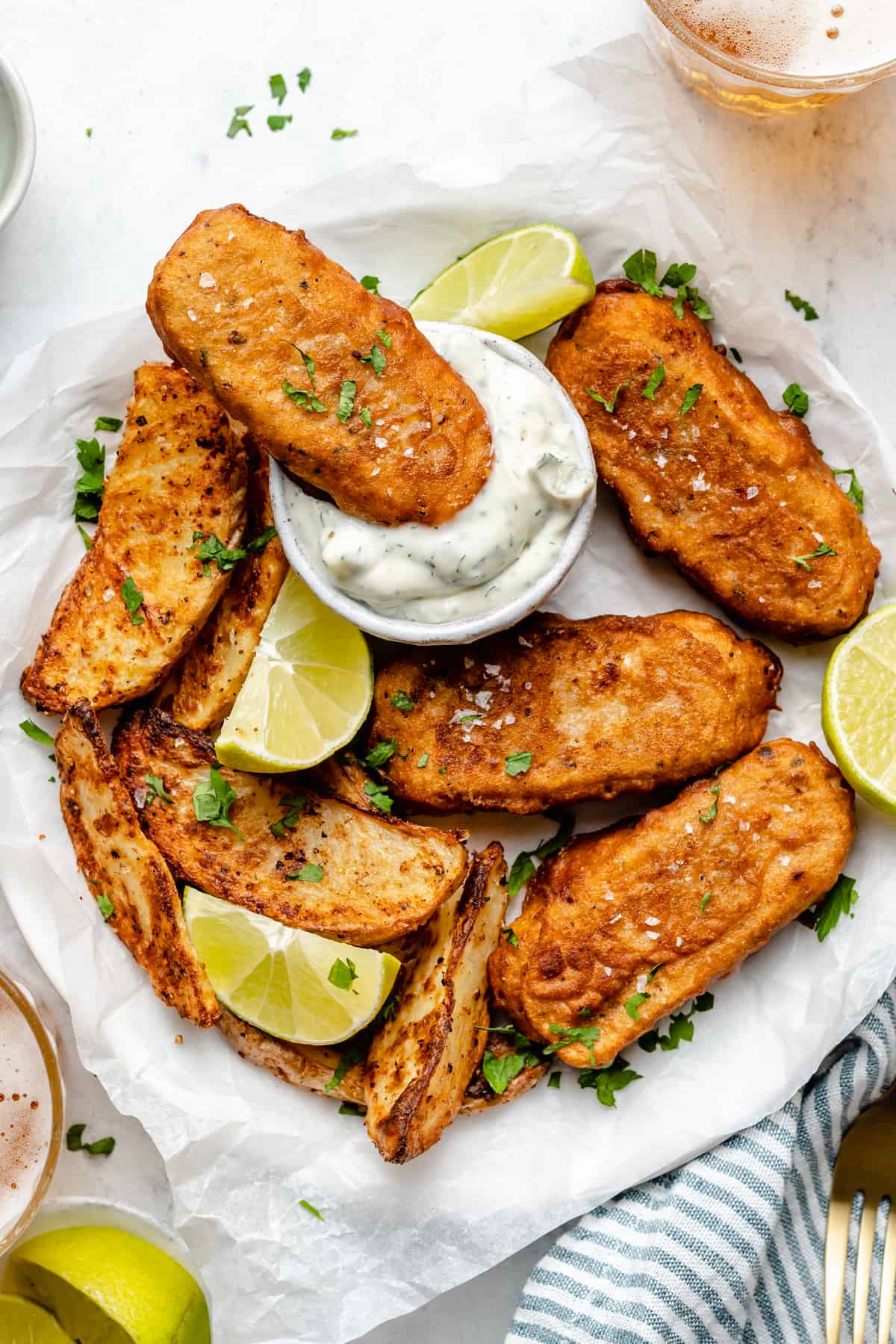 I have four words for you: vegan fish and chips. Make these faux fish sticks and a batch of fries and you can enjoy a plant-based version of the British pub staple. Or use vegan fish sticks to make vegan fish tacos. Or…just devour them as-is with creamy tartar sauce for dipping. Basically, if you've been looking for a vegan seafood recipe, this is going to become your go-to anytime you've got a craving for something fishy.
When I stopped eating meat, seafood was the hardest for me to give up, so I was over-the-moon when I took my first bite of these vegan fish sticks. Let me tell you: seasoning is key here. I took all the fishy and salty seasonings I had—crushed nori and Old Bay seasoning—and paired them with hearts of palm and my trusty beer batter recipe. The result is a crispy, crunchy, golden-brown exterior and an inside that tastes like fish!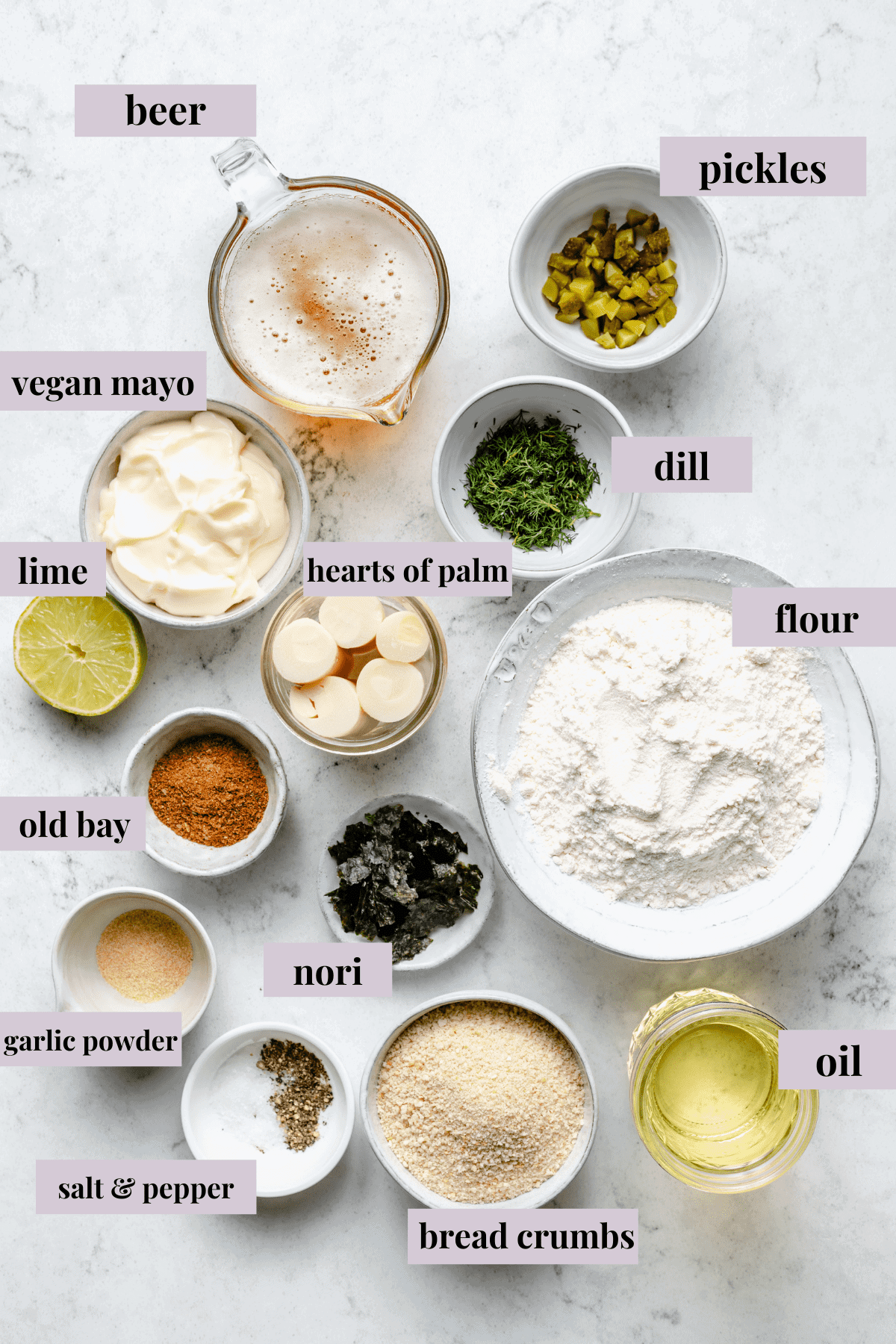 Notes on Ingredients
Please note that this is important information on the ingredients and instructions and the FULL recipe with amounts and details can be found DOWN BELOW (scroll to it) in the recipe card.
For the Vegan Fish Sticks:
Hearts of palm
Breadcrumbs – This recipe works with either gluten-free or regular breadcrumbs.
Old Bay seasoning – Because this seasoning is so often used with seafood, it's a flavour that tricks your brain into thinking you're eating real fish!
Dried crumbled nori – And this is the ingredient that gives the recipe that distinctive fishy flavour. Don't skip it!
Sea salt
Ground black pepper
For the Beer Batter:
Flour
Salt
Pepper
Garlic powder
Old Bay seasoning
Beer or sparkling water – Use a pale-colored ale; avoid stout and other strong, dark beers.
For the Vegan Tartar Sauce:
Vegan mayo – Store-bought or make your own vegan mayonnaise.
Lemon or lime juice
Chopped pickles or sweet relish
Salt
Pepper
Fresh dill
Oil for Frying
Peanut oil or safflower oil
What are hearts of palm?
Hearts of palm are harvested from the core of a palm tree. It's hard to describe, but their texture is very much like artichokes. They work so well here because of their colour, texture, and natural flakiness. Hearts of palm make the best texture for vegan fish sticks because of this flakiness! Like tofu, hearts of palm take on any flavours you add to it.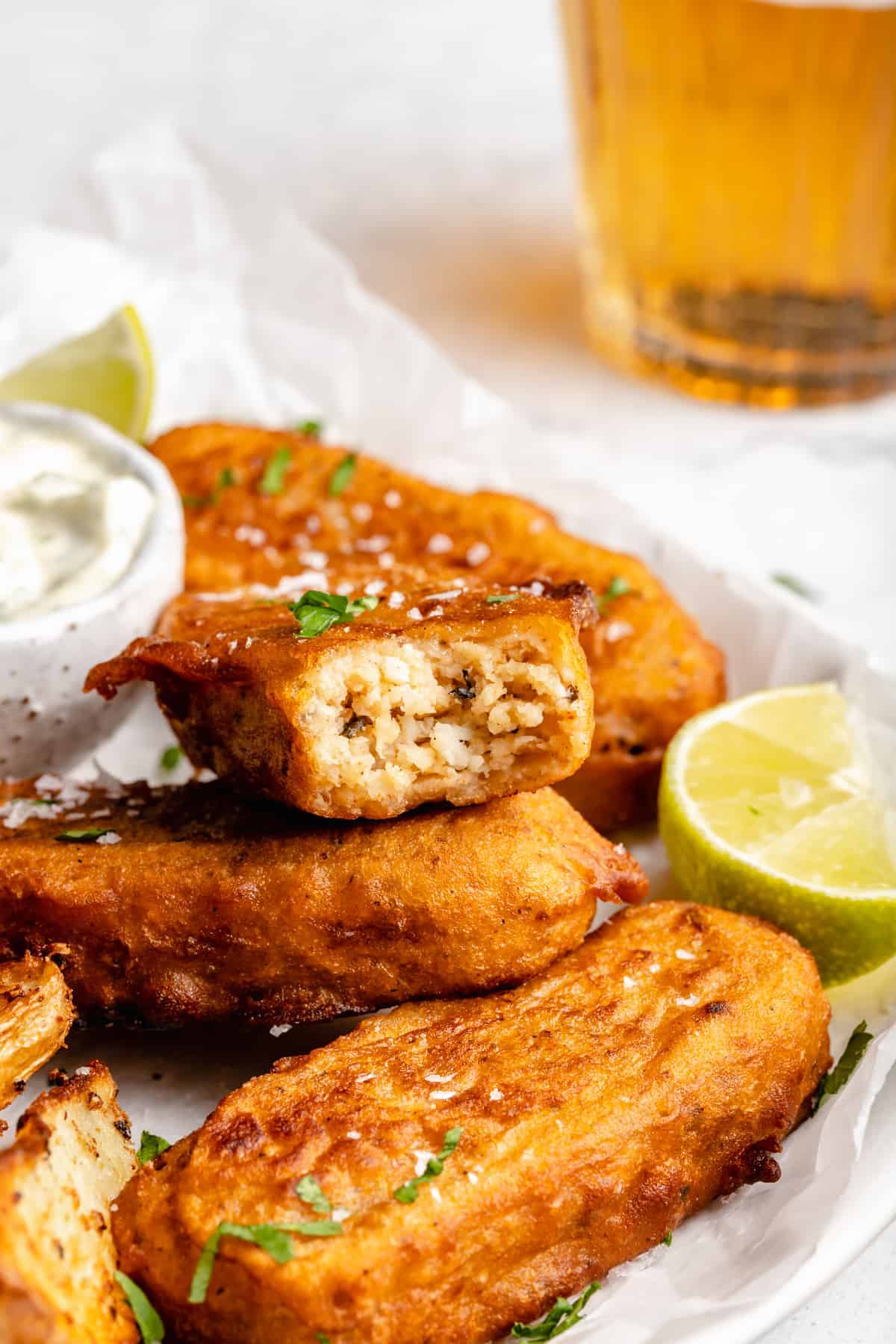 How to Make Vegan Fish Sticks and Tartar Sauce
You'll never buy disappointing plant-based seafood at the grocery store again when you see how easy it is to make vegan fish at home!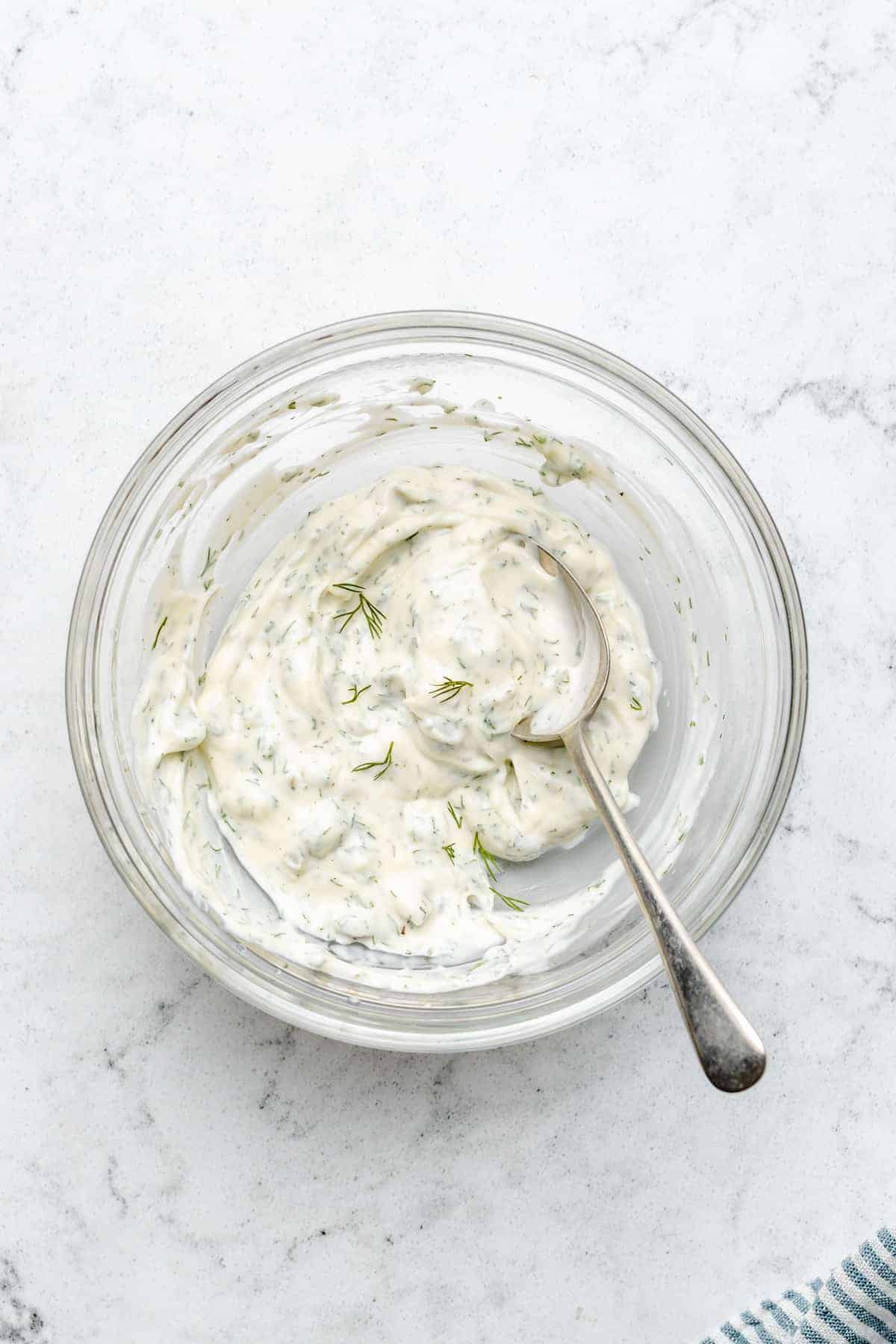 Make the vegan tartar sauce. Stir all of the ingredients together in a small bowl; season to taste and refrigerate until you're ready to eat.
Pulse the ingredients. Place all of the fish stick ingredients in a food processor and pulse until flaky and well-combined. This should take about a minute; the mixture is done when you can press it into a firm shape, but it's not yet mushy.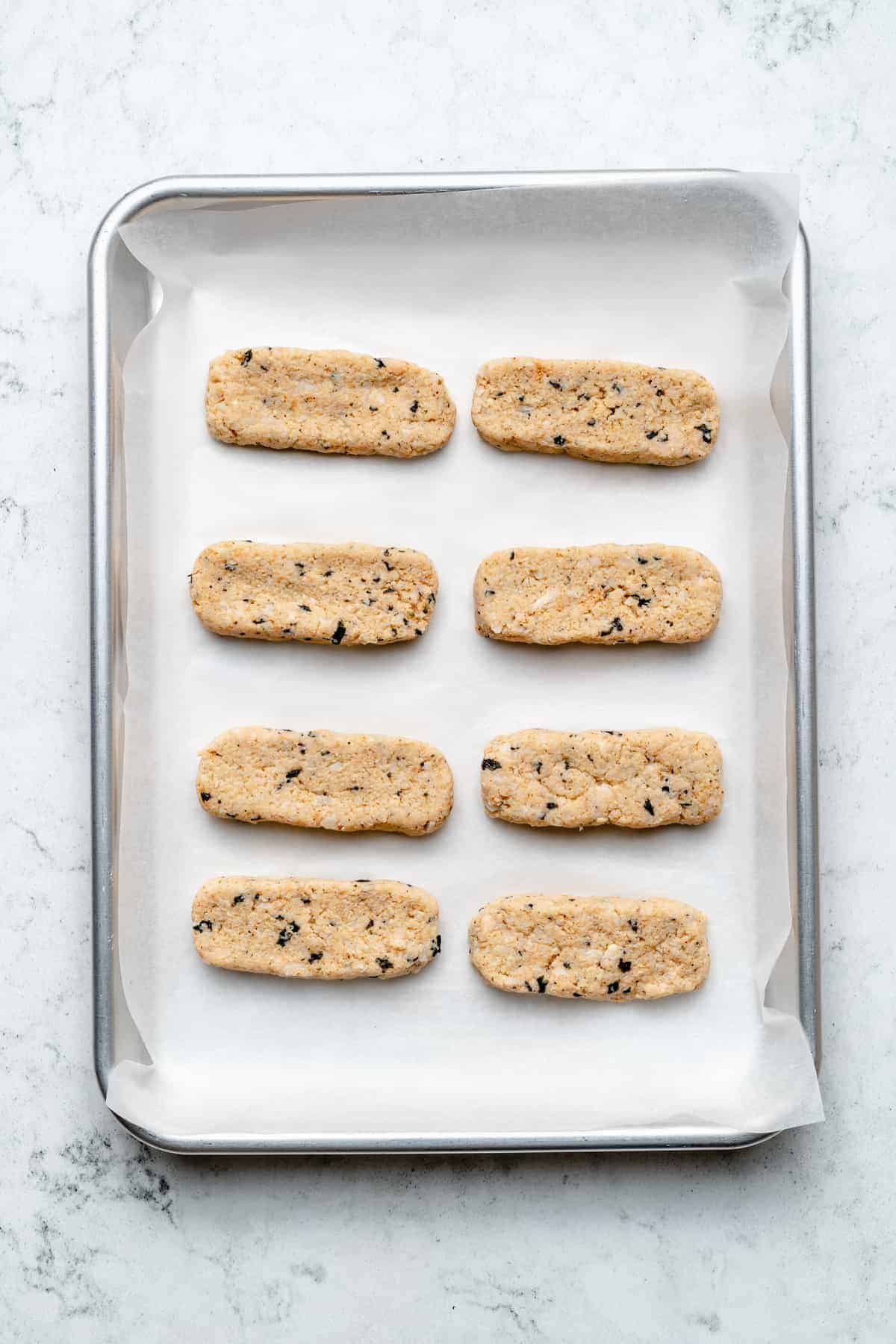 Form the fish sticks. Transfer the fish mixture to a baking sheet lined with parchment paper or a silicone mat. Use clean hands to shape the mixture into fish sticks; you should be able to make about 8. Press the sticks together firmly so they don't fall apart! Place the baking sheet in the fridge.
Make the batter. Mix all of the dry ingredients in a large, wide bowl, then stir in the beer.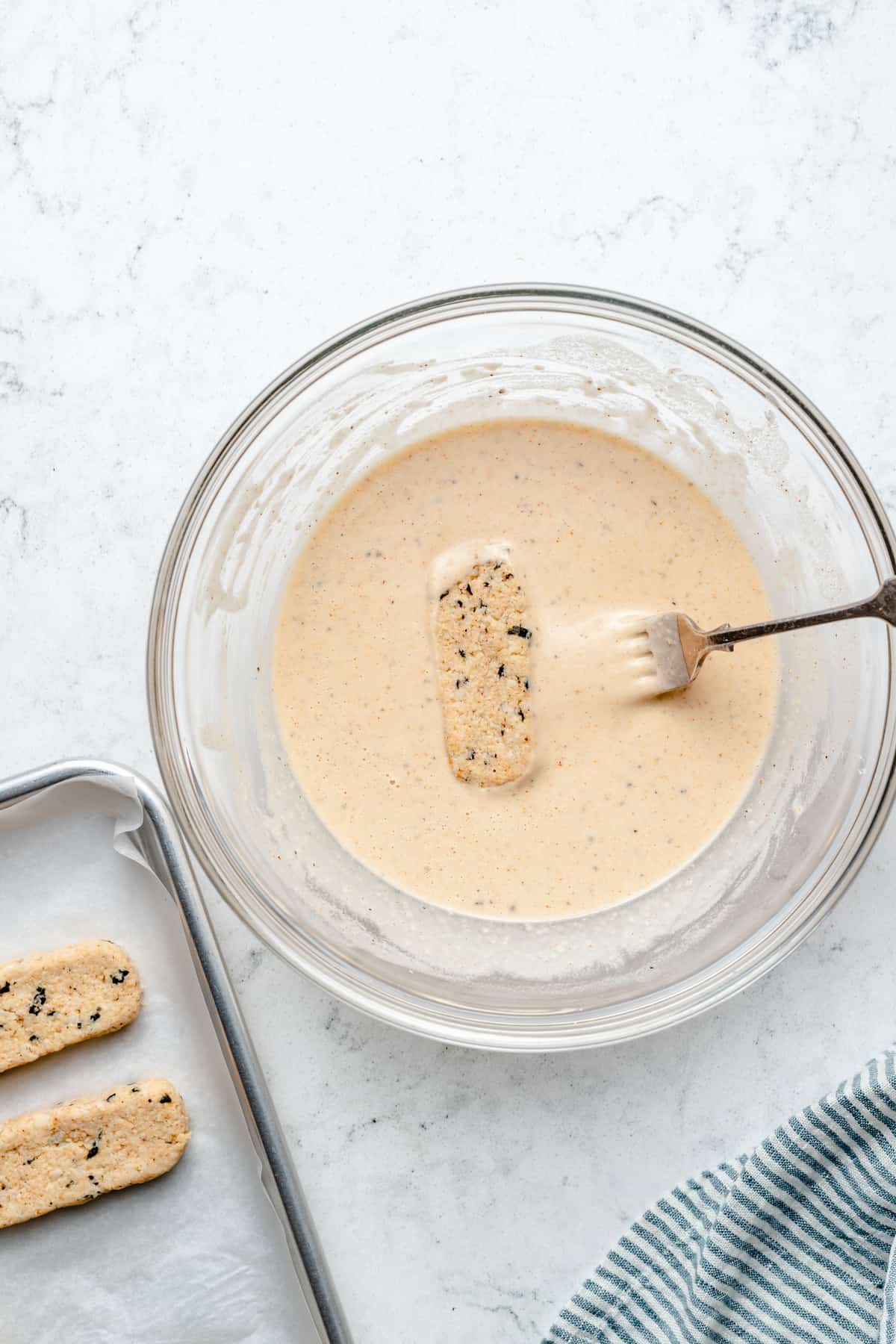 Cook the fish sticks. Heat the oil in a large, deep skillet set over high heat. Take the fish sticks out of the fridge and dip each into the batter, letting the excess drip off. Fry for 2 to 3 minutes on each side, or until golden brown. Transfer to a paper-towel-lined plate to absorb any excess oil.
Serve. Once all of the vegan fish sticks are cooked, serve them with tartar sauce for dipping!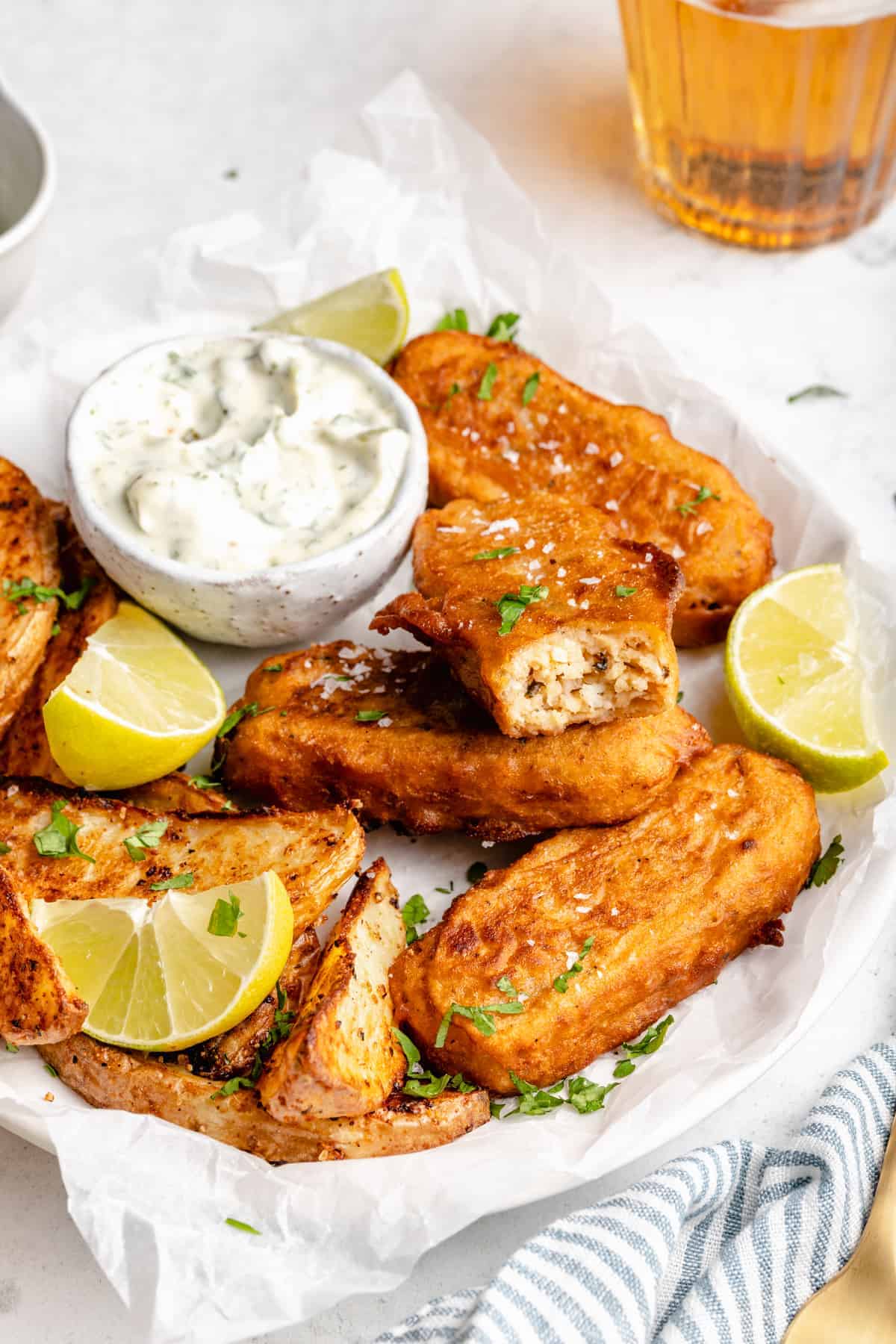 Tips for Success
Here are some tips for getting the best vegan fish sticks!
Shaping the sticks. I used about 2 tablespoons of the fish mixture for each stick; you can make them smaller if you like (fish bites!), but larger than this and it's more likely that the sticks will fall apart while frying. Mine were roughly 3 inches long and 1 inch wide.
Using less oil. If you like, you can use less oil, but I don't recommend baking these in the oven—they won't get as crispy!
Serving suggestions. Not into tartar sauce? Try spooning Mango Basil Salsa over the fish sticks!
How to Store and Reheat Leftovers
These vegan fish sticks are really best eaten fresh, so I don't recommend making them for meal prep. If you do end up having some leftovers, you can refrigerate them for 3 to 4 days and reheat them in a 350ºF oven or in a pan with a tablespoon oil.
Can This Recipe Be Frozen?
No, this is not a good recipe for freezing. If you want to make fish sticks to freeze, skip the beer batter and use a panko coating instead. They'll keep in the freezer for up to 3 months; you can bake the fish sticks in a 350ºF oven from frozen for about 15 minutes, or until warmed through.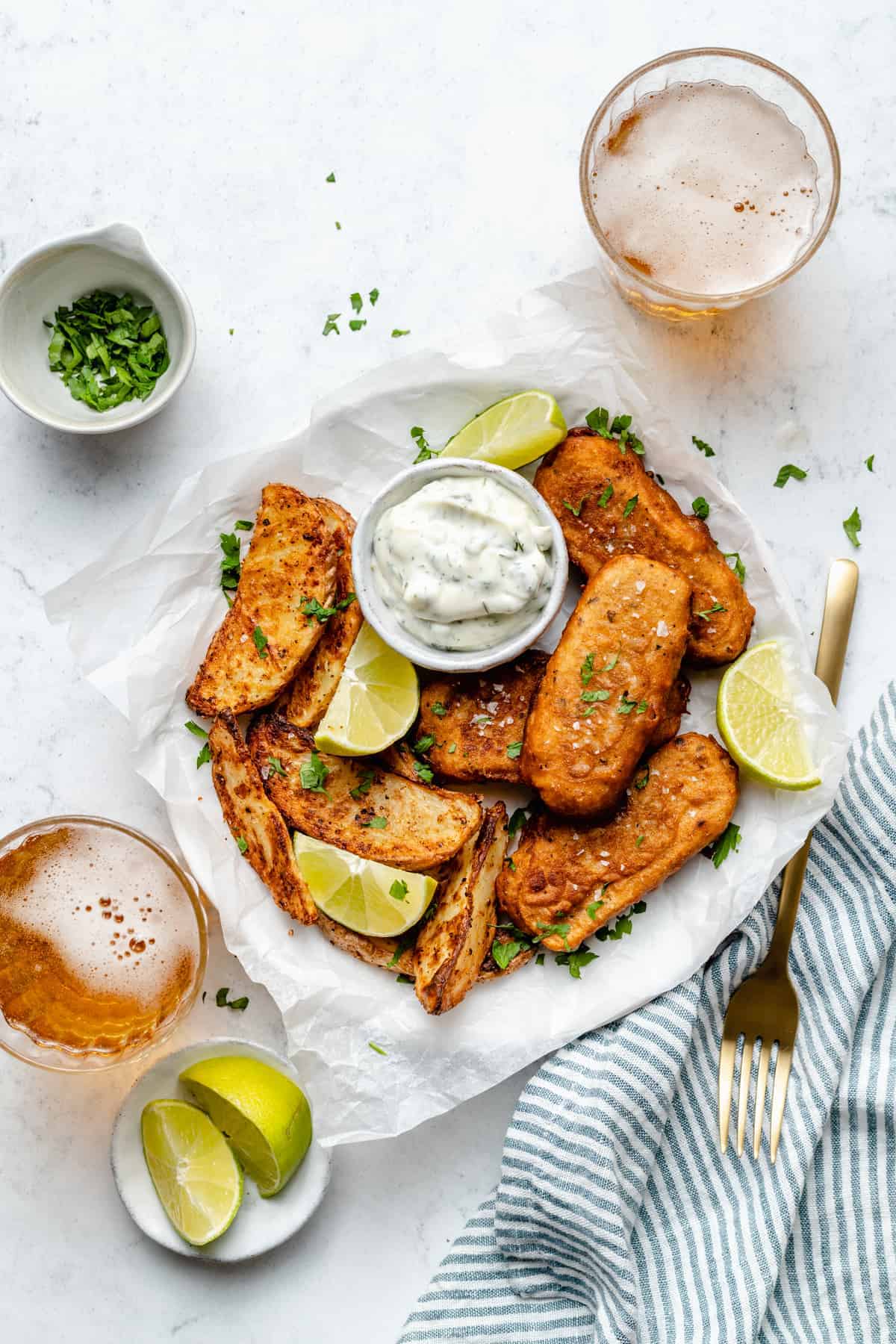 Enjoy friends! If you make this vegan fish stick recipe, please snap a photo and tag #jessicainthekitchen on Instagram! We'd also love it if you would leave a comment below, and give the recipe a rating! Thanks so much!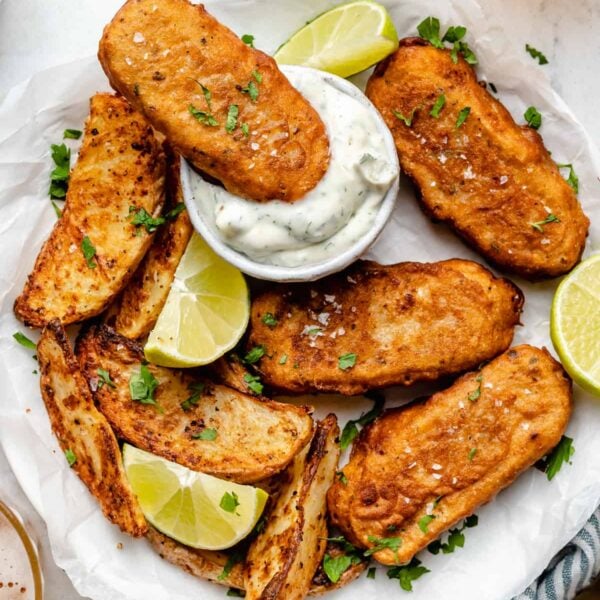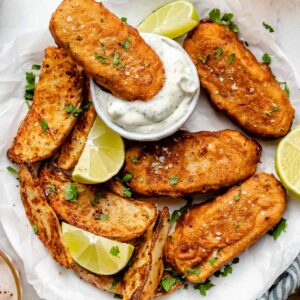 Vegan Fish Sticks (with Vegan Tartar Sauce)
These Vegan Fish Sticks are so unbelievably divine! They are beer-battered, have an amazing texture and are served with a homemade vegan tartar sauce!
Ingredients
For the "Fish" Sticks
1 14 oz. jar, 396g of hearts of palm, drained, rinsed and pat dry and chopped up
½ cup breadcrumbs, gluten free or regular, 30g
1 teaspoon old bay seasoning
1 tablespoon dried crumbled nori
½ teaspoon sea salt
¼ teaspoon ground black pepper
Beer Batter
1 1/2 cup flour of your choice, Bob's Red Mill 1:1 Baking Flour weight is 222g
½ teaspoon salt
½ teaspoon pepper
1/2 teaspoon garlic powder
1 teaspoon old bay seasoning
1 cup beer or sparkling water
Vegan Tartar Sauce
½ cup vegan mayo, 112g
1 teaspoon lemon or lime juice
1 tablespoon chopped pickles or sweet relish
A pinch of salt, Less than ¼ teaspoon
A pinch of pepper
1 tablespoon freshly chopped dill
Oil for Frying
1 cup peanut oil or safflower oil, 224g
Instructions
Vegan Tartar Sauce
Stir all the ingredients together. Taste and add more salt or seasoning as preferred. Set in the fridge until you're ready for it!
Fish Sticks
In a food processor, PULSE all the fish sticks ingredients above until combined, for about 1 minute and you can easily stick it together and press into a firm shape. You want to still have some flakiness to it so don't mix it too much that it's mushy. 

Dump the mixture onto a baking sheet lined with parchment paper or a silicone mat or even a plate lined with parchment paper and press together. Then shape the mixture into individual fish sticks, using about two tablespoons of mixture for each stick, to get about 8 fish sticks. Make sure that you press the sticks firmly together – you want it to be a solid piece for when you are battering it. I did roughly into 3 inches long and 1 inches wide. Set it in the fridge to harden up a bit while you make you batter.  

Make the batter by mixing all the dry ingredients together first, then pouring in the beer. Stir together to combine.

Heat up a pan with the oil (I like using peanut oil or safflower oil since it won't be bitter). You can definitely make these with less oil, just test one first to see how it works for your preference!

Remove the raw fish sticks from the fridge, dip into the batter, allowing the excess to drip off.

Fry for 2-3 minutes on each side on high heat, depending on your oil's heat, until golden brown. Keep an eye on these so you don't burn them, and don't take them out until they are golden brown. Remove from oil and place on a paper towel to absorb any oil.

Make some crispy chips/fries on the side! Serve with some chips on the side and tartar sauce and enjoy !! 
Notes
How to store: These are best eaten fresh, so I don't recommend making them for meal prep. If you have leftovers, refrigerate them for 3 to 4 days and reheat them in a 350ºF oven or in a pan with a tablespoon oil.
Calories: 421kcal, Carbohydrates: 48g, Protein: 6g, Fat: 22g, Saturated Fat: 3g, Polyunsaturated Fat: 3g, Monounsaturated Fat: 4g, Sodium: 626mg, Potassium: 1342mg, Fiber: 2g, Sugar: 13g, Vitamin A: 120IU, Vitamin C: 7mg, Calcium: 38mg, Iron: 3mg
Disclaimer: Although jessicainthekitchen.com attempts to provide accurate nutritional information, kindly note that these are only estimates. Nutritional information may be affected based on the product type, the brand that was purchased, and in other unforeseeable ways. Jessicainthekitchen.com will not be held liable for any loss or damage resulting for your reliance on nutritional information. If you need to follow a specific caloric regimen, please consult your doctor first.