Slow Cooker Tofu Butter Chicken (Vegan)
This Slow Cooker Tofu Butter Chicken is even better than takeout! Incredibly rich in flavour and all one pot, this is great for meal prep all week long!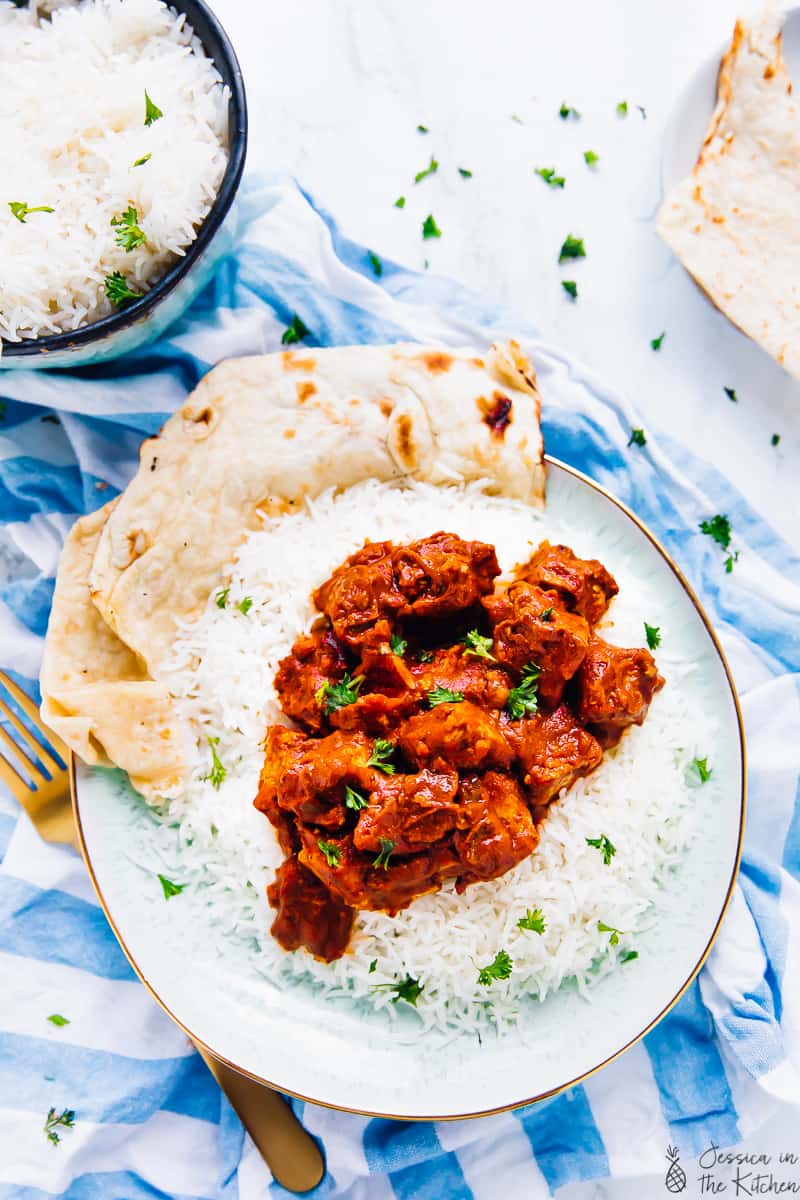 You guys may or may not know this but Indian food is my favourite cuisine. For almost every celebration we go out for Indian food, and I've officially lost track of how many times we've ordered Indian food in. As much as I love Indian food takeout, I love challenging myself to recreate my favourite dishes at home. That way I can enjoy them whenever (at a fraction of the cost) and you guys can too! This Slow Cooker Tofu Butter Chicken was definitely inspired by that notion. Let me tell you friends – it TASTES like takeout that the chef made personally for you at home. Spoiler alert: it's a winner.
Seriously, this Slow Cooker Tofu Butter Chicken was probably the easiest meal we have made for the year so far. It's also been one of the best meals I've had for the year so far. I was a bit skeptical since I didn't pre-marinate the tofu, but I am so happy to say that the flavours truly do season the tofu and seep deep into it too. It tastes like it was marinating for 24 hours first! The sauce is incredibly creamy, rich in flavour, and so delicious. Also, I know many of you are still experiencing snow, so I can comfort that not only is this comforting and delicious, it is also heart-warming and perfect for all types of weather.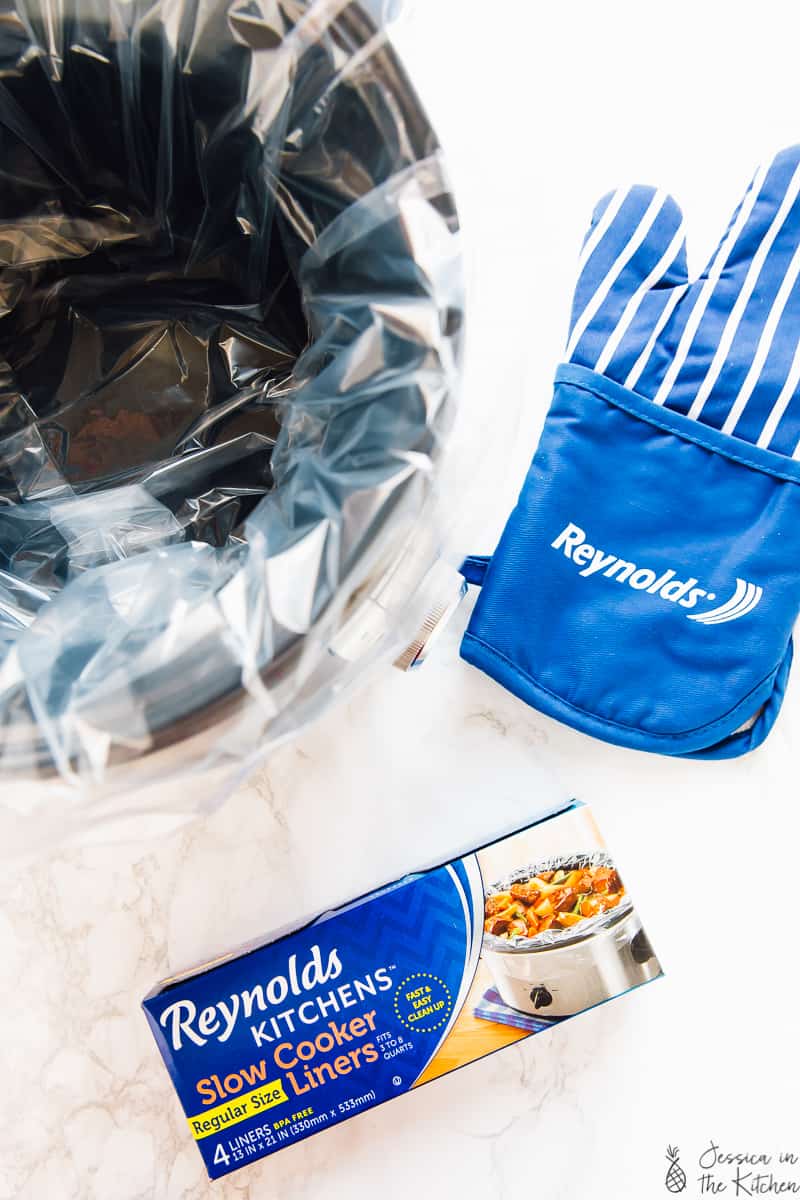 I discovered something while making this. I love my slow cooker and I definitely don't use it enough. I'm about to tell you why, and how this post solved that problem.
Fun fact: I'm excited to partner with Reynolds Kitchens for this post! If you're like me, you've probably been using Reynolds Kitchens in your house for forever. My mom would stock up on their aluminium foil paper as well as their parchment paper.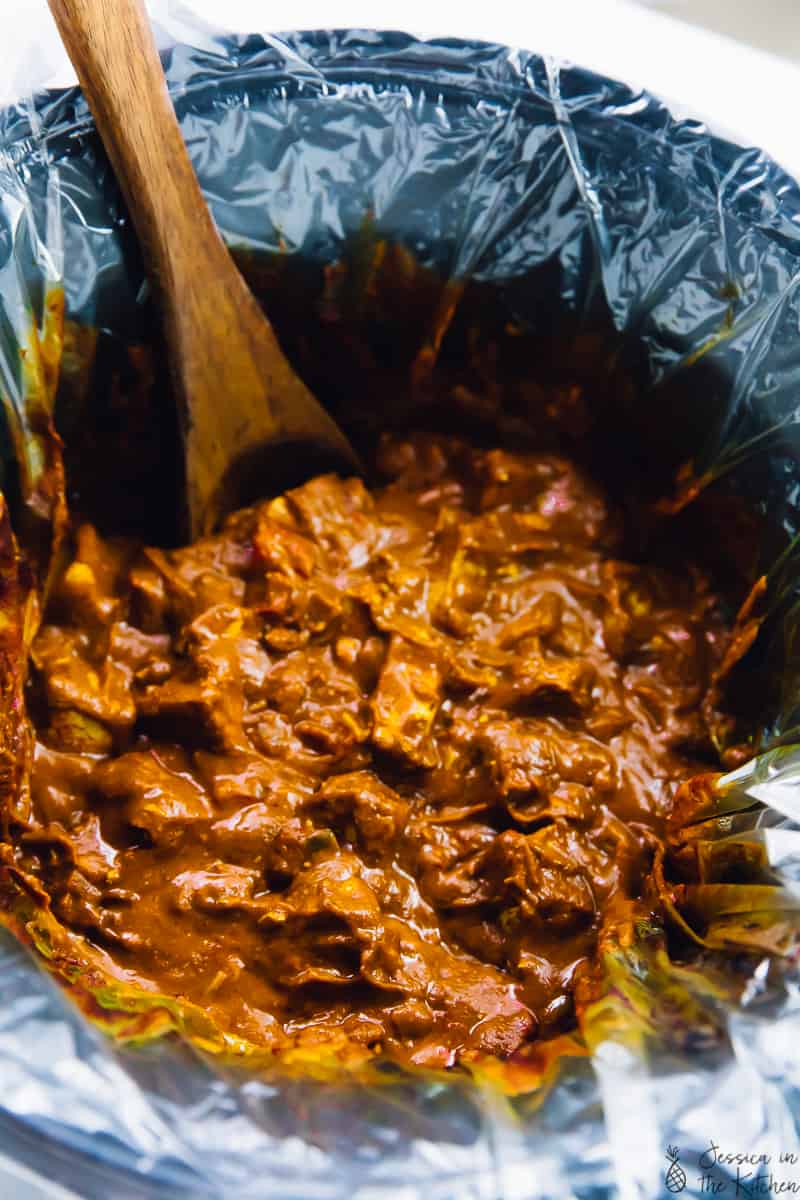 I was really excited to get to use their Slow Cooker Liners for this post. Their Slow Cooker Liners do exactly what they sound like – they line the slow cooker first, then you proceed as usual. I love these for a couple of reasons. Number one – it's not plastic and it's BPA-free, so no need to worry about that! Secondly, I was so excited to have my slow cooker clean in literally 8 seconds! While my slow cooker is brand new, if you have an older slow cooker (like I did) then you know the struggles of food sticking to your slow cooker. You know what it's like to have to soak your slow cooker overnight. Not fun, right?Also, you probably know that feeling of by the time you finish cleaning it, you don't want to go through that all over again even though slow cooker meals are so handy!
That's where the Slow Cooker Liners step in. This truly makes cleanup a breeze. Like, I wish I could apply that 8 second cleanup to everything else in life! After cooking, we put our food into our Tupperware containers, we pulled the slow cooker liner out and bam – that was it! I mean, I knew it would be easy, but it was also such a delight to do.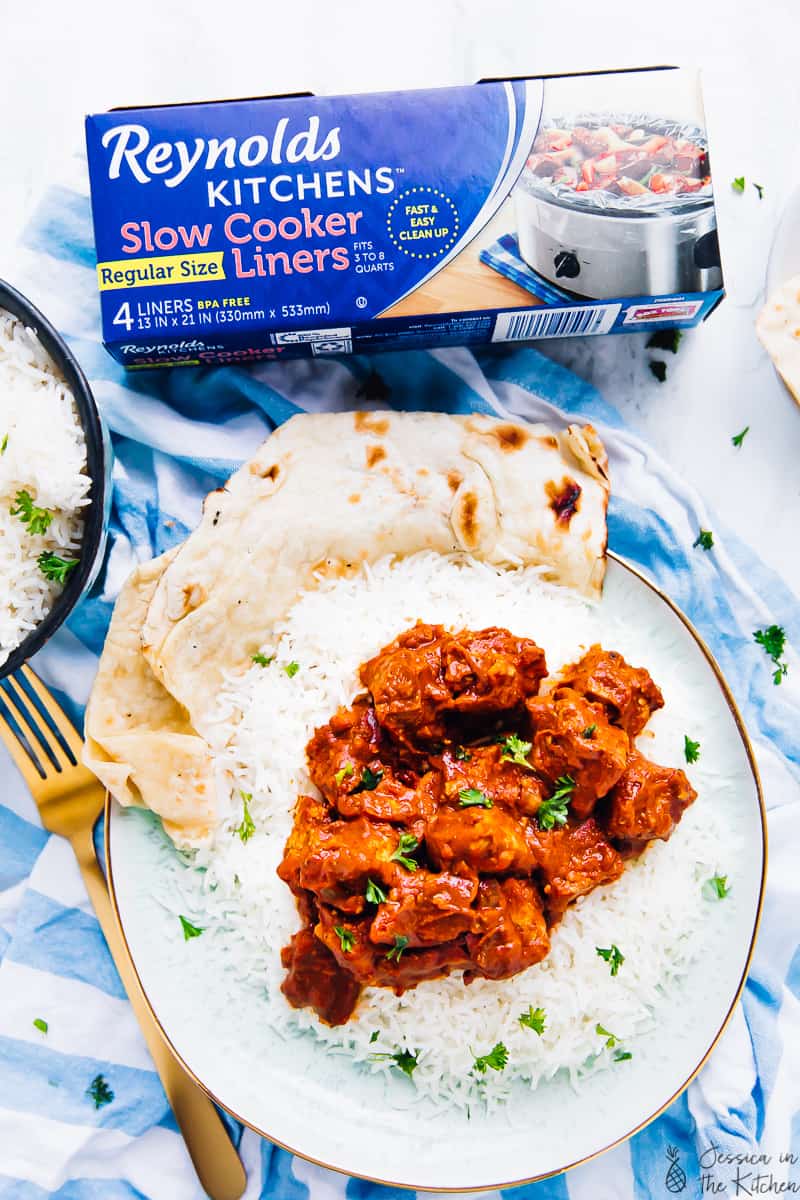 The Slow Cooker Liners also come in two different sizes, so whether you have a 1-3 QT or a 3-8QT slow cooker, you can grab the right size for you.
All the reasons for you to love this Slow Cooker Tofu Butter Chicken:
It's slow cooker so very easy to prepare (while the tofu is prepping, just prep the ingredients!)
Perfect for warming up in freezing cold weather
Works all year round too
Incredibly easy to make – no pre-cooking
It's a one pot
The flavour beautifully seeps into the tofu
Tastes even better the next day
It freezes beautifully.
It serves 6-8 people one time! Hello leftover heaven!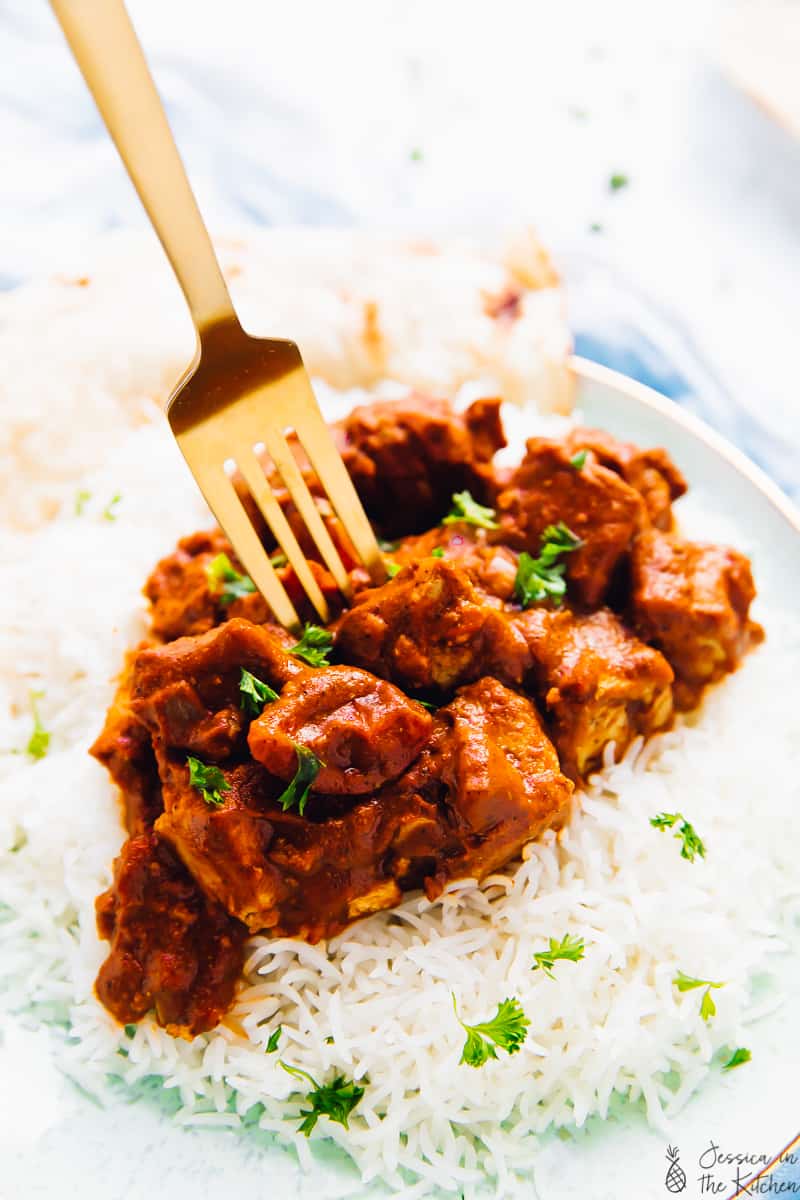 Your Questions Answered (FAQ)
Can I freeze this Slow Cooker Tofu Butter Chicken?
Yes you can freeze this! It thaws beautifully in the fridge overnight, then reheated on the stove top even in the microwave.
How long will this last in the fridge?
This dish should last about a week in your fridge!
I'm looking forward to having this for dinner over and over again until it finishes. I hope you not only give it a try, but grab a package of Reynolds Kitchens Slow Cooker liners for it too! Eat up and enjoy friends!
P.S. if you love Indian recipes you will also love my Coconut Chickpea Curry and my Aloo Gobi Masala.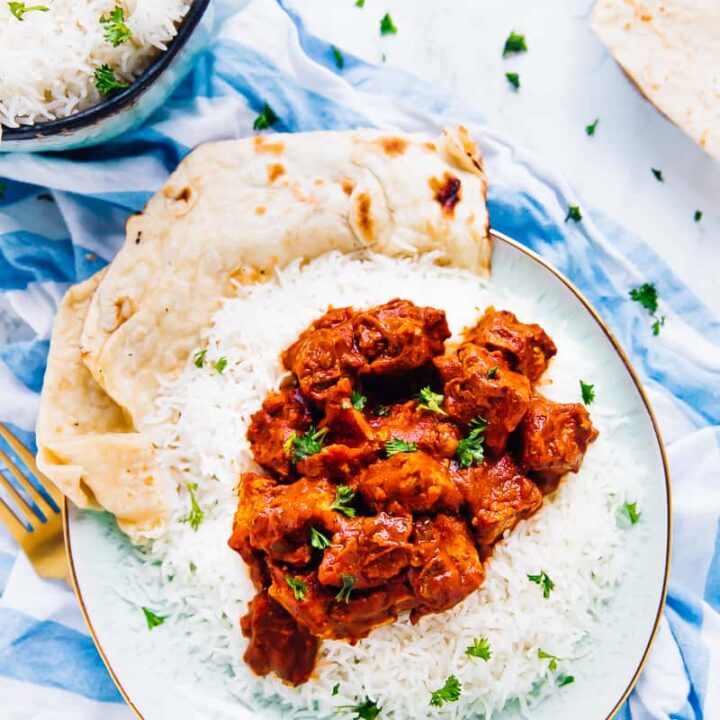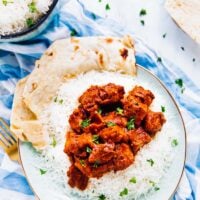 Slow Cooker Tofu Butter Chicken (Vegan)
This Slow Cooker Tofu Butter Chicken is even better than takeout! Incredibly rich in flavour and all one pot, this is great for meal prep all week long!
Ingredients
2 ½ tablespoons garam masala
2 teaspoon ground ginger
1 teaspoon chilli powder
1 teaspoon ground black pepper
2 teaspoon curry powder
1/2 red onion, diced (135g)
2 teaspoons sea salt
2 14 oz each cans of coconut milk (28 ounces total)
12 ounces tomato paste
1/2 teaspoon dried fenugreek, optional
2 1lb blocks firm tofu, pressed for 30 minutes* (2 lbs in total)
2 teaspoons coconut sugar, or brown sugar optional
juice of two limes
Instructions
After the tofu is finished pressing, cut the pressed tofu into cubes, or tear into cube size pieces for extra texture.

Turn your slow cooker on and to warm. Line your slow cooker with one Reynolds Kitchens Slow Cooker Liner according to the box's directions.

Into the Reynolds Kitchens Slow Cooker Liner, add all of the ingredients into the slow cooker except the tofu, coconut sugar and the lime.

Whisk and mix together the ingredients and incorporate until the tomato paste is almost or completely mixed into the sauce.

Add in the tofu, and stir gently, incorporating completely.

Set the slow cooker to high for 3 to 4 hours or on low for 6-7 hours (for high, monitor the last 30 minutes and for low, monitor the last hour). At the end, stir in the lime juice and the coconut sugar. While the coconut sugar is optional, I found that it helped to really bring out some hidden flavours!

Serve alongside naan bread and basmati rice and enjoy!
Calories: 240kcal, Carbohydrates: 13.2g, Protein: 7.8g, Fat: 17.4g, Saturated Fat: 26g, Sodium: 474mg, Fiber: 2.1g, Sugar: 7.1g
Disclaimer: Although jessicainthekitchen.com attempts to provide accurate nutritional information, kindly note that these are only estimates. Nutritional information may be affected based on the product type, the brand that was purchased, and in other unforeseeable ways. Jessicainthekitchen.com will not be held liable for any loss or damage resulting for your reliance on nutritional information. If you need to follow a specific caloric regimen, please consult your doctor first.