What To Do In Israel (Tel Aviv, Jaffa, The Dead Sea) – Israel Travel Guide Series Part 2
Welcome to Part Two of my Israel Travel Guide! Here's What to Do in Israel. These were my favourite activities while in Israel, including which cities to visit and what to do there!

Welcome back to my Israel travel guides, friends! It's crazy that four months have passed since my last post already! If you haven't checked that one out, I shared a comprehensive Vegan guide of What I Ate in Israel, including my top choices for where to eat & drink including Jerusalem.
To catch you up briefly, I was invited to spend a week in Israel by Vibe Israel to be a part of their Vibe Israel Wellness Tour. You can read more about Vibe Israel on their website as well in my last post! While I did such a wide variety of things with Vibe Israel, on my second week in Israel I also did some very exciting things too (including going to the Dead Sea!), so I'll be rounding them all up in this post!
In order to make this long post easy to follow, I've decided to split the activities based on location throughout Israel. Today's post is about all the things I did in Tel Aviv, Jaffa and the Dead Sea. It wasn't until I was finished with this post that I realised just how many things I did in my two weeks there. My next post will be above all the things I did in the Northern Region of Israel, including Kfar Vitkin, El Carmel, and the Druze Village, Haifa and Jerusalem!
What To Do In Israel
Tel Aviv
Try a Unique Culinary Experience – Cooking with Chef Muzna (who has been on Iron Chef Israel)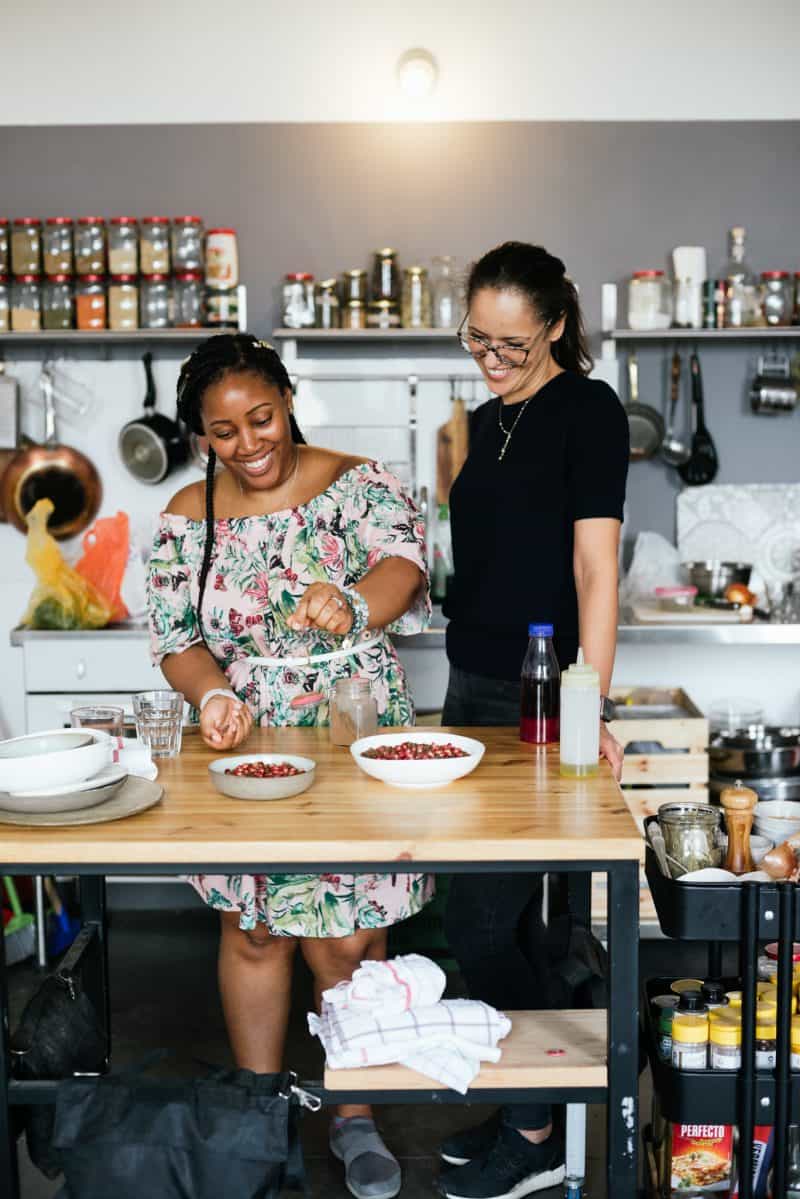 One of things I knew I wanted to do when I landed in Israel was to cook some Israeli food. Like, with my own hands! My prayers were answered when for my "one on one day" with Vibe Israel, I got to cook with Chef Muzna. I connected with Muzna instantly! We wandered through the Levinsky Market with our photographer Kira. The two taught me more about the market than I could have possibly learned online. It was such an eye opening experience filled with taste tasting and lots of walking. Then off to the cooking.
Honestly, Muzna did all the cooking. But that one on one experience taught me things that I now use in my own kitchen! Ways to cook some of my favourite vegan foods (like lentils with eggplants) and ways to use things I never imagined (such as pomegranate molasses). I did get the honour of sprinkling the finishing touches of pomegranate seeds over our salad. I would highly recommend finding someone while in Israel to experience this hands on (or hands off until the last shot in my case) experience because it can really connect you. The biggest thing I learned? That za'atar is a plant! I genuinely thought it was only a spice mix! It's now one of my favourite things to use weekly in our house!
Experience a Shabbat Dinner and/or Dinner with an Israeli Family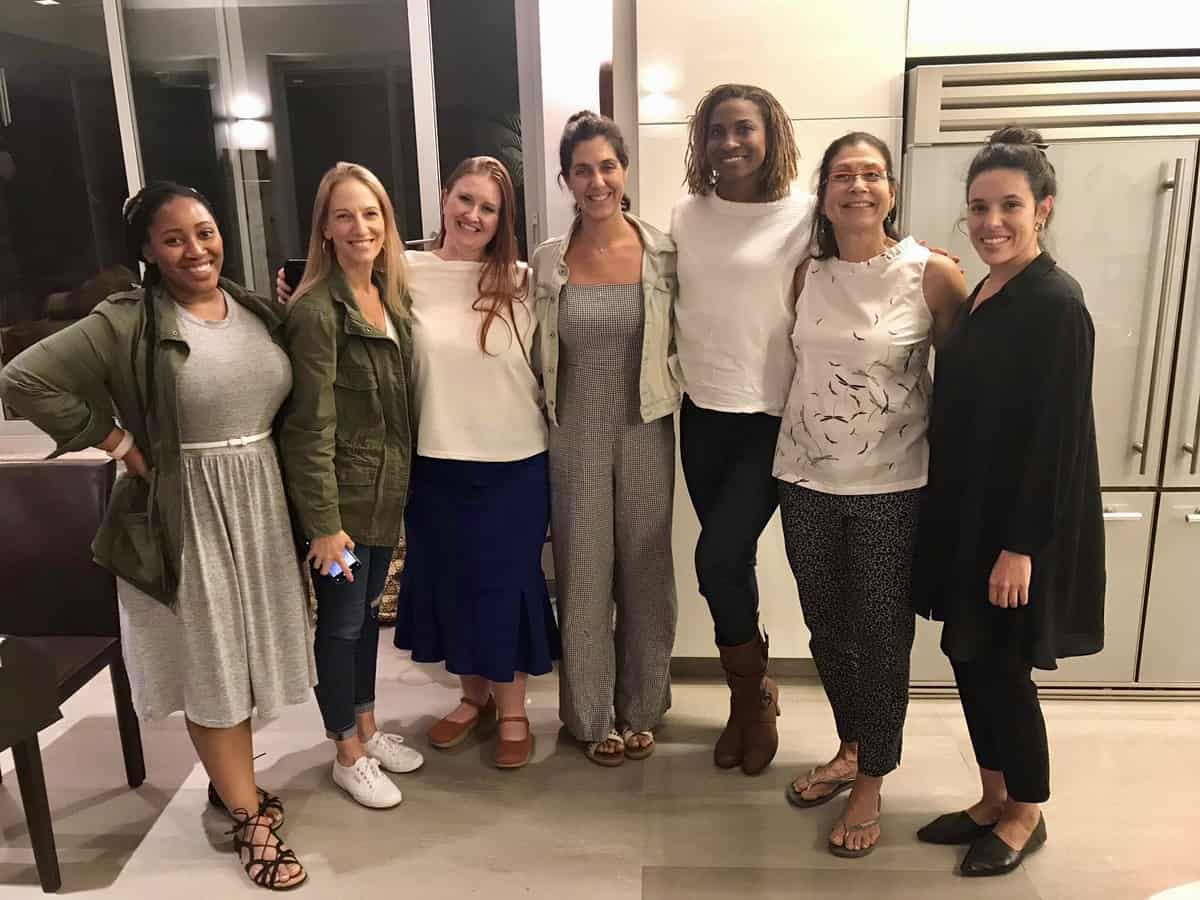 I experienced two large dinners in Israel, and at both I felt like I was at home with family. The first one was with Tal's family The Nimrodi's with Vibe Israel and our little crew. Tal owns a divine nut butter company in Israel named Rusty's Nut Butters which has a halva flavour – need I say more?! Dinner was such a treat and the amount of vegan options on the table meant I left stuffed. Shabbat dinners are such a treat because it shows you just how warm and friendly Israelis are!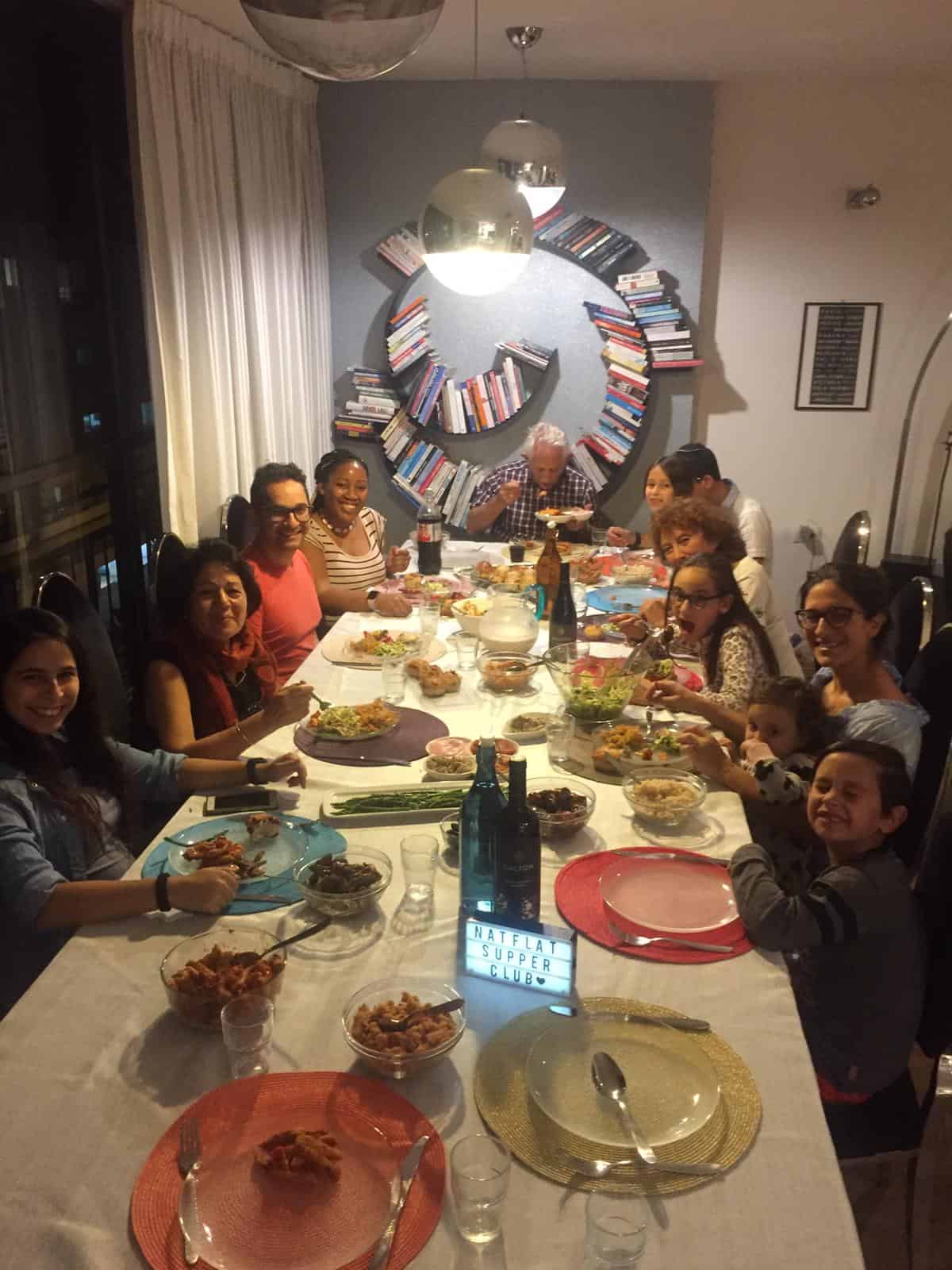 The second dinner I had was with Natalie from NatFlat Supper Club. This was on my second week, and I have to take this moment to shout out Natalie and speak to Israel's hospitality. It surpasses anywhere else in the world that I've been. I didn't spend a day alone in Israel – I was always with someone new! After meeting briefly at our Vibe Israel going away dinner, Natalie invited me to dinner with her family. Not only was this an honour, it was really fun! I got to help prepare the dinner, eat and learn from her family, and share some blogging info with them. It was such a fun night.
Natalie helped me to arrange my trip to the Dead Sea, gave me solid direction for Jaffa, and took me on a walking tour of Tel Aviv of my last night which included so much that's it's impossible to fill this whole post with it! Without a doubt, she ensured that I was taken care off on my second week without Vibe Israel. To this day we still speak on and off. That is the beauty of Israeli hospitality – I made so many life long friends!
Visit the beach promenade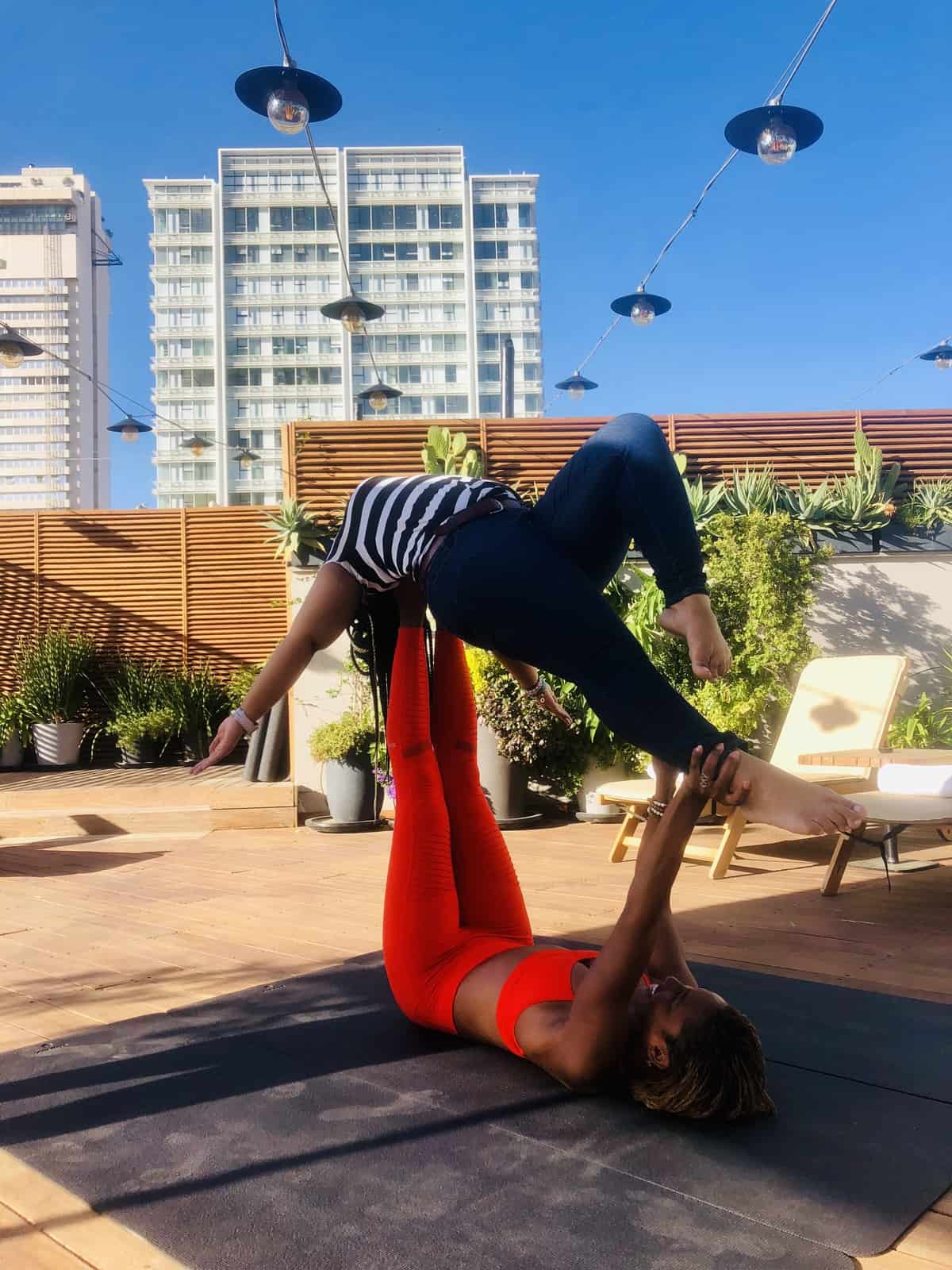 Staying on the beach at Dan Panorama
Tel Aviv's beaches are so beautiful and almost art like! My second hotel, Dan Panorama, was located on the beach, right beside The Tayelet, which is Tel Aviv's beach strip. Honestly, staying on the beach was a dream. While I did pay for my room, I was so grateful to Dan Panorama for giving me a great discount on my lovely room! Waking up and facing the beach every day was a dream. If you follow me on IG and followed my stories then you know what I'm talking about, because I shared it constantly!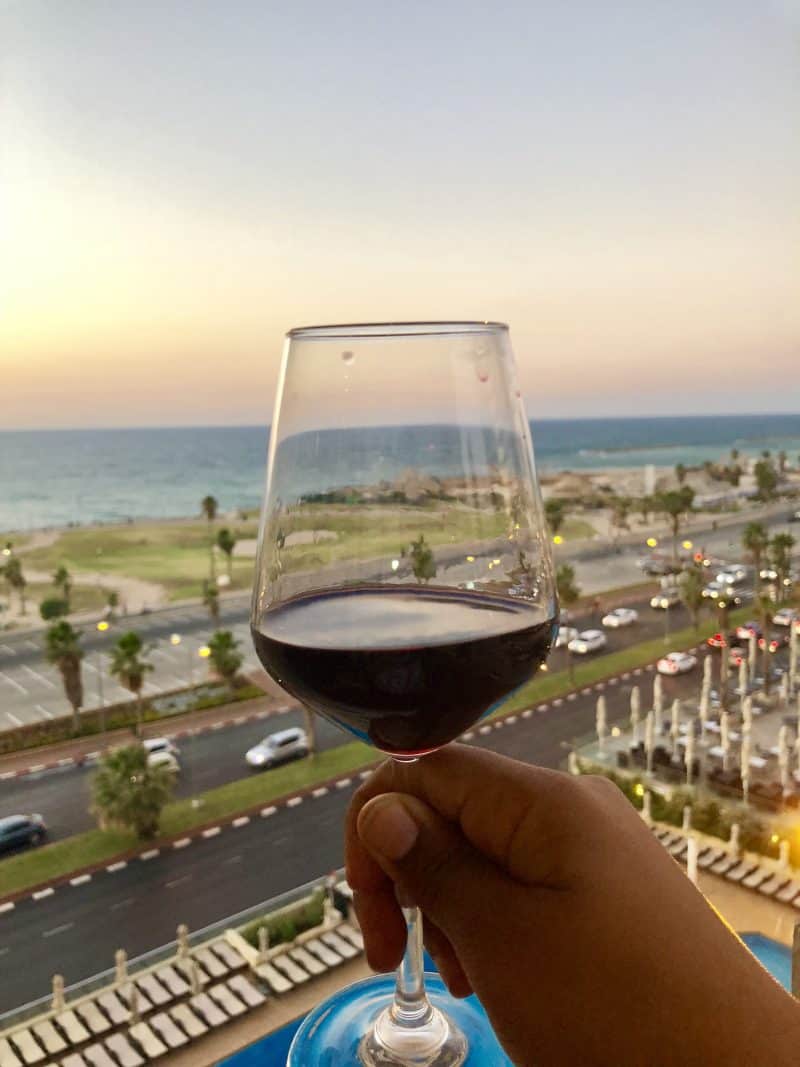 Toasting with the complimentary bottle of wine that Dan Panorama gave me to the sunset was also a treat. On my first night there and their last night in Israel, I walked the beach with Koya and Leah. It was so picturesque and really something worth viewing! There are people doing all sorts of cool things such as doing yoga (Koya was), riding on some new devices to get around, performing, and the works. It's worth for it for a day or evening of entertainment for sure!
Do a Food market tour with Nurit Goren & Visit the Markets of Israel (Carmel, MachneYuda and Levinsky)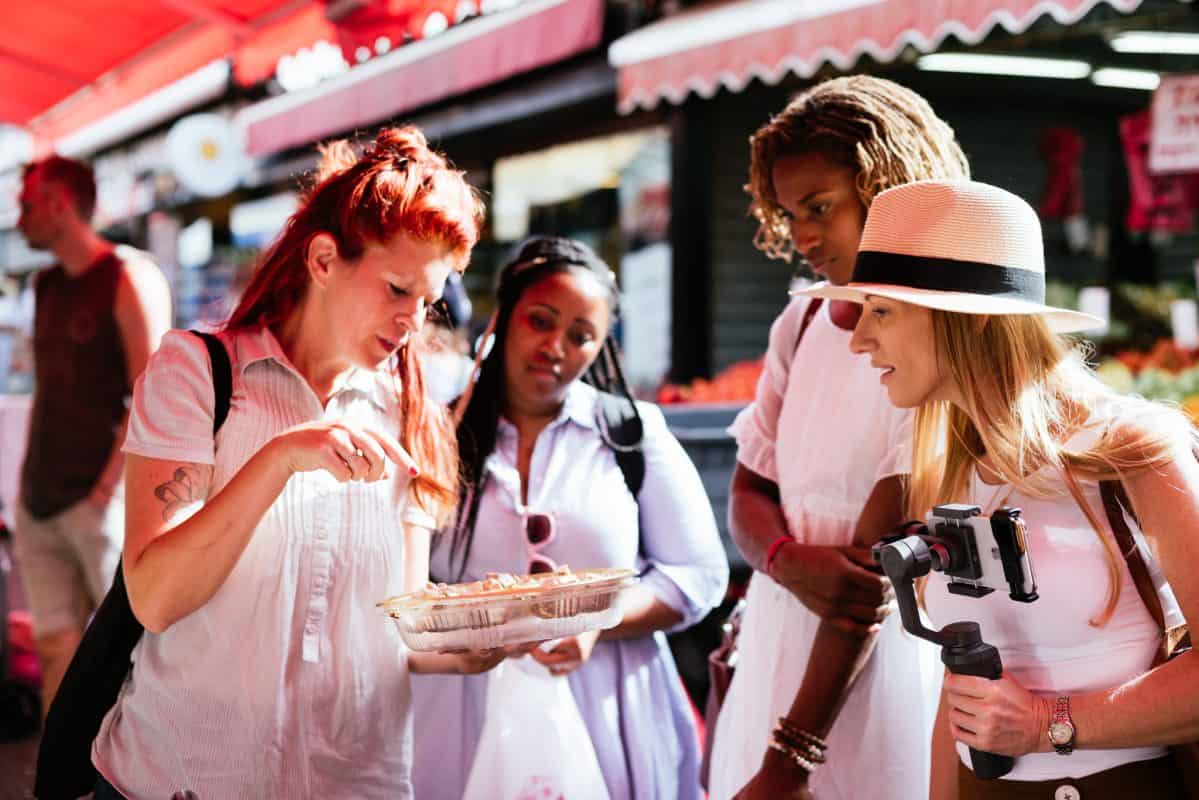 After a beautiful tea styled breakfast at her house, Nurit Goren took us on one of her famous Carmel Market Tours. Carmel Market is the largest market in Tel Aviv and pretty intense to navigate by yourself. Having a tour made the experience so easy and welcoming that I would knew I could confidently go by myself after that! Nurit showed us the ins and outs of the market, shared history, and we taste tested so many new foods.
After this we explored a bit more of the area and had lunch with Nurit and her family. Our tour lasted about 3 hours, and I think I speak for everyone that we were properly fed and educated by the end. By the way, yes the markets have vegan street food! In fact, due to halal and kosher, many of Israel's street food ends up being vegan! We enjoyed vegan doughnuts fresh out the fryer (yes), and vegan burikas alongside some refreshing healthy shots to wash it all down with. Needless to say I was constantly in vegan heaven this entire trip.
This market reminded me of Borough Market in London. It's large, filled with so many new-to-me foods, and definitely worth a couple of hours visit!
Go to a party
I still have no idea how I found the time or energy to do all of this! On my week with Vibe, we all went out to a club and had lots of fun dancing. Not to sound cheesy (I'm 27) but I felt 21 again! On my second week, I was invited to a party by Vibe Israel's Jannah and had loads of fun and met even more new people!! I didn't stay long because I was tired, but it was lovely to see another side of Israel again. Israel's party scene is huge! There are tons of bars and cool events always going on so be sure to stop by one!
Visit Ganei Yehoshua Park HaYarkon (Yarkon Park)
Ganei Yehoshua Park HaYarkon is one of the largest urban parks in Israel, and definitely the largest in Tel Aviv. After buying me a coffee (the coffee in Israel didn't upset me at all – in fact it was so perfect), my lovely new friend Molly who I met with Vibe Israel took me here and I highly recommend it as somewhere to grab a coffee or a tea and sit and catch up with a new (or old) friend. It's also a largely dog friendly park, so if you love people and dog watching, this is the park for you. It's large, beautiful, and bike and walking friendly. By the way, Israel has one the highest dog-to-human ratios and is known as the dog-friendliest city in the world, so you are bound to see some huge and beautiful dogs everywhere you go!
Visit Tel Aviv Museum of Art
One of my favourite things to do on any trip is to visit a local museum. I can spend hours in a museum just absorbing and learning. So when I heard that Tel Aviv's Museum of Art was one of the top rated in the world, I knew I had to visit it by any means possible. I was allowed to stay after hours (which was amazing) and I explored to my heart's content. There are so many symbolic pieces of art here that are truly captivating. I would highly recommend giving it a visit.
Visit Neve Tzedek
As it turns out, my hotel the Dan Panorama was located next door to this neighbourhood! Neve Tzedek is the first Jewish neighbourhood to be built outside of Jaffa, so it holds some serious history. The streets are different from the rest of Tel Aviv, so its a beautiful place to wander back in time essentially. I wandered these streets for three days, buying souvenirs, jewellery and art pieces. Did I mention I was living my BEST live in Israel?? It's currently covered in cafes and restaurants, stores and so much more and it's worth a visit. One of my favourite restaurants from my What I Ate in Israel Guide is located in here!
Jaffa/Yafo/Old Tel Aviv
Okay, so I get that Jaffa and Tel Aviv are basically one (the official location is called Tel Aviv-Yafo), but I wanted to separate them. Reason why? I got such a different vibe in Jaffa. Tel Aviv is incredibly modern, fast moving, fast paced. As you step into Jaffa, you've stepped back about 100 years. My. goodness. The decor, the brick, the colours, the music! Jaffa felt like a dream. Of course, I enjoyed Tel Aviv but I cried in Jaffa and I tear up now just thinking of the sunset.
Wander the streets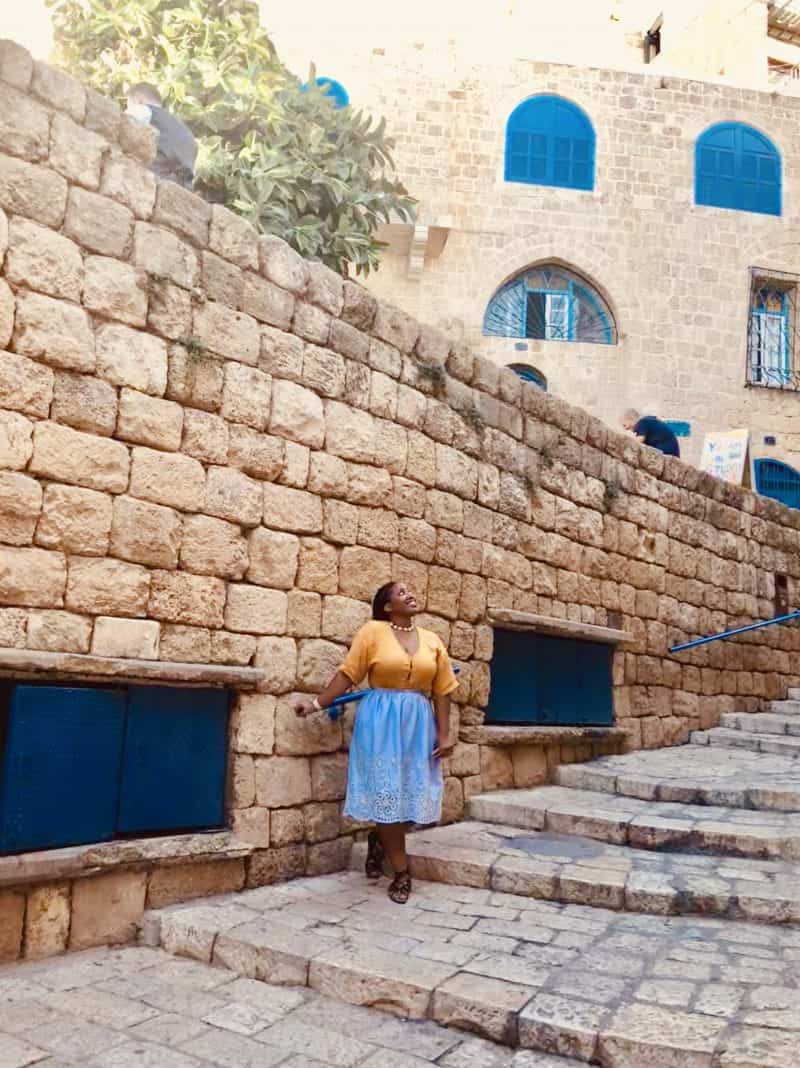 It doesn't get better than just wandering Jaffa. Jaffa is one of oldest port cities in the world and home to the largest flea market I have ever been to. It contains some amazing restaurants, including a new hip one that I mentioned in my first guide that my new friend Chrissy (who I met at the Dead Sea – more below) introduced me to. Jaffa is like a puzzle you're dying to unlock. Wander up and down to stumble upon hidden art studios, where you can watch an artist work. I even stumbled upon a secret garden that no one else seemed to find. It was truly magical.
Visit Shuk HaPishpeshim aka The Jaffa Flea Market
Shuk HaPishpeshim is the name of the flea market in Jaffa. You can buy anything here from a rug to furniture to antique items. I was tempted to buy a rug and haul it home with me, until I remembered how far I was going. So I did a lot of sightseeing. It stretches for streets, so you can get something to eat and essentially indulge in your longest window/outdoor shopping of your trip.
Visit Kedumim Square (St. Peter's Monastery, View From The Hill)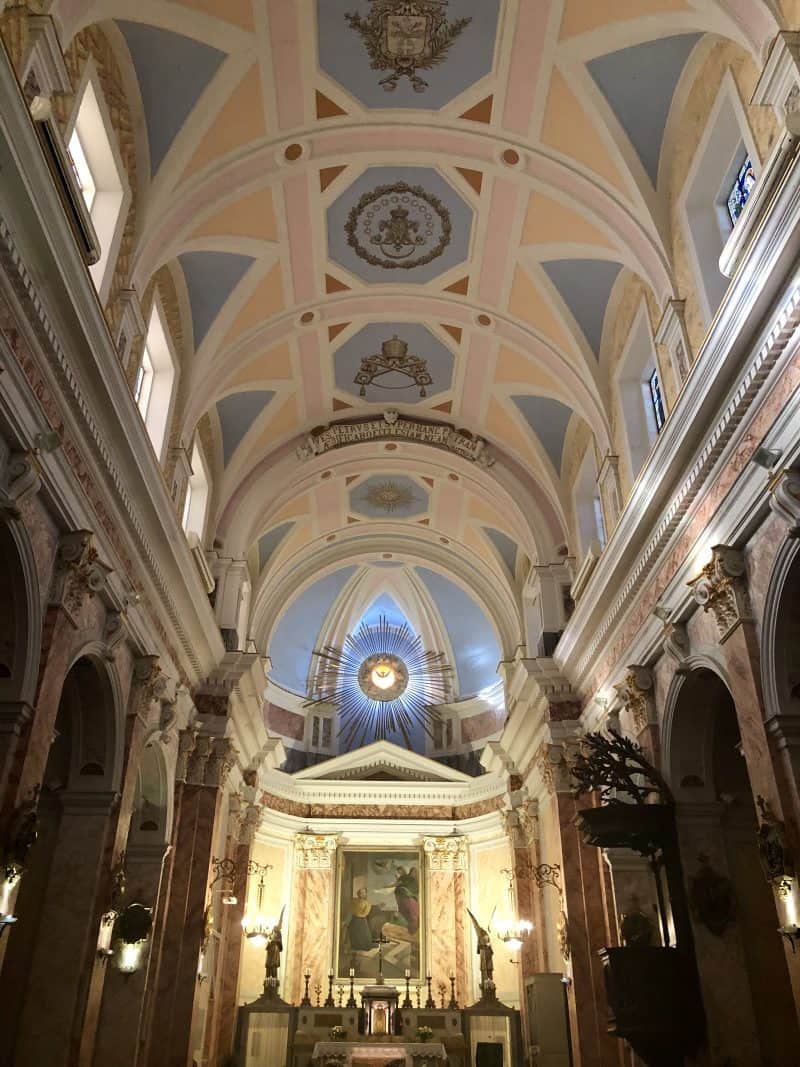 So while exploring Jaffa, you're going to want to make your way up to Kedumim Square. Here you'll pass a man selling Pomegranate Juice. Buy it – you're going to need it! The walk up the hill to the square is peaceful, scenic and a great quick workout. Along the way feel free to stop at the sights, take photos and observe the view.
When you reach the top, check out your view. I stayed up here for the sunset and wow. This is one of the two times I cried. It was the most beautiful sunset of my life, and I have seen sunsets in Jamaica more times than I can count! The entire city fell into a dusty pink. Even I became pink. It was such a sight that I am so happy that Natalie recommended that I visit it for sunset. On my way down, I passed a beautiful gazebo and heard the call for prayer. I recorded it and let me tell you, it gave me chills. I shared it on my IG and so many of you commented on how beautiful it was. Definitely worth experiencing.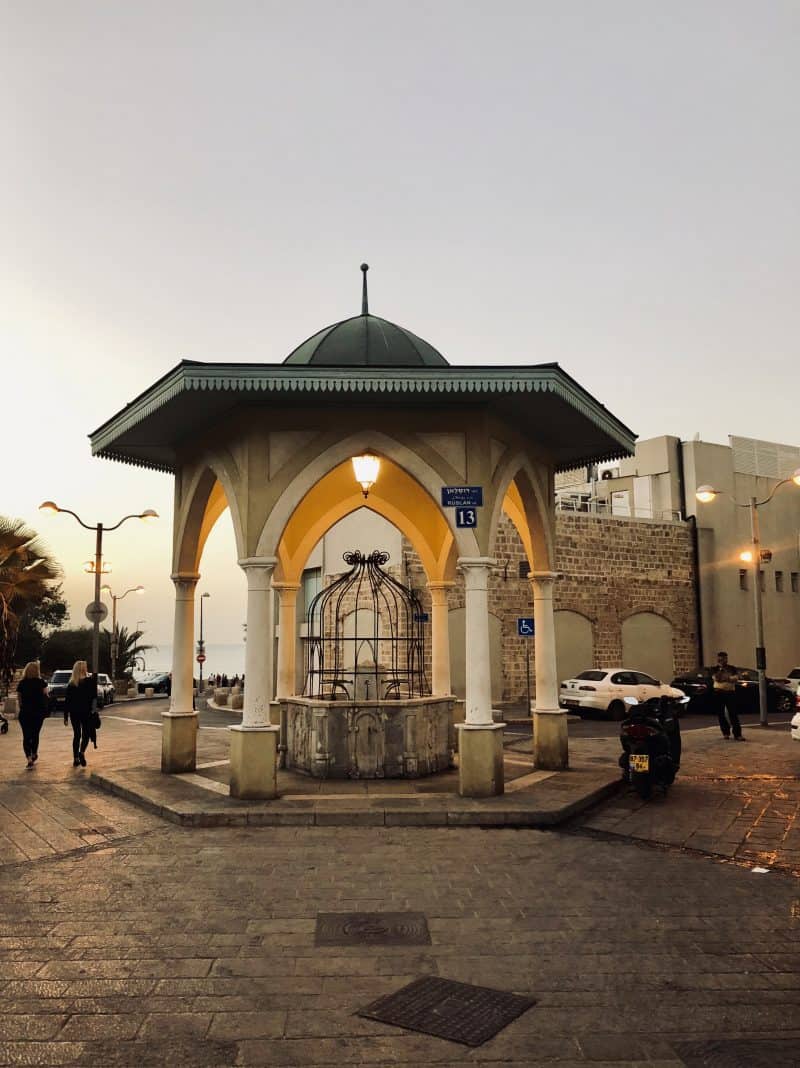 St. Peter's Monastery is located in the square. In terms of St. Peter's Monastery, I took a peep in here and might I say, it's beautiful and worth just a few minutes of your time at least. It's a beautiful Roman Catholic Church and one of Jaffa's most well know landmarks.
The Dead Sea
Swim in the Dead Sea and cover yourself in mud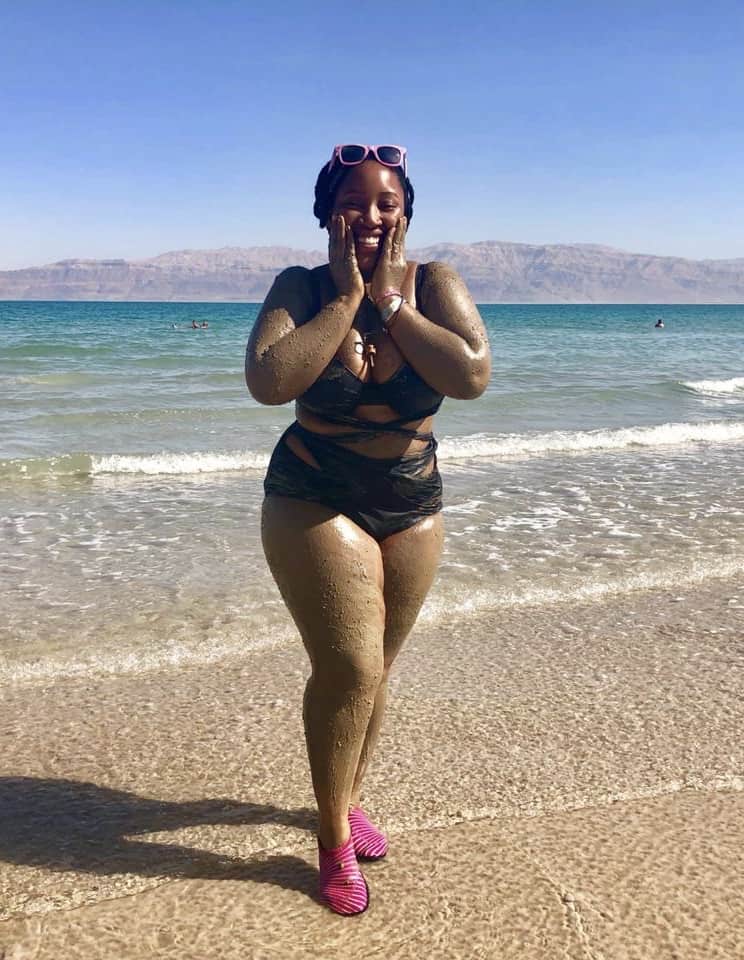 I had such a blast at the Dead Sea! When you think of Israel you probably automatically think of the Dead Sea, or at least I did. If you don't know, the Dead Sea is the lowest place on earth.. It's known for its hyper saline water, and mineral rich mud. Long story short, there is so much salt in the Dead Sea, around 34.2% as compared to the ocean which is about 3.5%, that you float when you try to swim in it! One of the coolest things about the Dead Sea is that not only is it a must-see attraction, you can go and freely swim in it and cover yourself in mud!
Swimming in the Dead Sea
Saying that I went swimming in the Dead Sea is actually hilarious because you can't really swim in it! Due to the buoyancy thanks to the salt levels, you float the second you take your feet off the ground. In fact, I would warn that you shouldn't try and swim because you don't want that salt water in your eye! Enjoy the Dead Sea by floating on your back. It's quite an experience!
Another amazing experience at the Dead Sea is covering yourself in the mud. The mud in the Dead Sea is known for its healing and spa soothing qualities. Now, when I say that it has healing properties, I mean it! Once you let the mud dry and wash it off, your skin will feel the softest it has ever felt in your life! After reading about the mud's properties, I even took home four bags of mud from the gift shop to give out and to keep for myself! This experience is especially fun with a friend who can take photos of you. I went by myself, but I met a kind stranger Chrissy who I bonded with! We even went to dinner later than night together. You can watch my day by day adventures on my highlights on my Instagram page.
Here are some tips to know before visiting the Dead Sea (you can read even more elsewhere).
Do not shave anywhere within 3 days of visiting, it will sting insanely.
Don't get the water in your eyes – trust me!
Wear a LOT of sunscreen!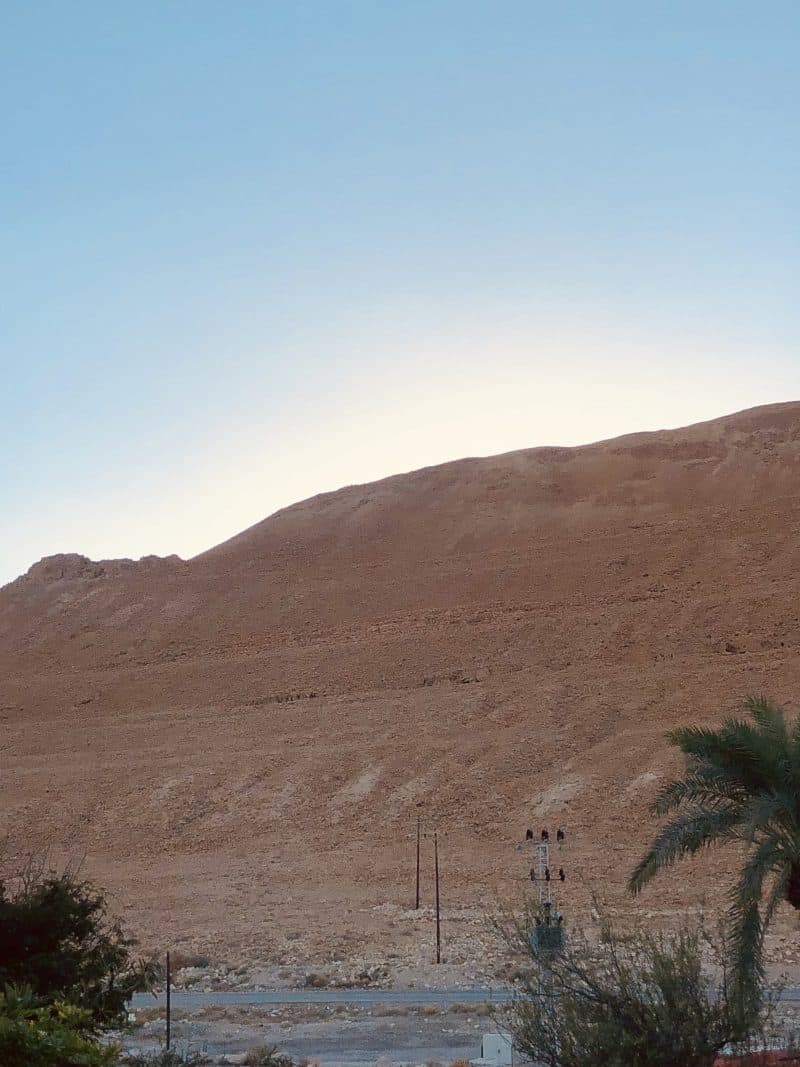 Disclaimer: Vibe Israel invited me to a week in Israel. While I was gifted with this experience, all opinions and text are 100% my own. Thank you for supporting the companies and brands that support Jessica in the Kitchen!
I hope you guys enjoyed my What to Do in Israel Guide (Part 2)! Part 3 comes out very soon, so stay tuned to reach about my trip to Jerusalem, the North Region and so much more! Tell me – when are you going and what do you plan to do there? Did I miss anything? Let me know in the comments section below!
All photos were taken by Kira Kletsky or me.