Red Lentil Curry – Vegan, One Pot
This Red Lentil Curry is SUCH a delicious curry recipe ready in an hour! It's made easily in one pot, is vegan and freezes so well!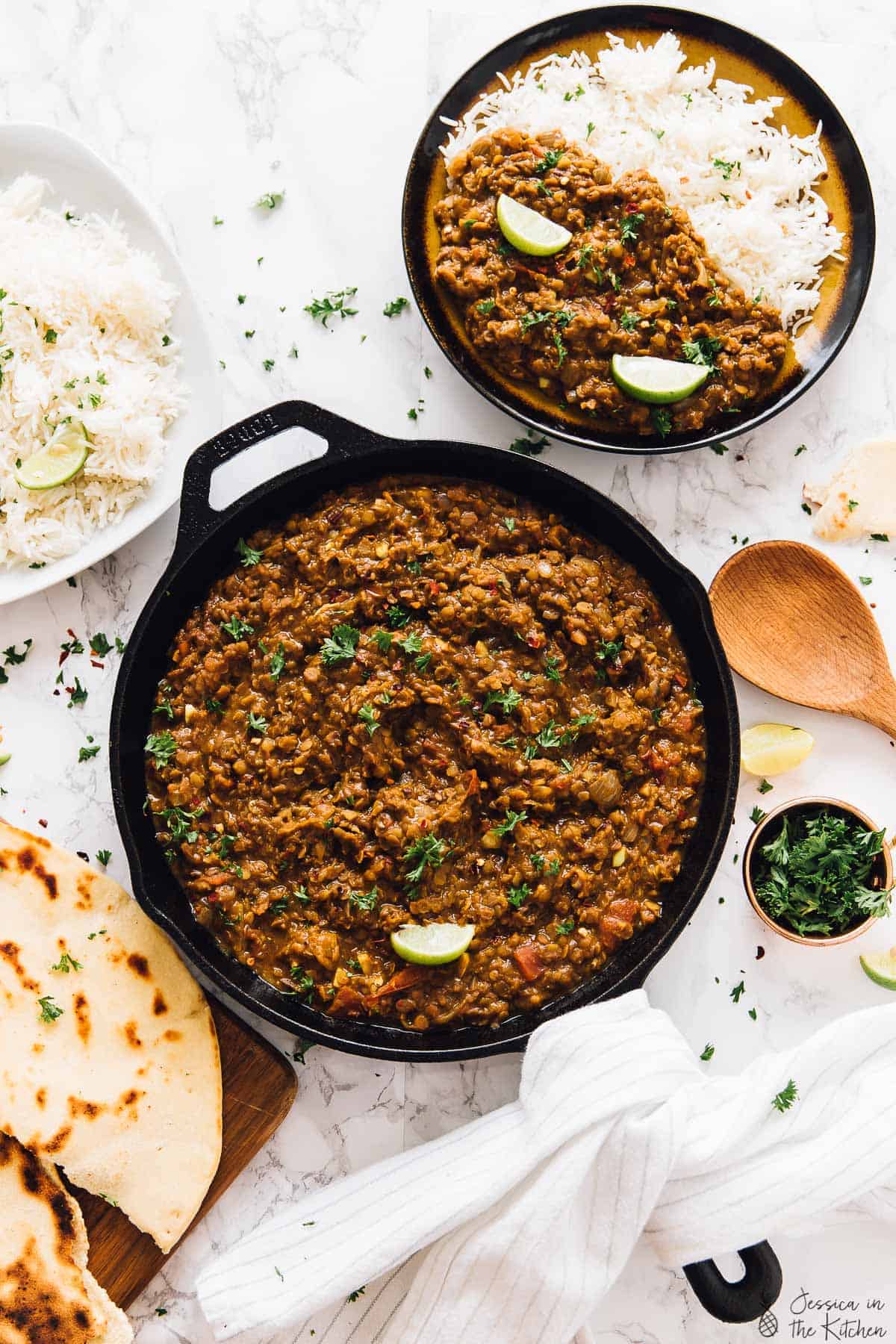 Can I share a secret with you? It's been a while since I last cooked. I mean, I've cooked to eat dinner, and oatmeal for breakfast, but after I created all those recipes for the ebook I went into a real and serious burnout mode. Writing a book is such a fun and challenging process, and at the same time, is a pretty exhausting process. I'll say this – I don't regret anything. I'm so glad to have finally created my first Jessica in the Kitchen product AND so grateful that the Mr. really took over with ALL the meals.
It feels amazing to be back and I'm really glad to be sharing this insane Red Lentil Curry. Oh my gosh. If you love my Coconut Chickpea Curry you're going to FLIP for this.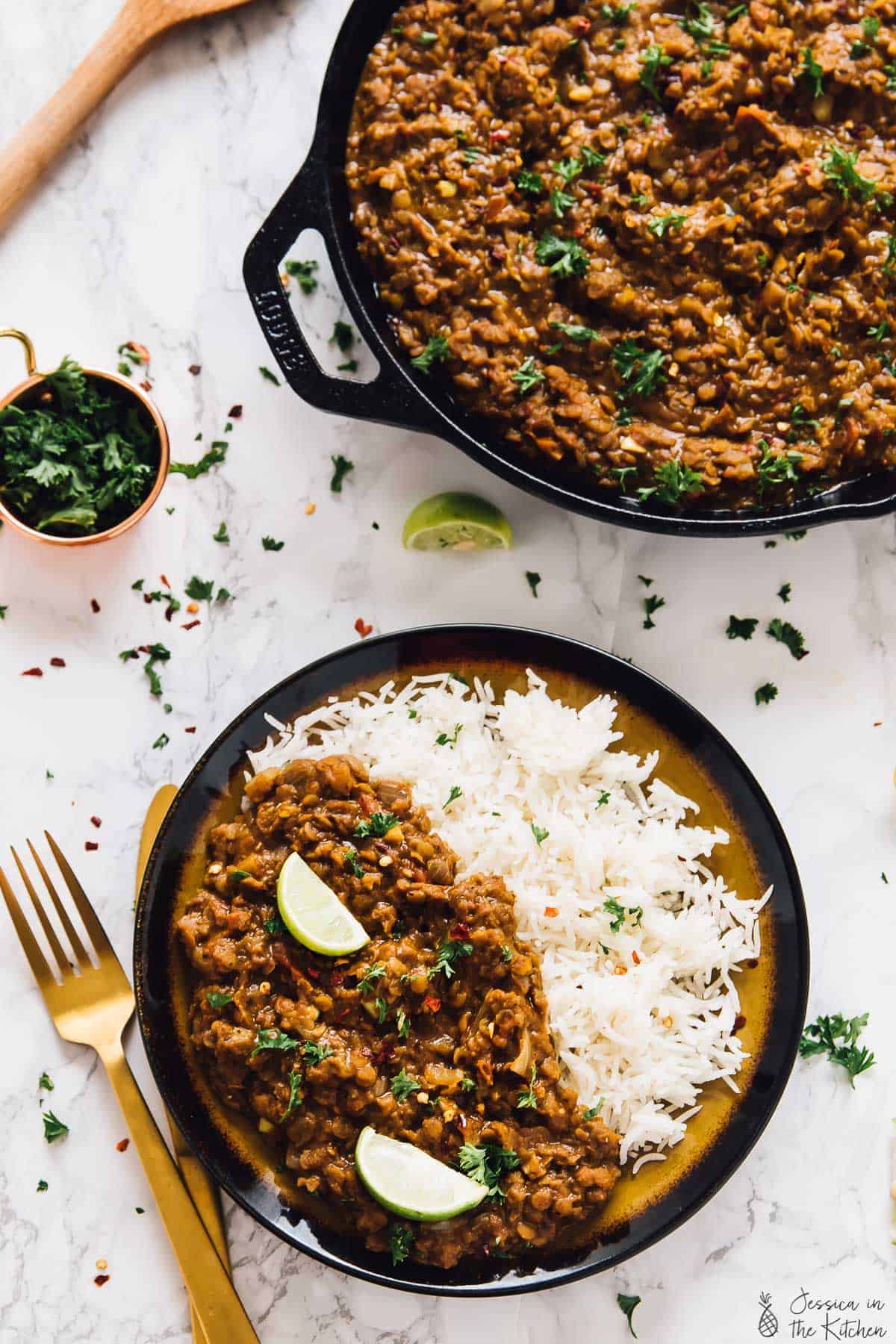 First things first – thank you to everyone for the OVERWHELMING support I got for my ebook!! Honestly, you're the best. It was the kind of motivation that I needed to jump right back into creating even more delicious recipes to share with you. This Red Lentil Curry is exactly that. Friends, this curry is SO flavourful! I know, I know, I say that all the time, but I HAD THIS FOR BREAKFAST.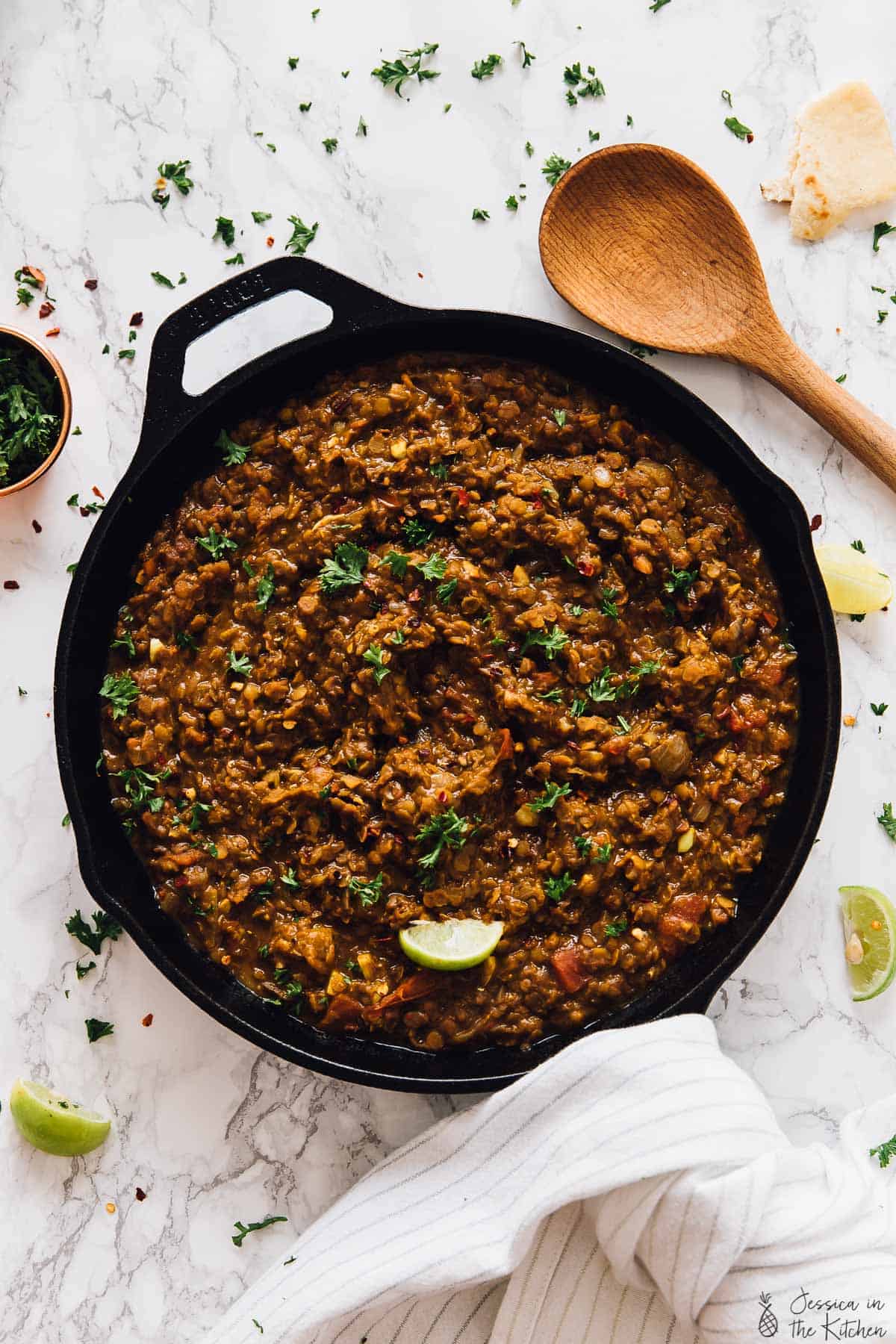 Let's pause right there. I *never* have anything but breakfast foods for breakfast. It's sort of part of my life code – I love breakfast foods so much that I shan't ever miss a chance to eat them. I broke that for this curry dish. I found a way to really infuse flavour into those lentils and to create a curry dish your entire family will (guaranteed) enjoy.
This dish reminds me of a dal that I enjoyed while in London that honestly changed my perspective. I've always loved Indian food, but I honestly haven't been the biggest lentil fan. Of course I've made it in many recipes but after having Black Dal from Dishoom, I almost cried.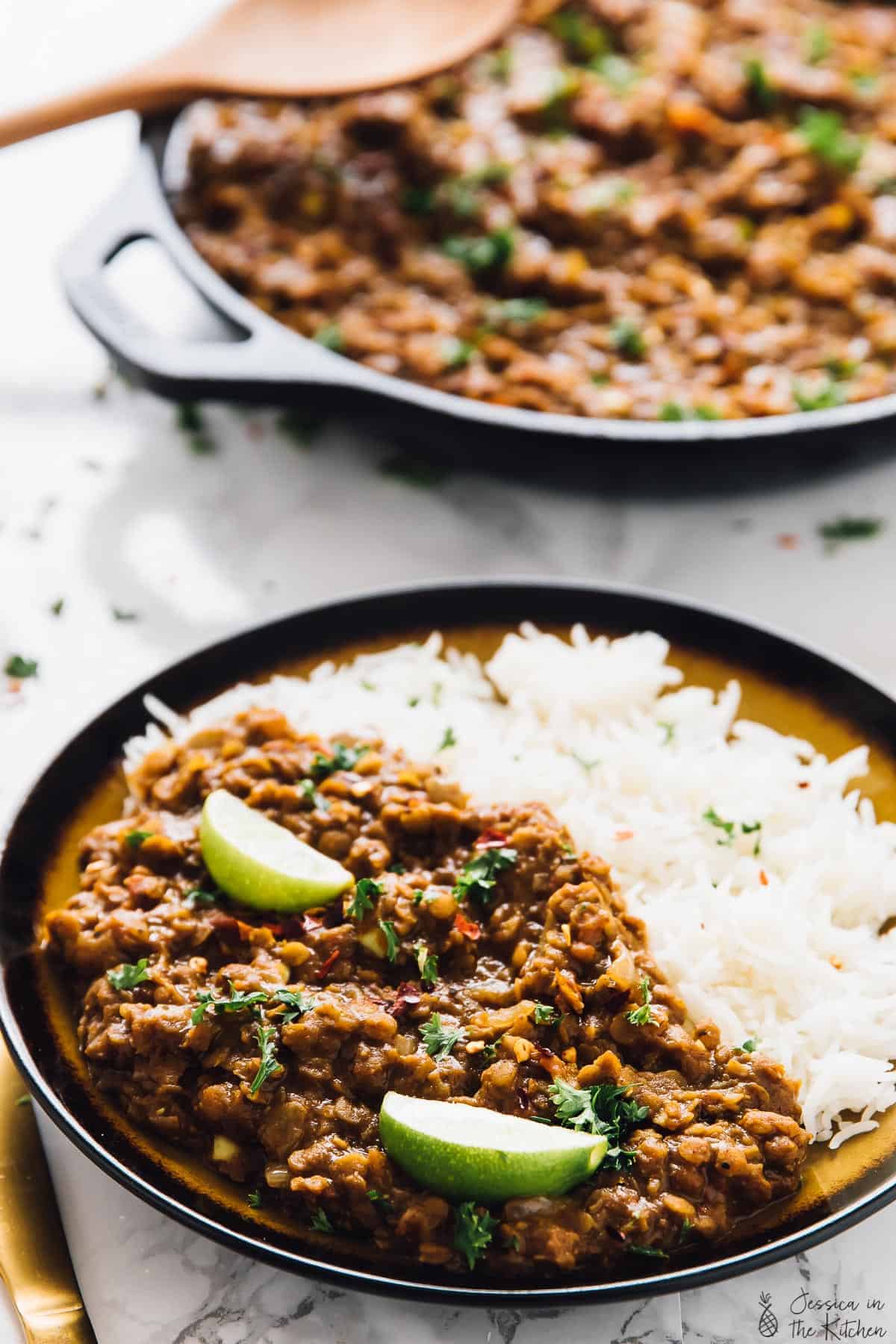 Okay, so food gets me really emotional, obviously, but to this day I can vividly remember exactly how I felt after that meal. The flavour profile of that Black Dal was unlike any other. I hope to recreate it one day, but for now, this red lentil curry thoroughly reminds of that dal. I'm not 100% sure whether this curry contains what constitutes a dal dish, but I know for sure that it's a true winner. All the ingredients here lend a helping hand – the spices, the tomatoes and onions, the coconut milk, the lime – they all come together to create a dish you'll want to be making and eating over and over. The Mr. is literally eating it again right now as I type this.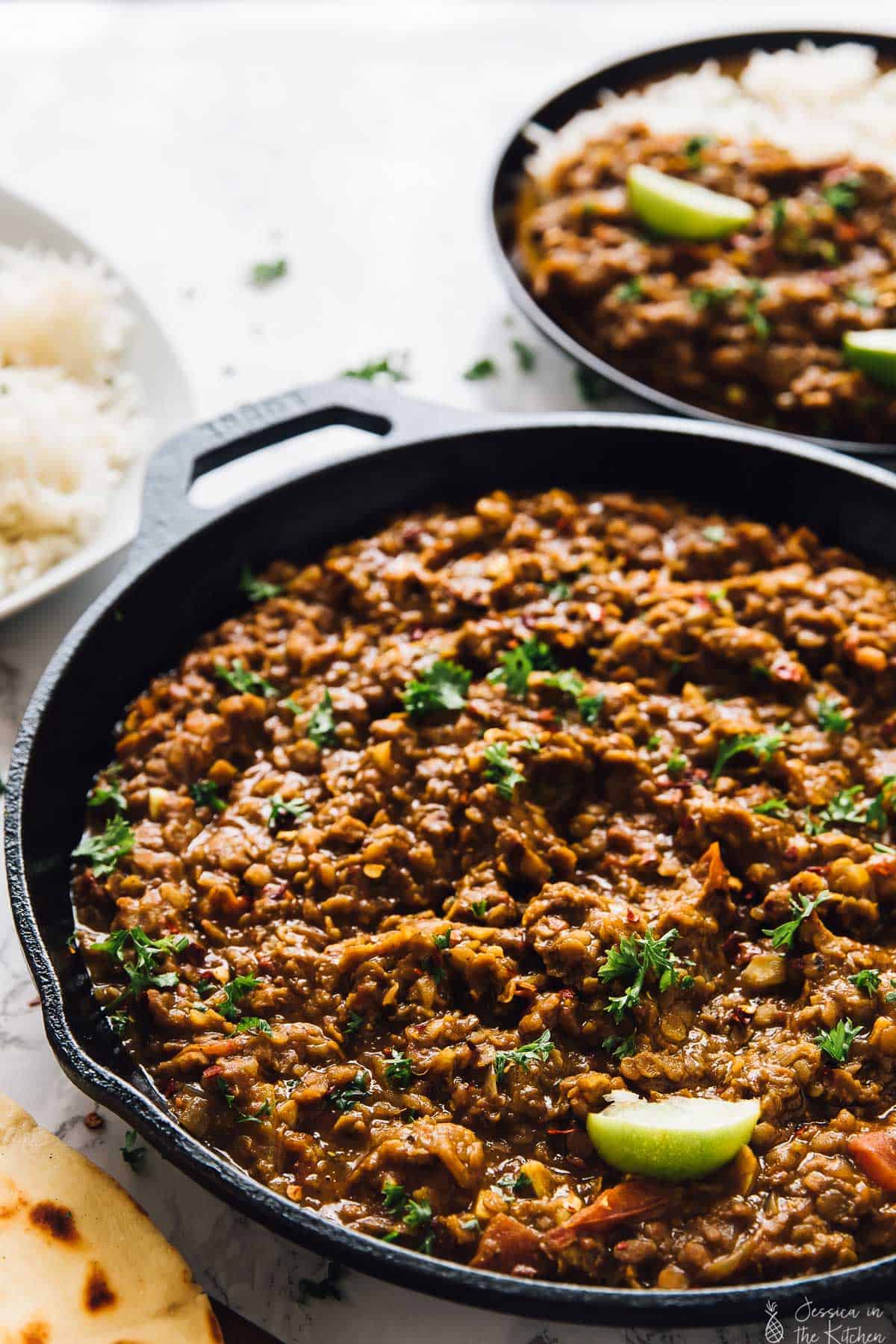 I wanted the flavours to come together easily for you, so I went ahead and also added red curry paste to the dish. It really packs that punch I was looking for, and goes beautifully with the fresh spices included. P.S. I use this red curry paste which is vegan and gluten free. I'm now convinced I'll be using lentils way more than I have been before. They've proven to be very versatile and really helped to stretch this dish to serve a LOT of people. It doubles so easily, and I love that it freezes really well. Perfect for the upcoming cold months.
P.S. the world is your oyster with this dish. Feel free to try this red lentil curry with spinach, tofu, cauliflower, and even potatoes! It's easily customisable. Enjoy, friend!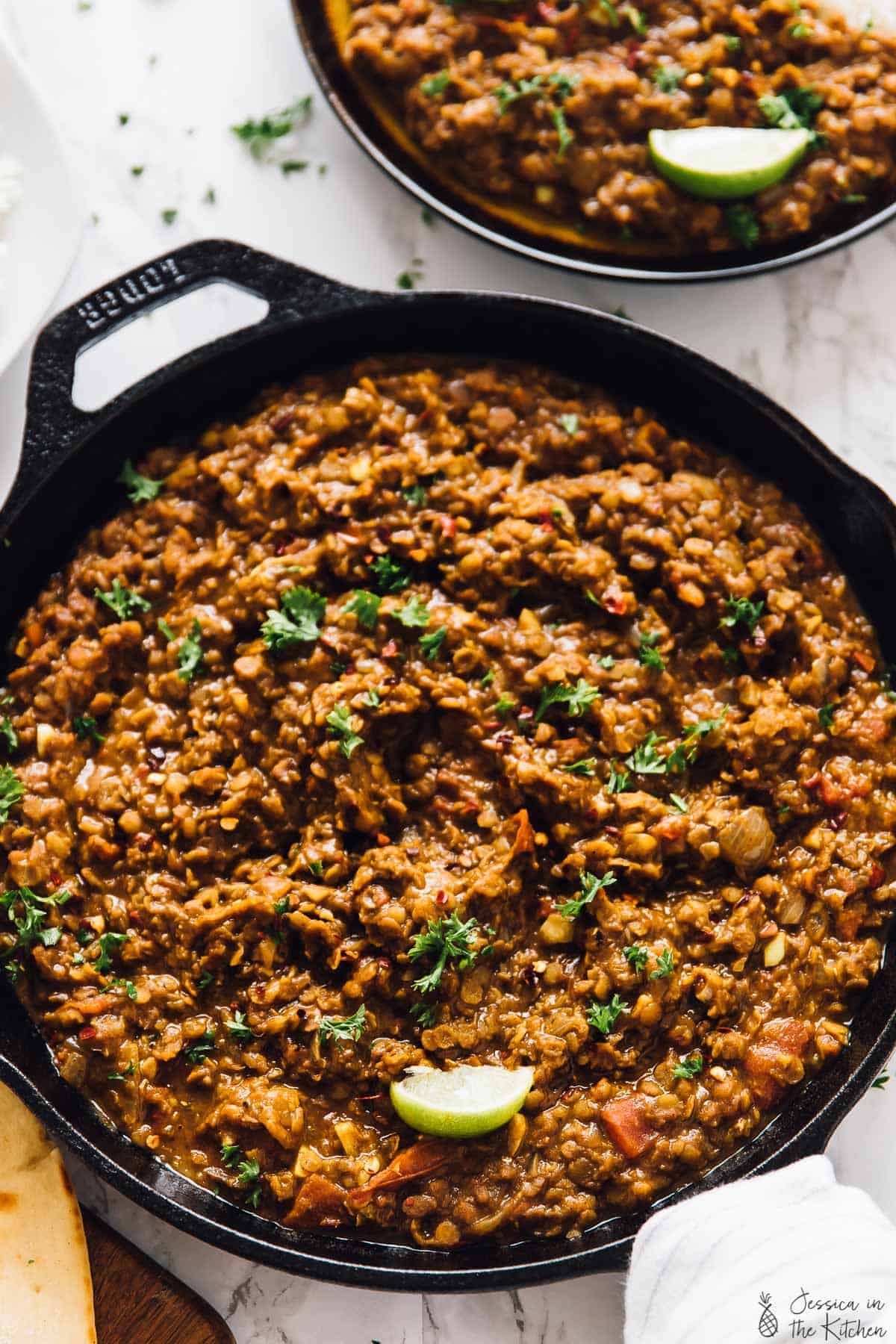 P.S. This is what I used for this recipe!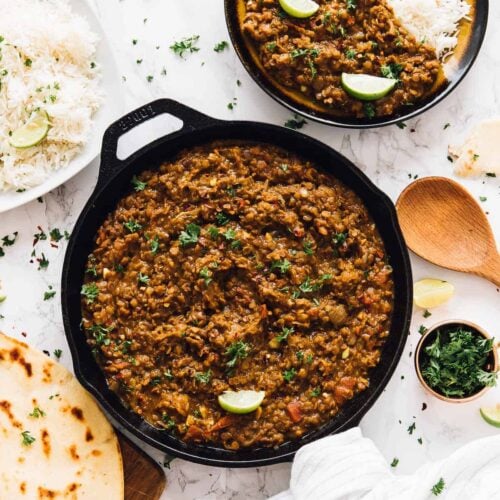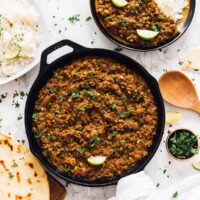 Red Lentil Curry - Vegan, One Pot
This Red Lentil Curry is SUCH a delicious curry recipe ready in an hour! It's made easily in one pot, is vegan and freezes so well!
Ingredients
2 tablespoons coconut oil
2 medium yellow onions OR 1 red onion, 7g
14 ounces fresh tomatoes, diced (if using canned, do not drain) - 400g
1 teaspoon sea salt
¼ teaspoon ground black pepper
3 garlic cloves, minced
1 teaspoon freshly minced ginger
2 tablespoons garam masala
1 teaspoon curry powder
1 tablespoon red curry paste
¼ teaspoon cumin
1 cup dry red lentils, rinsed
2 cups filtered water
13.5 ounces can coconut milk, 383g
1 small lime
garnish with red pepper flakes & chopped parsley
Instructions
In a deep pot over medium high heat, add the coconut oil.

Add in the onions and tomatoes. Grind some sea salt and ground black pepper over the mixture and stir together. Lower heat to medium and allow to cook down until juices of the tomatoes are naturally released and onions are soft and translucent, about 8 minutes.

Add in all the other dry ingredients in order. Stir vigorously to combine to ensure the lentils aren't stuck to the bottom. Now add the water and coconut milk and stir again to combine thoroughly.

Bring the curry to a boil, and then reduce to medium-low so that the mixture continues to simmer for 35 minutes, cover slightly but allowing steam to escape. Stir occasionally to ensure the lentils don't stick to the bottom. Depending on the kind of lentils you're using, you can check around the 20 minute mark to see if your lentils have finished cooking.

Taste the curry and season with salt and pepper if you desire. Remove the curry from the heat and squeeze a lime lightly over the top of the curry, stirring to combine. Don't skip this step!! Allow to cool slightly and then serve. Enjoy!
Notes

If you try this Vegan Red Lentil Curry please let me know in the comment section below, or tag me on instagram with the hashtag #jessicainthekitchen! For more exclusive recipes follow me on Instagram AND on Snapchat: jessinkitchen.
Notes: HOW TO STORE: You can store this curry in an air-tight container in the fridge for up a week. It's an excellent candidate for freezing and can be stored in the freezer for up to a month.
A FEW NOTES:
1. This curry lasts for at least 5 days in the fridge as leftovers.
2. You can serve with whole wheat naan bread, basmati rice, or even crispy tortilla chips.
3. You can add so many extra ingredients to this curry. I love adding spinach and other veggies to add even more flavour and body to it.
TO ADD HEAT:
1. Crushed red pepper flakes: I would start with 1/4 teaspoon in the beginning so that that gets heated up with everything else. Taste and you can always add another 1/4 teaspoon.
2. Harissa paste: if you have a harissa or chili paste, you can stir a little in before the simmer part so that it can heat up with everything. Even sriracha can work.
3. Lastly, and my favourite, scotch bonnet pepper sauce which adds flavours and lots of heat. A few drops right before simmer again, and you can taste and decide whether you want to add more.
Calories: 316kcal, Carbohydrates: 29g, Protein: 11g, Fat: 19g, Saturated Fat: 16g, Sodium: 407mg, Potassium: 655mg, Fiber: 12g, Sugar: 4g, Vitamin A: 956IU, Vitamin C: 18mg, Calcium: 56mg, Iron: 5mg
Disclaimer: Although jessicainthekitchen.com attempts to provide accurate nutritional information, kindly note that these are only estimates. Nutritional information may be affected based on the product type, the brand that was purchased, and in other unforeseeable ways. Jessicainthekitchen.com will not be held liable for any loss or damage resulting for your reliance on nutritional information. If you need to follow a specific caloric regimen, please consult your doctor first.