#KissMeImIrish Guinness Chocolate Cake
This Guinness Chocolate Cake is the perfect St. Patrick's Day celebration cake! Irish or not, you will love how the Guinness not only enhances the chocolate in the cake, but makes it extremely light and moist, creating a cake you will never want to put down!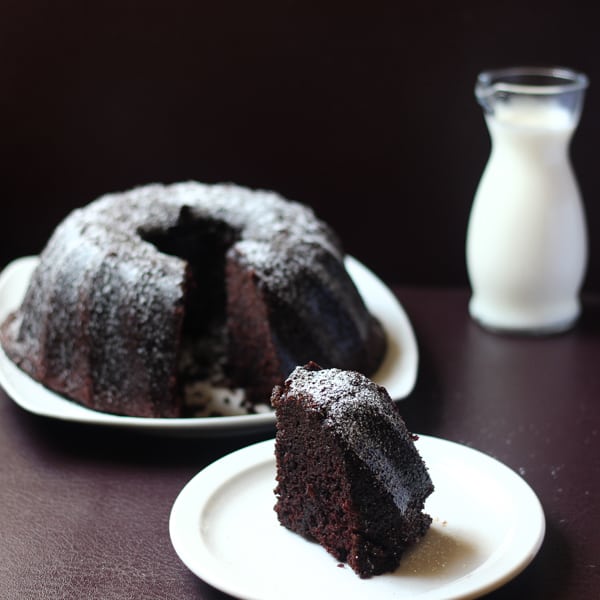 Myself and 10 of my food blog friends got together to do a St. Patrick's Day namely "#KissMeImIrish" to show off our Paddy's Day skills. The party was organised by host Connie or URBAN BAKES and there is no way I could've said no! All their posts can be found below, so when you're done checking mine out head on over! EVERYTHING looks insanely delicious!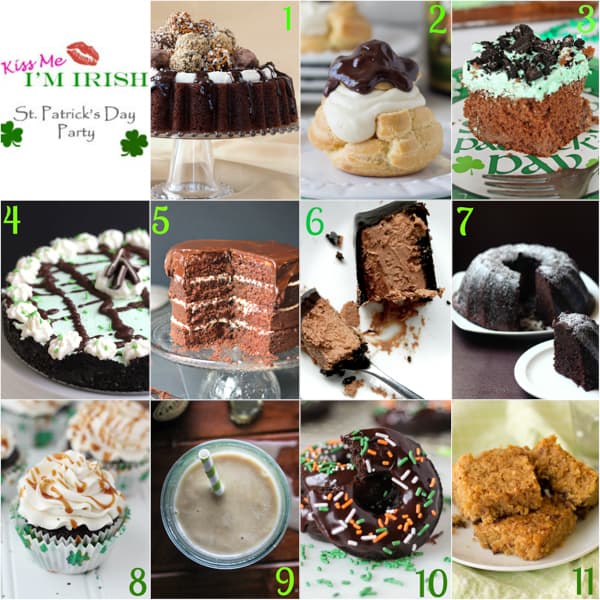 1. URBAN BAKES – Sweet & Salty Boozy Irish Truffle Cake 2. Baking a Moment – Irish Cream Profiteroles 3. The Cheery Baker – Baileys Mint Chocolate Poke Cake 4. Grandbaby Cakes – #KissMeImIrish Baileys Mint Chocolate Cream Pie 5. bethcakes – Irish Car Bomb Cake 6. gotta get baked – Chocolate Baileys Cheesecake 7. Jessiker Bakes – #KissMeImIrish Guinness Chocolate Cake 8. Blahnik Baker – Chocolate Guinness Cupcakes with Whiskey Caramel and Baileys Buttercream 9. Bakes In Slippers –  Guinness Chocolate Stout Milkshake 10. Chez CateyLou- Guinness Stout Chocolate Donuts #KissMeImIrish 11. House of Bakes – Drunken Blondie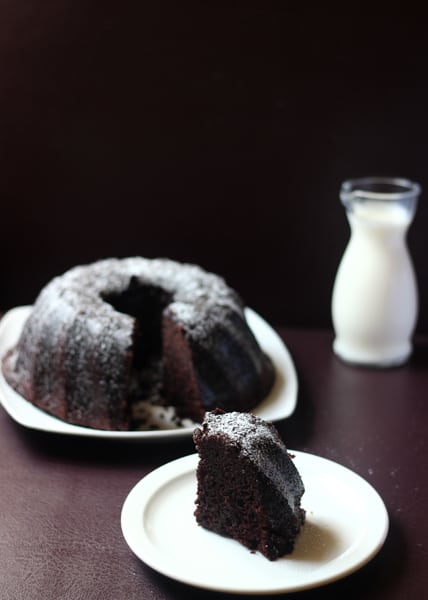 In honour of St. Patrick's Day, I googled "irish jokes" hoping to share one with you.
Umm, no. They are basically lame jokes, using the names Paddy, Gallagher and other "Irish" names. So, there goes that attempt. How about I just stick to the cake?
With St. Patrick's Day coming up next week, you're going to need a celebration cake. Something that will make you say 'Luck of the Irish!' or some other fanciful Leprechaun phrase that'll make you really excited that it's St. Patrick's Day. This Guinness Chocolate Cake, is that cake. To say this cake was insanely delicious would be an understatement, because I could not stop eating it. Now, I love dessert (d-uh) but this cake took a plain chocolate cake to an over the top airy, light, fluffy and chocolate enhanced cake. The Guinness makes the chocolate flavour richer while adding another note of a flavour that lets you taste the Irish beer in ways you would've never imagined. This isn't the first time I'm making using Guinness and I can definitely give it 100/100.
I basically fancied up my favourite chocolate cake recipe by adding some greek yogurt for added moisture and a cup of Guinness instead of where I usually had a cup of hot freshly brewed coffee, which P.S. makes a chocolate cake go crazy! This cake is rich, light and spongey, while being moist and delectable all at the same time.
I thought adding powdered sugar on top was the best touch because I didn't want to cloud the flavours with a heavy frosting.
Needless to say, this cake finished in less than two days in my house. And yes, you can point your finger at me as the main perpetrator.
Guilty as charged.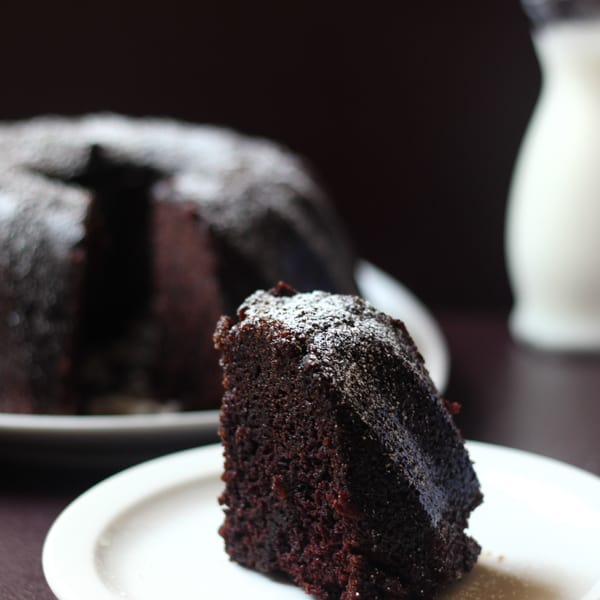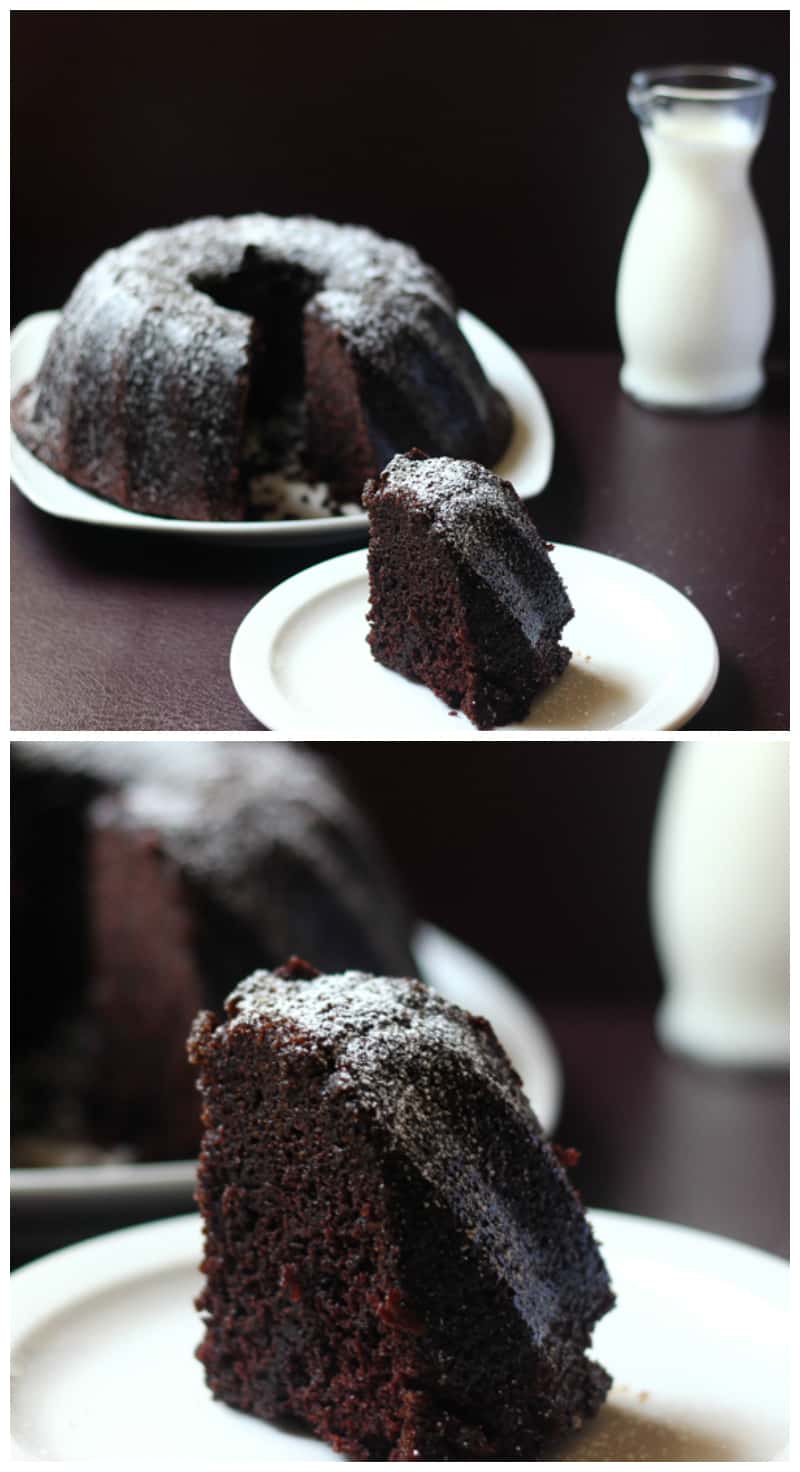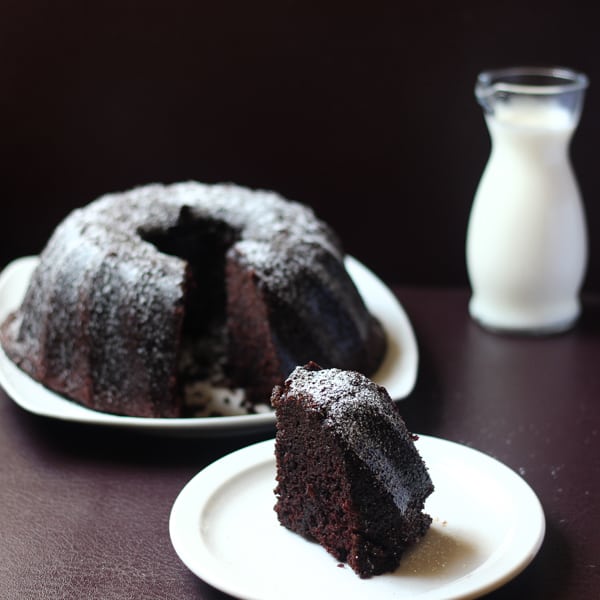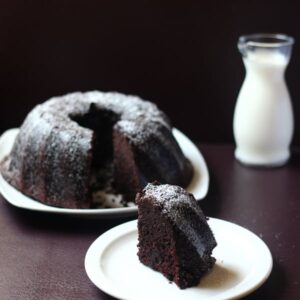 Guinness Chocolate Cake
This Guinness Chocolate Cake is the perfect St. Patrick's Day celebration cake!
Ingredients
1 3/4 cups pastry flour
2 cups brown sugar
3/4 cup unsweetened cocoa powder
2 teaspoons baking powder
1 teaspoon baking soda
1 teaspoon salt
2 large eggs
1 cup milk
1/2 cup vegetable oil
1 teaspoon vanilla
1/4 cup greek yogurt/sour cream
1 cup Guinness beer
2 tablespoons powdered sugar
Instructions
Preheat the oven to 350 degrees F. Grease a 10-inch bundt pan. Set aside.

Combine all of the dry ingredients in a large bowl, mixing until combined.

In the bowl of a standing mixer, add the milk, oil, vanilla, eggs and greek yogurt and stir until combined and frothy, about 2 minutes. Add the dry ingredients to the wet mixture cup by cup, mixing until incorporated. Add the beer at the end and mix for one for minute until the mixture is smooth. It will be thin.

Pour the mixture into the bundt pan and bake for 35-40 minutes. The cake should spring back when it is finished.

When the cake is finished, place on the counter and allow to cool in the bundt pan for 10-15 minutes. Then remove until a plate, or a wire rack covered in parchment paper/saran wrap to cool. This is because the cake is very soft but heavy, and you don't want it to sink through the wire rack.

Allow to cool, and then sift powdered sugar on top.
Calories: 243kcal, Carbohydrates: 41g, Protein: 4g, Fat: 9g, Saturated Fat: 6g, Cholesterol: 21mg, Sodium: 292mg, Potassium: 178mg, Fiber: 3g, Sugar: 28g, Vitamin A: 88IU, Vitamin C: 1mg, Calcium: 89mg, Iron: 1mg
Disclaimer: Although jessicainthekitchen.com attempts to provide accurate nutritional information, kindly note that these are only estimates. Nutritional information may be affected based on the product type, the brand that was purchased, and in other unforeseeable ways. Jessicainthekitchen.com will not be held liable for any loss or damage resulting for your reliance on nutritional information. If you need to follow a specific caloric regimen, please consult your doctor first.