Almond-Crusted Baked Eggplant
Almond-Crusted Baked Eggplant is a crunchy and delicious way to enjoy eggplant, topped with juicy marinara sauce!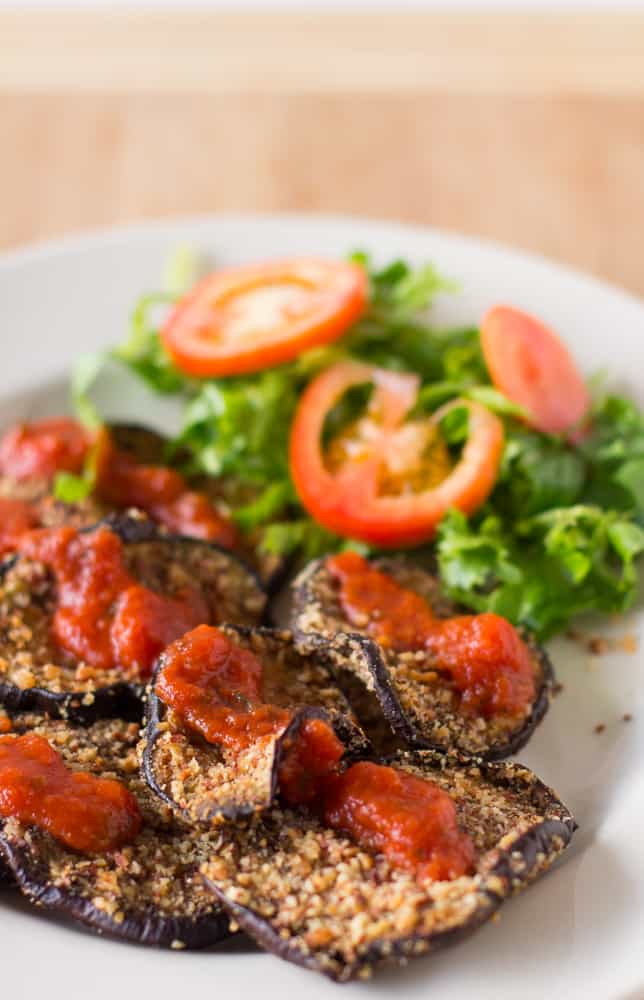 It's hard to believe that it's the middle of July. It's been quite an eventful mid summer to say the least; though my leg is still broken the healing process is going well and I've been able to start swimming on it. Swimming was one of the things I was afraid of not being able to do, and being a water sign and doing synchronised swimming throughout my latter part of high school and coaching for three years, it's something I've missed majorly. I might not be able to do a ballet leg as straight as I could before, but I'm getting there!
If you follow me on Instagram, you also know that I got my Law School Exam Results (Bar Exams) and I PASSED! I'm yet to collect my actual grades but once I saw my name on the pass list all sorts of weight on my shoulder that I didn't know was there washed away immediately. It's weird that now, after many many years and 23 years of life, I'm no longer a student. I've been so used to writing "Occupation: Student" that I have no idea what to put now and writing unemployed is a bit daunting to say! I will stick to student until called to the bar and I can officially write "Lawyer" – which is probably going to be one of the coolest moments of my life.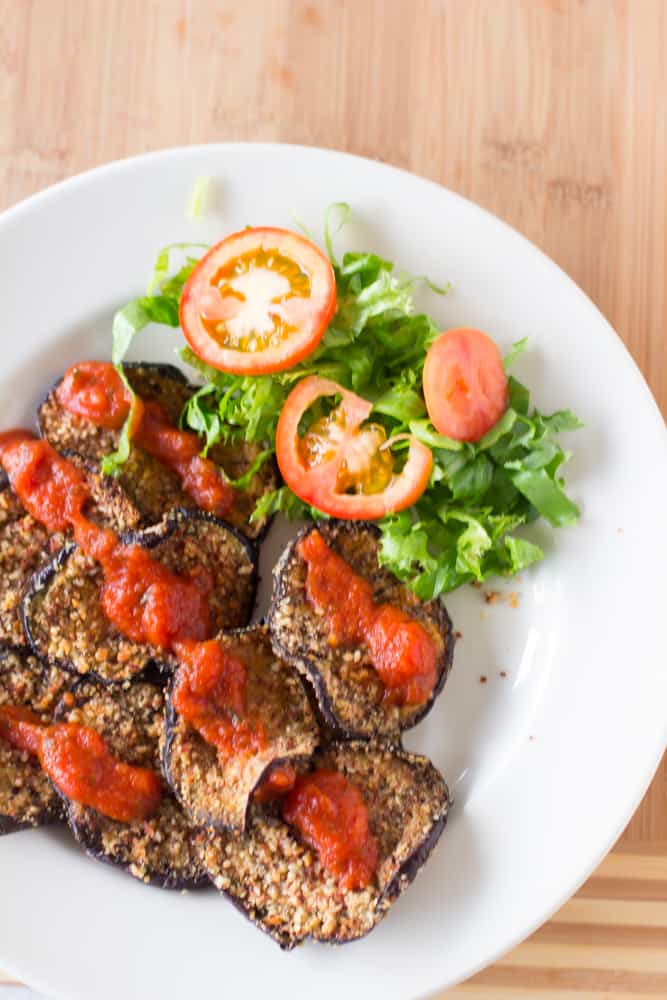 It's interesting how life continues to move on despite itself and it's up to us to just keep on moving. This meal reminds of that since I made it without Mr. Bakes being there, and to be honest I was quite proud of myself. Wheeling around the kitchen in a chair, pedalling myself back and forth with eggplants hand in tow to oven amidst the Germany-Brazil match (which was brutal) I was just reminded that we have to make the best of our circumstances.
This eggplant was certainly the best of circumstances. I knew I wanted to bread them, but I wasn't sure with what until I stumbled across a bag of almonds in my cupboard. I'm a lover of all things almond so it seemed to work perfectly. Next in line was me stumbling across a recipe by Je Sues Alimentageuse using almond-crusted eggplant (faith?) that I followed with regards to baking temperate and they came out perfectly. I loved that they crisped out and shaped out almost like chips after baking but still maintained a balanced amount of moisture. The almond crust was definitely my favourite part, and if I could I probably would have eaten it by itself! I used my homemade marinara sauce but you can use any canned marinara sauce. I think it adds a great flavour touch to the eggplant and reminded me of mini cheeseless pizzas. I'm definitely looking into buying way more eggplants for what's left of this summer for more delicious recipes.

RELATED RECIPES
Baba Ghanoush is a creamy, classic Mediterranean eggplant dip that with a touch of sweetness makes a crowd pleaser!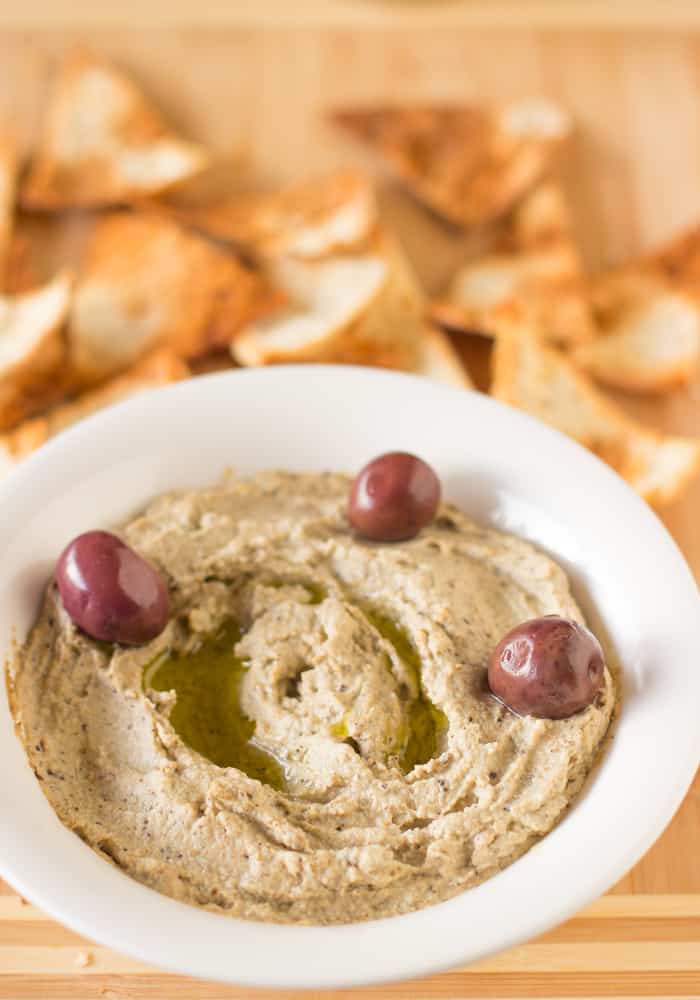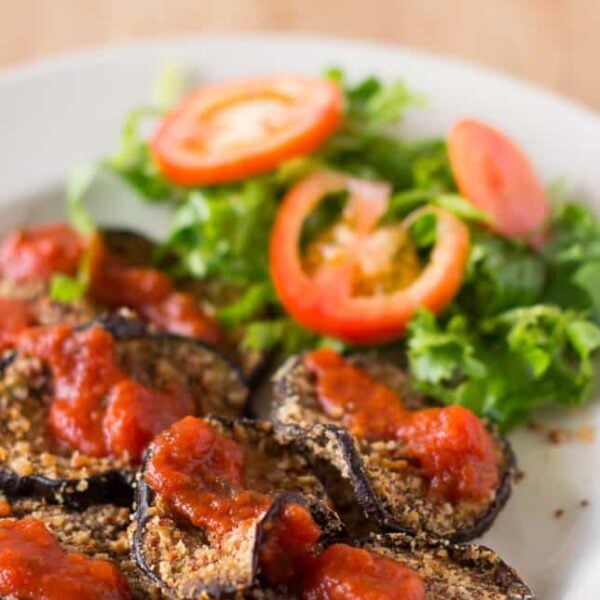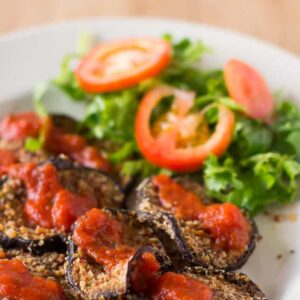 Almond-Crusted Baked Eggplant
Almond-Crusted Baked Eggplant is a crunchy and delicious way to enjoy eggplant, topped with juicy marinara sauce! 
Ingredients
2 eggplants
1 cup almonds, grounded
2 teaspoons salt
1 teaspoon pepper
1 teaspoon garlic
Non-stick olive oil spray or 2 teaspoon of olive oil.
Instructions
Preheat oven to 425 degrees F.


On a greased cookie sheet, slice and place eggplant slices down and sprinkle with 1 teaspoon of salt. This well help to remove the moisture allow it to crisp up more while baking. Allow to sit for 10 minutes.


In a food processor, ground the almonds, remaining salt, pepper and garlic until finer but still slightly coarse texture.

After eggplants have rested for 10 minutes, spray with non-stick olive oil, or coat with olive oil on each side and coat sides in almond mix and place back on cookie sheet


Bake for 30 minutes, 15 minutes on each side, until crisp.
Calories: 367kcal, Carbohydrates: 29g, Protein: 13g, Fat: 26g, Saturated Fat: 2g, Sodium: 1557mg, Potassium: 1035mg, Fiber: 15g, Sugar: 13g, Vitamin A: 70IU, Vitamin C: 7mg, Calcium: 153mg, Iron: 3mg
Disclaimer: Although jessicainthekitchen.com attempts to provide accurate nutritional information, kindly note that these are only estimates. Nutritional information may be affected based on the product type, the brand that was purchased, and in other unforeseeable ways. Jessicainthekitchen.com will not be held liable for any loss or damage resulting for your reliance on nutritional information. If you need to follow a specific caloric regimen, please consult your doctor first.