Traditional Birthday Bread Pudding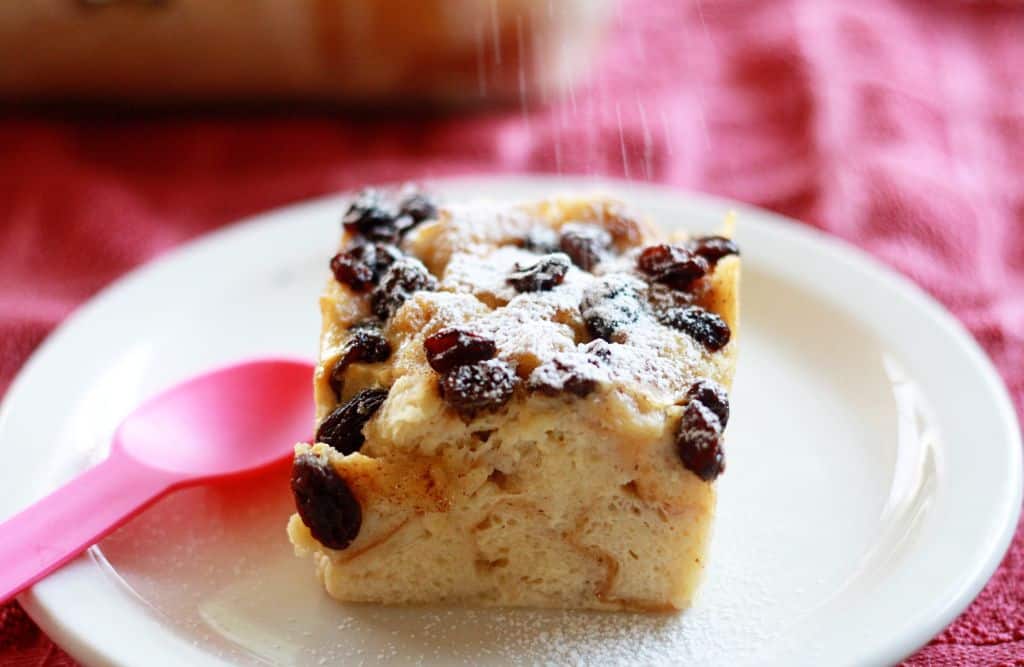 PSA: I'm on summer holidays! Well by holidays I mean no school…so I'm back!
I made this bread pudding for my brother back in April for his birthday. His approach to the bread pudding reminds me of how much I've been sucked into the world of glitz and glamour pastries.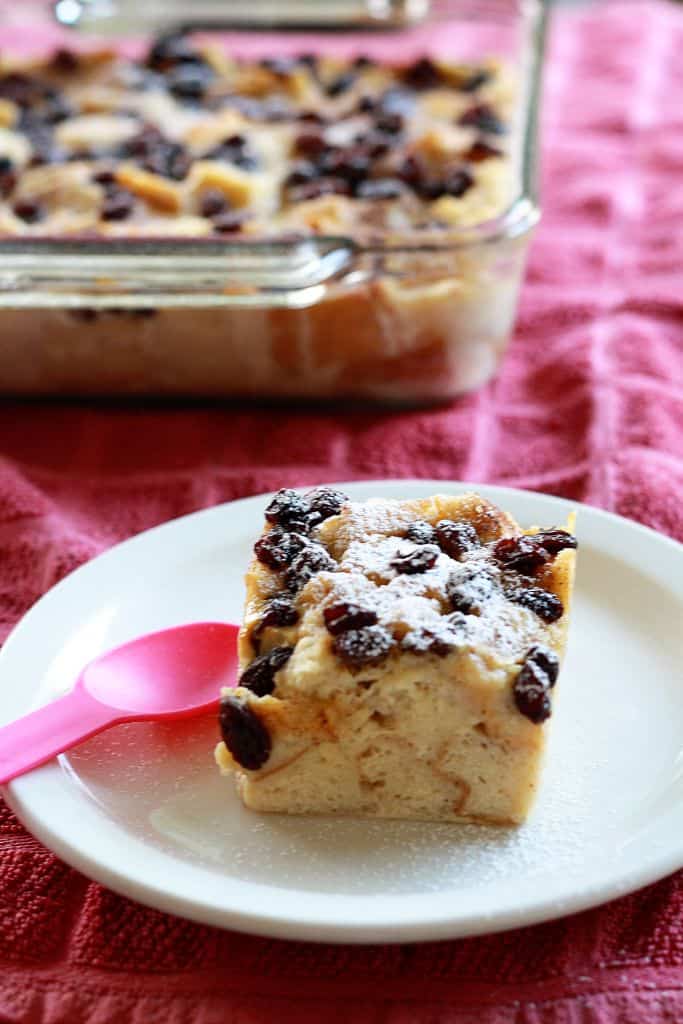 Me: So, what kind of bread pudding do you want? There's a really great caramel toppi…
Brother: Uh, just bread pudding.
Me: I..Oh..well what kind of toppings/fillings? You can get nuts, white chocolate chips, raisins, there's really an endle…
Brother: No really, bread pudding. Traditional bread pudding. JUST that.
Me: I..Oh..okay. Not even a crumble topping?
Brother: …
Me: OK OK.
So I went as traditional as possible – all the way to a Williams-Sonoma book recipe. Yes, I love him that much that I resisted putting a SINGLE sprinkle on it. I had to glam the picture up a bit though. Oops. I'm hopeless.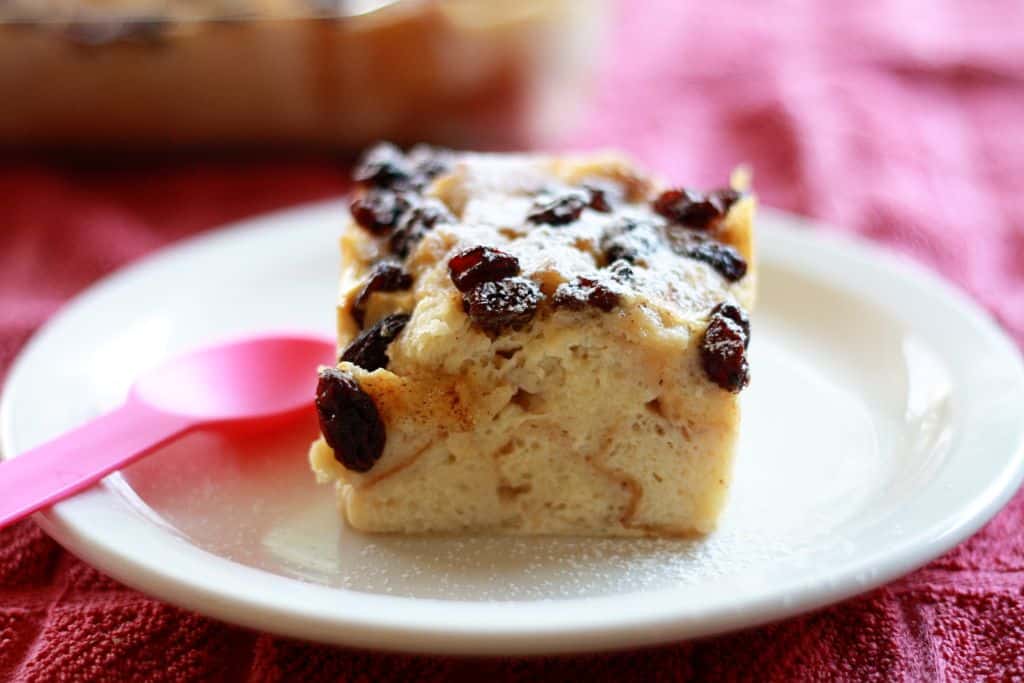 Anyhow, I LOVED the taste of this. I used french bread for mine and sort of eye-balled just high I should be pouring these ingredients. Of course it's a recipe for a reason Jessica…no idea why I thought it would pour over.
I honestly can't remember the last time I had traditional bread pudding; it was such a genuine taste that I swear the Romans were making it for me.
Okay, maybe not because I'm sure stale bread back then wasn't our "day-old" bread. And they probably didn't use full cream or raisins or powdered sugar…
Of course I added powdered sugar in typical modern day sense and added a wee-bit of rum.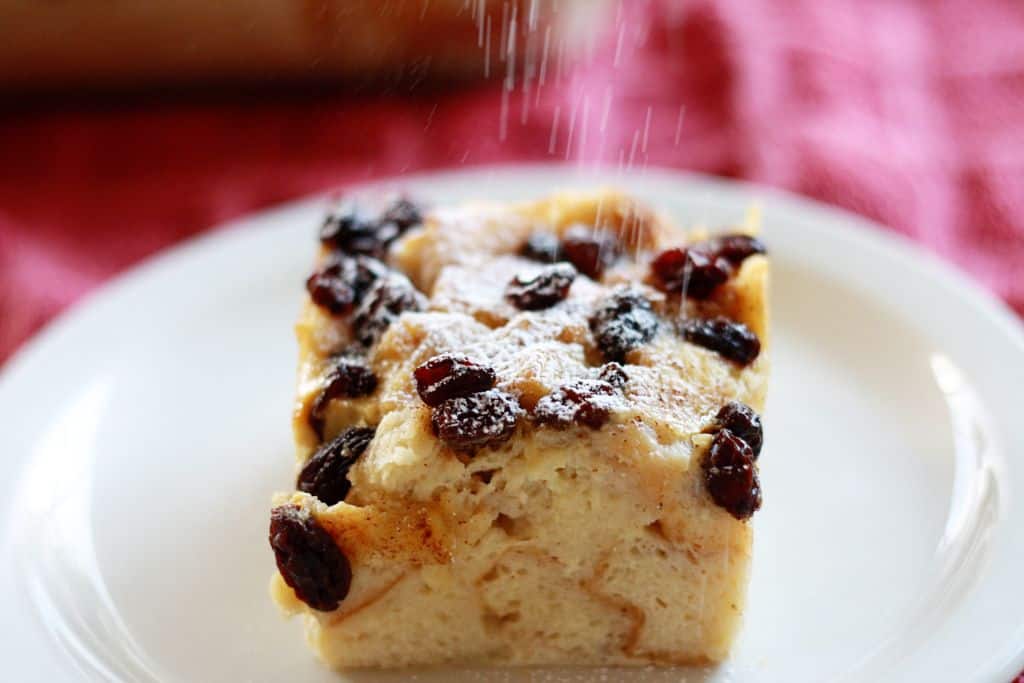 Okay, a bit more than a wee-bit. My slice had a lot more than a wee-bit. Don't tell anyone please.
I'm so happy to be blogging again! I hope you enjoy this recipe and all the others I have coming up soon!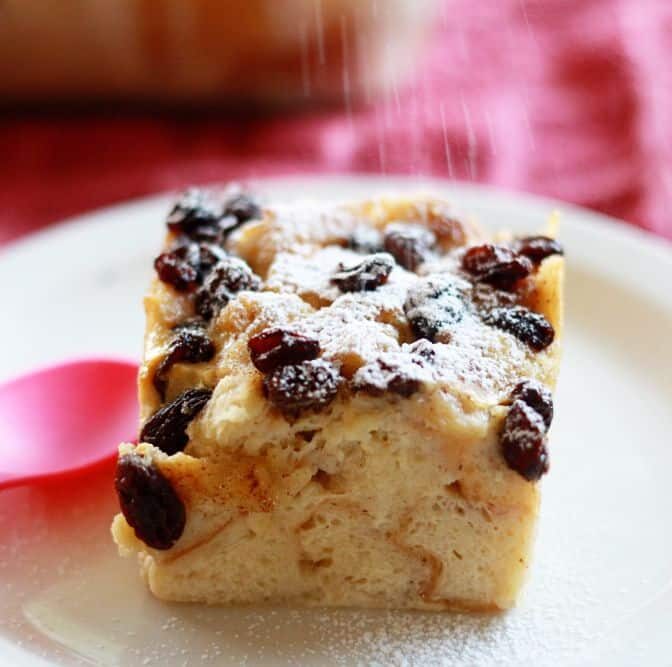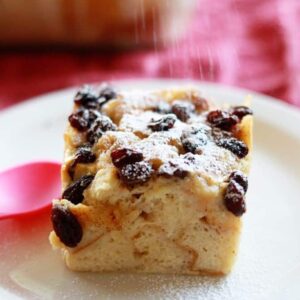 Traditional Bread Pudding
I LOVE the taste of this bread pudding. I used french bread for mine and sort of eye-balled just high I should be pouring these ingredients.
Ingredients
12 slices day-old baguette, cut into 3/4-inch cubes
4 eggs, at room temperature
1/2 cup firmly packed light brown sugar
3/4 tsp. vanilla extract
1/2 tsp. ground cinnamon
Pinch of freshly grated nutmeg
Pinch of salt
4 cups milk
1/4 cup dried cranberries or raisins
Confectioners' sugar for dusting
Instructions
Lightly butter an 8-inch square baking dish. Spread the bread cubes in it.

In a bowl, whisk together the eggs, brown sugar, vanilla, cinnamon, nutmeg and salt until well blended. Pour in the milk and whisk until combined. Pour the mixture over the bread cubes. Let stand, pressing down on the bread occasionally, until it is evenly soaked, about 20 minutes.

Meanwhile, preheat an oven to 350°F.

Scatter the cranberries evenly over the surface of the soaked bread and press to submerge the fruit. Set the baking dish in a large, shallow roasting pan. Add very hot tap water to the roasting pan to come halfway up the sides of the baking dish.

Bake the pudding until a knife inserted near the center comes out almost clean, 45 to 55 minutes. Serve warm or at room temperature. Generously dust the top of each slice with confectioners' sugar. Serves 8.
Calories: 282kcal, Carbohydrates: 46g, Protein: 11g, Fat: 6g, Saturated Fat: 1g, Cholesterol: 82mg, Sodium: 390mg, Potassium: 305mg, Fiber: 2g, Sugar: 17g, Vitamin A: 583IU, Vitamin C: 9mg, Calcium: 231mg, Iron: 3mg
Disclaimer: Although jessicainthekitchen.com attempts to provide accurate nutritional information, kindly note that these are only estimates. Nutritional information may be affected based on the product type, the brand that was purchased, and in other unforeseeable ways. Jessicainthekitchen.com will not be held liable for any loss or damage resulting for your reliance on nutritional information. If you need to follow a specific caloric regimen, please consult your doctor first.