Fluffy Vanilla Pancakes with Blueberry Sauce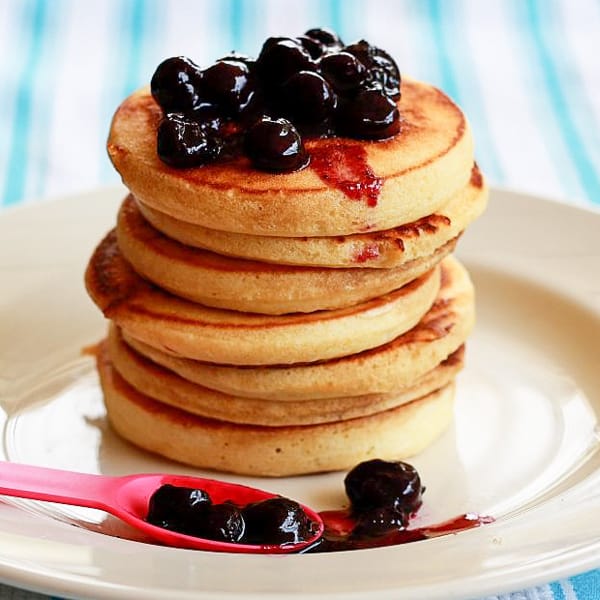 Based on how busy this month has been for me, these Vanilla Pancakes with Blueberry Sauce were the perfect remedy for my stress. It's almost coming up to exam time, and everything is about going non stop! I'm glad I actually had some time to stop and make these pancakes. They're the sort of thing you won't regret making, towers of fluffy pancakes with blueberry sauce cascading down.
Sounds perfect, doesn't it?
I'll admit it. I'm a pancake fiend. I've had pancakes for breakfast, lunch and dinner. What can I say? It's what I do. But there's something about these pancakes in particular that got to me. They're the kind of pancakes you could eat without a topping, with the vanilla creating the right amount sweetness. I'm a fluffy pancake kind of girl, and after toying with this recipe from Joy the Baker, I reduced the amount of buttermilk because I realised it makes the pancakes fluffier. Plus I started using these pancake circles I bought ages ago that came in handy. Trust me, if you're a pancake regular like me they take the stress out of making perfect circles. Just remember to spray them with cooking spray first!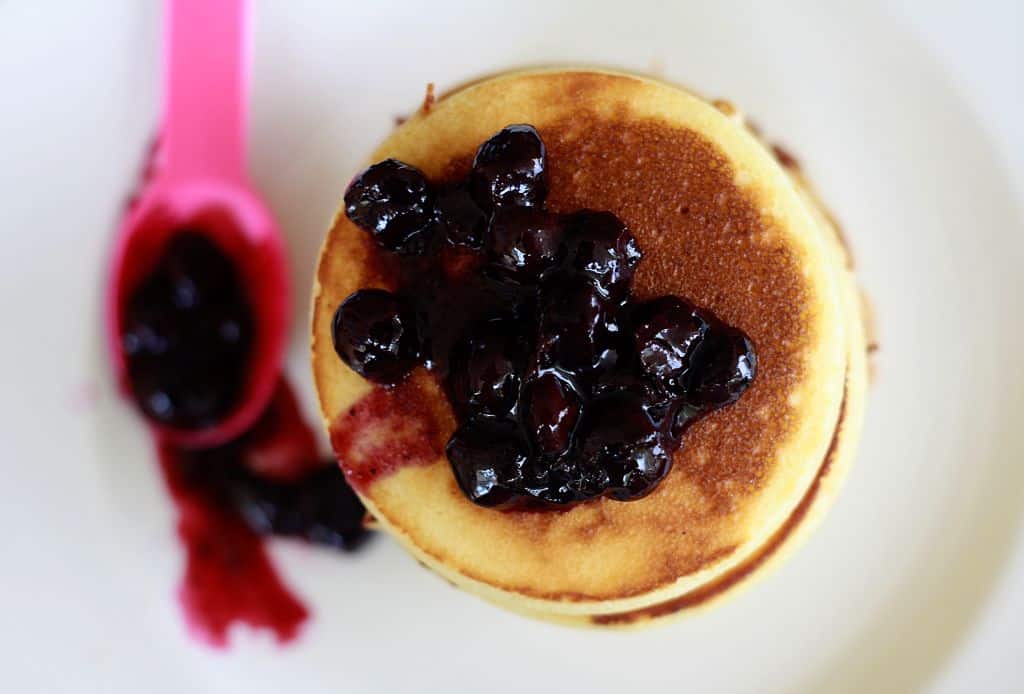 The second reason I'm posting these pancakes is because I've been told I don't post anything simple enough. Which is understandable; who is really going to get up and make Bird's Nest Cupcakes casually? Sometimes it is a good idea to just step back and take in the simple joys of life. These pancakes are definitely of mine.
Whilst the blueberry sauce is completely optional, I go head over heels for it. It's a great balance of sweet and fresh and blueberries are one of my favourite fruits. But, it's okay to just do syrup. Don't tell the blueberry sauce, but sometimes I simply do.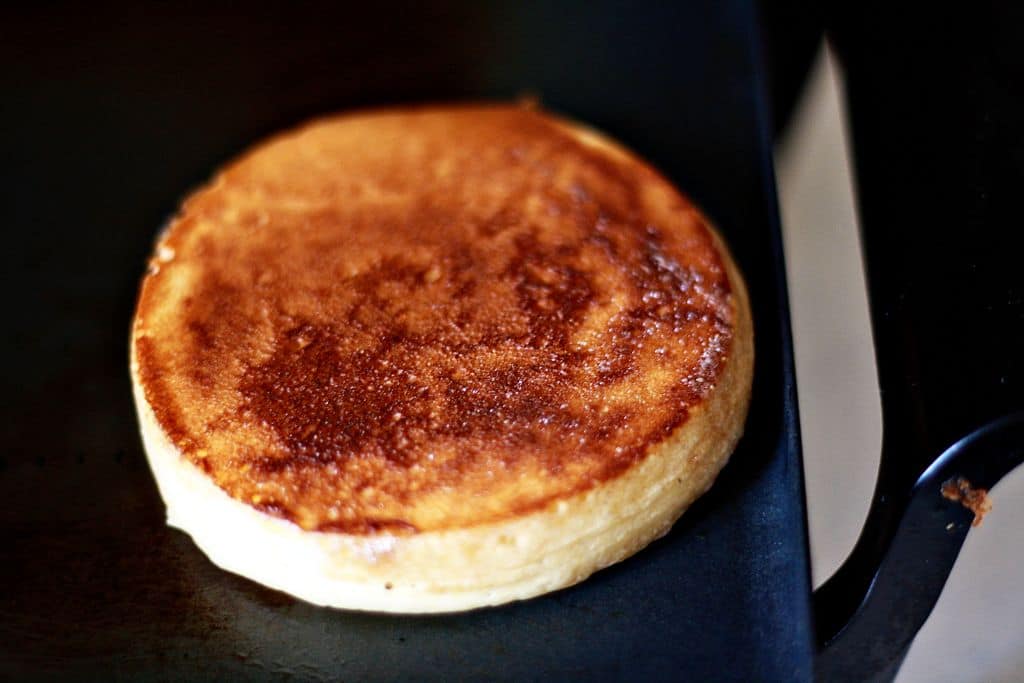 If you enjoyed these Blueberry Pancakes, you'll love these Blueberry Lemon Pancakes with Lemon Curd!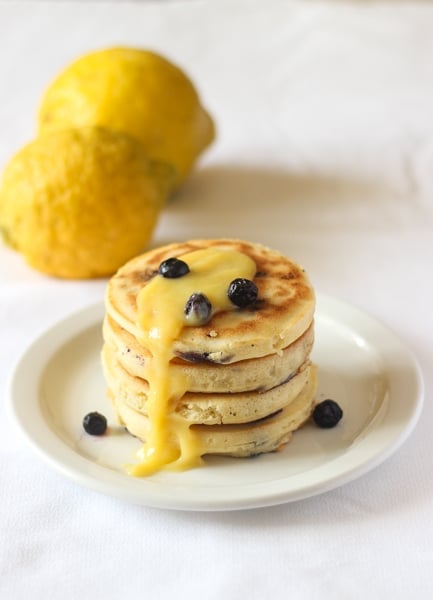 Want more blueberries? Try these Healthier Blueberry Lemon Scones with Cream Cheese Glaze!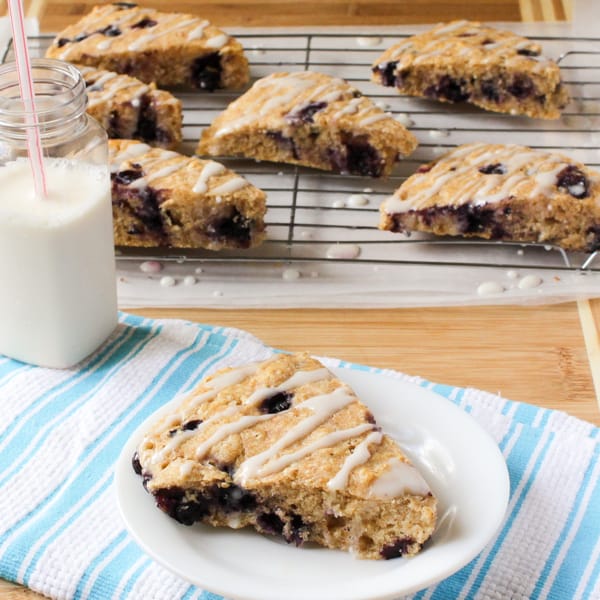 Go check out all my breakfast recipes!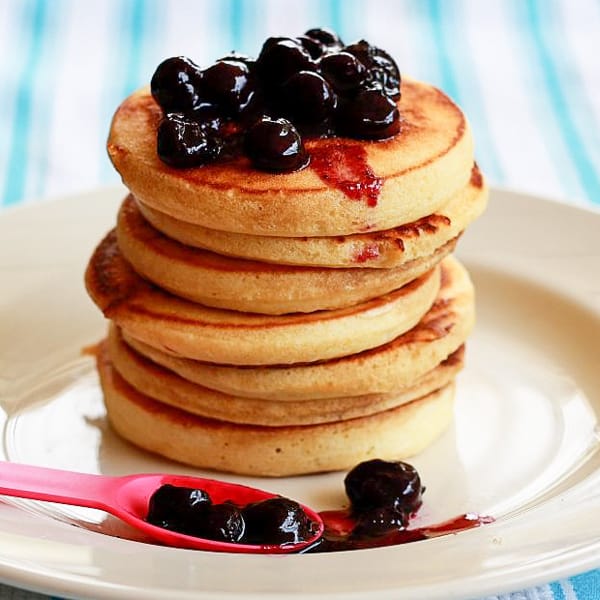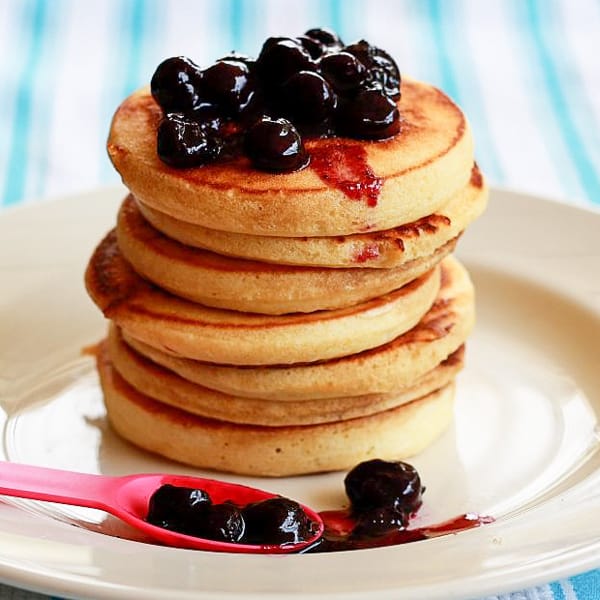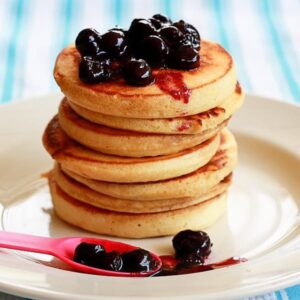 Fluffy Vanilla Pancakes with Blueberry Sauce
There's something about these pancakes in particular that got to me. They're the kind of pancakes you could eat without a topping, with the vanilla creating the right amount sweetness.
Ingredients
Pancakes:
1 cup flour, sifted
1 Tablespoon sugar
1 teaspoon baking powder
1/2 teaspoon baking soda
1/2 teaspoon salt
1 teaspoon vanilla
1 egg
3/4 cup buttermilk
2 tablespoons butter, melted and cooled
Blueberry Sauce via Martha Stewart:
1 1/2 pints blueberries, 3 cups
3/4 cup sugar
2 tablespoons unsalted butter
2 tablespoons fresh lemon juice
1 tablespoon cornstarch
Instructions
Optional: preheat oven to 200F degrees to keep cooked pancakes warm whilst others and being baked.

In a large bowl, whisk together the egg, buttermilk, vanilla and butter. Add the flour, sugar, baking powder, baking soda and salt. Stir until just combined. The batter may be a bit lumpy.

Heat a griddle pan or a cast iron skillet over medium to high heat. If you're using pancake circles like I did, spray them with cooking spray.

Add a teaspoon of oil or a dab of butter and heat through or spray the griddle. Add 2 heaping tablespoons of batter to the pan or enough batter to fill half way up the pancake circles.

Heat until bubbles form and start to pop.

Carefully flip over and cook through.

Place cooked pancakes on an oven proof plate and let rest in a 200 degree F oven while you fry the rest of the pancakes.

Top pancakes with maple syrup or blueberry sauce sweetened with a dash of powdered sugar.
Blueberry Topping
Combine all ingredients in a saucepan over medium-high heat. Bring to a simmer, and cook until berries break down, about 4 minutes. Let cool, then refrigerate, covered, until cold (or up to 2 weeks).
Calories: 203kcal, Carbohydrates: 38g, Protein: 3g, Fat: 6g, Saturated Fat: 3g, Cholesterol: 30mg, Sodium: 260mg, Potassium: 103mg, Fiber: 2g, Sugar: 24g, Vitamin A: 232IU, Vitamin C: 8mg, Calcium: 53mg, Iron: 1mg
Disclaimer: Although jessicainthekitchen.com attempts to provide accurate nutritional information, kindly note that these are only estimates. Nutritional information may be affected based on the product type, the brand that was purchased, and in other unforeseeable ways. Jessicainthekitchen.com will not be held liable for any loss or damage resulting for your reliance on nutritional information. If you need to follow a specific caloric regimen, please consult your doctor first.