Sweet Potato Tater Tots (7 Ingredients & Vegan)
These homemade Sweet Potato Tater Tots have it all! They're savory and sweet, smoky and salty, and each bite has a crispy exterior and pillowy-soft center. So good!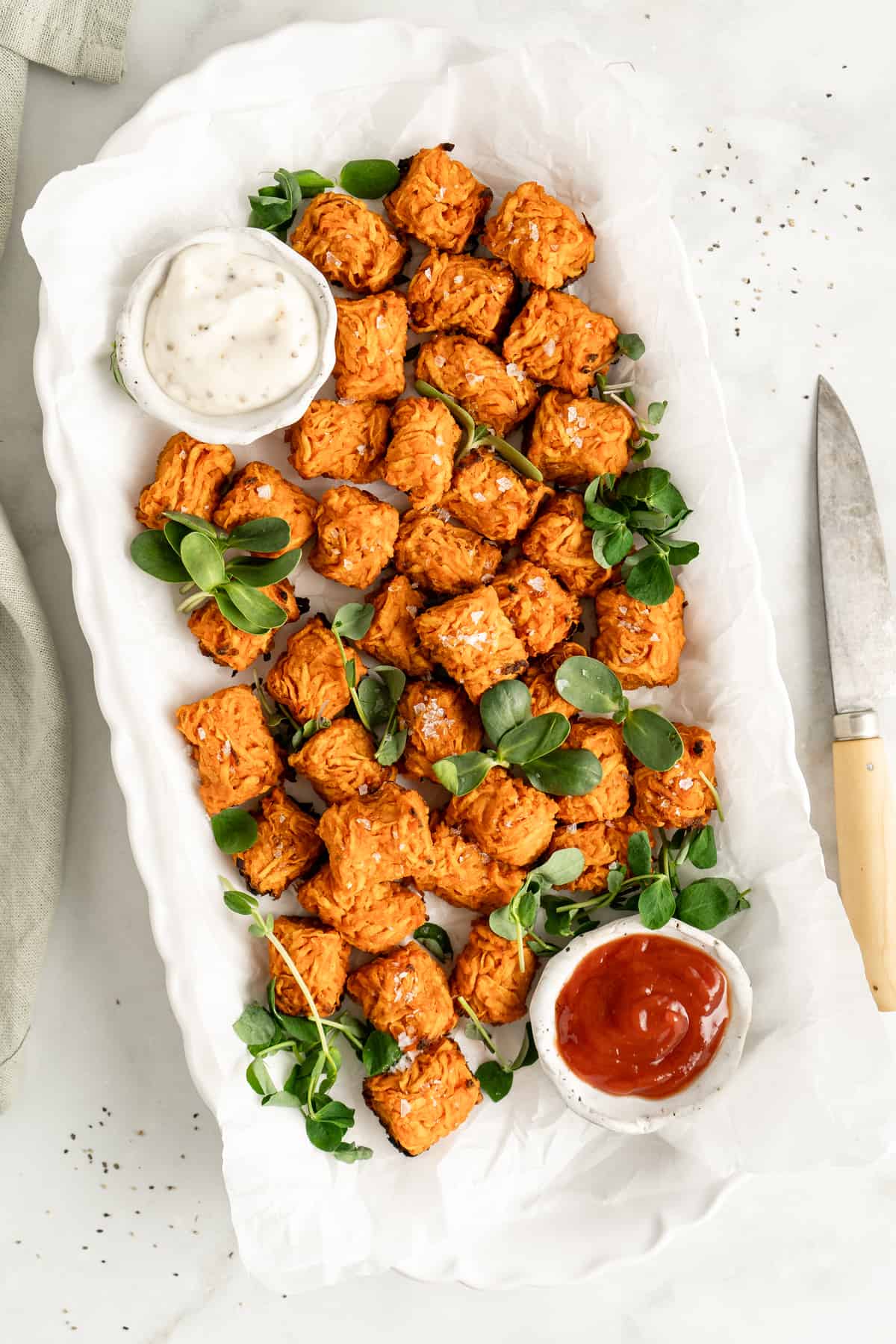 Tater tots are always a fun snack or side, but I think sweet potato tots are even better because they deliver all that crispy-crunchy-snacky goodness, with an added nutritional bonus. Sweet potatoes are packed with fiber and an excellent source of vitamins A and C, so you can satisfy your tater tot cravings while boosting your gut health, eyesight, and immune system all at the same time.
Let's be real, though—you didn't come here for beta carotene. You came here for the tots! While it takes a little bit more work to make sweet potato tater tots from scratch as opposed to buying them frozen, it's definitely worth the effort. This recipe is a lot more flavorful than store-bought, especially with the addition of smoked paprika; you can also control the oil and salt content when you're DIYing it.
I love serving these tots as a side for a veggie burger, or you can place them on a sheet pan and top them with vegan queso, bacon, and other toppings to make the most epic totchos you've ever tasted.
WATCH THE VIDEO TO SEE HOW IT'S MADE: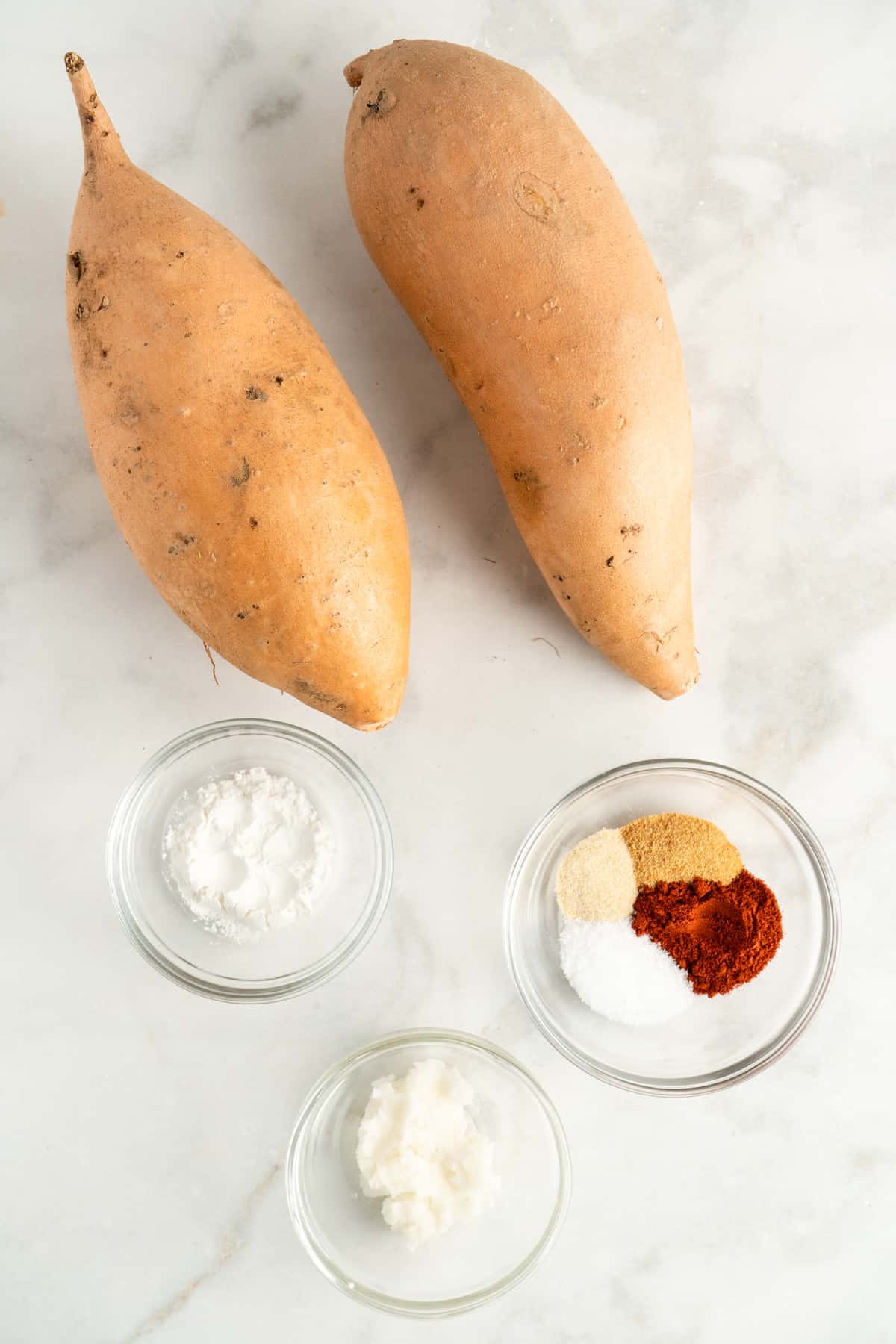 Notes on Ingredients
Please note that this is important information on the ingredients and instructions and the FULL recipe with amounts and details can be found DOWN BELOW (scroll to it) in the recipe card.
Sweet potatoes – Any variety will work in this recipe.
Smoked paprika – Smoked paprika isn't the same as standard paprika; if you don't have smoked paprika on hand, I definitely recommend picking it up!
Garlic powder
Onion powder
Sea salt
Coconut oil – I love the way coconut oil complements the flavor of sweet potatoes, but you can use another cooking oil if you prefer.
Cornstarch – The secret to a crispy, crunchy exterior!
How to Make Sweet Potato Tater Tots
While these require more work than frozen tater tots, they're still quite easy to make! Here's what you'll need to do.
Prepare. Preheat your oven to 425°F/220°C and line two baking sheets with either silicone baking mats or well-greased parchment paper.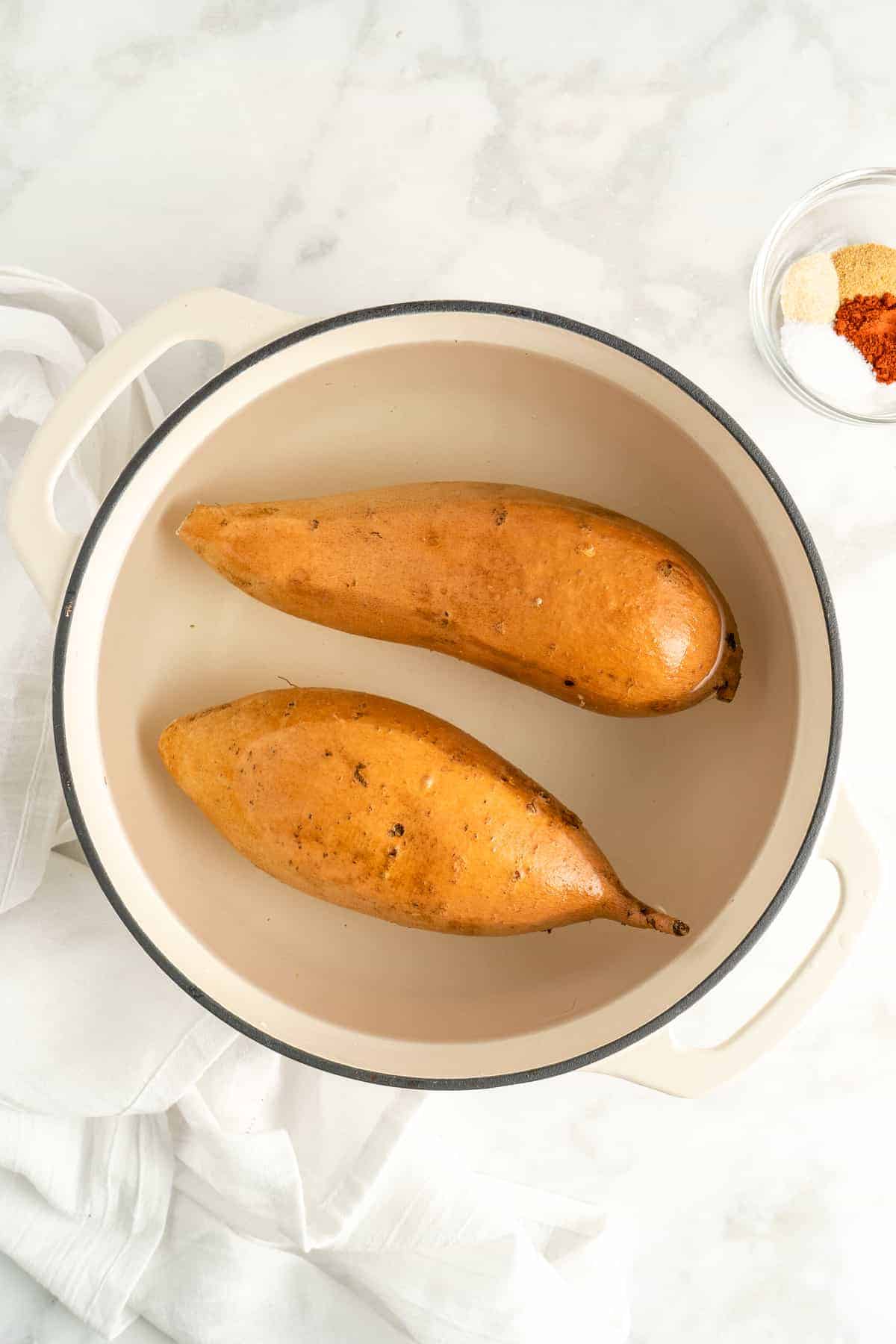 Parboil the sweet potatoes. Bring a large pot of water to a boil, then carefully place the sweet potatoes into the water and parboil them for 18 to 20 minutes, or until they're still firm, but they can be easily pierced with a fork. Drain and rinse with cold water.
Prep the sweet potatoes. Once the sweet potatoes have cooled, peel off the skins using your fingers or a spoon. Grate the sweet potatoes into a large bowl.
Combine the tot ingredients. Add the paprika, garlic and onion powders, cornstarch, salt, and a tablespoon of coconut oil to the bowl with the shredded sweet potatoes. Stir to combine.
Form your tots. Use a tablespoon to scoop out the tater tot mixture, then form it into a tot shape with your hands. Transfer to the prepared baking sheet, then repeat until all of the sweet potato mixture is used. Brush the finished tots with oil.
Bake. Place the baking sheet in the oven and bake the tater tots for 20 minutes; flip them over, then bake for another 20 minutes, or until they're crispy and golden brown. Cool slightly, then serve.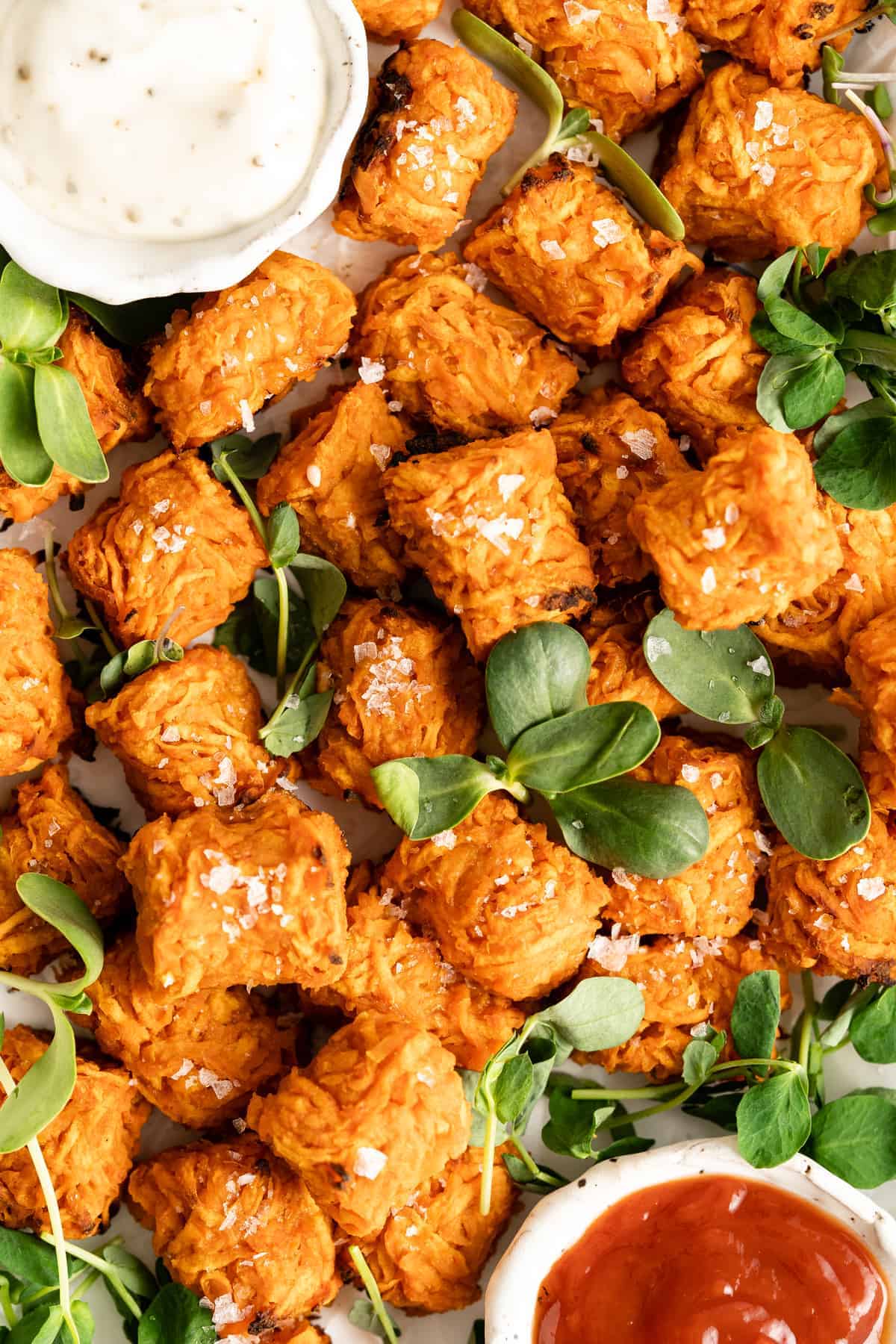 Tips for Success
Here are some tips to make sure your sweet potato tots turn out perfect every time!
Keep an eye on the potatoes. Sweet potatoes come in so many shapes and sizes, which means cooking times can vary! I recommend buying two potatoes that are similar in size and shape; if you use smaller potatoes, check for doneness after about 15 minutes.
Cornstarch substitutes. If you can't use cornstarch, don't just omit it—it helps hold the tots together and gives them that signature crunchy exterior. You can substitute all-purpose flour, tapioca starch, or arrowroot powder.
Adding salt. If you want to season these with additional salt, I recommend doing so right when you take them out of the oven. The salt will stick better when the tots are piping hot!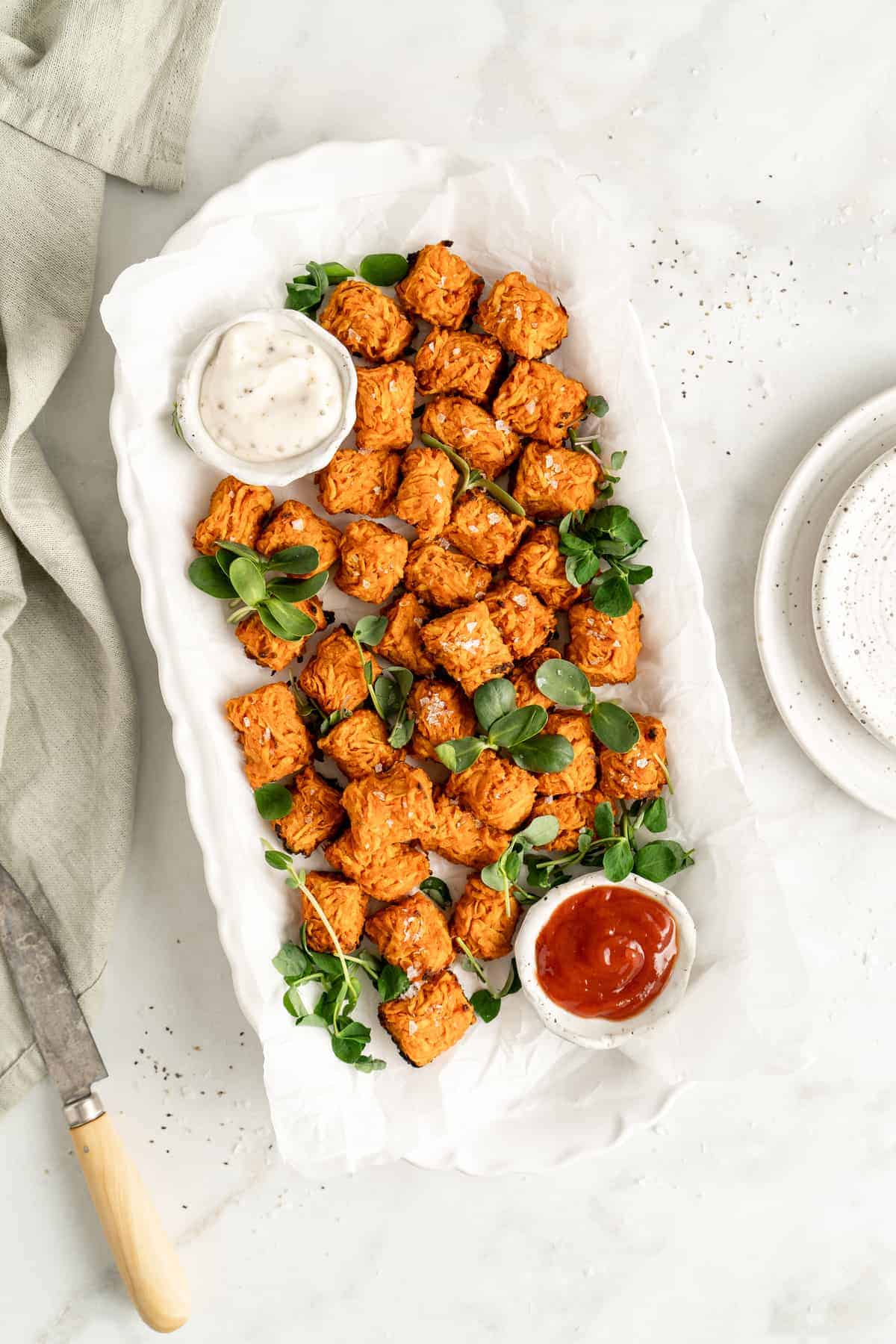 How to Store and Reheat Homemade Tater Tots
If you have leftover sweet potato tots, they can go in an airtight storage container and be refrigerated for up to 3 days. To keep that exterior nice and crispy, reheat them in an oven set to 350ºF for about 15 minutes, or until warmed through.
Can I Freeze This Recipe?
Yes, you can freeze these! To keep them from sticking together, freeze them on a parchment-lined baking sheet, then when they're frozen through, you can transfer them to a freezer bag. Bake them in the oven at 350ºF until they're warmed through or thaw them in the fridge overnight, then reheat in your oven or toaster oven.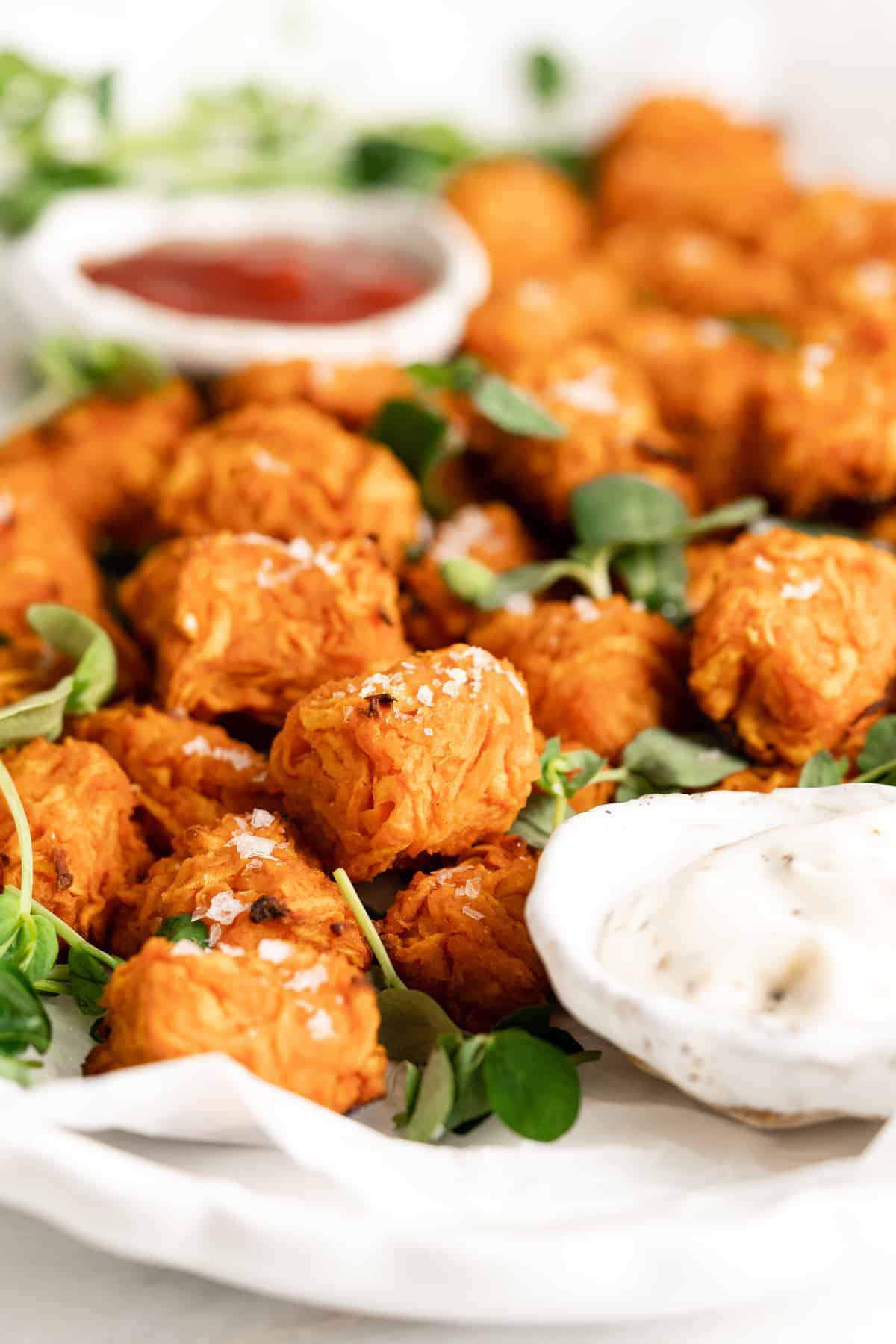 Enjoy friends! If you make this sweet potato tater tots recipe, please snap a photo and tag #jessicainthekitchen on Instagram! We'd also love it if you would leave a comment below, and give the recipe a rating! Thanks so much!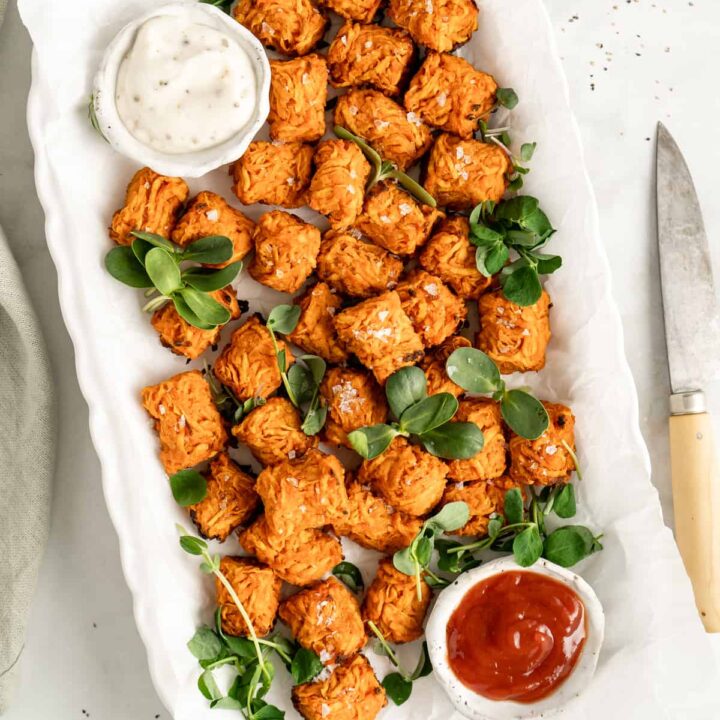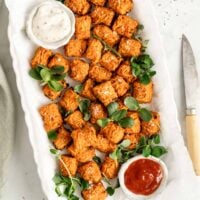 Sweet Potato Tater Tots (7 Ingredients & Vegan)
These Sweet Potato Tater Tots are great for kids! Crunchy on the outside, soft on the inside and so full of flavour! They're so easy to make with only 7 ingredients! 
Ingredients
2 lbs sweet potatoes, (32 oz/907g), preferably larger even sized potatoes
1 teaspoon smoked paprika
1 teaspoon garlic powder
½ teaspoon onion powder
¾ teaspoon sea salt
1 tablespoon coconut oil + 1 teaspoon for brushing, any oil works
2 teaspoons cornstarch
Instructions
Preheat your oven to 425°F/220°C. Line two baking sheets with silicone mats or well greased parchment paper.

Set a pot of water to boil. Add in the sweet potatoes and parboil for 18-20 minutes. This works best for larger sweet potatoes (like two large), so if using smaller sweet potatoes start to check around 15 minutes that a fork can stick into the middle of it, but is still firm.

Remove from boiling water and run cold water over the potatoes to stop them from cooking. Allow to cool completely. Once potatoes are cooled, use your fingers or a spoon and peel the skins off. They should slip off very easily.

Using a large side of a grater, grate all of the sweet potatoes, then add shreds into a large bowl.

Add in the smoked paprika, garlic powder, onion powder, cornstarch, sea salt and 1 tablespoon of coconut oil. Using a spatula, stir everything together to combine throughly. The mixture should be cooked through, and soft enough to squeeze together.

Now, it's time to form the tater tots. Using a tablespoon measurer, press the sweet potato mixture into the measurer. Then scoops out with your hands and form like a tater tot above in the photos – hold both ends with index finger and thumb, then rub/roll the centre into little tot. Line the baking sheets with the tater tots – leaving enough space so that they do not touch. You should get at least 30 tots.

Using a regular or silicone pastry brush, brush the tater tots with the rest of the coconut oil on the outsides. This will really help it to crisp up. I like to brush both sides.

Bake the tater tots in the middle rack of your oven for 40 minutes, flipping once at 20 minutes to get both sides well golden brown.

Remove from oven and allow to cool slightly. Serve with your favourite dip, top with more salt if desired and enjoy!
Notes
Notes
* if you can't use cornstarch you can sub tapioca starch or arrowroot powder, or even flour.
Storing in Fridge: If you have leftover sweet potato tots, they can go in an airtight storage container and be refrigerated for up to 3 days.
Reheating: To keep that exterior nice and crispy, reheat them in an oven set to 350ºF for about 15 minutes, or until warmed through.
Freezing: You can freeze these in a flat layer like on a baking sheet (not touching), then when they are all frozen you can put them in a bag together. Thaw them in the oven at 350 until thawed. Or, you can thaw them in the fridge overnight them reheat in your oven or toaster oven, whichever you prefer.
Calories: 156kcal, Carbohydrates: 32g, Protein: 3g, Fat: 2g, Saturated Fat: 2g, Sodium: 375mg, Potassium: 523mg, Fiber: 5g, Sugar: 6g, Vitamin A: 21615IU, Vitamin C: 4mg, Calcium: 45mg, Iron: 1mg
Disclaimer: Although jessicainthekitchen.com attempts to provide accurate nutritional information, kindly note that these are only estimates. Nutritional information may be affected based on the product type, the brand that was purchased, and in other unforeseeable ways. Jessicainthekitchen.com will not be held liable for any loss or damage resulting for your reliance on nutritional information. If you need to follow a specific caloric regimen, please consult your doctor first.