Sesame Noodles with Honey Ginger Sauce
Lightly sautéed sesame noodles tossed in a honey ginger sauce that makes a quick and easy take-out style dinner in 20 minutes.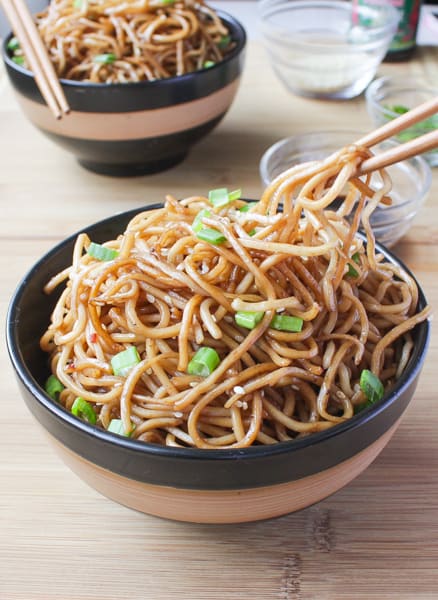 The life of a food blogger is one that I love thoroughly. Not only does the blog bring me great joy, it brings me amazing food, all the time.
Trust me, everything you see on this blog is food I either eat, or Mr. Jessiker Bakes or my family. I also don't share anything with you that I wouldn't devour myself.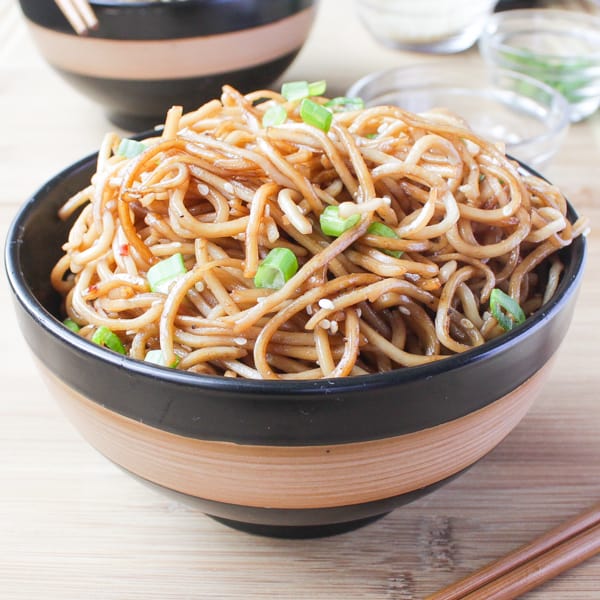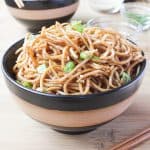 But here's the thing. All this food, it takes, well, time. Apart from the actual cooking of the food, the setup etc takes a while. But let's focus on just cooking.
Sometimes, an idea doesn't strike me until I'm starving. Not slightly hungry, but ravenous. Then I want to eat everything in sight.
I know, I have great timing.
It's times like these that a meal that can be cooked in under 30 minutes become very useful. I'm looking at you, sesame noodles.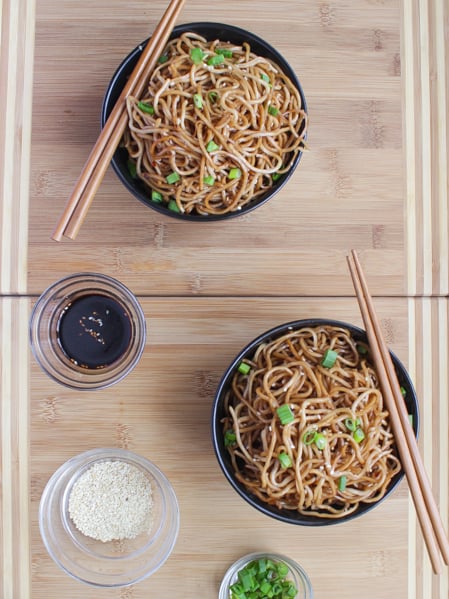 I will confess, I bought these noodles because I loved these bowls. Oops. I just really thought, hey, noodles would look great in these bowls.
My priorities.
But then, I cooked these noodles, made the sauce freehand, and a genius recipe came together.
This recipe could serve 2 people dinner for two nights. Or one person, for 4 nights. Whoa. And it tastes really goods. It's the kind of thing that food bloggers love because, it's so easy and fits into the category of amazing food I want to share with you. The sauce is so good and has the qualities of any good essential honey ginger soy sauce. The sesame seeds add a delicious crunch and texture that matches up so well against the noodles.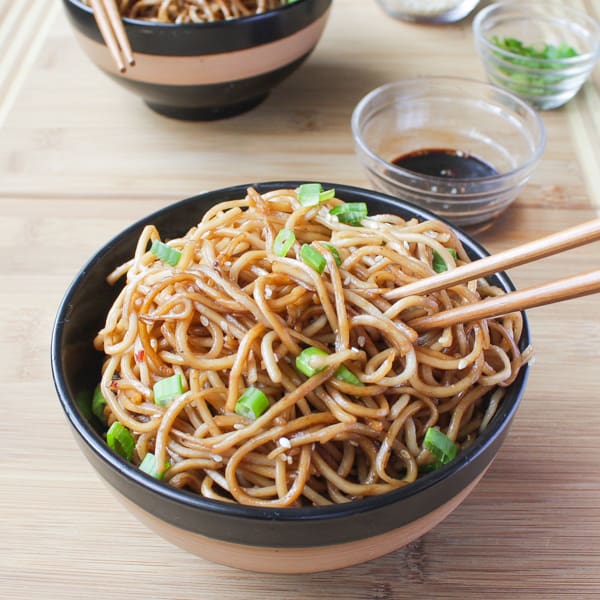 Here's another great part – It's budget-friendly. Oh, yeah. The entire pack of noodles cost about (if we are using $US dollars) $2, and we are only using half then everything else in the portions would make this entire noodle set come up to $4.
Remember when I said it would serve a single person for 4 nights? That's $1 per serving, and you've satisfied your craving for $15 Chinese food. These noodles go to the core of that craving, and I promise, you'll be coming back for more.
Here's my favourite part, it's crazy customisable. You could add some shredded cooked chicken, pork, shrimp, peanuts, anything, toss it in the sauce or double the sauce for the extras and you have another meal idea. Boom.
I think I need to make noodles a weekly staple.
And yes, do use chopsticks.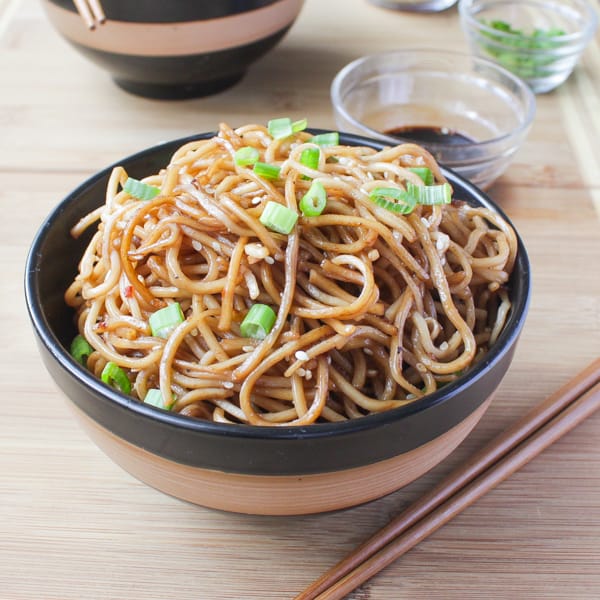 If you tried these Sesame Noodles please let me know in the comments below!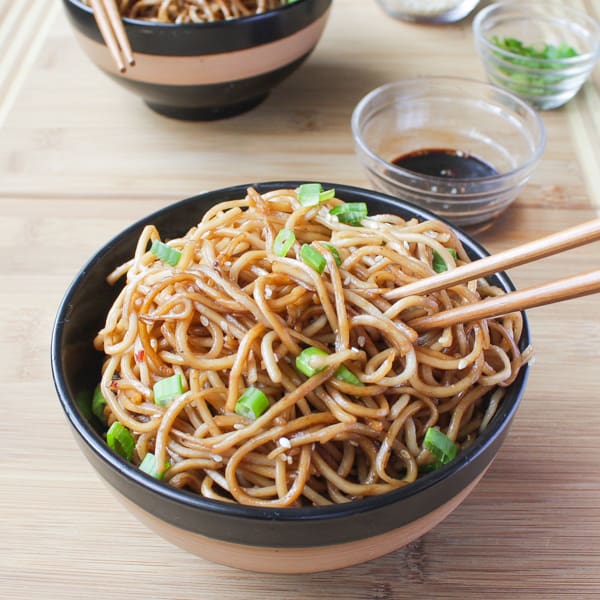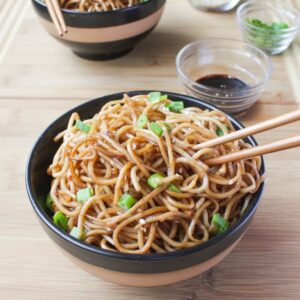 Sesame Noodles with Honey Ginger Sauce
Lightly sautéed sesame noodles tossed in a honey ginger sauce that makes a quick and easy take-out style dinner in 20 minutes.
Ingredients
Noodles:
8 ounces Chinese noodles
1 teaspoon salt, add to water
2 tablespoons sesame oil
Honey Ginger Sauce:
2 tablespoons honey
2 tablespoons soy sauce
1 teaspoon sesame seeds
1 teaspoon ground ginger
1/2 teaspoon red pepper flakes
1/4 teaspoon ground black pepper
Chopped scallions, for garnish
Instructions
Whisk all the ingredients together for the sauce. Set aside.


Allow a pot of seasoned water with about 2 quarts water to come to a boil. Add the noodles and cook for about 8 minutes as you would pasta, stirring every now and then. Ensure to follow your package's directions as to how to cook the noodles.

Drain the water and allow the noodles to dry a bit in a mesh strainer.

Heat the sesame oil in a large pan over medium high heat. Add the noodles and stir until they begin to simmer, about 2 minutes.

Add the honey ginger sauce and stir, coating the noodles in it. Allow the sauce to cook with the noodles for 5 more minutes on medium low heat.

Remove from heat and add chopped scallions. Serve immediately.
Notes
1. For leftovers, place in a plastic container at least 30 minutes after the noodles have cooled, to ensure they do not go hard. This is why it's especially important to remove the noodles from the heat. Reheat in the microwave.
Calories: 201kcal, Carbohydrates: 28g, Protein: 4g, Fat: 8g, Saturated Fat: 2g, Sodium: 1185mg, Potassium: 19mg, Fiber: 1g, Sugar: 9g, Vitamin A: 74IU, Calcium: 5mg, Iron: 2mg
Disclaimer: Although jessicainthekitchen.com attempts to provide accurate nutritional information, kindly note that these are only estimates. Nutritional information may be affected based on the product type, the brand that was purchased, and in other unforeseeable ways. Jessicainthekitchen.com will not be held liable for any loss or damage resulting for your reliance on nutritional information. If you need to follow a specific caloric regimen, please consult your doctor first.