Roasted Beet "Feta" Salad with Maple Mustard Vinaigrette
This Vegan Roasted Beet Feta Salad is a quick, creamy and delicious salad that can easily serve a crowd. It's served with a sweet and tangy maple mustard vinaigrette!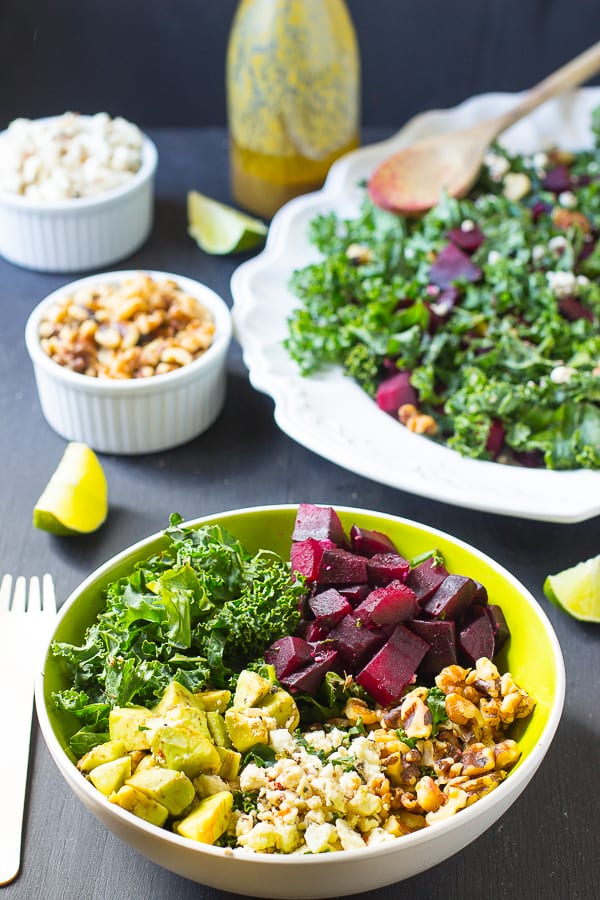 When I was still living at home, my mom would make a beet juice for me every single morning. This was before I was even a vegetarian, and so every single day, I was started on the right foot to make better food decisions because I was introduced to the goodness and sweetness that is beets. I looked forward to this beet juice, and started to crave the combination that made up the juice (beets, a variety of greens, apples, etc.) so much so that I knew I had to put a juicer on our wedding registry list. This small daily action catapulted me straight into my love for beets, whether they are raw, or roasted into a sweet, smooth and velvety vegetable. I knew that I would want to explore what other beet combinations were out there, and so this Roasted Beet Feta Salad was born.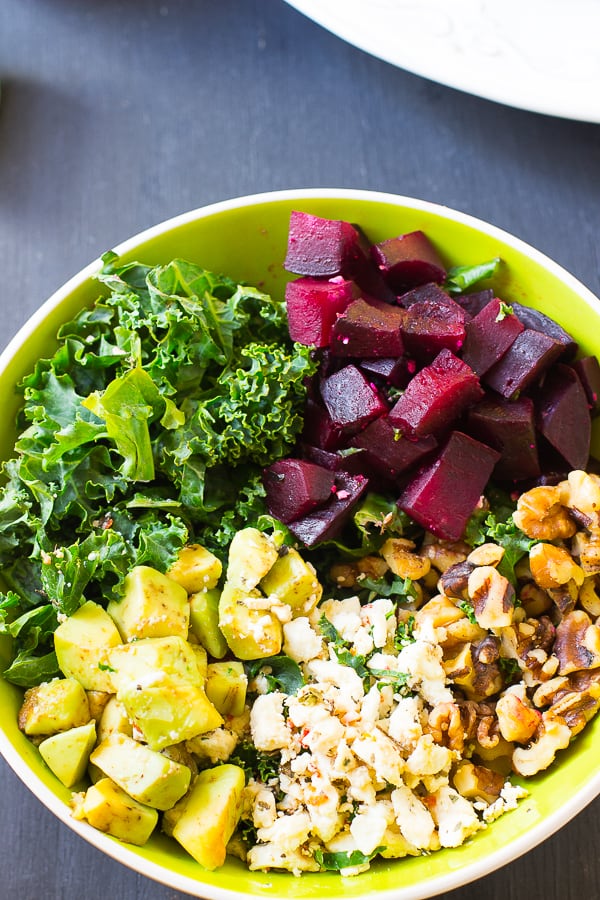 I was never one for the basic "tomato, lettuce and ranch dressing" salad. In fact, I almost rarely have tomatoes in my lettuce now because of going out to restaurants and having them not understand the great combinations that can come together because of the word "salad". I believe that salads have absolutely no limit on them; you merely have to find delicious ingredients that will go well together and where there is a dressing, a dressing that will enhance the salad's ingredients rather than drown them. This is why I usually opt for a vinaigrette as opposed to a heavy dressing. I also love a salad that's filled with texture, body, colour and a distinct variety of flavours. Sweet, tangy, creamy, and even sometimes spicy. I knew this salad, with the smoothness of roasted beets, would need a variety of ingredients that would complement it well.
I went for creaminess with the avocado, texture with the kale and walnuts, and tanginess with the vegan feta cheese. I tend to squeeze lime over everything, so that's optional but also a great additive. Put together, the salad is such a delicious combination that you'll want to serve it either prepare it on Sunday for the rest of the week, or serve it as a huge salad at a family gathering. I have to admit, my favourite part of this Roasted Beet Feta salad is definitely the roasted beets.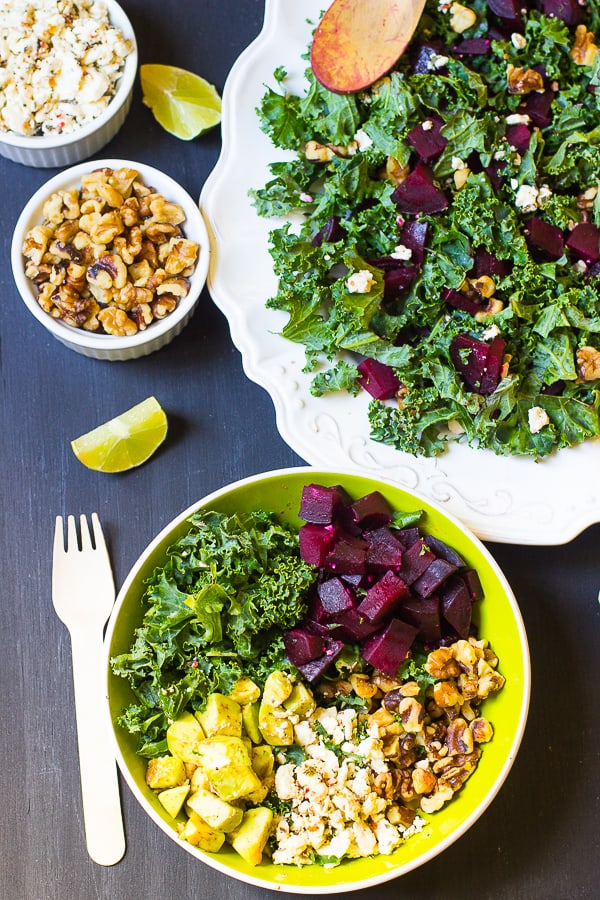 Now, I put this salad as taking 15 minutes because it does indeed take that amount of time once your beets are already roasted. In fact, you can serve this salad with beets that aren't roasted. The difference, to me, is enormous. The beets go into the oven, wrapped in foil, and the roasting begins. That's all it takes. When they come out of the oven, they are a steaming hot, filled with life, red-staining beautiful vegetable. I personally love the stains of beets (on my hands only!) because it just takes on a whole new meaning to fresh from my kitchen. It's also such a BEAUTIFUL vegetable that I want everyone who is afraid of trying out beets, to give it a try. They create such a difference in anything you put them in, such as when I found out they were the missing ingredient to these magical burgers. I can't wait to give them a try in a million other beauties. Let the feasting begin!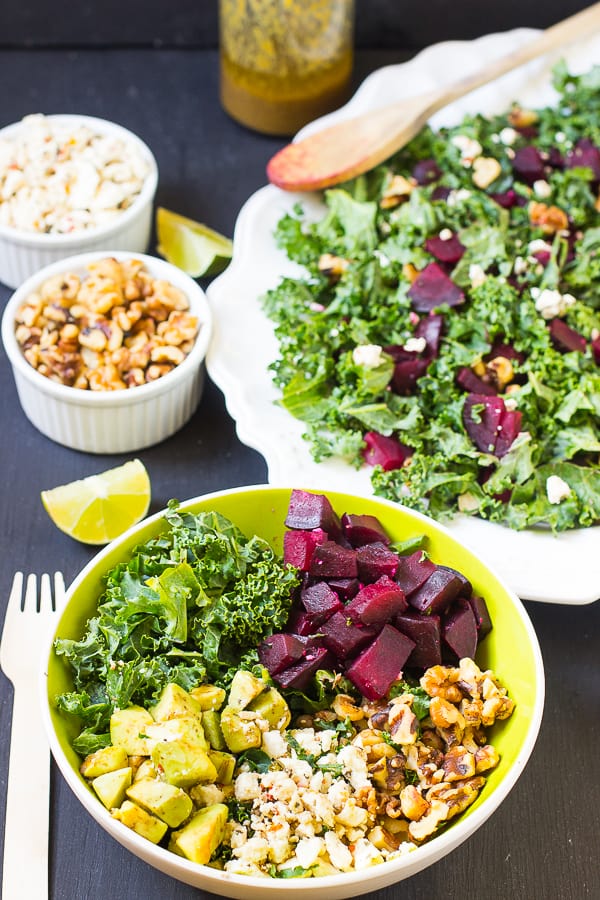 If you give this Roasted Beet "Feta" Salad recipe a try, please let me know in the comment section below, or tag me on instagram with the hashtag #jessicainthekitchen.
RELATED RECIPES
Apple, Candied Walnuts and Blue Cheese Salad with Maple Apple Dressing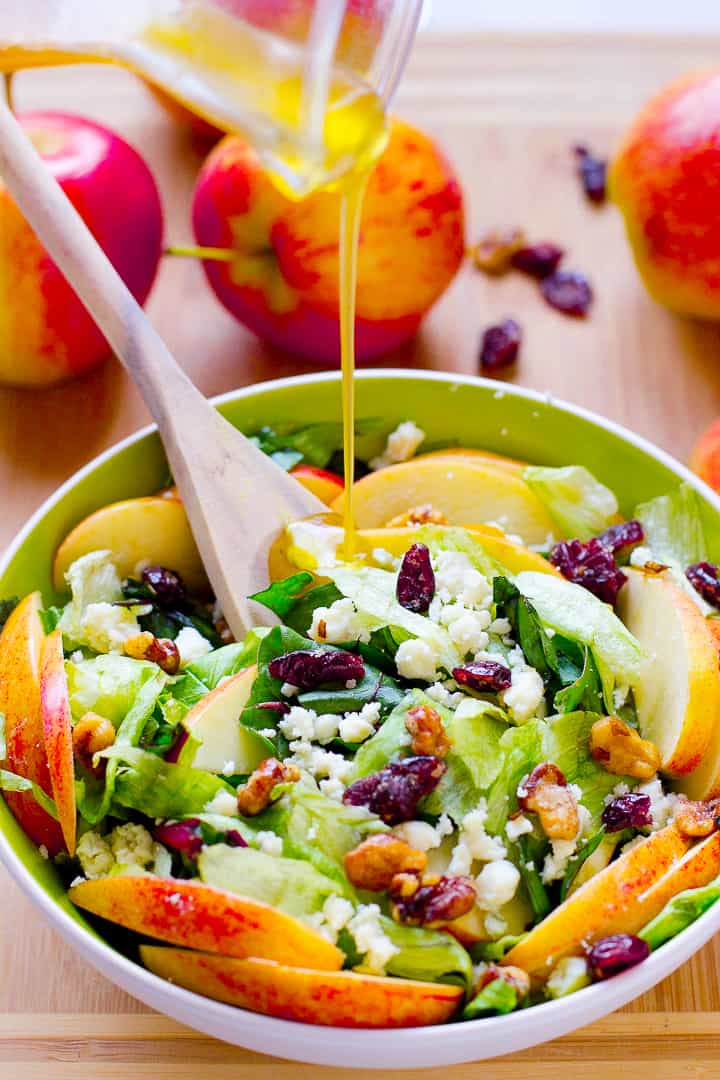 Apple Pecan and Feta Salad with Maple Apple Dressing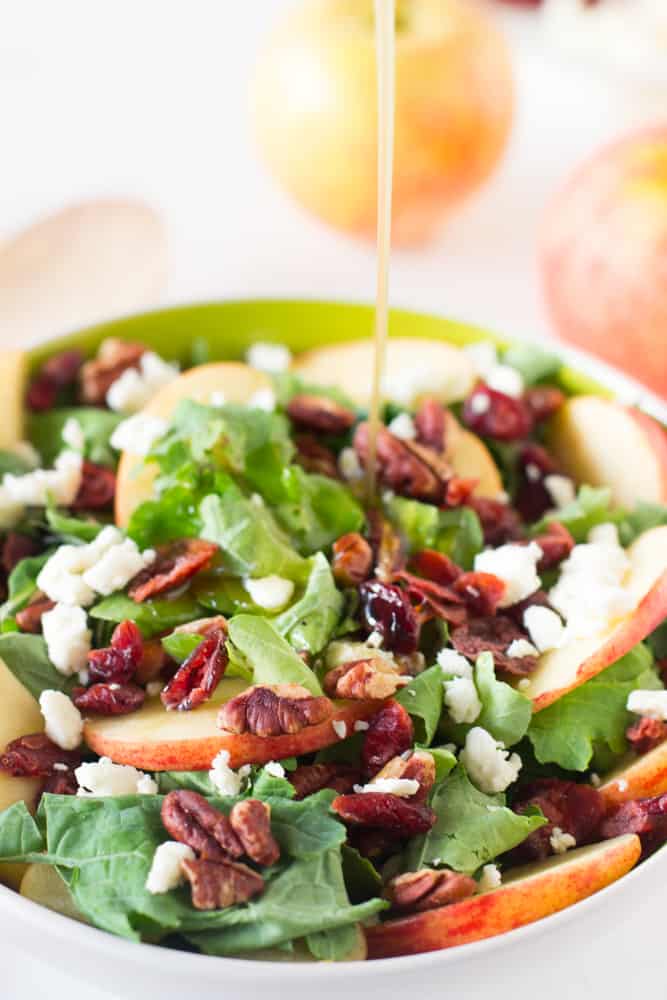 Salads Across the Web
Autumn Crunch Pasta Salad by Chelsea's Messy Apron
Harvest Sweet Potato and Brown Rice Salad by Cook Nourish Bliss
Citrus, Fennel and Avocado Salad by Flavor The Moments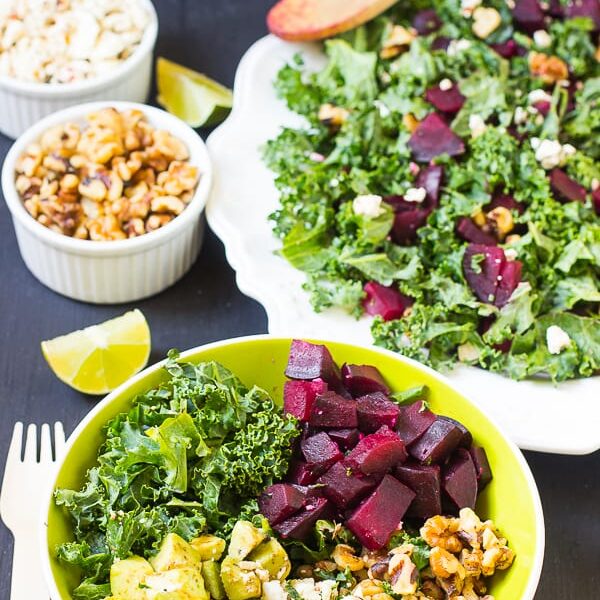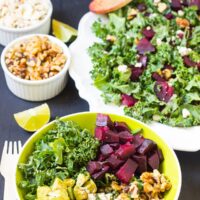 Roasted Beet Feta Salad with Maple Mustard Vinaigrette
This Vegan Roasted Beet Feta Salad is a quick, creamy and delicious salad that can easily serve a crowd. It's served with a sweet and tangy maple mustard vinaigrette!
Ingredients
Salad:
6 cups chopped kale
1 cup chopped walnuts
1/2 cup vegan tofu feta cheese
2 cups roasted chopped beets
1 cup diced avocado
Maple Mustard Vinaigrette (this makes extra dressing):
1/2 cup olive oil
2 tablespoons balsamic vinegar
1 tablespoon maple syrup
2 1/2 teaspoons dijon mustard
salt & pepper to taste
Instructions
To roast beets, refer to notes.

In a large mixing bowl, place the kale, walnuts, "feta" cheese, and cooled, roasted beets.

Toss the salad together and either toss with the dressing, or on the side. I prefer to serve with dressing on the side since the dressing can cause the salad to go soggy if left on for hours.
Maple Mustard Vinaigrette
Combine all of the ingredients in a twist-top jar and give a good shake. Serve with salad based on your own preference as to how much dressing you want.
Notes
If you don't plan on eating this salad at one meal, or if you plan of having this pre-planned ahead of time, do not toss all of the ingredients together and do not pour the dressing over the salad. This will make all the ingredients soggy. Keep the greens, the dressing and all the other ingredients separated in your fridge in containers next to each other. When you're eat the salad, toss all ingredients together right before serving. !To Roast Beets
Preheat an oven to 425 degrees. Scrub the beets clean and wrap individually in foil and place on a baking tray in the oven. Roast for about 45 minutes, checking the beets every 20 minutes for doneness by sticking a fork inside of it. The fork will pierce through easily and come out with ease when the beets are ready. Smaller beets will cook faster.
Calories: 424kcal, Carbohydrates: 21g, Protein: 8g, Fat: 37g, Saturated Fat: 5g, Sodium: 230mg, Potassium: 697mg, Fiber: 5g, Sugar: 7g, Vitamin A: 6745IU, Vitamin C: 85mg, Calcium: 140mg, Iron: 2mg
Disclaimer: Although jessicainthekitchen.com attempts to provide accurate nutritional information, kindly note that these are only estimates. Nutritional information may be affected based on the product type, the brand that was purchased, and in other unforeseeable ways. Jessicainthekitchen.com will not be held liable for any loss or damage resulting for your reliance on nutritional information. If you need to follow a specific caloric regimen, please consult your doctor first.