No Bake Mango Coconut Chia Pudding
This No Bake Mango Coconut Chia Pudding is made with only 5 ingredients, overnight and is the perfect quick breakfast, snack or even dessert! Also, my top 5 tips for having your best summer.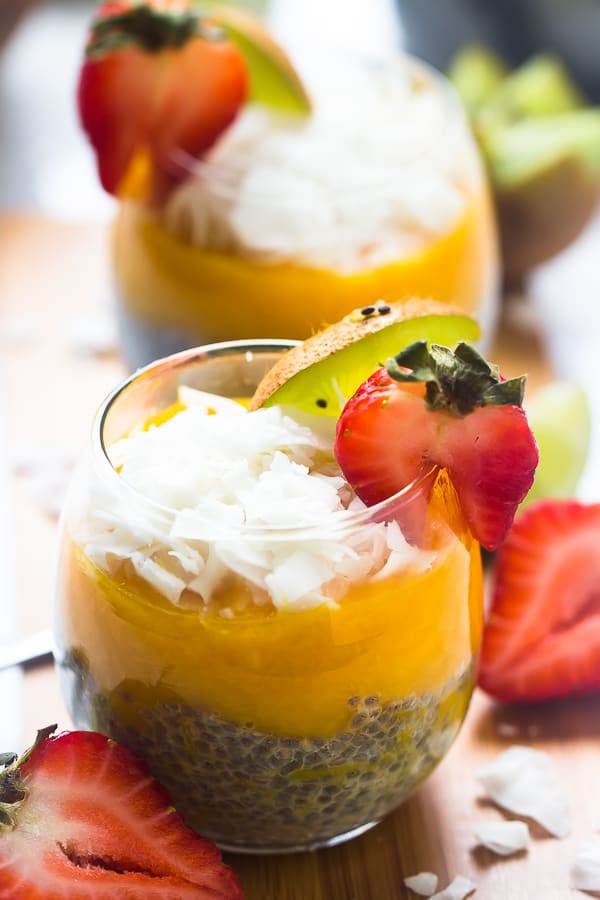 Guess what? We are officially 5 days away from summer, which for me means hitting the beach, enjoying flip flops weather and most importantly, eating lots and LOTS of mangoes. To me, the BEST fruits and veggies are in season during the summer months, which is a bit obvious from my biased view on my June Produce Guide post. While I've been eating mangoes by themselves, I knew I needed to share them in one of my favourite new dishes: No Bake Mango Coconut Chia Pudding. P.S. I share my top 5 tips for having your best summer at the end of this post.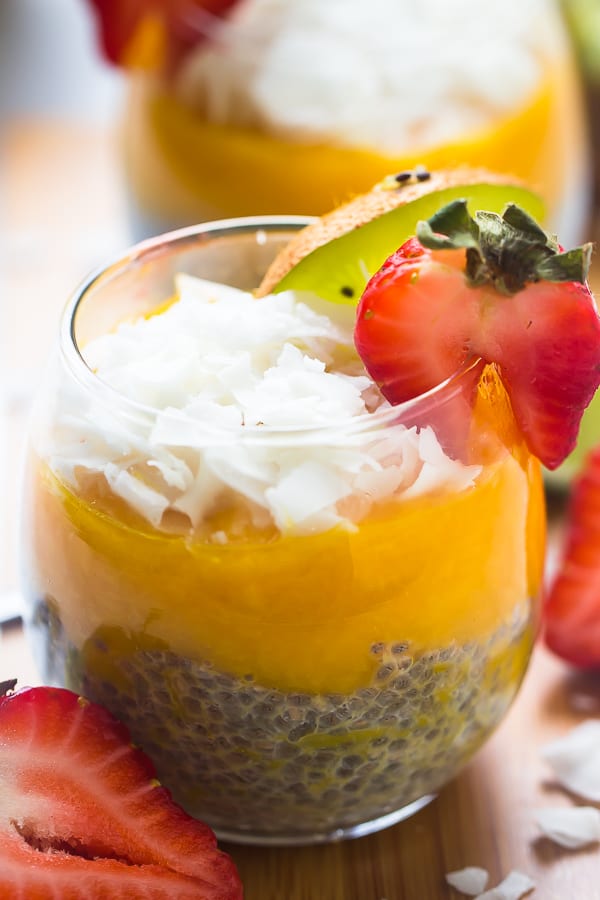 Mangoes and summer go hand in hand, right? Know what else goes hand in hand with summer? "No bake" everything. While the sun is absolutely beautiful outside, it's also VERY hot, which means turning on your oven for every meal is pretty much out of the question. It isn't even summer yet and I have avoided turning my oven on as much as possible and am opting instead for grilling veggies and no bake treats in the form of brownie bites and chia puddings.
So what exactly is a chia pudding? Essentially chia seeds, milk, and a sweetener of your choice thickened up naturally to form its own pudding. If you're feeling "fancy", which I always am with food, then you add your favourite toppings. This makes it a quick breakfast, snack or even a dessert that remains healthy and of course, delicious. Seriously, the first time I had a chia pudding I was shocked at how delicious it was. For this No Bake Mango Coconut Chia Pudding, I used my favourite dairy free milk aka my addiction Silk and their new Toasted Coconut + Cashews Nutchello because I am officially in love with the coconut cashew flavour AND wanted a mango coconut combination.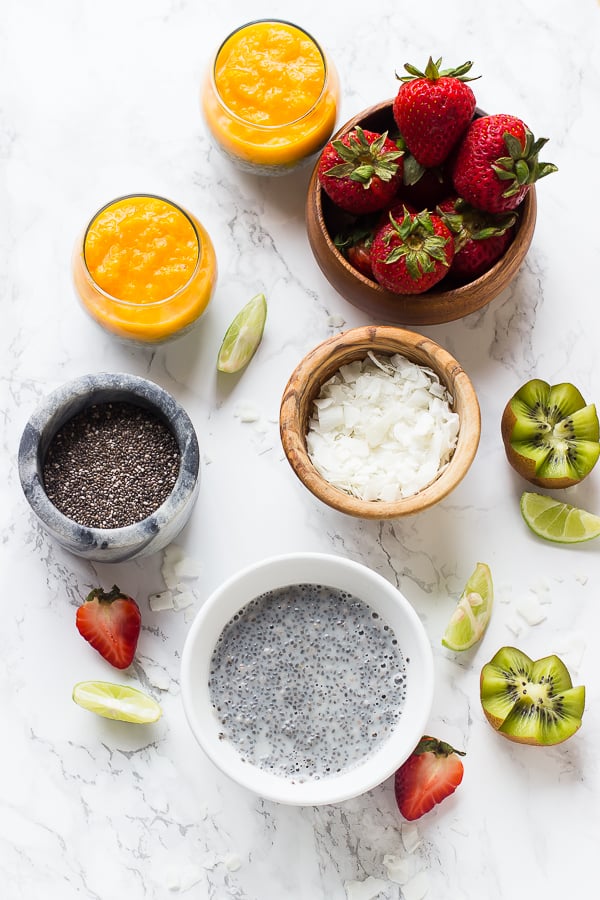 PSA, coconut is perfect with everything.
To make this No Bake Mango Coconut Chia Pudding, I mixed the Silk nut milk with chia seeds and let it sit for an hour. If you have not tried their Toasted Coconut + Cashews Nutchello, this summer is the BEST opportunity since coconuts + summer are literally a match made in heaven. Not only did it have a delicious coconut flavour (my favourite) but Silk is incredibly smooth and my go to in any recipe that I need to use milk in. Next, purée the mango, add more coconut on top in the form of coconut flakes, and then garnish with basically the fruits that are in your house. That's another one of my other favourite parts about summer, I always have so many fresh fruits and veggies in our house. My breakfasts of late have been pretty fantastic.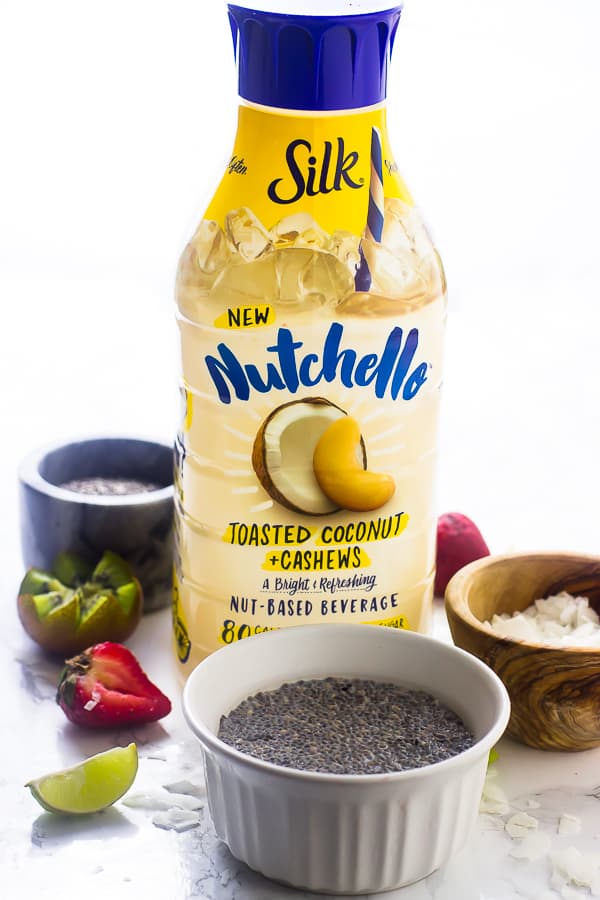 That's seriously all you need to do to make this pudding. Set it before you go to bed then have it in the A.M. Super easy, and the perfect complement to summer. Speaking of which…
My 5 tips to having your best summer
1. Wear sunblock! Take the stress, danger and painful sunburn completely out of going to the beach by being protected.
2. Naturally, have this chia pudding and other no bake treats. Not only is it super delicious, but it's so healthy it's insane (antioxidants, tons of protein) and so easy to make. Making it dairy free means no bloating and it's totally refreshing.
3. Eat TONS of fruit. Like seriously, I am going through fruit so quickly and loving it! I am winning the snack time game.
4. Drink tons of water. It's so hot outside and you don't need anything distracting you from enjoying yourself, like dehydration. 8 glasses is your minimum!
5. Take a day and just RELAX. If you can take more, definitely do. The Mr. and I finally booked our summer vacay (read: anniversary trip!) and I plan to schedule ahead of time so that I can go tech free for an entire day! Scary, but I look forward to just reading on the beach and doing NOTHING else.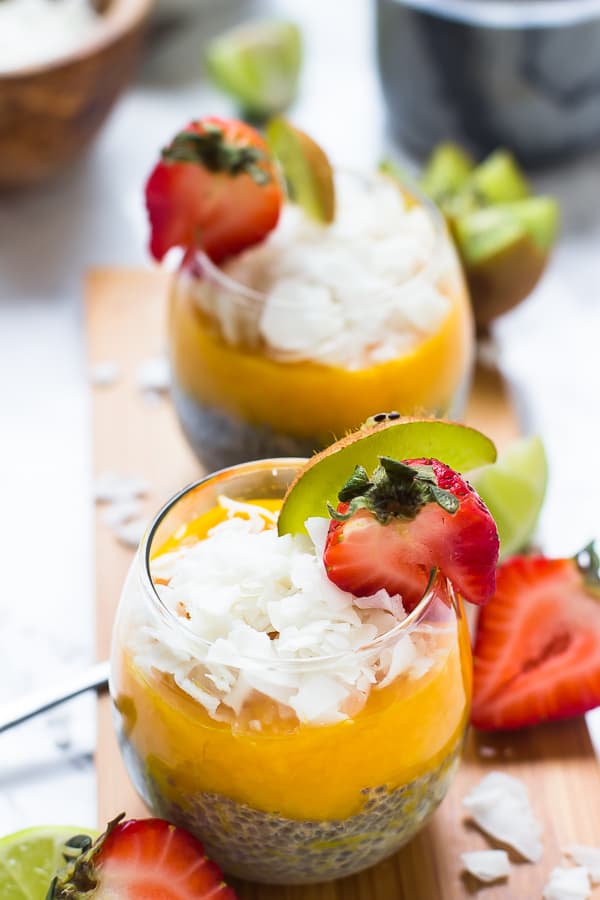 Here's to counting down the days until beautiful summer, and pre-celebrations!
If you try this No Bake Mango Coconut Chia Pudding please let me know in the comment section below, or tag me on instagram with the hashtag #jessicainthekitchen! For more exclusive recipes follow me on Instagram AND on Snapchat: jessinkitchen.
P.S. If you head over to Silk's website, you'll get a coupon instantly upon signing up as a member! You can sign up for their newsletter to also receive various other member perks including tons of giveaways (free stuff? Yes please)!
This is a sponsored conversation written by me on behalf of Silk! All opinions are mine. I love their products so much. Thank you for supporting the brands that help to support me!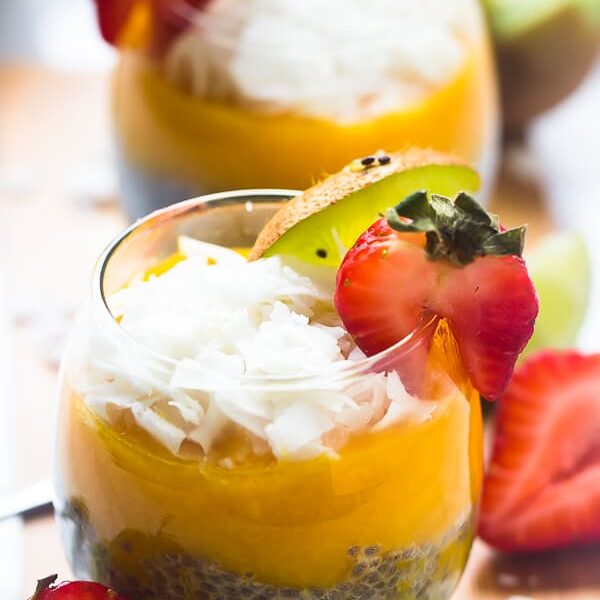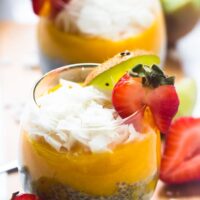 No Bake Mango Coconut Chia Pudding
This No Bake Mango Coconut Chia Pudding is made with only 5 ingredients, overnight and is the perfect quick breakfast, snack or even dessert!
Ingredients
1/4 cup chia seeds
1 cup Silk Nutchello Toasted Coconut + Cashews
1 1/2 teaspoons maple syrup, to taste
1 mango, peeled and cubed
2 tablespoons coconut flakes
For garnish, squeeze of lime and slices of kiwi and strawberries
Instructions
In a medium bowl, add the chia seeds and the Silk Nutchello Nut Milk and whisk vigorously until combined. Add the maple syrup to taste. Allow to set in the fridge, covered overnight or for at least 2 hours, until a pudding like consistency is formed.

When the pudding is set, spoon into the serving cups.

Puree the mango cubes in a food processor or blender until smooth. Spoon over the tops of the pudding.

Add equal amounts of the coconut flakes to each pudding. Garnish with lime, kiwis and strawberries.

Enjoy!
Notes
This recipe is naturally gluten free and vegan. It serves 2 regular chia puddings or 4 miniature chia puddings. You can substitute or add any of your favourite soft fruits in place/in addition to the mango.
HOW TO STORE
You can store this chia pudding in an airtight tupperware container in the fridge for up to 3 days.
Calories: 493kcal, Carbohydrates: 39g, Protein: 8g, Fat: 38g, Saturated Fat: 28g, Sodium: 22mg, Potassium: 518mg, Fiber: 17g, Sugar: 21g, Vitamin A: 1120IU, Vitamin C: 38mg, Calcium: 162mg, Iron: 3mg
Disclaimer: Although jessicainthekitchen.com attempts to provide accurate nutritional information, kindly note that these are only estimates. Nutritional information may be affected based on the product type, the brand that was purchased, and in other unforeseeable ways. Jessicainthekitchen.com will not be held liable for any loss or damage resulting for your reliance on nutritional information. If you need to follow a specific caloric regimen, please consult your doctor first.