Maple Brussels Sprouts with Apples and Pecans
These sweet and tender caramelized maple Brussels sprouts are the perfect holiday side dish. Seasoned with chunks of tart apples and fragrant fresh thyme, and topped with crunchy pecans, this is a festive winter veggie salad.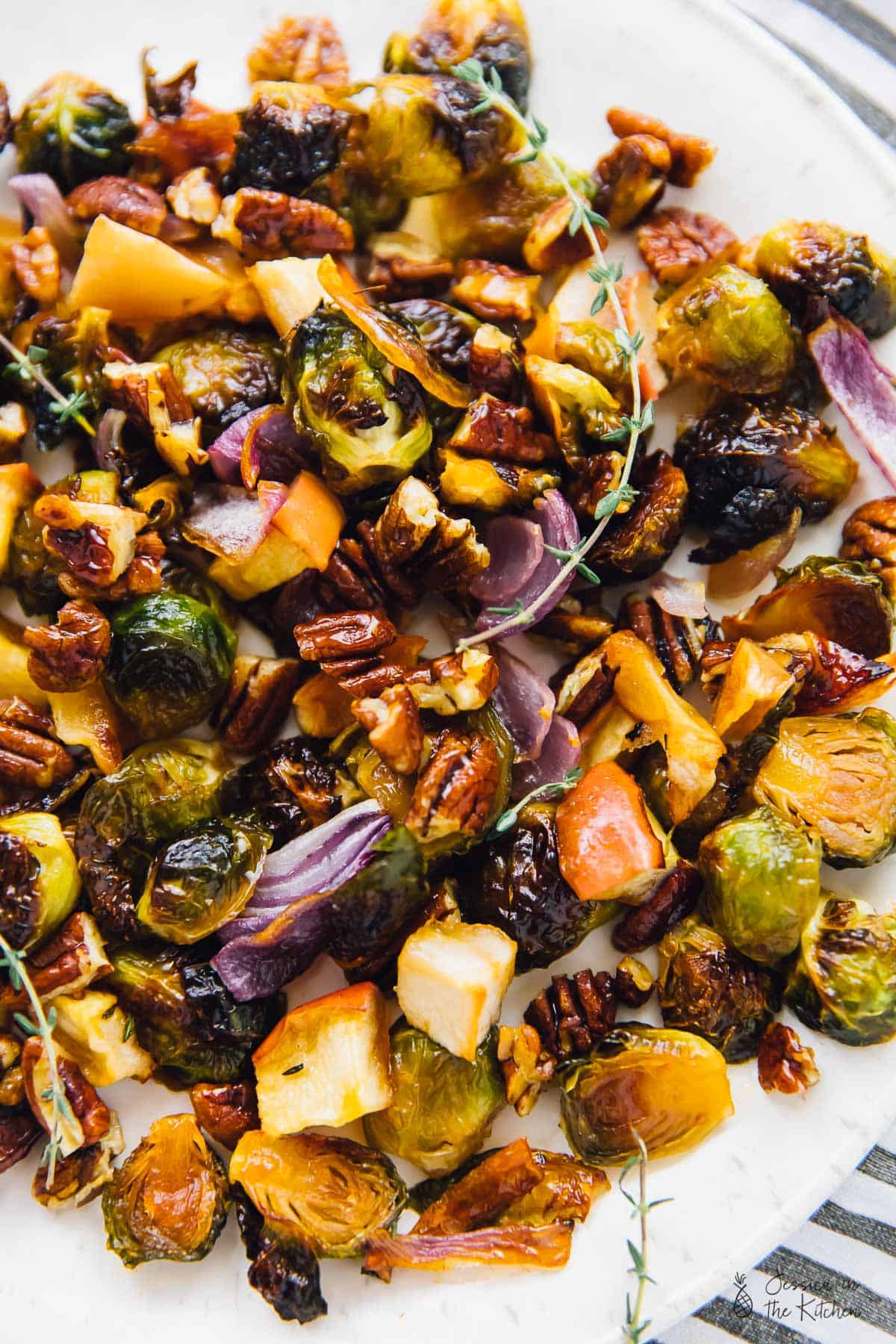 Brussels sprouts are a little bit of a controversial topic. Some people love them, but some people hate them. Me? I'm a huge fan of them. And ever since I first made Grilled Maple Mustard Brussels Sprouts, I realized just how wonderful of a combination Brussels sprouts and maple syrup is. This is why I'm now obsessed with these easy roasted maple Brussels sprouts!
This is my go-to side dish for Thanksgiving and Christmas. The veggies are tender and juicy, but a little crispy on the outside. They're packed with sweet, tart, and tangy flavors from apples and onions, and covered in buttery pecans. But it's the fresh thyme and rich maple syrup that really make this recipe shine.
Why You'll Love This Maple Brussels Sprouts Recipe
Once you try this recipe, you're going to end up making it every year at the holidays. And also all through the year! Here's why you're bound to love this roasted Brussels sprout apple salad.
Easy. This is such an easy recipe to make. It only uses a handful of common ingredients, and it takes less than an hour to make. And most of that time is spent with the Brussels sprouts in the oven! This is a low-effort, high-flavor side dish.
Fancy. Maple Brussels sprouts taste like an expensive side dish that you'd order at a classy restaurant. With charred and caramelized Brussels sprouts, chunks of roasted apple, crispy pecans, and rich, hearty maple flavor, this is a fancy recipe that's surprisingly easy to make.
Affordable. Despite being so fancy, this is a very affordable recipe. It doesn't use any extravagant ingredients, so you won't break the bank making this side dish.
Perfect for the holidays. These easy maple Brussels sprouts are full of holiday flavors, like Brussels sprouts, apples, maple syrup, pecans, and thyme. Plus, the hearty salad is absolutely gorgeous, so it's perfect to serve at Thanksgiving, Christmas, or any other special occasion.
Notes on Ingredients
Here are the fresh and festive ingredients you need to make this holiday Brussels sprout apple salad. Make sure to check out the recipe card at the end of the article to see the exact amounts of each ingredient.
Brussels sprouts – You'll need to trim the ends and remove the outer leaves.
Red onion – It's really important to use a red onion instead of a white or yellow onion. However, you can replace the red onion with 3-5 shallots.
Apple – Make sure to use an apple that's crisp, not mushy. I like to use a tart apple, but you can use a sweeter one if you prefer.
Olive oil – You can use any type of oil, but the rich, earthy flavor of olive oil really works well in this recipe.
Maple syrup – Always use 100% pure maple syrup.
Fine sea salt
Black pepper – Use freshly cracked pepper.
Thyme – Using fresh thyme is very important. If you don't have fresh thyme, use a different fresh hard herb, like rosemary.
Pecans – You can use raw pecans, toasted pecans, or Easy Stovetop Candied Pecans.
How to Make Maple Brussels Sprouts
Ready to see just how easy this recipe is? You'll be amazed at how straightforward and simple it is to make this tender and hearty holiday side dish.
Prep. Preheat your oven to 400F, and line a baking sheet with a silpat or aluminum foil.
Add the fruits and veggies. Cut the Brussels sprouts in half, then add them to the baking sheet with the chunks of apple and onion.
Mix the seasonings. Add the olive oil, maple syrup, salt, and pepper to a bowl, and stir until well combined.
Season. Drizzle the seasoning mixture over the Brussels sprouts, apples, and onions. Toss until they're well coated.
Place them cut-side down. Turn all of the halved Brussels sprouts cut-side down. This will help them caramelize.
Add thyme. Take a few sprigs of thyme and place them on top of and around the veggies.
Roast. Put the baking sheet in the oven and bake for 35-40 minutes, until the Brussels sprouts are caramelized and the apples are tender. Shake the pan a few times as the veggies bake.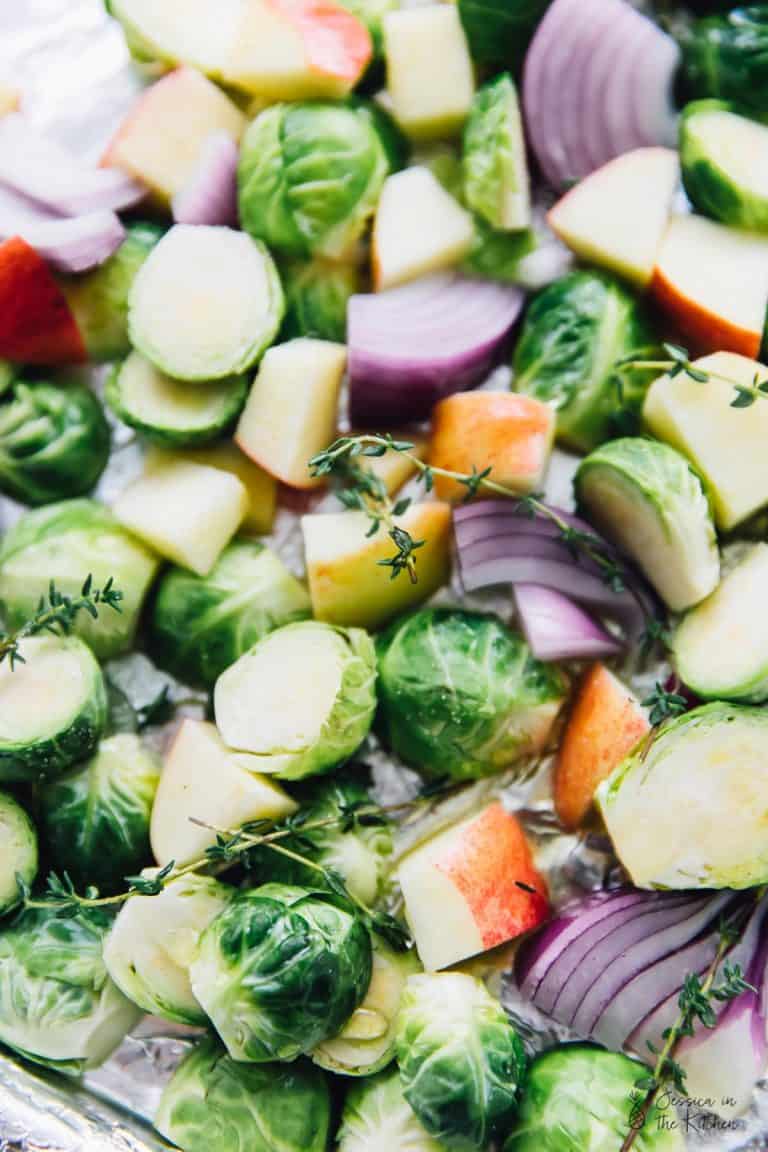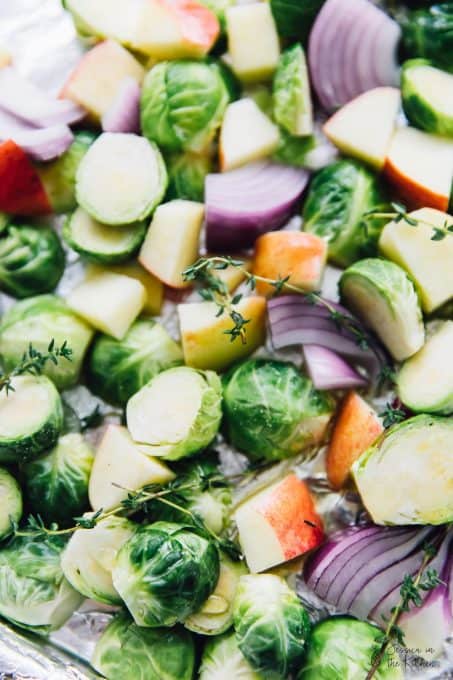 Serve. When the veggies are done roasting, remove them from the oven and top with pecans and optional soft vegan cheese. Serve while hot.
Want to Make Vegan Maple Bacon Brussels Sprouts?
Bacon and Brussels sprouts are a classic pairing, especially at the holidays. So needless to say, this recipe is great with bacon, but I like to use vegan bacon instead. If you want to make vegan maple bacon Brussels sprouts, just follow the entire recipe, then crumble vegan bacon over the top with the pecans. I recommend my smoky and savory Vegan Bacon Crumbles, which are made out of coconut, tamari, maple syrup, paprika, and liquid smoke. They're irresistible!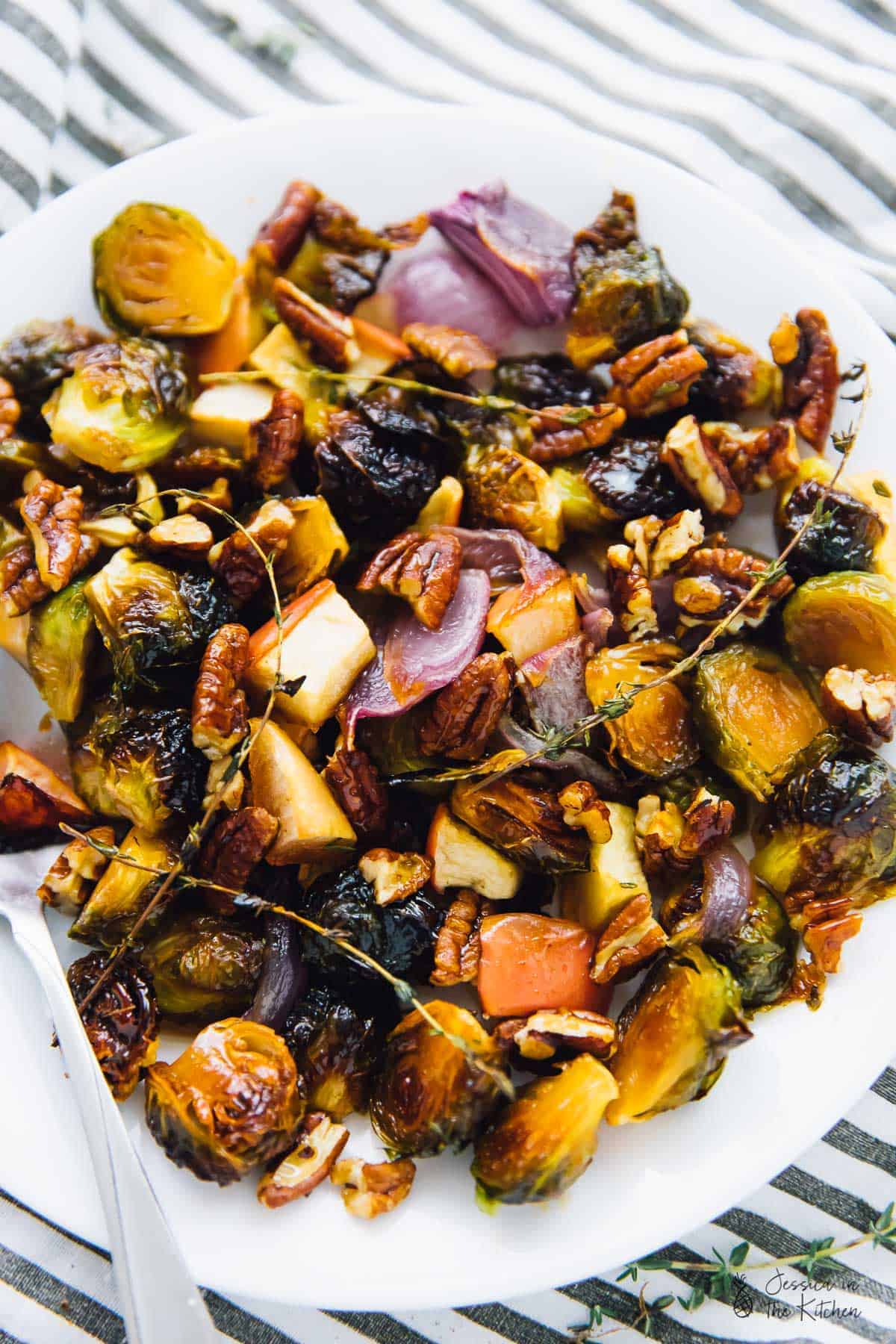 Tips & Variation Ideas
These tricks and different recipe variations will help you make the best maple Brussels sprouts with apples and pecans this holiday season.
Don't be afraid of color. You don't want to burn this recipe, but you do want to get some caramelization on the Brussels sprouts. Keep a close eye on them while they roast, but don't be scared if the skin on the Brussels sprouts gets really dark. It will just become crispy and sweet.
Rotate the pan. I recommend rotating the baking sheet halfway through roasting the veggies. A lot of ovens heat unevenly, which can lead to some of the Brussels sprouts and apples being undercooked while others are overcooked. Rotate halfway through to avoid that.
Cut the apples evenly. Try to cut all of the apple pieces to roughly the same size. That way they'll all cook at the same time, instead of having some pieces that are a little raw or a little overcooked.
Add holiday toppings. There's no shortage of great festive toppings that you can put on this maple Brussels sprouts apple salad. You can garnish this recipe with fragrant herbs, pomegranate arils, grapefruit segments, cranberry chutney, fresh pear slices, fresh berries, brown sugar, or anything else you can think of!
Are Brussels Sprouts Good For You?
Yes! Like almost all greens, Brussels sprouts are super good for you. They're packed full of fiber and tons of different vitamins and minerals, including iron, potassium, and calcium. Research suggests that eating Brussels sprouts can help with heart disease, high blood pressure, and high cholesterol, and help prevent numerous forms of cancer.
How to Store Extras
Here's everything you need to know about storing this maple Brussels sprouts side dish.
Fridge. Keep the Brussels sprouts apple salad in an airtight container and it will last in the fridge for 5 days. If you top the salad with vegan cheese, remove the cheese before storage.
Reheating. The best way to reheat maple Brussels sprouts is to put them in a 350F oven for 10-15 minutes, or until heated throughout. You can also reheat them in the microwave in 30-second increments.
Freezer. You can also freeze this recipe. Just let it cool entirely, then place it in an airtight container in the freezer for 6 months. Thaw overnight in the fridge before reheating.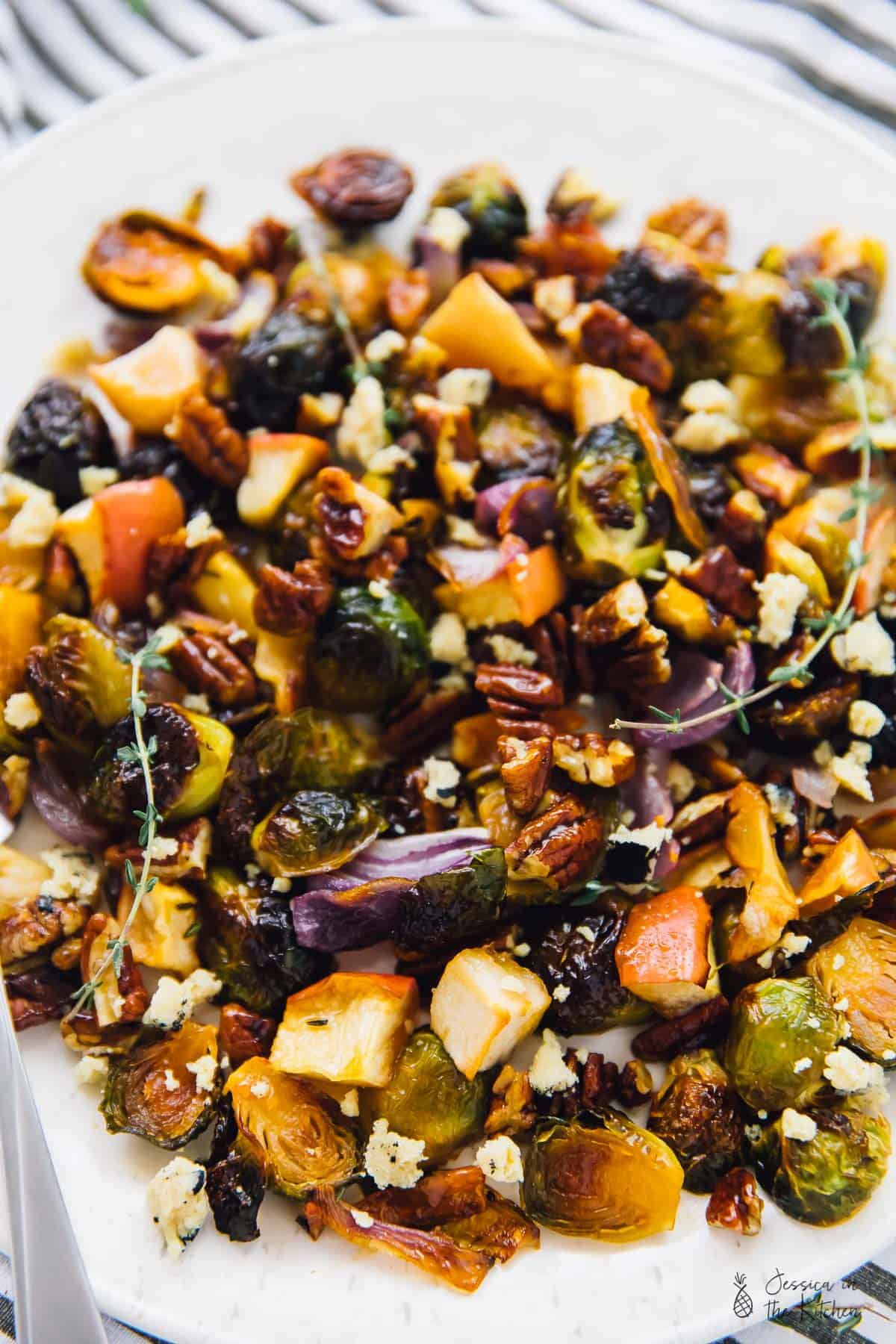 More Holiday Salads to Try
Need more salads to make this holiday season? I've got you covered! Check out some of my other favorite recipes.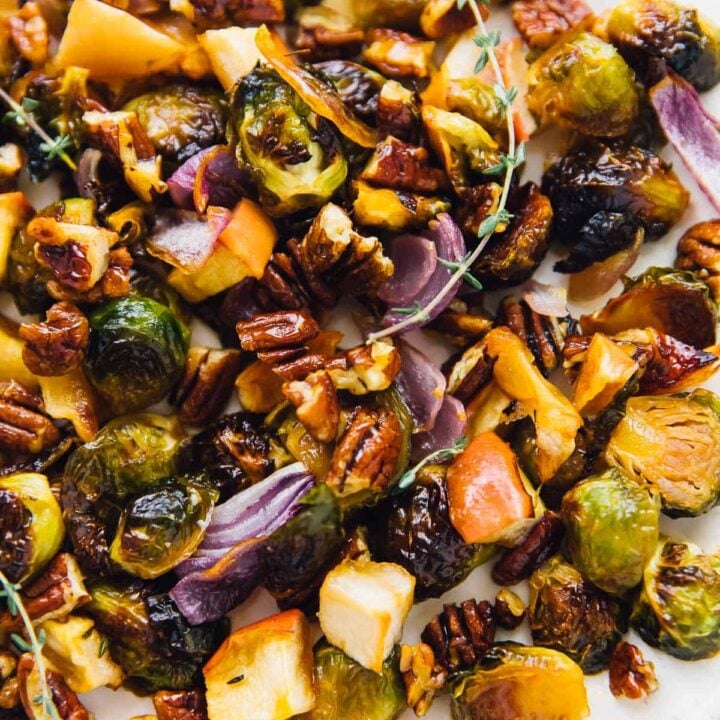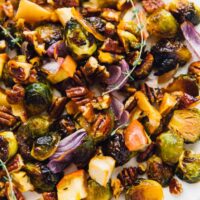 Maple Brussels Sprouts with Apples and Pecans
These easy maple Brussels sprouts are tender and caramelized, with sweet apples, tart onions, and crunchy pecans. It's the perfect holiday side dish.
Ingredients
1 pound Brussels sprouts, ends trimmed and outer leaves removed
1 medium red onion, cut in wedges
1 large apple, cored and cubed
1 tablespoon olive oil
2 tablespoons maple syrup
1 teaspoon fine sea salt
¾ teaspoon ground black pepper
3-4 sprigs of thyme
1 handful pecans, raw, toasted, or candied
Instructions
Preheat your oven to 400F, and line a baking sheet with a silpat or aluminum foil.

Cut the Brussels sprouts in half, then place them on the lined baking sheet with the apples and onions.

Mix the olive oil, maple syrup, salt, and pepper together in a bowl, then drizzle it over the Brussels sprouts mixture. Toss until everything is thoroughly coated.

Turn all of the Brussels sprouts so that their cut side is facing down. This ensures that they all get perfectly caramelized.

Place sprigs of thyme on top of and around the veggies.

Bake for 35-40 minutes, shaking the pan a few times while baking, until the apples are tender, the onions are soft, and the Brussels sprouts begin to caramelize. You'll want to watch it closely around the 30-minute mark so that it doesn't burn. Some of the Brussels sprouts skins may darken a lot, but they still taste delicious.

Top with pecans and optional soft vegan cheese, and serve while hot.
Notes
Store leftovers in an airtight container in the fridge for 5 days or in the freezer for 6 months.
Reheat in a 350F oven for 10-15 minutes, or in the microwave in 30-second increments.
Calories: 150kcal, Carbohydrates: 28g, Protein: 4g, Fat: 4g, Saturated Fat: 1g, Polyunsaturated Fat: 1g, Monounsaturated Fat: 3g, Sodium: 612mg, Potassium: 574mg, Fiber: 6g, Sugar: 15g, Vitamin A: 924IU, Vitamin C: 102mg, Calcium: 73mg, Iron: 2mg
Disclaimer: Although jessicainthekitchen.com attempts to provide accurate nutritional information, kindly note that these are only estimates. Nutritional information may be affected based on the product type, the brand that was purchased, and in other unforeseeable ways. Jessicainthekitchen.com will not be held liable for any loss or damage resulting for your reliance on nutritional information. If you need to follow a specific caloric regimen, please consult your doctor first.