Gingerbread Doughnuts with Cinnamon-Ginger Glaze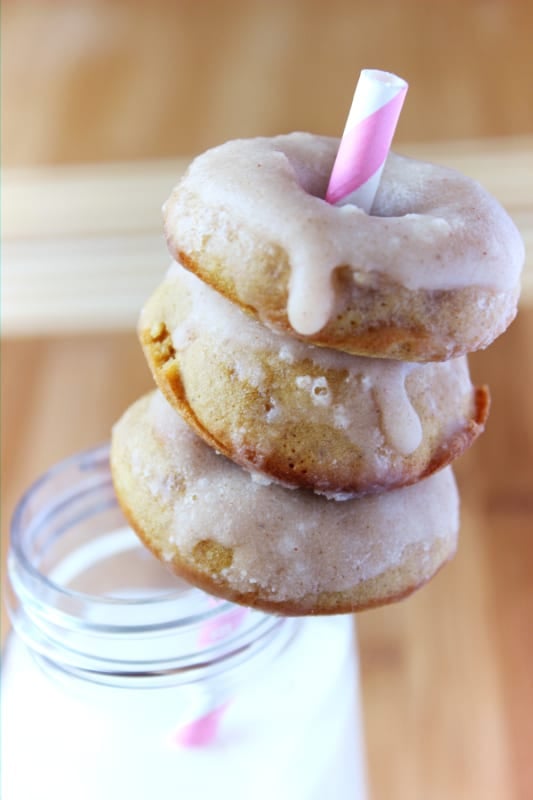 Is there anything better than homemade doughnuts? I can't think of much! And these Gingerbread Doughnuts with Cinnamon-Ginger Glaze are my new favourite dedication to the Gingerbread Man. Yes, you heard (read?) right. I've always referred to December as Gingerbread Man Month. In some of my older posts it's pretty evident that I have some sort of obsession with the gingerbread man, which is ironic since I've never actually made a gingerbread man. Deep.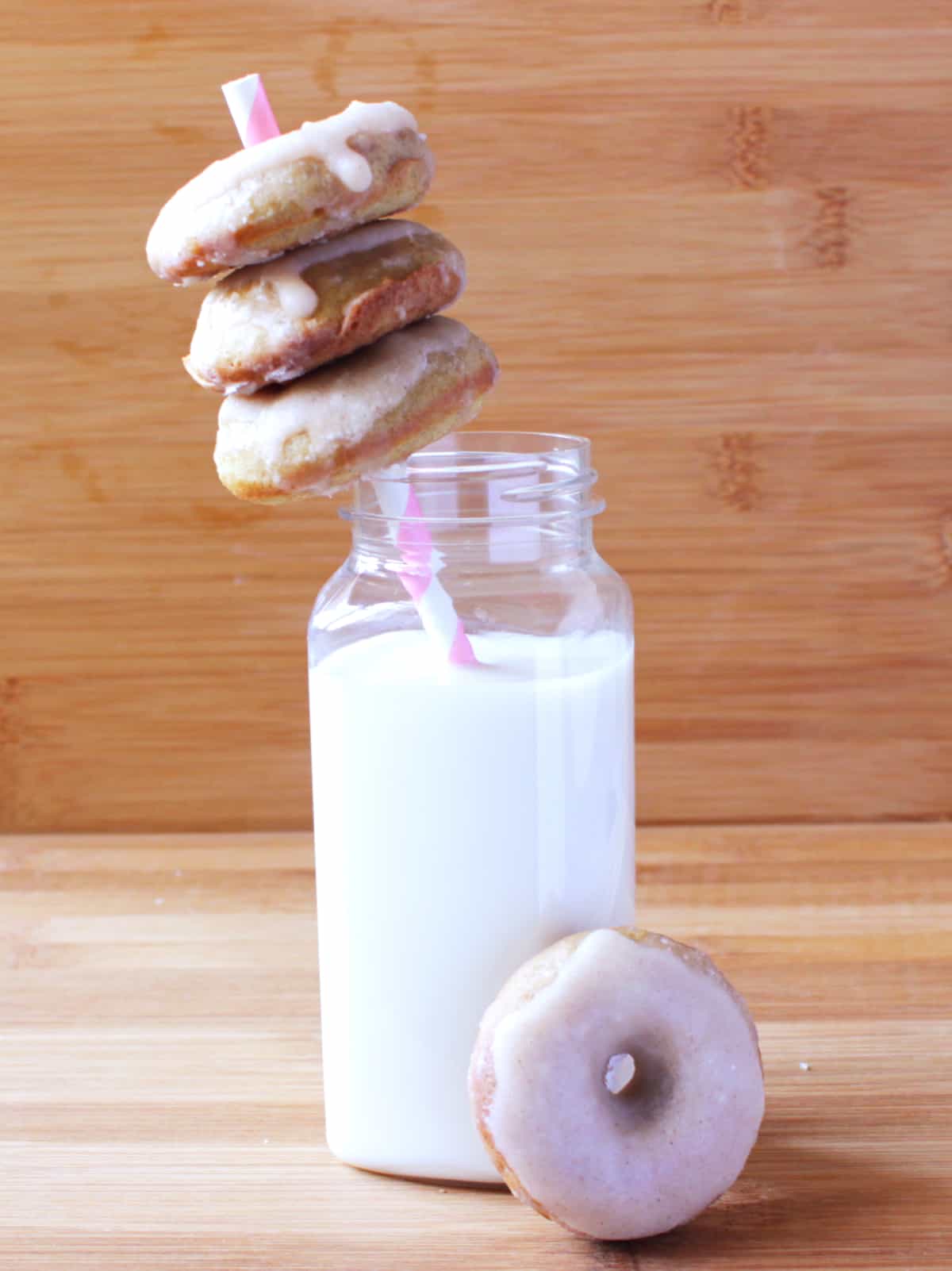 What isn't deep? My obsession with December. Christmas is my favourite holiday! Everything just gets perfect around Christmas time – the weather cools down, the food gets so much better, everywhere is festive and covered in beautiful lights, and of course, presents! LOTS of presents!
Away from my giddy 10-year-old self and back to these homemade doughnuts. These doughnuts are a hit. I mean, ginger explosion and flavour explosion hit. The addition of molasses in the doughnuts ties in with the ginger and delivers that flavour that is so reminiscent of classic gingerbread. Not only is there ginger in the doughnuts, it's also in the glaze with the cinnamon. The flavour isn't overpowering, but you'll definitely taste it. I wanted to balance the flavours since ginger can be a very strong flavour, but being an insane ginger enthusiast myself it was a bit hard not to dump the entire bottle in.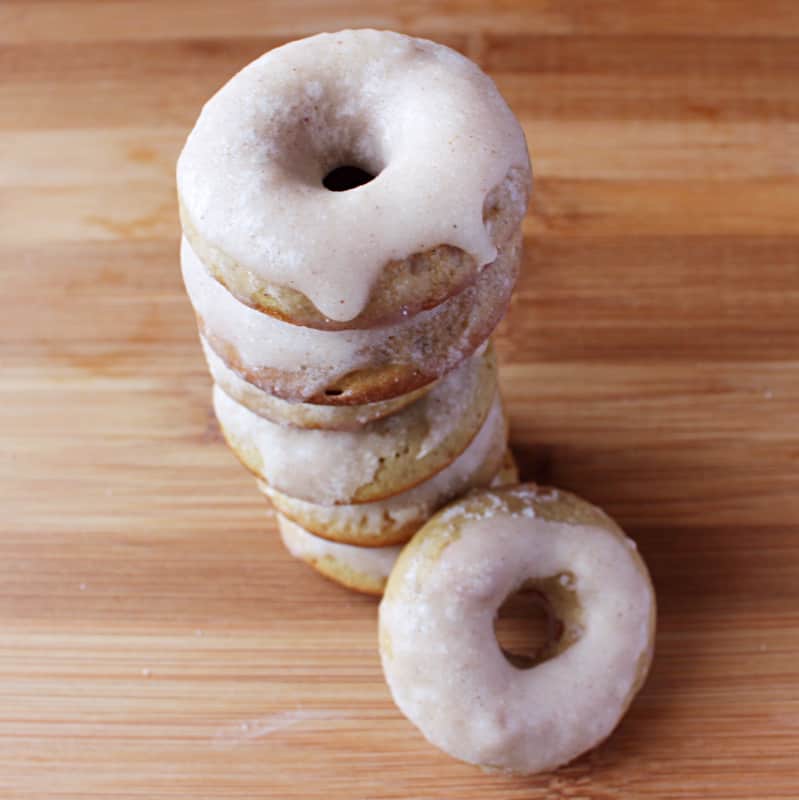 Don't worry, I didn't.
What I love about this recipe is that these homemade doughnuts taste like doughnuts. Of course, they're baked and not fried, so you don't get that greasy fried feeling but instead a cleaner feeling and bolder flavours. They are just the right balance between chewy and soft, and have that melt-in-your-mouth effect.
As great as these doughnuts are, the glaze is probably my favourite part. I wanted a hardened glaze to go back to the nostalgic feel of traditional doughnuts and so I boiled the glaze, which hardens fast. I just wanted to throw in that word of caution, although I doubt you'll be running from the stove to your set up with glaze trying to quickly dip it in and then realising afterwards that you neither took a photo of the glaze nor the dipping process.
Oops.
Of course, you don't have to boil the glaze, it's fairly optional, the glaze would set by itself within 15 minutes on the doughnuts cold.
If you can wait that long before you devour a few.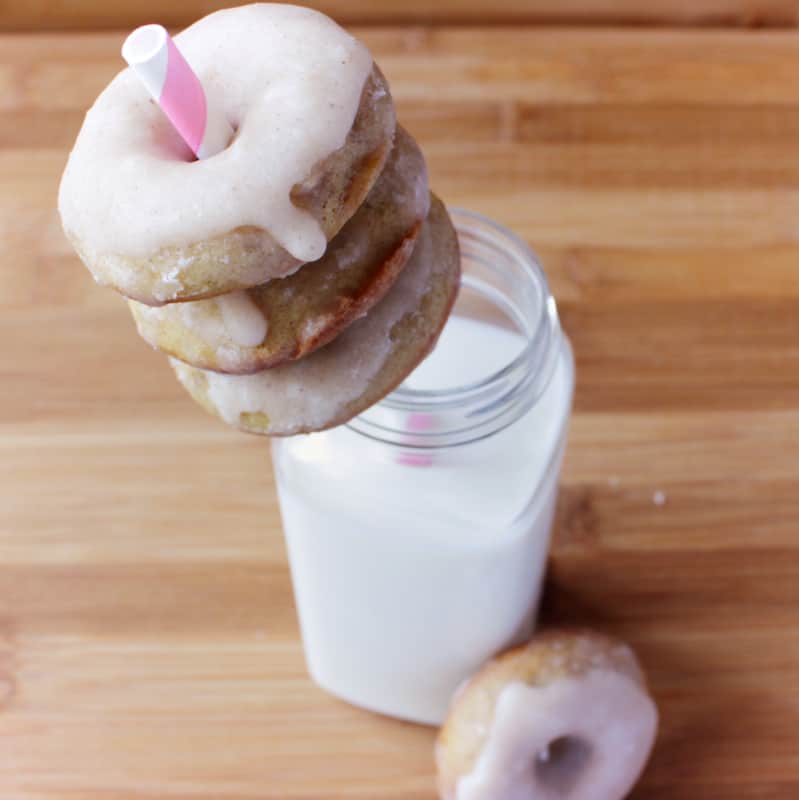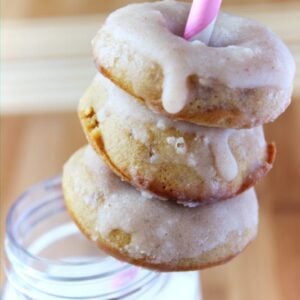 Gingerbread Doughnuts with Cinnamon Ginger Glaze
These Gingerbread Doughnuts with Cinnamon-Ginger Glaze are my new favourite dedication to the Gingerbread Man!
Ingredients
Doughnuts:
1 cup all-purpose or white whole wheat flour
1/4 cup brown sugar, packed
3/4 teaspoon baking powder
1/4 teaspoon baking soda
1/4 teaspoon salt
1/2 teaspoon cinnamon
1 teaspoon ginger
1/4 teaspoon nutmeg
1/4 teaspoon all spice
1 egg
2 tbsp milk
2 tbsp butter, softened
1 teaspoon of molasses
Glaze:
1/2 cup powdered sugar
1 teaspoon cinnamon
1 teaspoon ginger
2 teaspoons milk
Instructions
Doughnuts
If you're using a babycakes or any other mini doughnut maker, preheat.

If using a mini doughnut pan, preheat oven to 375 degrees and grease the pan.

In a bowl, mix the dry ingredients.

Add the egg, milk, and butter until well combined.

Add the molasses and stir to incorporate.

Fill a pastry bag or a large ziploc bag with the mixture (if using a ziplock bag, ensure it is zipped properly. Snip off the end of the bag to pipe the filling through.

Pipe into the doughnut maker or the mini doughnut pan.

If using the doughnut maker, follow the instructions, generally cooking for about 2 minutes each. Remember it gets hotter and so a set may take as short as 1 minute and 30 seconds. Once it's set and bouncing back, it's ready.

If baking in an oven, bake the doughnuts for 10 minutes or until cooked through and brown. It should be set and bounce back slightly when you touch it.

Remove the doughnuts to cool to a wire rack.
Glaze
Add the ingredients for the glaze together.

In a small pan, boil the ingredients for about 30 seconds and remove. It will be hot. Pour into a small bowl and allow to cool for about a minute. Dip the doughnuts into the glaze, swirl a bit so it stays on top, then place back on the wire rack. The glaze will set right away.
Notes
Store in an air-tight container to keep them soft.
Calories: 56kcal, Carbohydrates: 10g, Protein: 1g, Fat: 1g, Saturated Fat: 1g, Cholesterol: 11mg, Sodium: 71mg, Potassium: 34mg, Fiber: 1g, Sugar: 6g, Vitamin A: 51IU, Vitamin C: 1mg, Calcium: 18mg, Iron: 1mg
Disclaimer: Although jessicainthekitchen.com attempts to provide accurate nutritional information, kindly note that these are only estimates. Nutritional information may be affected based on the product type, the brand that was purchased, and in other unforeseeable ways. Jessicainthekitchen.com will not be held liable for any loss or damage resulting for your reliance on nutritional information. If you need to follow a specific caloric regimen, please consult your doctor first.