FREE Printable Clean Eating Grocery List, Reflections of 2016 + 2017 Food Philosophy
A FREE Printable Clean Eating Grocery List to make your supermarket and farmer's market trips much easier! Happy Eating and Happy Shopping!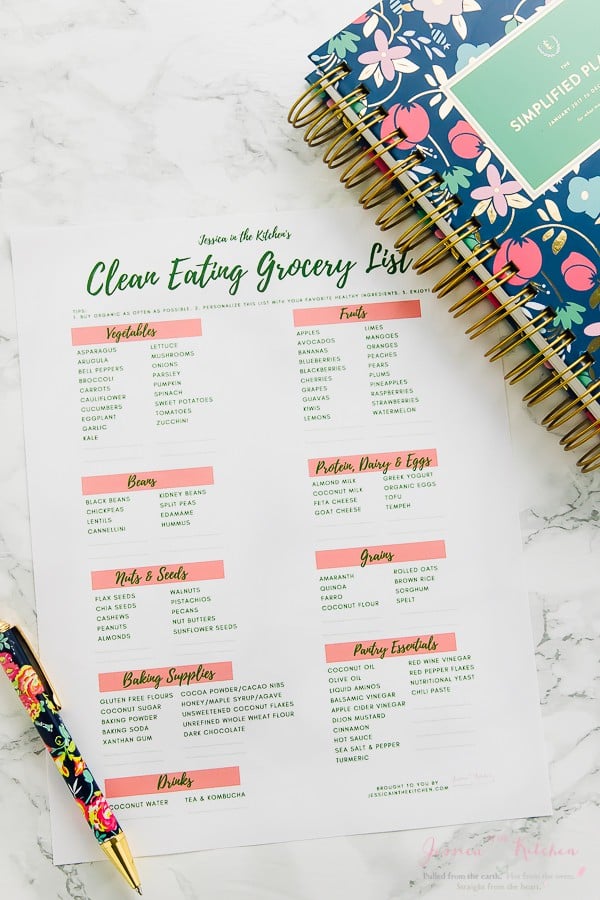 Happy New Year and Happy 2017! I am so incredibly ready for what this New Year has to offer. Although "January 1" is just a new day, you can't deny that feeling of a fresh start and endless possibilities! No matter the area of life, I use the new year as a new chance to follow my dreams once again. Just one year ago I shared a completely different story, and if you've been here since then you've probably seen a bit of a difference on the blog.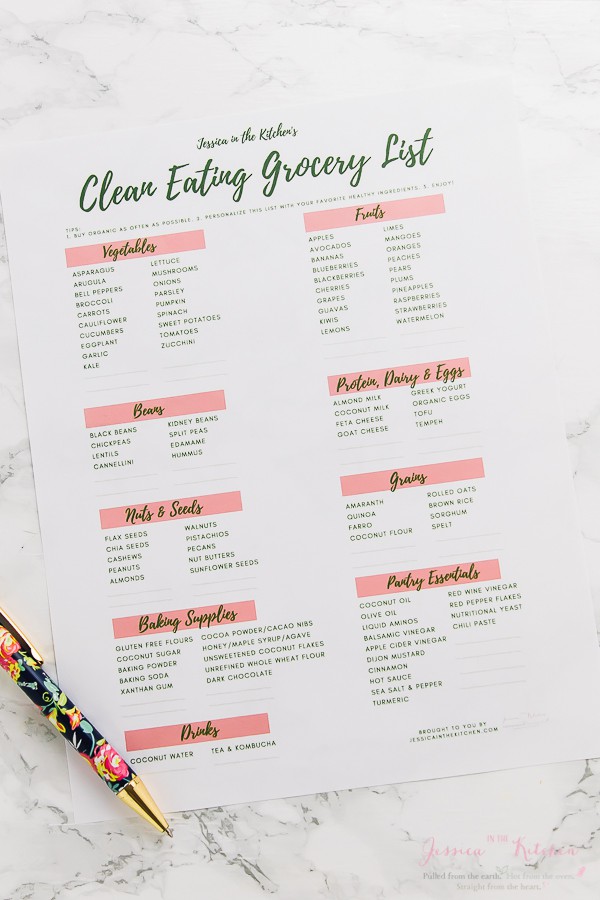 One area I'm starting a-fresh will be my health, and I would love for you to come on this journey with me. Let's state some facts: Jessica in the Kitchen is a food blog sharing whole food recipes. We don't do refined sugars, refined flours, we are always vegetarian, and mostly vegan and gluten free. We stay away from fake foods and try our best to make everything from scratch. This is very easy to do on the blog, but not so easy in real life. 2016 was the first year of me blogging full time. Yes, I took a leave of absence from my desk job earlier this year and made the decision not too long ago to do this full time! It was an incredibly fun year full of amazing opportunities. I learned so much; about myself, about you, and about food and nutrition. So many of you have shared your stories with me as to how my food helped to heal you and your family, was nutritious for you and best of all, absolutely delicious. These stories touched my heart and I want to say THANK you for sharing. Sharing helps me to create even more helpful recipes for you.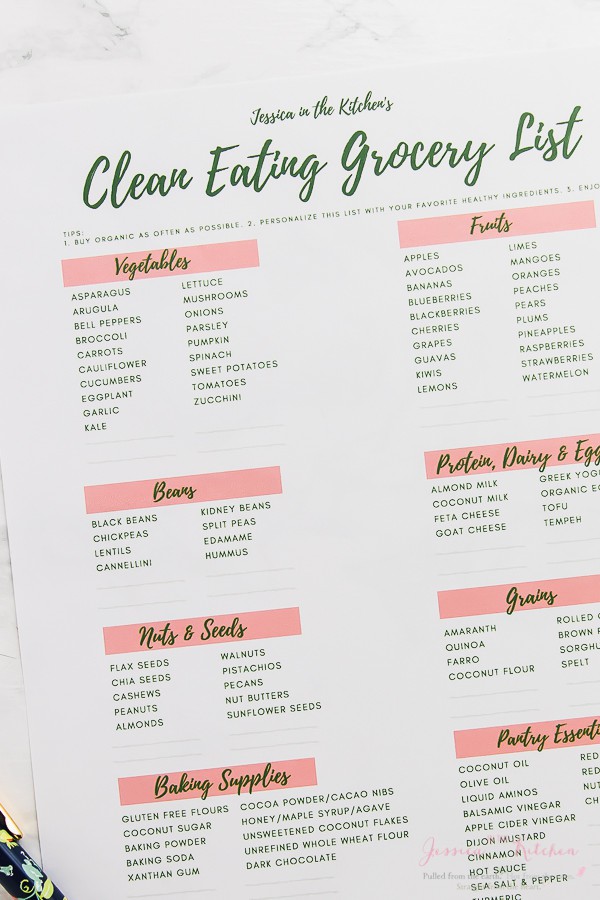 I dove deep into my work and sort of forgot to take care of someone along the way: myself. I got so caught up in making the blog as "perfect" as possible that I lost my yoga practice, I missed breakfast most days, and slept under 5 hours for way too many nights. These are hard truths to share, but if you remember my post around this time last year about how sick I was, then it is important for me to share. It wasn't until I watched a short video about millennial that I realised I was going too hard trying to achieve my dreams way too fast. I wasn't allowing time to do what it did best and I wanted all the results now. Now, I feel a lot more self-aware, and as such, chose the word "patience" for my 2017 personal word. I think sharing it with you all will also help me to stick with it. I know my dreams will come, but I also know I have to be okay with them coming at the right time. Overall, I wouldn't change a thing because it has led me to this very moment and there isn't a thing I regret. I do want to learn from it all. In order for my baby, this blog, to keep moving, I need to be healthy too! So I'm aiming to share more of myself this year with you so that we can grow together. Don't worry, not too much (like how many cat videos I can watch in an hour) but enough that we can both be even more helpful to each other.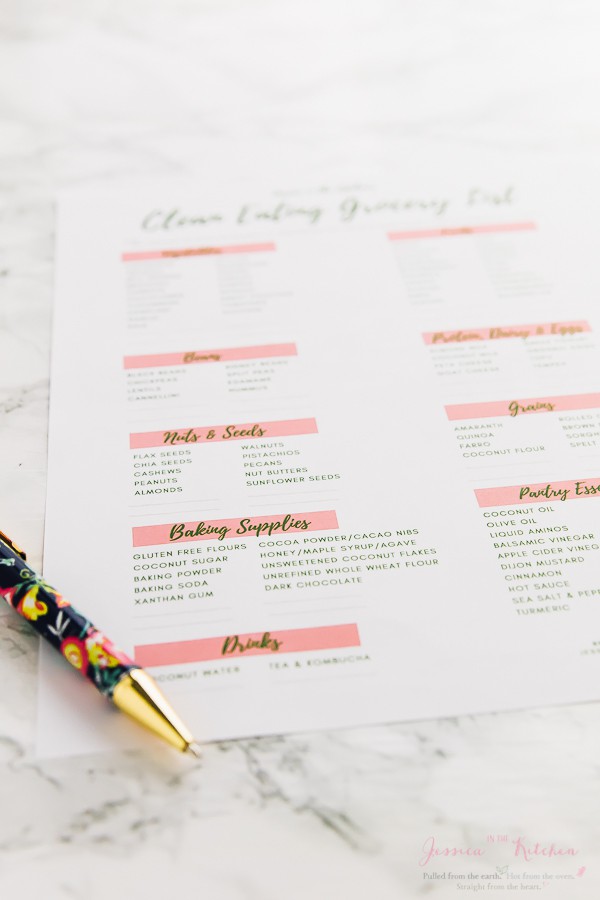 So, that long introduction was so I could state very clearly: my 2017 food philosophy, which falls exactly in line with the words of Michael Pollan: "Eat food, not too much, mostly plants." We will continue to produce whole food recipes here, which means everything in moderation, even moderation itself! I want you to feel nourished after each recipe and wanting more whole and healthy cleansing recipes. Today we made homemade vegetable broth and I cannot believe I have never done that before. That's definitely a recipe I'll be sharing later on this year. I chose one my word for 2017, but specifically for my blog, and that is "helpful". I want this site to be a source for you, to come to for your basics. For recipes and tips and tricks and suggestions that help to improve your life. All in all, I want to be more helpful to real life for you, so if you have any suggestions feel free to share! Here's to an amazing, healthy and healing 2017! Also, you probably came here for the Clean Eating Grocery List ;). Here's the downloadable Clean Eating Grocery List!
Clean Eating Grocery List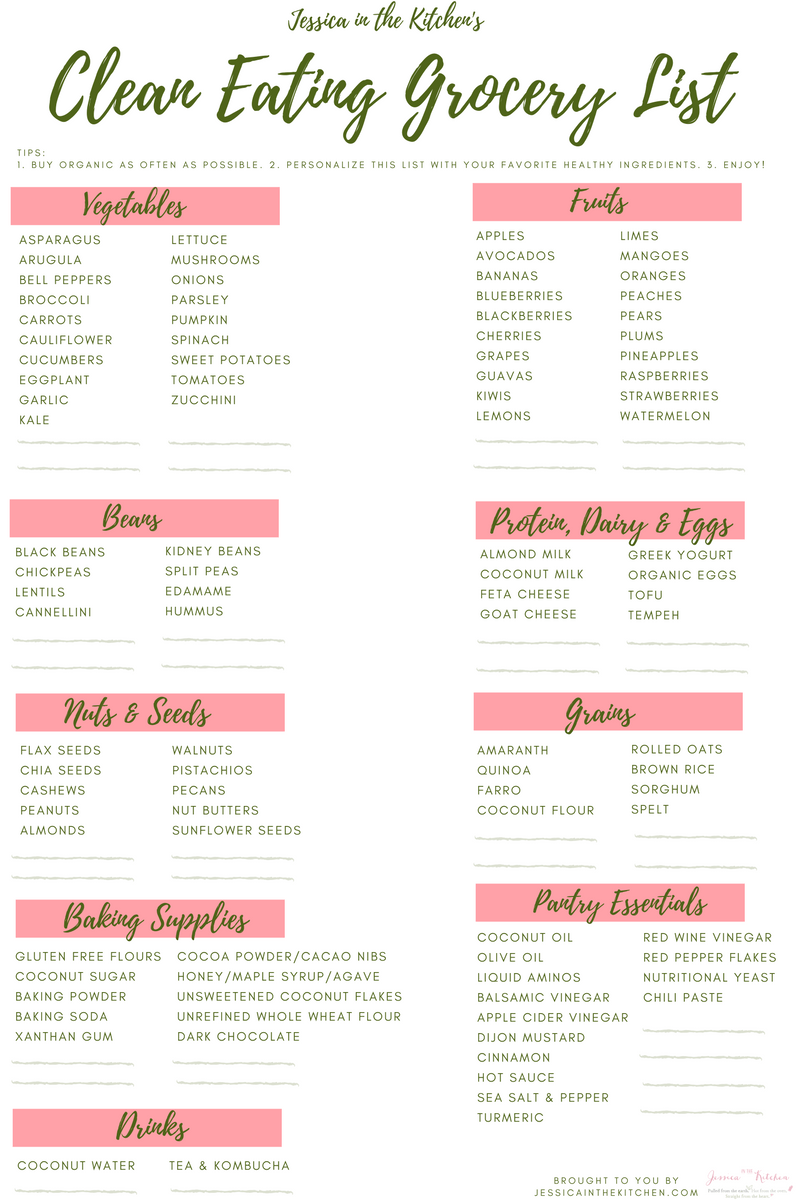 Downloadable version: https://jessicainthekitchen.com/wp-content/uploads/2017/01/Clean-Eating-Grocery-List.pdf

If you try Clean Eating Grocery List this please let me know in the comment section below, or tag me on instagram with the hashtag #jessicainthekitchen! For more exclusive recipes/instuctions follow me on Instagram AND on Snapchat: jessinkitchen.