Goat Cheese Pizza with Caramelised Onions and Apples
This savory Goat Cheese Pizza with Caramelised Onions and Apples is incredibly tasty! Sprinkled with thyme and drizzled with honey, it's full of complex flavor, but so easy to make.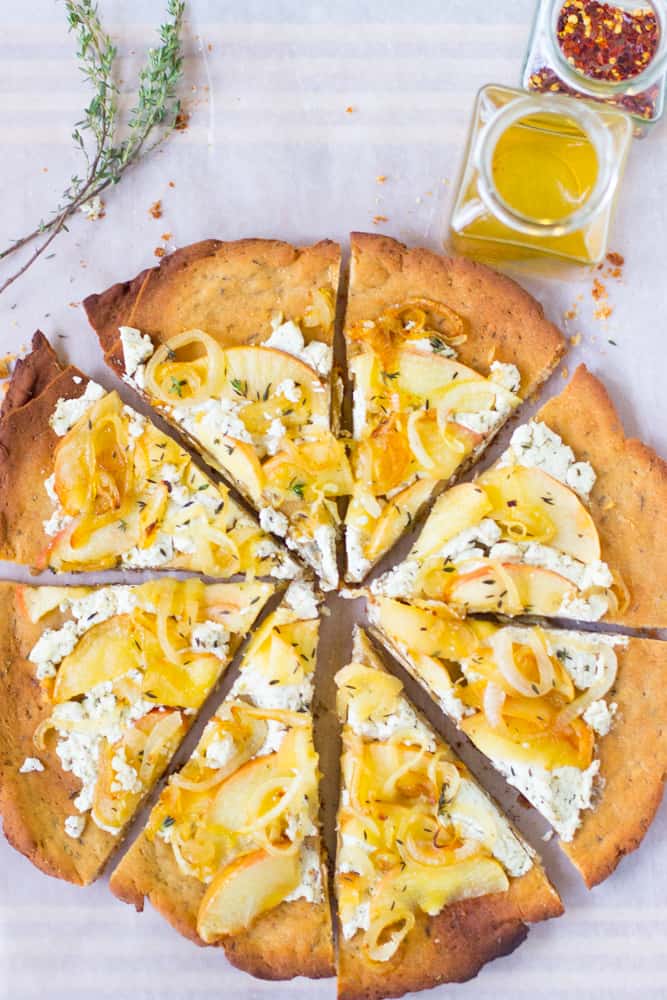 Pizza Party Friday Night! There's a Youtube show I used to (okay I still watch sometimes) with a family who said that phrase all the time. Ever since, I say it every time pizza is had on a Friday night. I know, very original of me. We used to order pizza every Friday but other than converting to a healthier lifestyle, I found the vegetarian pizza option to be BOH-RING.
And now, how mature of me.
Sometimes we vegetarians want a different kind of pizza, not your always-the-same tomato sauce topped with cheese and a ton of vegetables (I love you olives, but seriously). I've been on a pizza kick of late. While I usually make mini pizzas for myself I wanted to take a try at a large pizza. And it needed to be different, with some unusual but absolutely delicious fall flavours. SO, for your Pizza Party Friday Night, we have a tasty goat cheese pizza with caramelized onions and apples.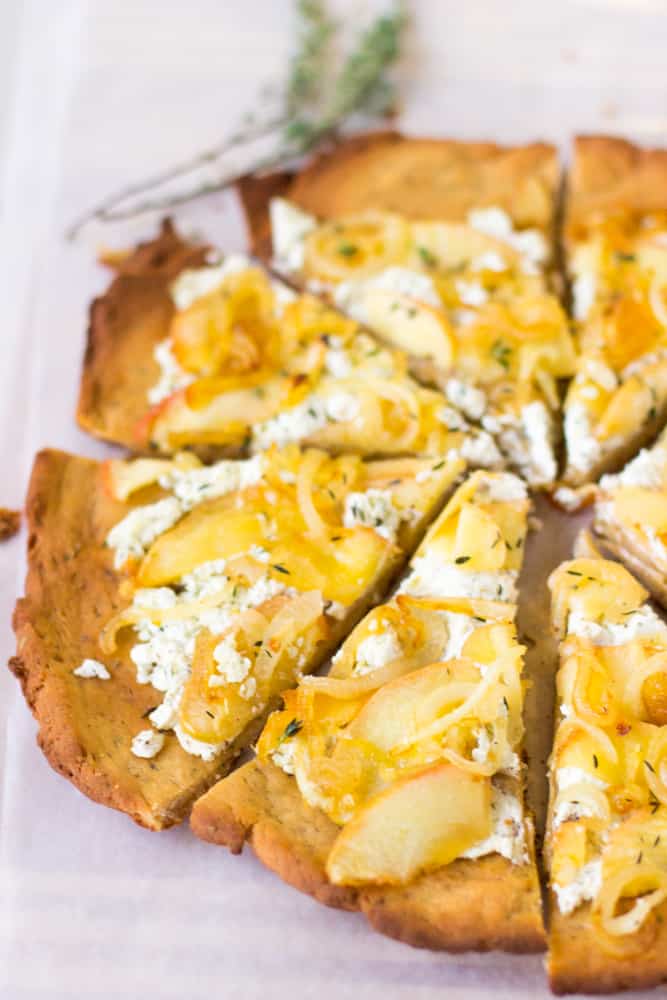 Caramelized Onions and Apples Elevate This Goat Cheese Pizza
You may be able to tell by now that I'm slightly obsessed with caramelised onions and apples. They make such a beautiful combination together, both sweet in their own way. Especially on this goat cheese pizza. Their flavours are enhanced greatly that when paired any kind of cheese! I have to say out of all cheeses, goat cheese is my absolute favourite since it is so incredibly soft and is so easy to flavour. It almost seemed like a no-brainer when I was trying to figure out what to put on this pizza.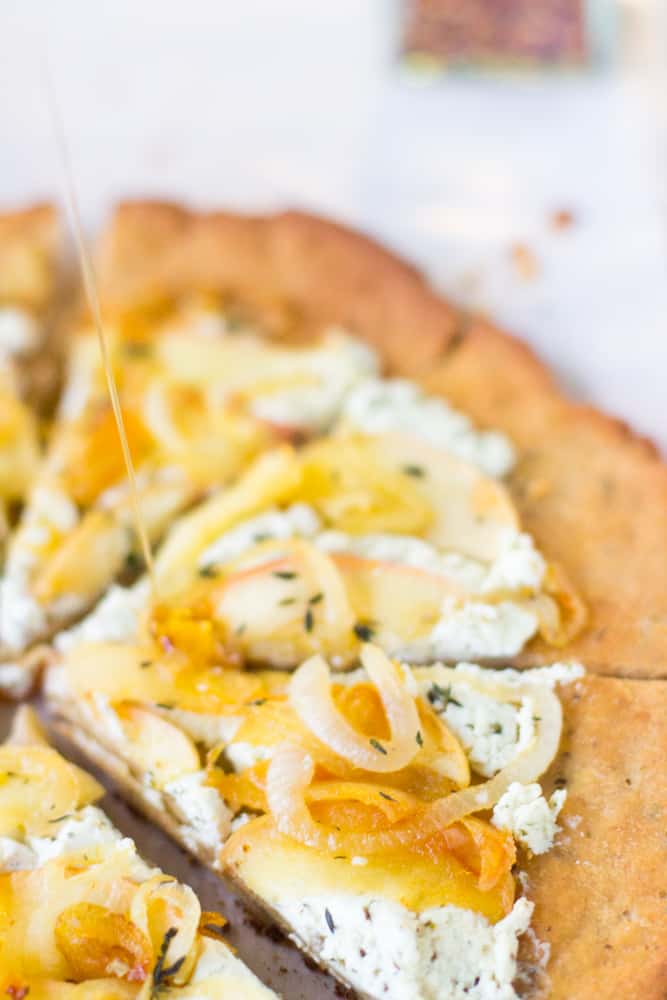 After baking for a short while, I sprinkled the pizza with them. It may not seem like much, but it makes such an incredible difference. The delectable aroma that thyme gives off, and the hints of extra freshness will make you pine for a slice of this creamy goodness.
In case you couldn't tell, I would love another slice right now. Right. Now.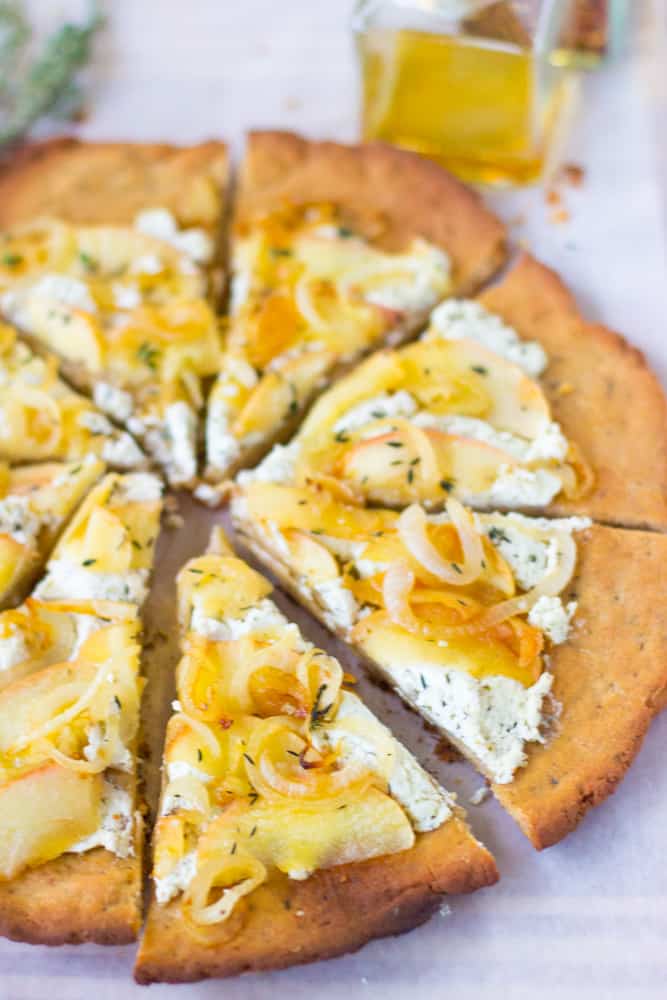 Then came the honey drizzle. Now, I'm a major honey fan, pure honey, the kind that could top off anything, and I find that goat cheese and honey were literally meant for each other. Where one goes, the other goes for me. So after drizzling honey on top, I said "THIS IS IT." I would highly recommend that you drizzle a bit over your slice of the entire goat cheese pizza and taste the difference. Any notes that were an undertone are now highlighted and brought to life.
So, excuse me while I whip up another one of these to celebrate Pizza Pa…I think you get it.
…rty Friday Night.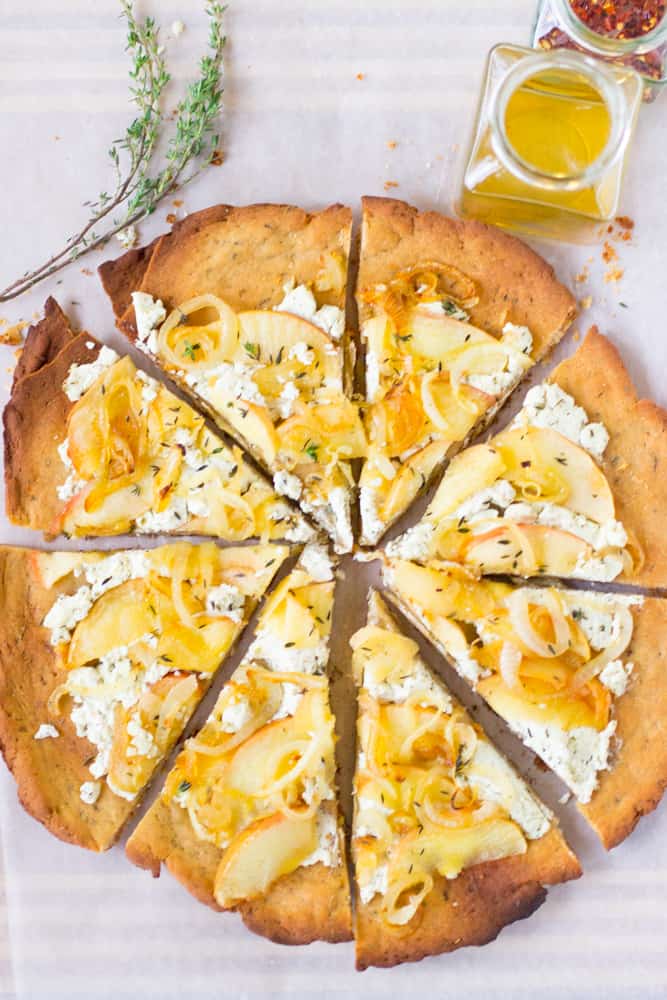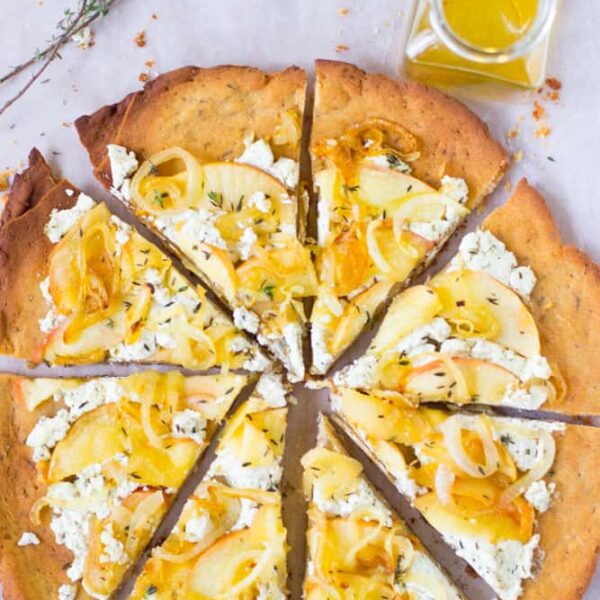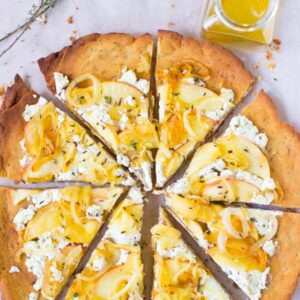 Caramelised Onions, Apples and Goat Cheese Pizza
This Caramelised Onions, Apples and Goat Cheese Pizza is sprinkled with thyme, drizzled with honey and incredibly tasty!
Ingredients
1 gluten free pizza crust, I made mine from a gluten free pizza crust mix
1 large onion, sliced thinly
1 apple, cored and sliced thinly
4 ounces herbed goat cheese, softened or at room temperature
3 sprigs thyme
2 tablespoons honey, for drizzling
4 tablespoons vegan butter spread, or regular butter
Instructions
Preheat oven to 375 degrees Fahrenheit.

In a pan over medium heat, melt two tablespoons of the butter. When pan is hot, add the onions and swirl around so they are covered, and cook down for 15 minutes until soft, swirling every 5 minutes so they don't burn.


While these are cooking, heat the remaining two tablespoons in pan over medium high heat and add the apple slices and cook down for 10 minutes until soft. Remove from heat when finished.


Spread the goat cheese over the pizza crust. Add the apples, then the onions on top.
Bake for 10 minutes in the oven until the goat cheese is slightly melted.


Strip the thyme from the leaves and sprinkle on top. Drizzle with honey and serve.
Calories: 150kcal, Carbohydrates: 12g, Protein: 4g, Fat: 10g, Saturated Fat: 4g, Cholesterol: 9mg, Sodium: 132mg, Potassium: 59mg, Fiber: 1g, Sugar: 10g, Vitamin A: 592IU, Vitamin C: 4mg, Calcium: 35mg, Iron: 1mg
Disclaimer: Although jessicainthekitchen.com attempts to provide accurate nutritional information, kindly note that these are only estimates. Nutritional information may be affected based on the product type, the brand that was purchased, and in other unforeseeable ways. Jessicainthekitchen.com will not be held liable for any loss or damage resulting for your reliance on nutritional information. If you need to follow a specific caloric regimen, please consult your doctor first.