One Pot Alfredo Penne Pasta
This 20 Minute One Pot Alfredo Penne Pasta is creamy and filled with sun dried tomatoes. With only 5 minutes prep of time it's an easy weeknight meal!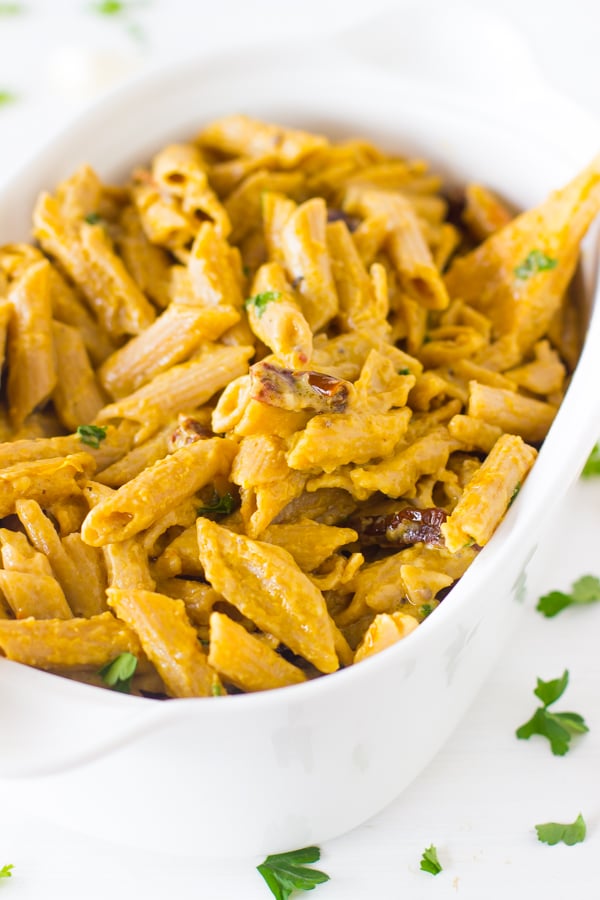 The holidays are the time that I enjoy one pot recipes and dishes the most – recipes that require basically no prep work, and you can set it and forget it, so you can focus on the deliciousness of the food rather than standing over your stove trying to ensure everything synchronises properly.
Raise your hand if you've been there.
This one pot pasta dish is definitely one of my favourites for the holidays – How about we dive into a pasta dish that's not only low carb but crazy delicious?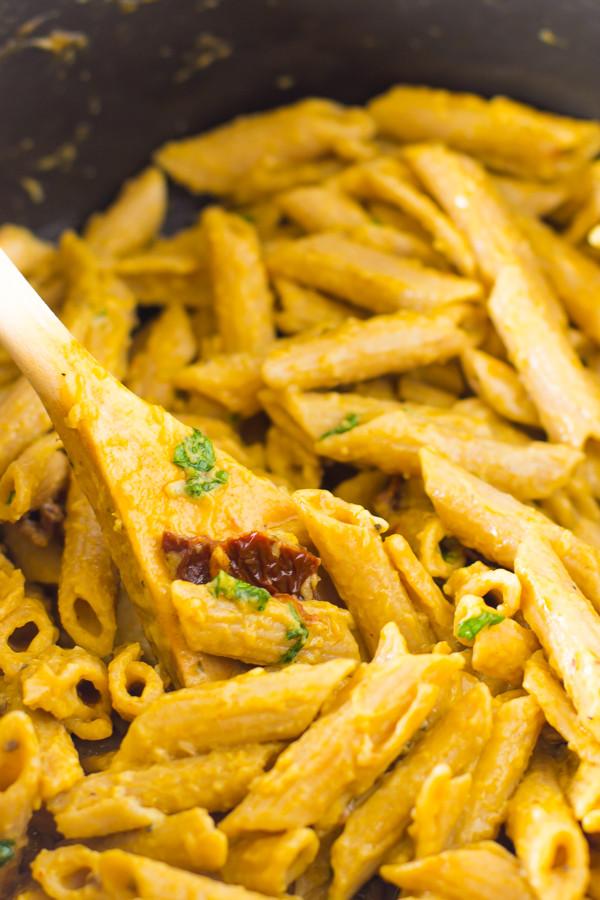 Meet the pasta of your dreams. Let's start with the sauce. For starters, it's vegan *whaaat* but isn't that cheese? No my friends, it isn't, but this pasta tastes so deliciously cheesy and creamy I started to wonder myself! We're talking a creamy, cheesy and super satisfying alfredo penne pasta recipe that you'll definitely make again and again, even after the holidays are over. Oh, did I mention that trading whole wheat pasta for white pasta not only makes this much healthier, but means you can eat way more?!
Don't tell anyone I said that.
No, the cheesy colour is not due to over saturation of the photo, but to two amazing things – vegan butter and the natural sauce created by the pasta. You see, here's the magic of one pot pasta dishes – the starch released from the pasta isn't thrown out with the water, but instead cooks with the pasta forming it's own sauce in the almond milk. Add delicious seasonings, vegetable broth and vegan butter to the mix and you've got a delicious cream sauce for your pasta.
When food steps into the mix and helps us cooks out, it's pretty much genius.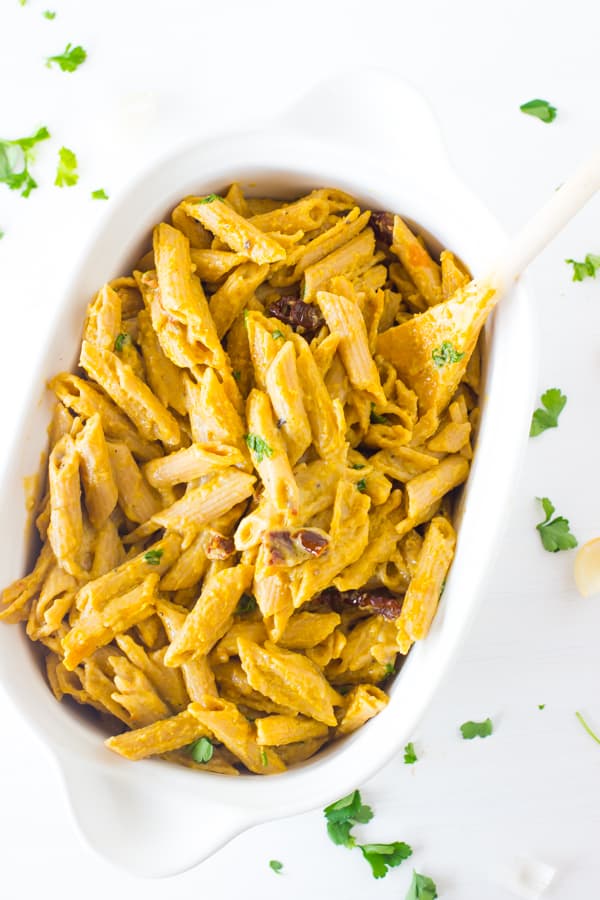 Then you get to the seasonings that take it over the notch – let's start with the garlic. Sautéed before anything else and added to the entire dish from the beginning, you get a subtle hint of garlic in every bite of the pasta and not to mention, the aroma filling your kitchen. YES please. The sun dried tomatoes are of course, my next favourite, and they add a bite which I think is so necessary for this pasta because it's such a beautiful contrast of flavours that simultaneously complement itself.
If you're like me, you're still staring at these pictures, but you need to make this! I promise, it's phenomenal. I love that this tastes like a rich and decadent pasta while the ingredients are far from – take my hint that you can eat more this way! After all, you need to get your body in training for all the Christmas dinner food.
I went there.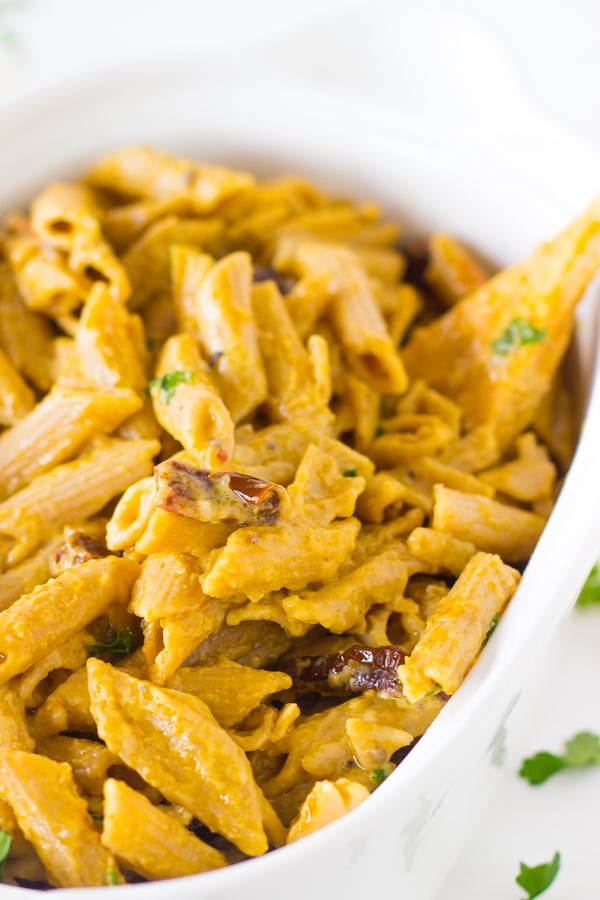 Other One Pot Pasta Recipes I'm in Love With:
One Pot Spaghetti with Greek Tea, Feta and Kalamata Olives by Joanne Eats Well With Others
One Pot Garlic Parmesan Pasta by Damn Delicious
One Pot Curried Quinoa with Butternut Squash and Chickpeas by Oh My Veggies (Joanne Bruno)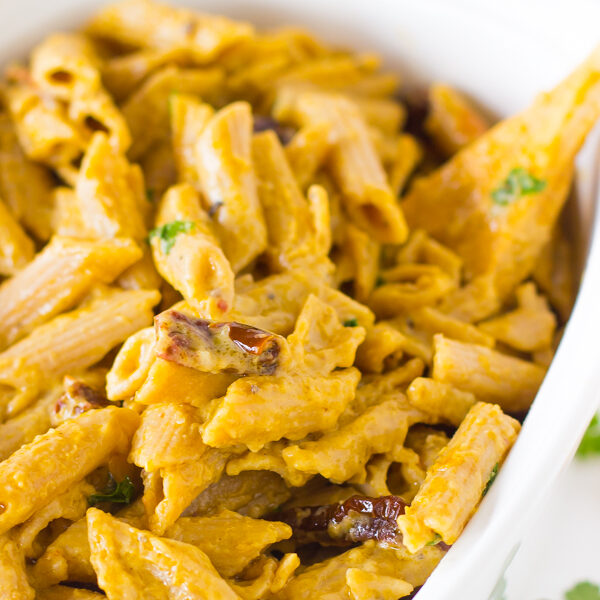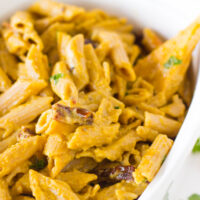 One Pot Alfredo Penne Pasta
This 20 Minute One Pot Alfredo Penne Pasta is creamy and filled with sun dried tomatoes. With only 5 minutes prep of time it's an easy weeknight meal!
Ingredients
1 tablespoon olive oil
4 cloves garlic, minced
2 cups vegetable broth
8 oz penne pasta
1 cup non-dairy milk, such as soy milk, almond milk, oat milk or coconut milk
1 tablespoon vegan butter
1 teaspoon fine sea salt
1/4 teaspoon ground black pepper
¼ cup non-dairy milk, divided
4 sun dried tomatoes, chopped
Parsley, for garnish
Instructions
In a pan over medium high heat, heat 1 tablespoon olive oil. Add the minced garlic when hot and swirl for about 30 seconds, sautéing the garlic.


Do not take off of heat. Add the vegetable broth, pasta, and 1 cup non-dairy milk. Bring to a boil and reduce heat to a simmer.

Add the remaining ingredients - the vegan butter, sea salt and ground black pepper (except 1/4 cup non-dairy milk and sun dried tomatoes) and stir all together. Cook until pasta is ready, about 18-20 minutes, stirring occasionally. When the pasta is finished, add the remaining 1/4 cup non-dairy milk if desired if the sauce is too thick. Stir together again and sun dried tomatoes. Garnish with parsley, serve and enjoy.
Calories: 319kcal, Carbohydrates: 46g, Protein: 8g, Fat: 11g, Saturated Fat: 2g, Sodium: 1185mg, Potassium: 207mg, Fiber: 2g, Sugar: 3g, Vitamin A: 401IU, Vitamin C: 2mg, Calcium: 111mg, Iron: 1mg
Disclaimer: Although jessicainthekitchen.com attempts to provide accurate nutritional information, kindly note that these are only estimates. Nutritional information may be affected based on the product type, the brand that was purchased, and in other unforeseeable ways. Jessicainthekitchen.com will not be held liable for any loss or damage resulting for your reliance on nutritional information. If you need to follow a specific caloric regimen, please consult your doctor first.