What To Do In Israel (Jerusalem, the North Region, El Carmel) – Israel Travel Guide Series Part 3

Hey friends! Welcome to my Israel Guide Part 3 and the last part of the guide! So far I've shared so many of the amazing things that I did I Israel and what I ate. I figured it was time to wrap up the guide with all the things I did in Jerusalem, The North region of Israel and El Carmel. If you're looking for some more unique, non-touristy experiences that will leave your soul feeling full, read on below!
P.S. if you're new here, check out part one and two of my guide here! I visited Israel in November 2018 for a trip with Vibe Israel, and I'm sharing my accounts here!
What I Did in Israel (Tel Aviv, Jaffa, The Dead Sea), Part 2
Jerusalem
Jerusalem was one of our first stops when we landed in Israel. We did a tour of the Holy City/the Old City of Jerusalem with Michael who showed us so much more than we could've experienced by ourselves. I would highly recommend getting a certified tour guide to take you through it all. Needless to say, Jerusalem is a must visit. A few things on our tour (which started at the Tower of David viewpoint) were:
The Church of the Holy Sepulchre
Now if you follow me on Instagram then you know that I cried quite a few times on my Israel trip. This was one of those times. Visiting the Church of the Holy Sepulchre gave me the ultimate chills. To be in a place filled with so much history about Jesus Christ, and being so close to his temporary burial place was such an honour and a blessing. I got so many comments about this specifically and yes, it was truly magical.
The Western Wall aka The Wailing Wall
The Western Wall was humbling. Seeing so many people praying, crying and having their devotions was such a sight to see. Along with the other ladies, I placed my prayer.
Trying some Jerusalem food – I covered this in my What I Ate in Israel Guide, so go check that out for more details!
El Carmel/The North Region of Israel (The Nature & Beauty of Israel)
As you know by now, we were in Israel for Vibe Israel's Wellness tour. What better place to see Wellness than up in the North Region? We did so many beautiful, nature grounding and centring activities while here.
Making Grape vine leaves and eating a true vegan feast in the Druze Village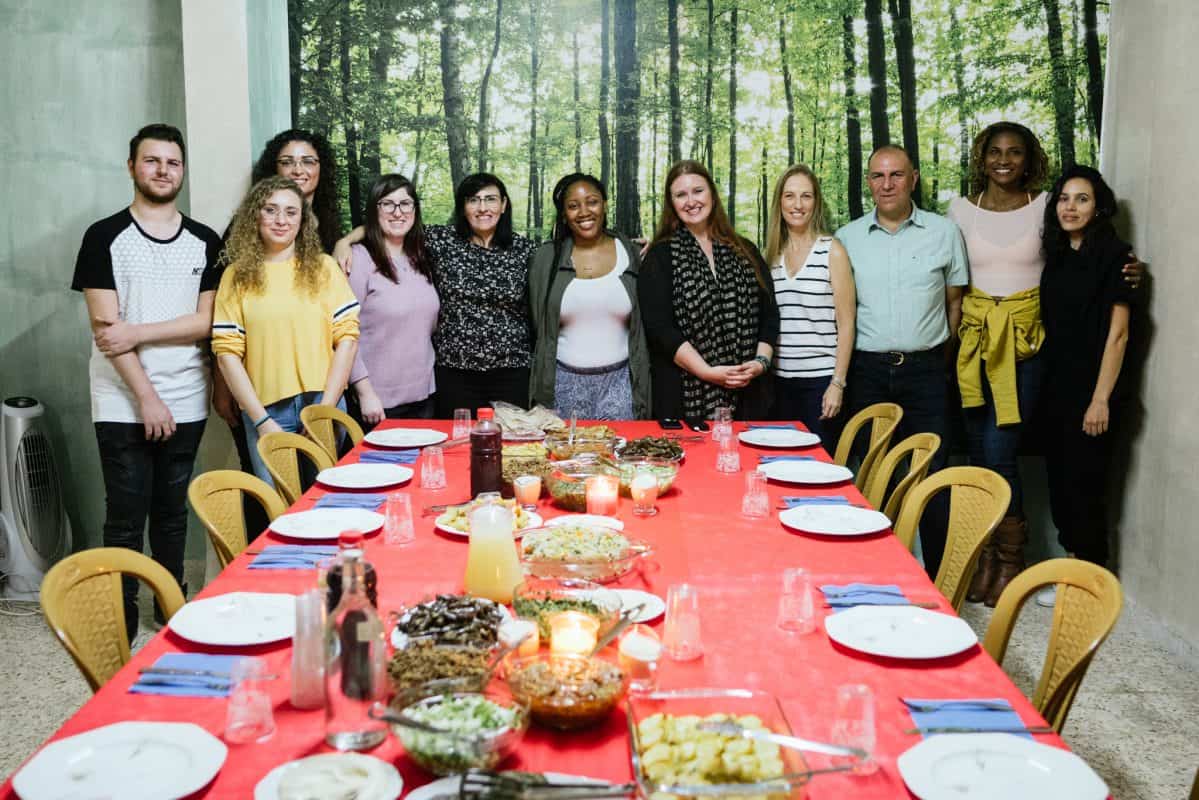 I'm not sure how easy it is to visit the Druze Village, but this was one of my favourite parts of the entire trip. We got to visit Malek Hazima and his family's home, who eats vegan and has found that it has changed his entire life, literally. After suffering a heart attack, Malek went vegan and hasn't gone back. Naturally this story hit my heart in the best way. He and his beautiful family prepared a vegan FEAST for us (cue my crying tears of joy).
He gifted us all his vegan cookbook, we made grape vine leaves for his Facebook group of over 10,000 followers, and he wants to spread the message of how veganism is the way to go. Naturally – I want to share his book with you! We make his Tabbouleh very often now (I had it for dinner last night again) and have tried many other recipes from his cookbook.
Please check out his cookbook Hearty Cuisine: Eastern Mediterranean Vegan Recipes on Amazon here!
Carmel Forest Spa, Silent eating, food meditation and food prep with Avital Sebbag
This was such a beautiful experience. One, spa day anyone?! We arrived to Carmel Forest Spa for a night in the North after our vegan feast at Malek's house. Then we spent the night with Avital Sebbag, who is a certified natural therapist who specialises in Chinese medicine. We meditated on the five seasons of Chinese meditation, while tasting raw foods that really got us centred. Then we made and ate our food in silence. I don't think I've ever done that before, so it was a truly humbling and heart warming experience! The next morning we had a yoga session led by our very own, Koya! Having a yoga session led by Koya who is an internationally recognised yoga instructor amongst her many other accolades, reminded me of my love for yoga.
Farm to Table Experience with Food Historian Dr. Uri Mayer-Chissick at the Kaima Nahalal Farm
imagine eating only what was locally produced in your country, nothing imported whatsoever, for a year. That's exactly what Food historian Dr Uri did. Along the way he discovered some beautiful and creative 100% Israel grown dishes, many of which he shared with us. We got to cook with him, eat with them, try amazing dishes including many cultured and fermented ones, the ultimate sauce dipping bowl for fresh made pita, learn the best technique for making pita – the list goes on! It was truly just hours of immersing ourselves fully into food, history and culture
Kfar Vitkin
While here, we visited a beautiful, grounding, centring and mindful studio called Belonging. Started with a poem that captures all the different ways one can belong, the studio sells everything from clothes to homeware to even a bird bath! It was a unique experience listening to the owners' stories and being able to share our own with them. It actually became an emotional time as we all dug deep into our why, and I ended up crying sharing my own story of illness, healing and gratitude
Make your own skincare products at Lavido
Lavido! I really enjoyed our trip to Lavido's organic farm. What a beautiful Place! Lavido is an Israeli skincare and wellness brand that sells everything from lotions to scrubs to lip balms to essential oils. While the property we visited was one of many, we got to see so many of the ingredients that they grow that are in their products. Everything from the roses to the fruits to the herbs to so much more. After smelling a myrtle fresh leaf (which helps concentration and focus) and we were told to relax for a second and breathe by the owner, I was won over. Within seconds it was as if the world became more colourful, more crisp, more bright. I was sold. After the tour I ran in to buy a myrtle essential oil and was given it free by the owner! I still use my Lavido products pretty much every single day. I love the fact that they are very true to their organic beginnings and that their products work so well!
Eat Hummus
The last "what to do" on the list! Okay, so this is true no matter where in Israel you are! Truth be told, you can't visit Israel and not eat hummus! I guarantee that the hummus you've tried before Israel will (while probably delicious) pale in comparison to what you're about to experience. I enjoyed the hummus so much that I came home with a giant jar of tahini! Be sure to order hummus at least once on your trip.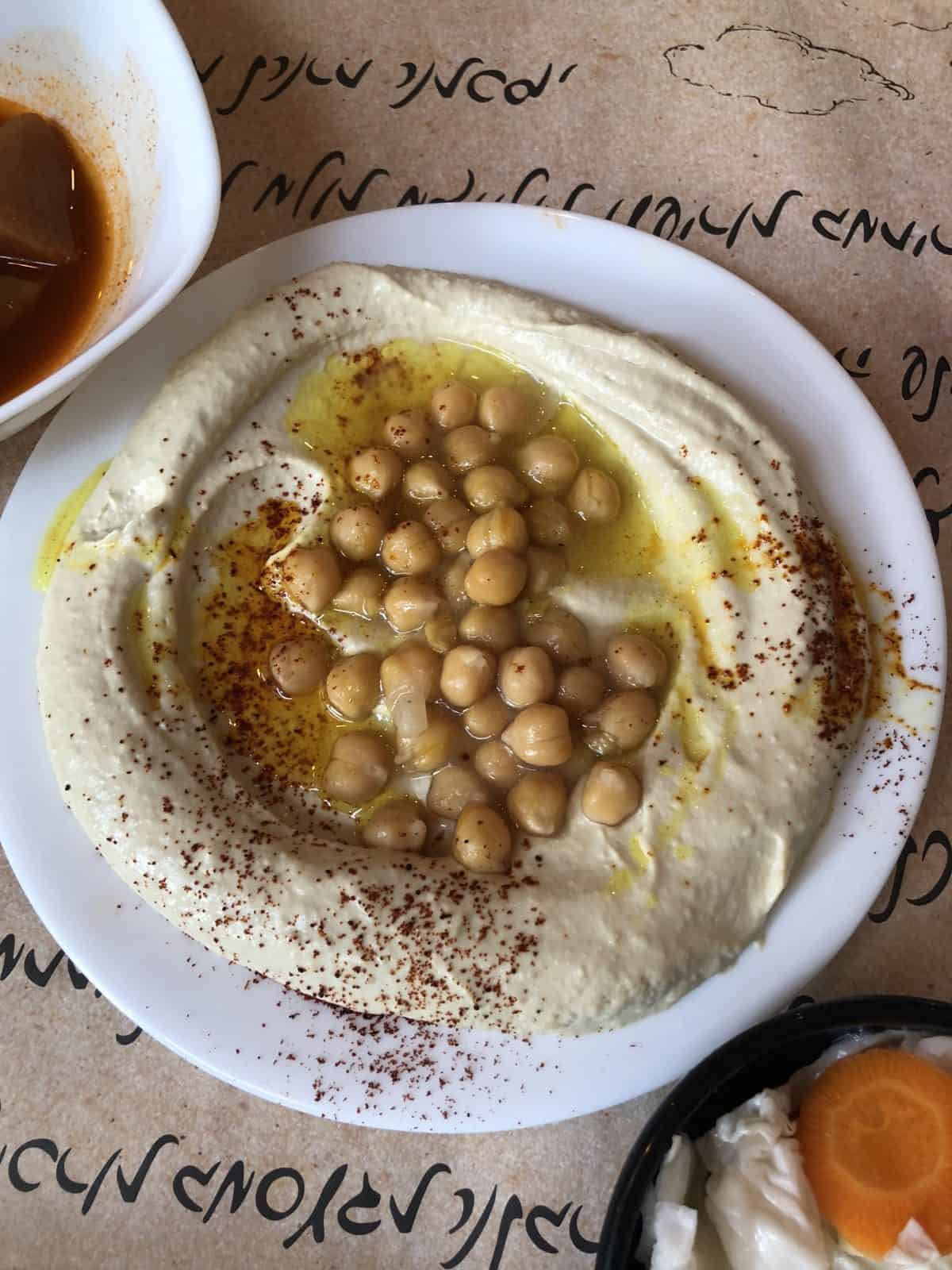 That's it's for my Israel guides friends! I do hope that they were helpful and that they inspire you to travel! Thank you so much for reading and do let me know if you ever visit!
Disclaimer: Vibe Israel invited me to a week in Israel. While I was gifted with this experience, all opinions and text are 100% my own. Thank you for supporting the companies and brands that support Jessica in the Kitchen!
All photos were taken by Kira Kletsky or me.