Watermelon Mint Popsicles (Three Ingredients)
These Watermelon Mint Popsicles are deliciously refreshing, sweet and made with only three ingredients!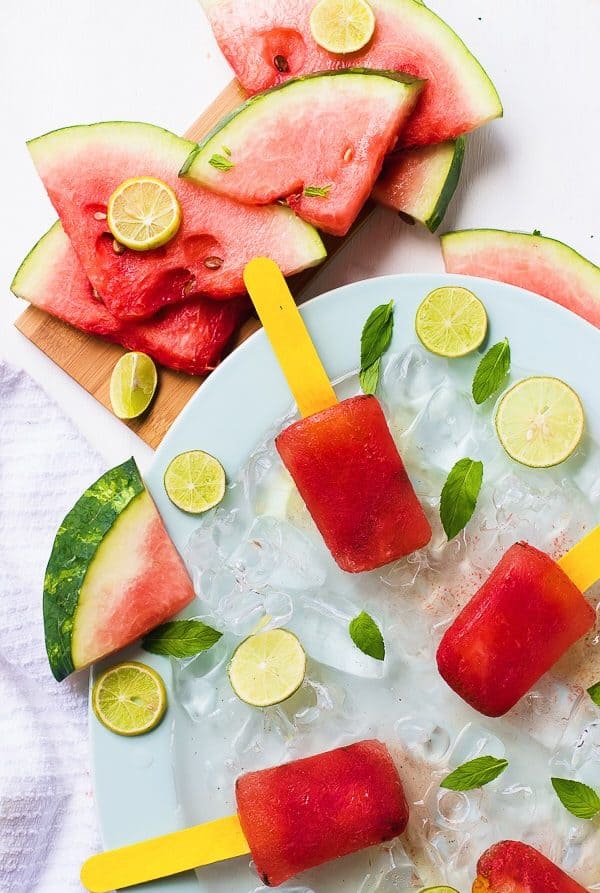 Hey friends! I'm back and refreshed from a much needed mini vacation filled with lots of summer fruits! My fav. thing about summer? The crazy refreshing in season ingredients – case in point, watermelon. I think it's safe to say I'm totally and completely in love with watermelon at this point. The combination of watermelon, lime and mint in these Popsicles happened without me even trying. I dare to say it's one of the best ingredient combos for summers. These Popsicles were SO easy to make that it's almost embarrassing to share such an easy recipe, but they were even easier to devour, so I knew without a doubt that I had to share this one with you.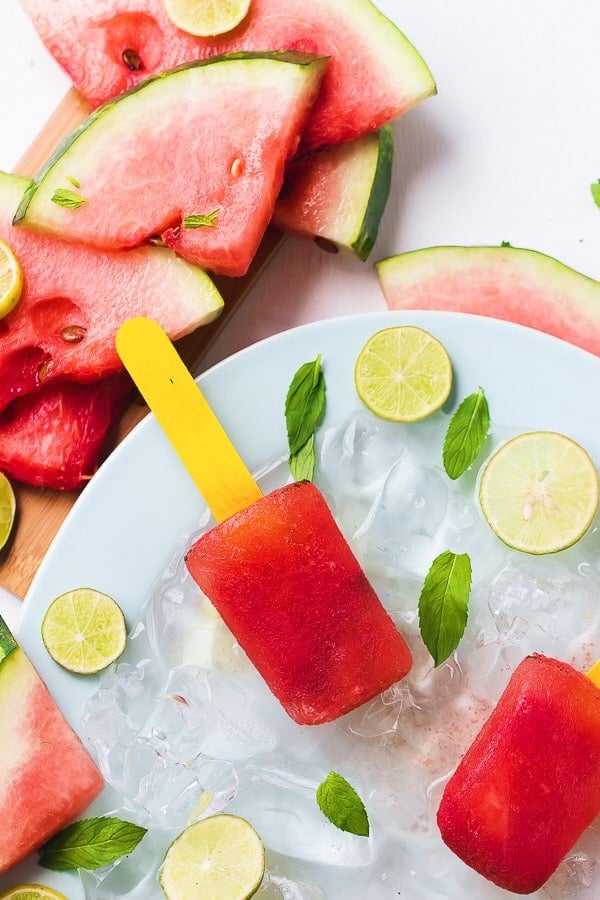 The fact that watermelon is like, not checking any facts here, 90% water means that it's naturally one of the most refreshing ingredients out there. Summer heat + refreshing + anything mint = match made in heaven. This helped to make this recipe so easy because I didn't have to add any liquid that would end up diluting any of the flavours, so you get an incredible punch of flavour in this recipe. I add lime to well, basically everything, but it helped to balance out the sweetness of the watermelon and add another layer of flavour. The pops are still sweet, but are simplyso==with the lime flavour. The Mr. said it was like frozen watermelon lemonade aka music to my ears, truly.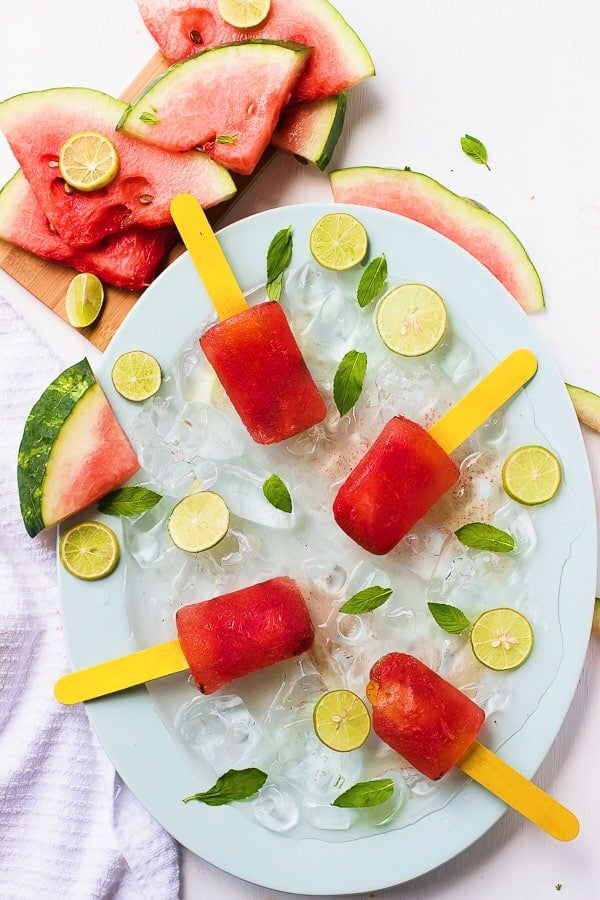 The mint is a no brainer once you add it in. Just smelling mint makes me feel refreshed, but it really takes these pops to another level. Already cold, it gave it that just-popped-mint-y gum taste that made me feel like I was swimming in AC. Hopefully that never literally happens, but the day I made this I was melting, and this cooled me all the way down.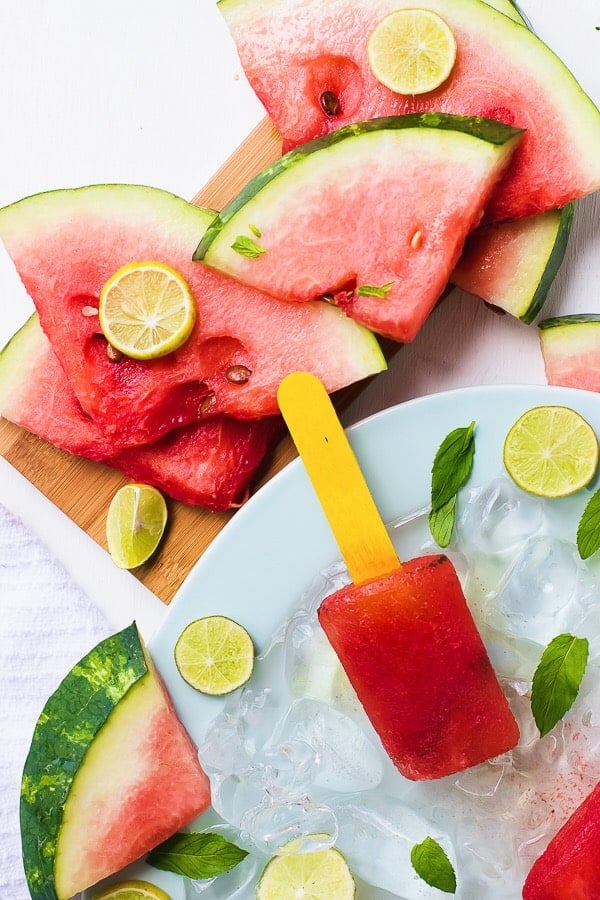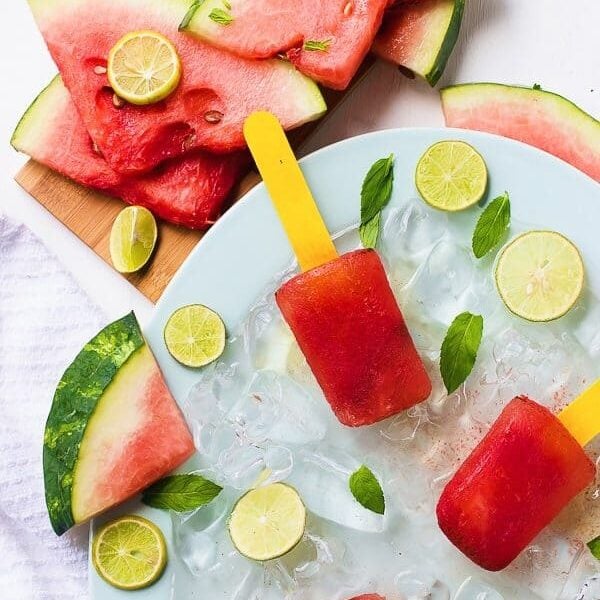 Watermelon Mint Popsicles
These Watermelon Mint Popsicles are deliciously refreshing, sweet and made with only three ingredients!
Ingredients
Watermelon Mint Popsicles
6 Cups Watermelon Chunks
3 Tablespoons Lime Juice
20-30 mint leaves finely diced
8 Popsicle Sticks
Instructions
Watermelon Mint Popsicles
To the blender/food processor, add the the watermelon and lime juice and blend until smooth, about 15 seconds.

Strain the mixture through a fine mesh strainer into a bowl to discard the watermelon seeds. Stir in the mint leaves.

Pour the mixture into 8 popsicles molds equally.

Place the molds in the freezer and freeze until slightly firm, about 1 to 2 hours depending on your freezer (check after one hour). Insert the popsicle sticks into the centre of each mould. The mixture should be slightly solid enough to hold the popsicle sticks in place without them sliding over.

Return to the freezer and freeze until firm, about 4 to 6 hours.

Remove popsicles when ready and let sit on the counter for about 5 minutes to remove from the molds. Enjoy!
Notes
If you try these Watermelon Mint Popsicles please let me know in the comment section below, or tag me on instagram with the hashtag #jessicainthekitchen! For more exclusive recipes follow me on Instagram AND on Snapchat: jessinkitchen.
Calories: 37kcal, Carbohydrates: 9g, Protein: 1g, Fat: 1g, Saturated Fat: 1g, Sodium: 2mg, Potassium: 148mg, Fiber: 1g, Sugar: 7g, Vitamin A: 755IU, Vitamin C: 12mg, Calcium: 14mg, Iron: 1mg
Disclaimer: Although jessicainthekitchen.com attempts to provide accurate nutritional information, kindly note that these are only estimates. Nutritional information may be affected based on the product type, the brand that was purchased, and in other unforeseeable ways. Jessicainthekitchen.com will not be held liable for any loss or damage resulting for your reliance on nutritional information. If you need to follow a specific caloric regimen, please consult your doctor first.