Vegan Chicken Nuggets (Crispy & Crunchy)
Prepare to be blown away by these Crispy and Crunchy Vegan Chicken Nuggets aka Tofu Nuggets, that are my vegan version to popcorn chicken! They're so flavourful on the inside with the best texture thanks to some key tips and marinating the tofu. They're bound to be a part of your meal prep rotation – I made them three times in one week!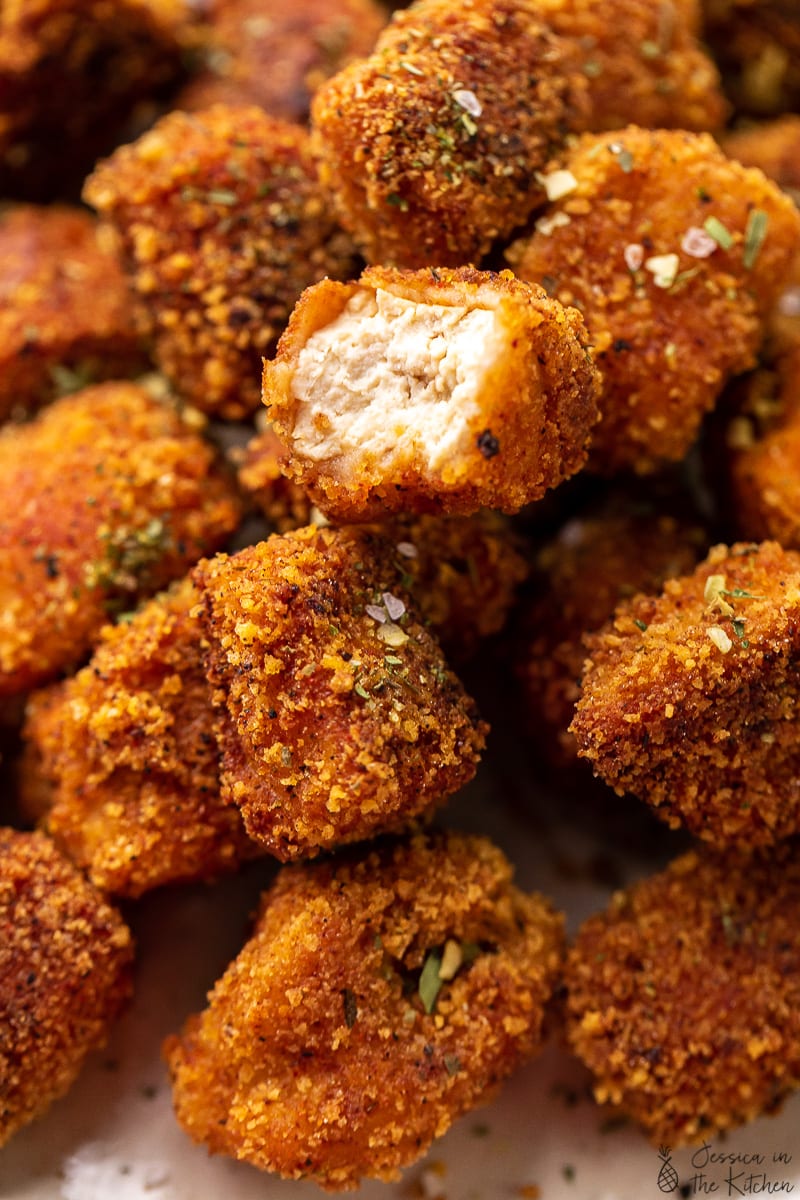 Stop what you're doing and go marinate this tofu NOW. Friends, these Vegan Chicken Nuggets definitely make my top 10 favourite recipes I've made all year. The funny thing is, they were never originally on my recipe list for December. I had another recipe that I wasn't feeling inspired anymore to make, so decided I would try a tofu recipe instead. One thing led to another and I thought – oh, Vegan Chicken Nuggets! Why haven't I done that before?
Wow, look at fate. I am SO glad I made these, because I'm made them three times in one week already! Guarantee, if you know someone who dislikes tofu, give them this. If you already love tofu thanks to key tips from my Tofu 101 Blog post, you're in for a treat!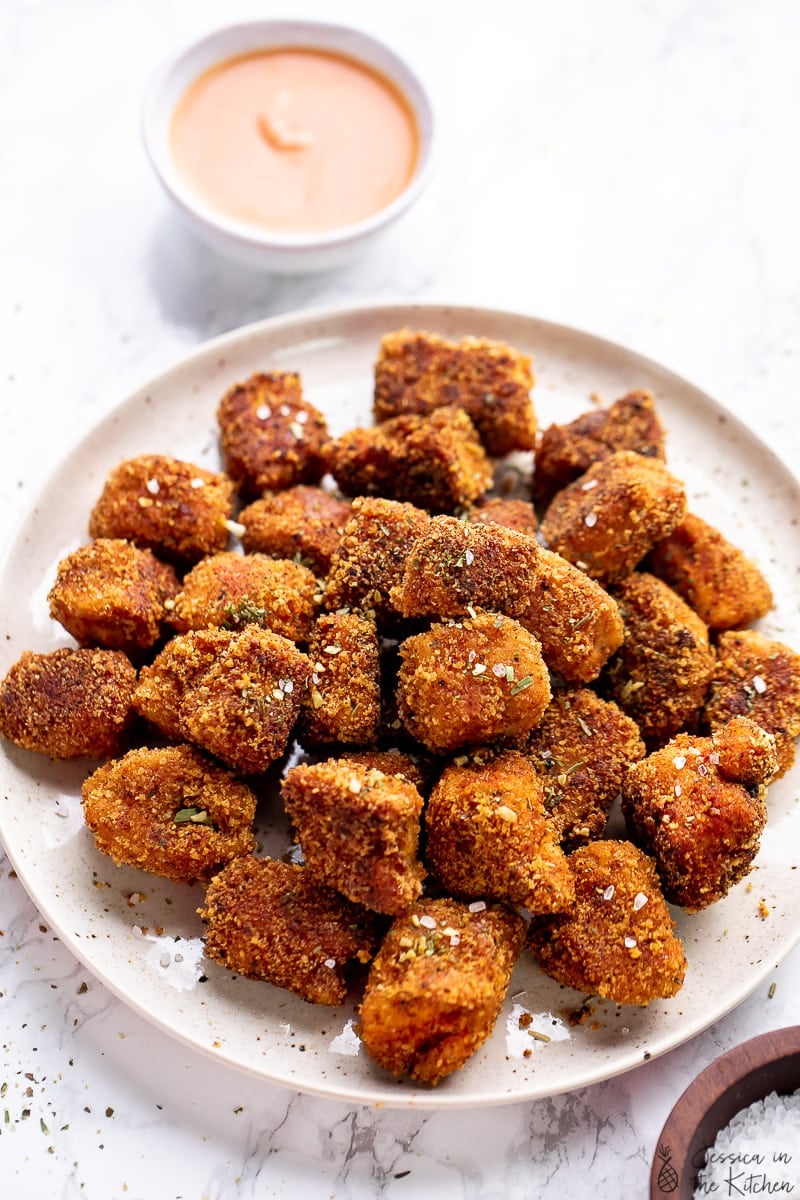 Key Tips for Making Vegan Chicken Nuggets
I have a few key tips to make these the best vegan chicken nuggets you'll ever try. #1, press your tofu! There are very rare instances when you shouldn't press your tofu, and this isn't one of them. Squeeze all that excess water out of your tofu. Not only will it give you a much better tofu, it'll prep it for tip #2 which is to marinate your tofu.
I choose a very light marinade, but feel free to up the saltiness on your marinade. It really soaks up into the insides of the tofu, making the texture even better, and each bite perfectly textured and juicy. You can marinate yours for 30 minutes, or overnight.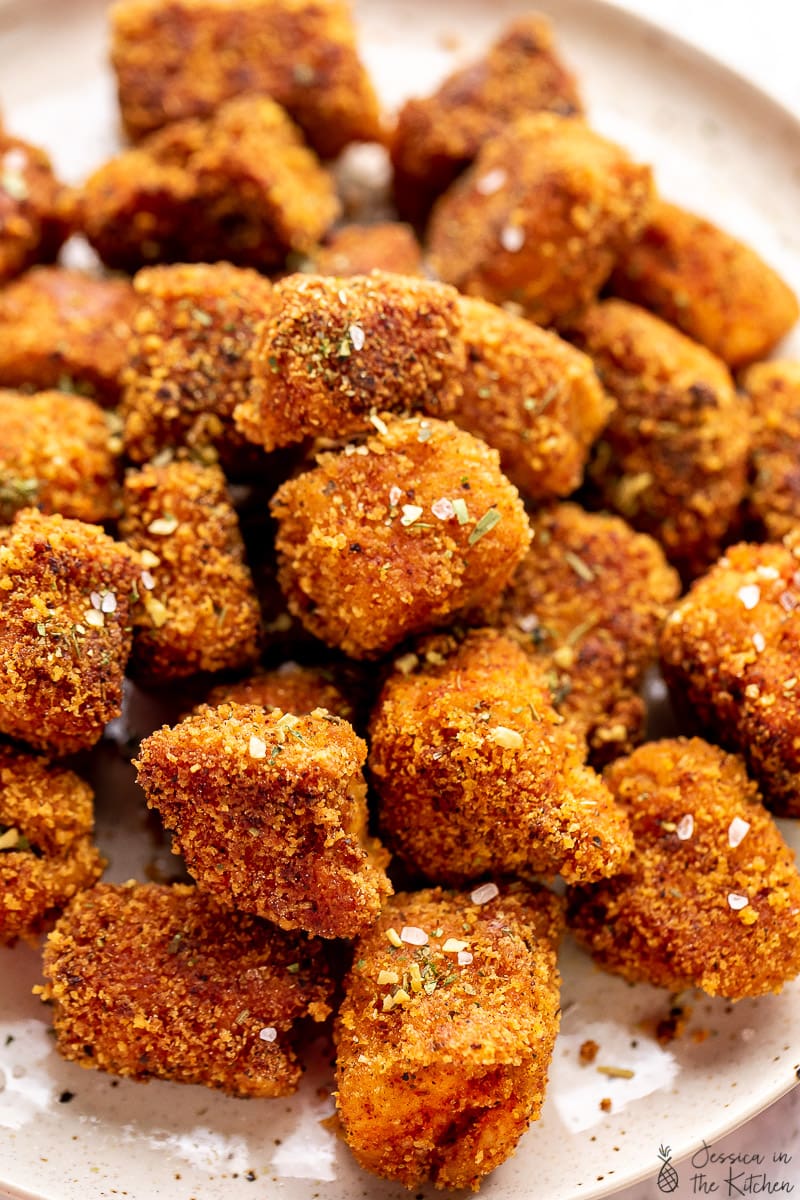 Two more key tips friends, then we're ready to dig in. Tear your tofu instead of slicing it into cubes. Yes, I'm all for slicing perfect pieces. But tearing your tofu means there are more rough edges for not only the marinade to soak into, but for the batter to coat the tofu. It truly also gives it more of a nugget look, soo. I just tear mine into 1 inch pieces. Totally okay if the pieces aren't the exact same size, just to try make them similar enough.
Our last tip friends which is still a major key *DJ Khaled voice* – shake off the excess batter. Funny enough, I ignored this the first time I made them. They still tasted fantastic, but the second time I did. Gav noted how much better they tasted the second time around, even key I lightened up the marinade AND marinated them for less time. They really cooked better, coated the tofu better, and tasted better. So definitely just shake off the excess flour and buttermilk batter with each dip. It makes a difference.
Speaking of which – you can do one or two coats, it's up to you. I did two because well, that's delicious, but you can do one! Enjoy, friends!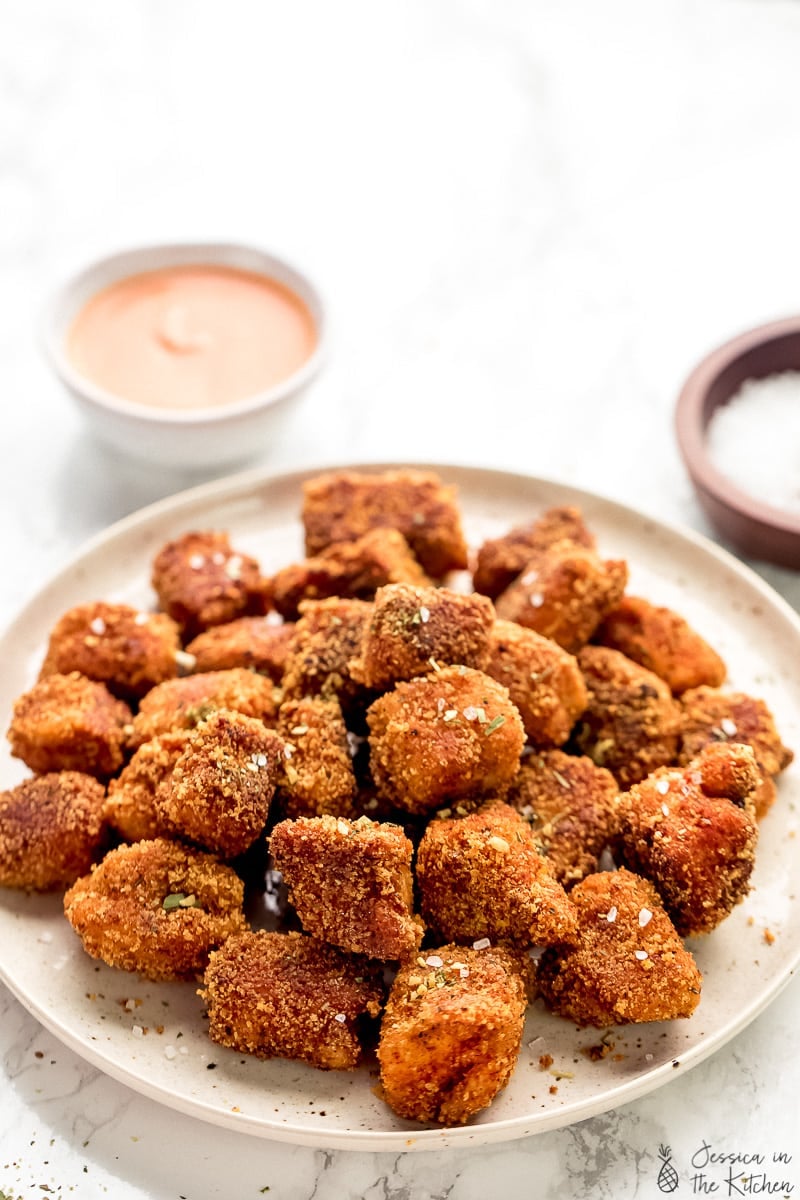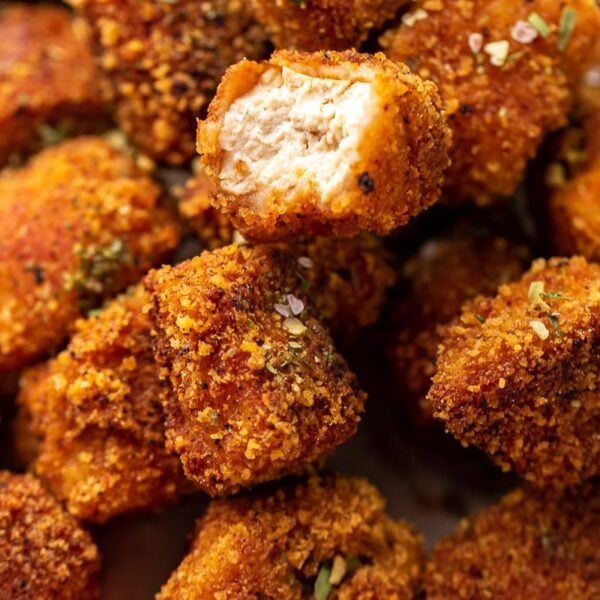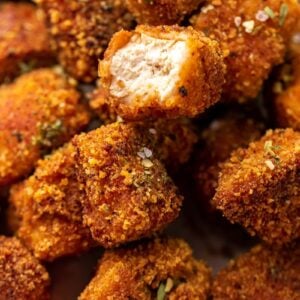 Vegan Chicken Nuggets (Crispy & Crunchy)
Prepare to be blown away by these Crispy and Crunchy Vegan Chicken Nuggets, that are my vegan version to popcorn chicken! They're so flavourful on the inside with the best texture thanks to some key tips and marinating the tofu. They're bound to be a part of your meal prep rotation - I made them three times in one week!
Ingredients
1 lb block tofu, pressed and drained of liquid
Marinade
¼ cup light soy sauce + 1 tablespoon, or liquid aminos or tamari (any is fine)
½ cup filtered water
1 teaspoon garlic powder
1 teaspoon onion powder
1 teaspoon smoked paprika
1 tablespoon nutritional yeast, if you don't have this, that's okay
Batter
¾ cup any nut milk, or ANY vegan milk (I used unsweetened almond milk)
1 ½ teaspoons apple cider vinegar, or regular vinegar
1 cup gluten free flour, or regular flour (I used Bob's Red Mill's Gluten Free All Purpose Baking Flour)
Crumb Mixture
1 ¼ cup gluten free breadcrumbs, or regular breadcrumbs (I used Nature's Path Organic Crispy Rice Cereal and pulsed them in my food processor until they resembled panko breadcrumbs)
3 teaspoons smoked paprika
3 teaspoons nutritional yeast
1 teaspoon garlic powder
1 teaspoon onion powder
1 teaspoon Italian seasoning
1 teaspoon sea salt
¼ cup of oil, if pan-frying, if not, instructions for baking are below
Instructions
Take your pressed tofu and slice it in half length wise (so you end up with two large slices the same length and width as the original). Tear the tofu into 1 inch cubes. I like to use a ruler to help me measure the first tear, then use that as a guide, but it doesn't seem to be exactly 1 inch.

In a bowl or glass tupperware, add all the marinade ingredients and stir to combine. Taste it, you can add more liquid aminos if you want yours saltier, or more water. Add in tofu and stir to combine so all the tofu is coated. Marinade for at least 15 minutes, but up to overnight. While marinating, prepare your bowls with the flour, the buttermilk, and the crumbs.
Batter & Crumb Mixture
In a bowl, add the nut milk and the apple cider vinegar. Stir to combine and let sit for about 2 minutes. This is your buttermilk mixture.

Add the flour to its own bowl and line up side by side.

In a bowl add all the crumb mixture ingredients. You can use gluten free panko breadcrumbs or make your own by food processing 1 ¼ cups of brown rice krispies. Line up in a bowl beside the buttermilk. Line a baking sheet beside that - this is where you'll place your tofu pieces before pan-frying them, or layer them to bake them.
Putting it All Together
Take one tofu piece from the marinade. Dip it into the flour, shaking off all the excess flour, then into the buttermilk. Shake off the excess buttermilk, then dip it back into the flour, then into the buttermilk again, shaking off all the excess again. Then dip it into the crumb mixture, roll around, and place on the baking sheet.

Once you get the hang of it, you can add several pieces at a time (I do like 10 pieces maximum at a time). This battering process is very forgiving!

When you're done all the pieces, it's time to cook them.
Cooking the Tofu
Heat ¼ cup of oil in a baking over medium high heat. When oil is hot, add one piece of tofu. Cook for 1 ½ minutes on each side (check for browning) or until golden brown, then flip and cook for another 1 ½ minutes on the other side. Remove to a paper towel to absorb the excess oil.

Continue to cook the rest, but you can now add several pieces of tofu now that you've tested that the oil is hot and you have your cooking time figured out. Don't overcrowd the pan since it'll reduce the temperature the oil, making them not as crispy. It's best to leave enough space between each piece of tofu.

Continue unti you've cooked all of the tofu. Allow to cool slightly, then serve immediately by itself, or with a dipping sauce. You can also add these to tacos, sandwiches and many other uses!

To BAKE these: Preheat the oven to 400F/200C. Line the battered and breaded tofu pieces on the baking sheet and spray with some cooking oil on both sides. Bake for 25 minutes, flipping once way at the halfway mark. Serve and enjoy!
Notes
If you can't find liquid aminos you can use low sodium soy sauce, just taste it first before adding the tofu to ensure it's not too salty. You can also sub coconut aminos.
I did pan-fry mine, but you can bake these as instructed above.
Here's my favourite way to press tofu if you don't have a tofu press! Wrap the tofu in some paper towels, then with a kitchen towel around that. That way the kitchen towel is much easier to wash and doesn't have pieces of tofu in it. Wrap it like a blanket around a baby. The tofu is now your food baby. Put a heavy pan on top, like a cast iron skillet. Then put two books in or on top of that. Balance it so it doesn't fall off, and leave it to be pressed for about 30 minutes. The tofu should be smaller, and the kitchen towel should be wet with the water from the tofu. Now you can proceed and use this. This makes tofu absorb flavours so much better, and gives it an amazing texture too.
If you're not gluten free, you can use regular panko breadcrumbs.
If you don't have nutritional yeast, leave it out.
Calories: 34kcal, Carbohydrates: 6g, Protein: 2g, Fat: 1g, Saturated Fat: 1g, Sodium: 82mg, Potassium: 35mg, Fiber: 1g, Sugar: 1g, Vitamin A: 113IU, Calcium: 14mg, Iron: 1mg
Disclaimer: Although jessicainthekitchen.com attempts to provide accurate nutritional information, kindly note that these are only estimates. Nutritional information may be affected based on the product type, the brand that was purchased, and in other unforeseeable ways. Jessicainthekitchen.com will not be held liable for any loss or damage resulting for your reliance on nutritional information. If you need to follow a specific caloric regimen, please consult your doctor first.