Vegan Mango Coconut Cheesecake
Vegan Mango Coconut Cheesecake is a creamy no bake cheesecake that you'll fall in love with! Made with only natural sweeteners, this cheesecake is both great for you and incredibly delicious!
Happy Cheesecake Day! Also known as the best day ever, I'm partaking with a ton of other bloggers to bring you 65+ cheesecake recipes! Whaaat! The list is at the end of the post so be sure to check it out!!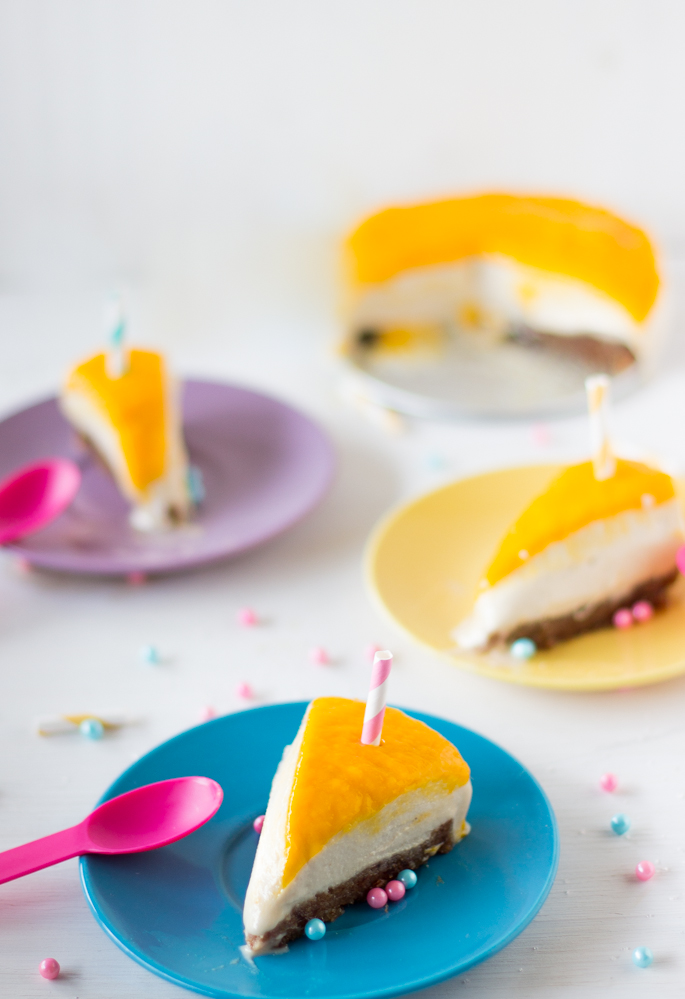 I didn't want to just create a regular cheesecake AND I wanted something to represent Jamaica 🙂 so Vegan Mango Coconut Cheesecake it was! This stemmed from the fact that based on the amount of mangoes I've eaten in the past two weeks, I've in fact turned into a mango. Also, I love coconut so much and used a lot of it in this recipe!
I know what you're thinking…so, how does it taste?!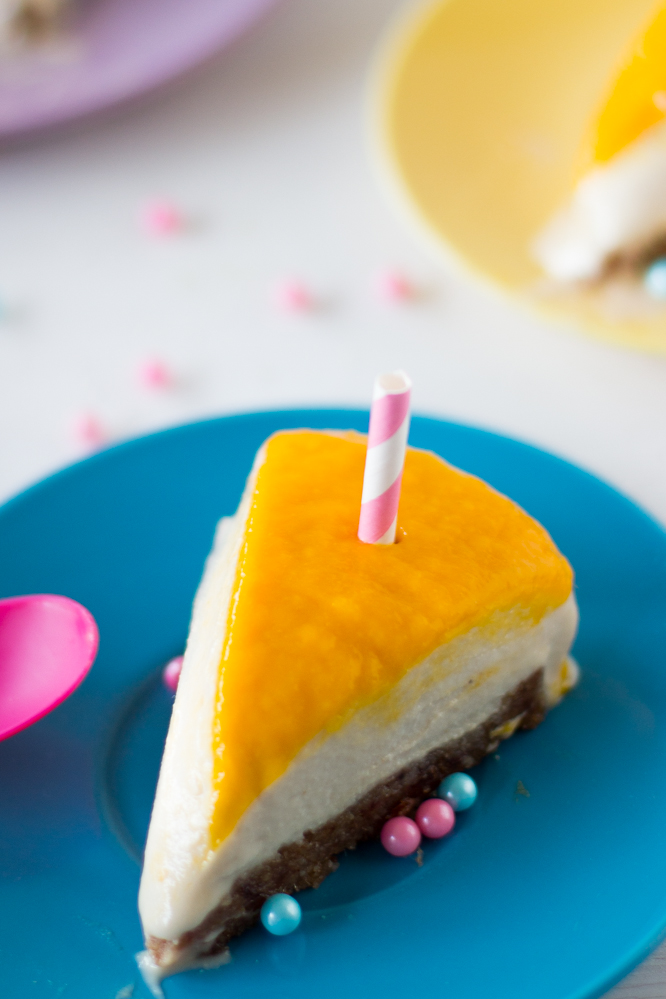 Admittedly, I was super sceptical about vegan cheesecake and I'm happy to say this was AMAZING! I mean really, I love cream cheese cheesecakes, but if I found out tomorrow I could only eat vegan cheesecakes I would be pretty happy with my life.
Why This Vegan Cheesecake Works
This had all the right things about cheesecake – the slight tartness, the sweet delicious parts and best of all a rich and creamy base with a thick crust. I loved this cheesecake, and the coconut flavour + the mango topping just took it over the top for me!
This was also my first no-bake cheesecake AND the easiest cheesecake I have ever made! The ingredients are so simple, and the cheese substitute is cashews soaked in water which create such an amazing texture when blended! Fresh mangoes are my preference, but if you can't get those, you can always thaw frozen mangoes. I loved the contrast between the mango and the rest of the cheesecake.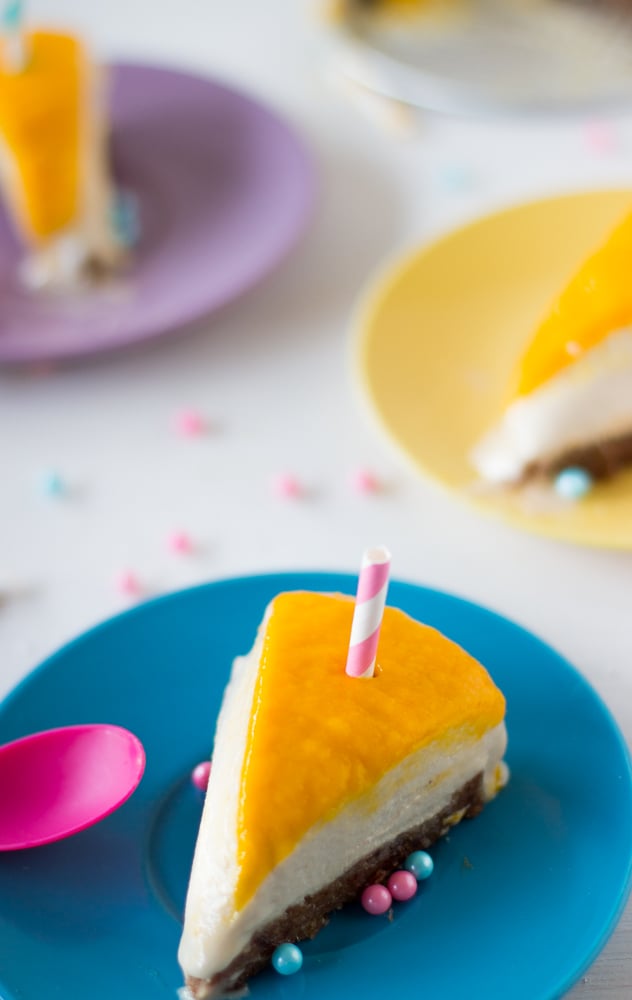 No-Bake Cheesecake for the Win!
I genuinely see why people make no bake cheesecakes now! They are SO easy to make and without all the unnecessary fuss. I would just let you know to be wary of the melting factor, which honestly happened after an hour and a half of sitting out *effects of a food blogger on crutches!!* and once I put this back into the freezer it was perfectly fine again.
My brother has already let me know that three slices belong to him, and part of me wants to make Mr. Bakes taste it, but the other part is feeling very selfish.
How are you planning to celebrate Cheesecake Day? Whatever you do, ensure that you try my recipe or one of the many recipes down below!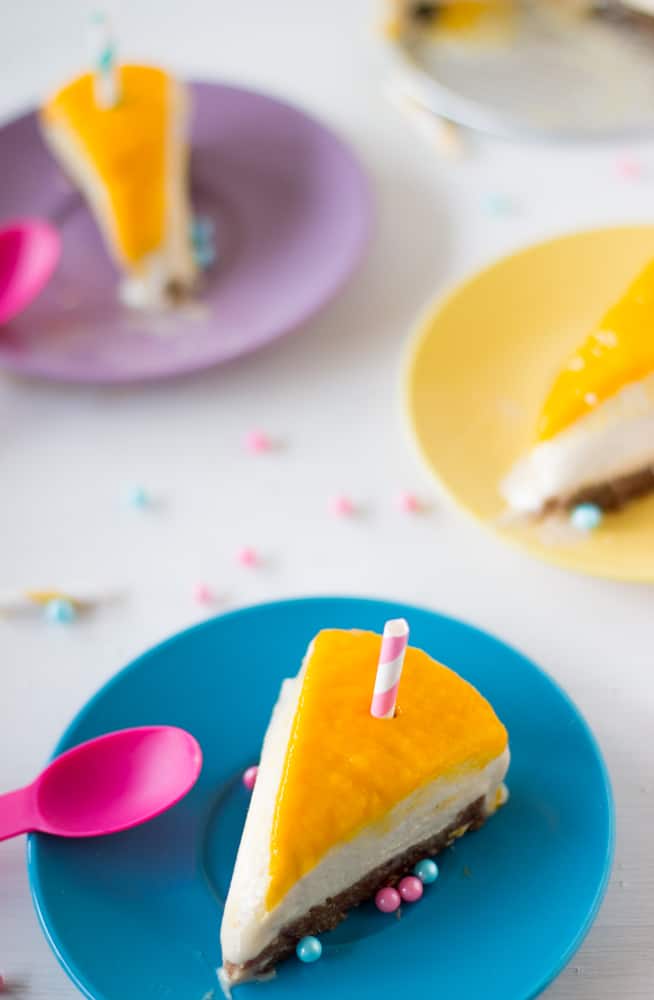 CHEESECAKE DAY RECIPES
Baked Cheesecakes:
No Bake Cheesecakes:
Indulgent Cheesecake Beverages:
Creamy Cheesecake Cookies and Bars:
Cheesecake Desserts and Treats:
Frozen Cheesecakes and Treats: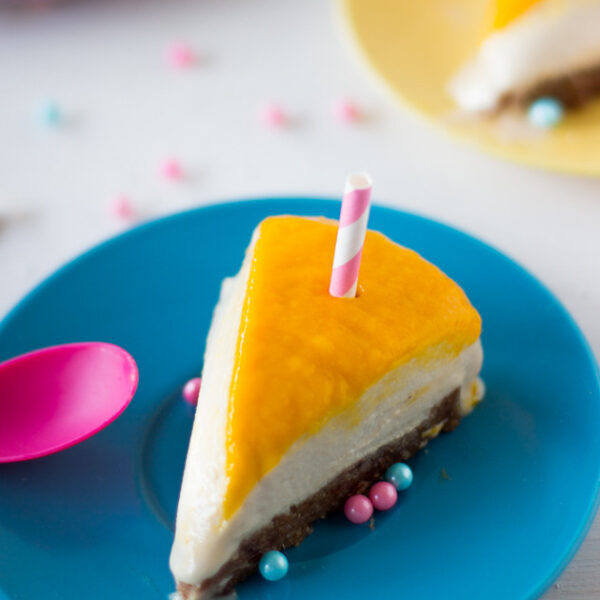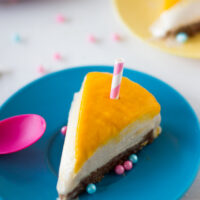 Vegan Mango Coconut Cheesecake
Vegan Mango Coconut Cheesecake is a creamy no bake cheesecake that you'll fall in love with! Made with only natural sweeteners, this cheesecake is both great for you and incredibly delicious!
Ingredients
Crust:
1 cup pitted dates, soaked in hot water for 10 minutes then drained
1 cup raw macadamia nuts, you can substitute with almonds or walnuts
Filling:
2 cups raw cashews, soaked overnight, or in hot water for one hour, drained
1/4 cup lemon juice
1/3 cup solid (aka hardened) coconut oil + 2 tablespoons
1/2 cup coconut cream from the coconut milk + 2 tablespoons, placed in the refrigerator from overnight (see notes below)
1/2 cup maple syrup + 1 tablespoon
Mango topping:
1 cup fresh sweet (non-stringy) mango slices, or frozen mango cubes, thawed fully
Instructions
Crust
Blend the nuts in a food processor until it starts to turn into a meal consistency. Add the warm dates and pulse until blended together, scraping down with a spatula every now and then. The dates and nuts should mix together and be slightly sticky.


Press the crust into a 6 inch cheesecake pan (I used a mug to press it evenly).
Filling
Mix all the filling ingredients together in your blender (I would recommend something powerful such as a NutriBullet or VitaMIx or Ninja). Remove and use spatula to scrape down anything that wasn't blended. Blend again for one minute or until the cheesecake is smooth (not grainy at all). Ensure to taste it! You can add a bit more maple syrup if you want it sweeter.

Pour filling over crust and smooth down. I used a 7" inch cheesecake pan for this recipe. If you want to double it, you can use a 9" or a 10" cheesecake pan.

Place in the freezer overnight. If using the mango topping, place for about 30 minutes, then add the mango topping, then overnight.
Mango Topping
Puree mango in a blender and spoon on top of cheesecake.

Freeze overnight. Remove from freezer when set and allow to thaw for about 15 to 20 minutes. Enjoy!

Enjoy!
Notes
If you live in a warm climate, you can solidify your coconut oil by placing it in the fridge for about 15 minutes. How to get coconut cream: Put a can of full-fat coconut milk in your fridge overnight. After being refrigerated overnight, open the can, and scoop out the thick solids out of the jar until you reach 1 cup. That's what you want to use! When using your coconut cream, you want to use only the white parts that thickened up – NOT the coconut water. Any coconut water will contribute to the icing of the cheesecake, which you don't want any here! Keep your cheesecake in the fridge to store for up to 2 weeks. They taste great frozen or thawed for 5-10 minutes first.
Calories: 700kcal, Carbohydrates: 58g, Protein: 11g, Fat: 52g, Saturated Fat: 20g, Sodium: 12mg, Potassium: 685mg, Fiber: 6g, Sugar: 39g, Vitamin A: 298IU, Vitamin C: 15mg, Calcium: 80mg, Iron: 5mg
Disclaimer: Although jessicainthekitchen.com attempts to provide accurate nutritional information, kindly note that these are only estimates. Nutritional information may be affected based on the product type, the brand that was purchased, and in other unforeseeable ways. Jessicainthekitchen.com will not be held liable for any loss or damage resulting for your reliance on nutritional information. If you need to follow a specific caloric regimen, please consult your doctor first.