Sweet Potato and Kohlrabi Fritters with Yogurt-Tahini Sauce
Sweet Potato and Kohlrabi Fritters with Yogurt-Tahini Sauce is a farmer's market's dream recipe! The delicious unique flavour of kohlrabi shines through and the yogurt-tahini sauce adds a delicious salty smoky flavour!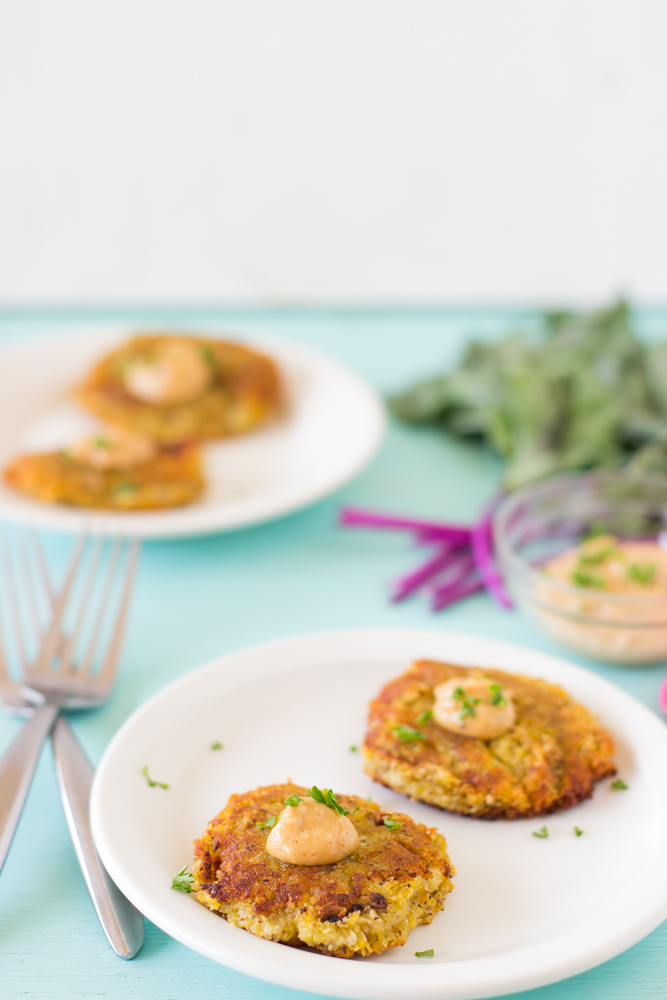 I will sound extremely food-nerdy for this (fortunately this is a safe place for that) but I went to my first organic farmer's market on Saturday and it was SO great! If you follow me on Instagram you would've seen my post – and I'm so amazed that so many different kinds of creations grow in Jamaica! I mean, of course you're probably thinking you are a tropical country but unfortunately only a small portion of our culture actually eats from what we grow. Nevertheless, there was quite a lot to choose from at this fabulous farmer's market, including vegan chocolate cake (cue me buying IMMEDIATELY), a tomato jam that Mr. Bakes and I SOMEHOW managed to finish between Saturday afternoon and as at the time I am writing this (Sunday night) – it was that good, a creamy cashew butter and an incredibly delicious pepper spread that we are certain contains some sort of pickled vegetable that we need need need to get on its own. I also picked up endless amounts of green blends – by endless I mean finishing by Wednesday because my brain has gone plant crazy – with mixtures of mustard greens, kale, and arugula and of course, tons and tons of straight kale.
My eyes lit up when I saw the organic kale. Which I then ate half for dinner the same night. I would like to point out that as long as I don't douse this in chocolate this is a pretty healthy obsession to have!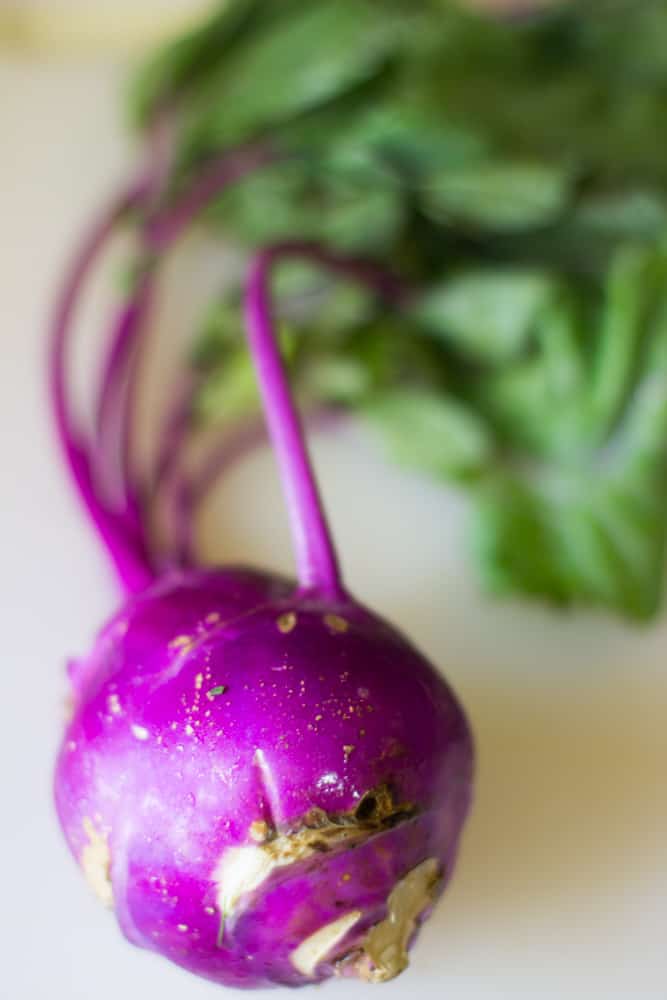 I'm counting down the days until the next one in two weeks and prepare to see many plant-based recipes coming up. Nothing knew there! I'm sure you're thinking "could you just get to what the heck Kohlrabi is???" So while at the market, one of the farmer's introduced Kohlrabi to us – this beautiful purple (and sometimes white) vegetable which is also known as a turnip cabbage. It's so pretty to me and honestly, when the farmer said we should taste it raw first I was kind of not feeling that. However, after trying their arugula raw and loving it, I decided to give it a try.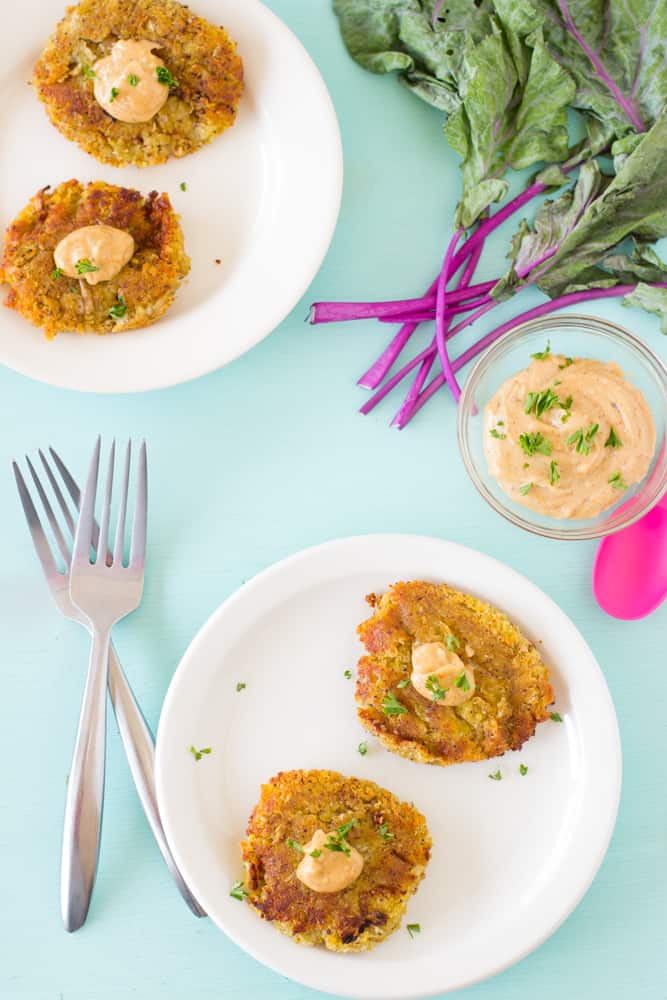 Kohlrabi is actually pretty delicious raw – it's fresh with a slightly sweet taste, and I mean that wholeheartedly. Any articles online suggest trying it raw first. It would definitely taste perfect in a slaw (which Mr. Bakes suggested – cue annoyance that we only bought one!!) but fritters came to my mind immediately. There was a sweet potato in the house and well, it just seemed like it would work great together. After cooking the potato in the oven for about 25 minutes, adding a flax egg (guess who hadn't gone to the supermarket yet!) and stirring in the kohlrabi, the fritters we were left with were soft, smelled amazing and divine. No really – we all know I have that problem of wanting to devour everything before shooting it but I really did have a fritter before even plating.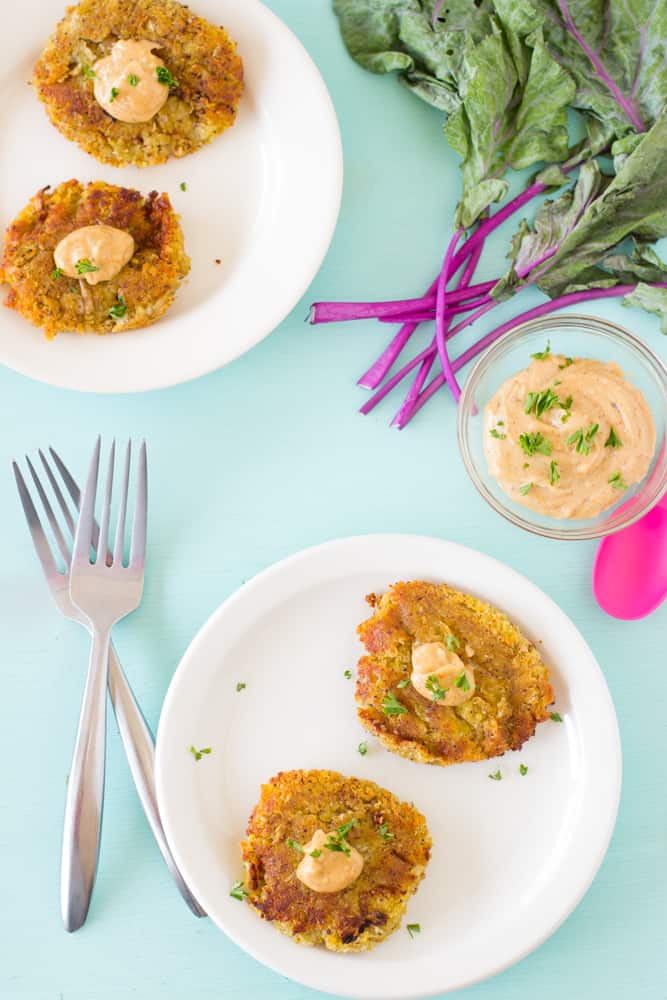 These kohlrabi fritters were had a crunchy flavourful exterior with a soft, wonderfully textured inside that would make you fall in love instantly. I thought it was great, and then I added the sauce. It went from an A recipe to an A++ recipe immediately, with the mix of sweet, salt, smoky and light all in one. Typically fritters taste oily and unhealthy but this actually didn't – I think the base ingredients helped plus pan- frying only the tops in coconut oil. I would recommend this dish for any breakfast, lunch or dinner, since you know, I have no limit on what you can eat at any meal.
I think I've chatted you out enough for now. GO run to your farmer's market and try your local version of kohlrabi! I know you'll love it.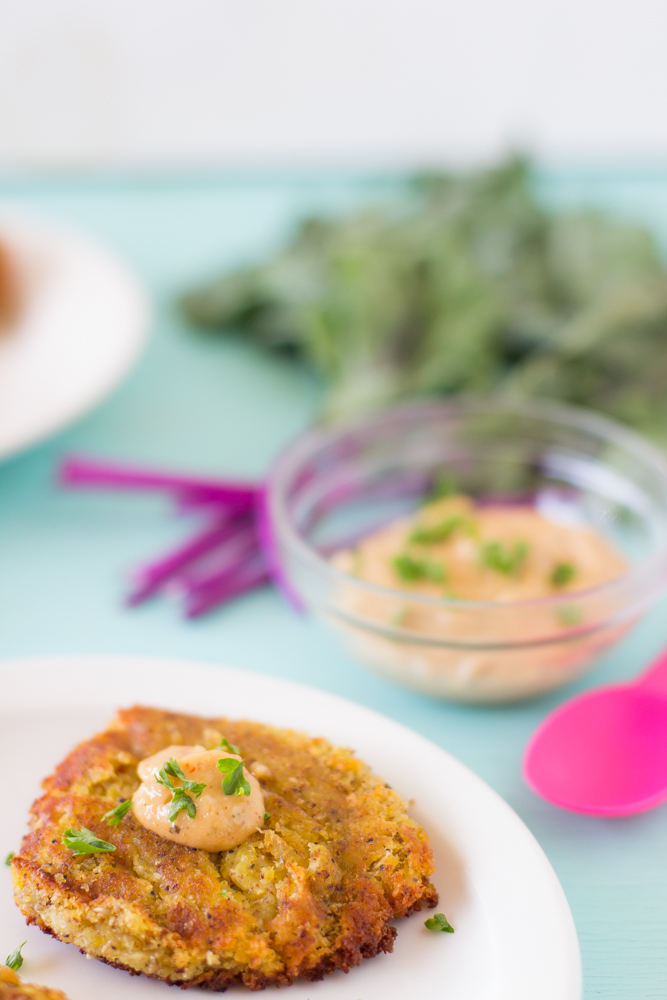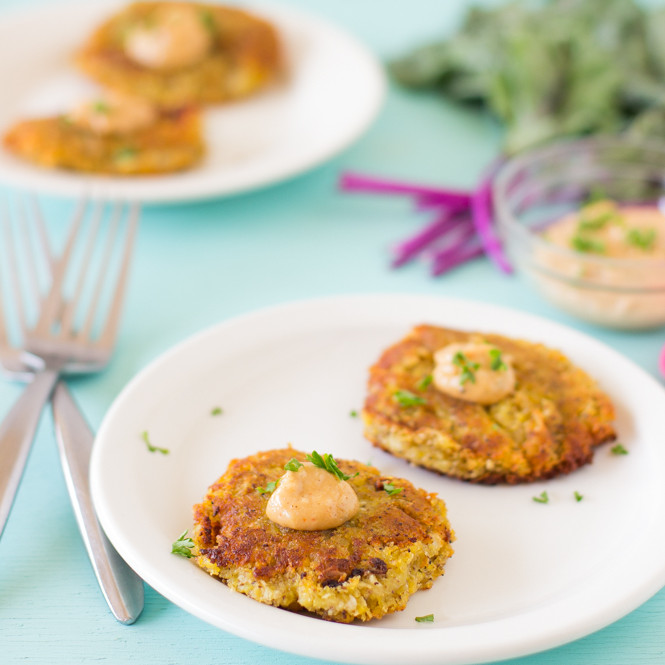 Sweet Potato and Kohlrabi Fritters with Yogurt-Tahini Sauce
Sweet Potato and Kohlrabi Fritters with Yogurt-Tahini Sauce is a farmer's market's dream recipe! The delicious unique flavour of kohlrabi shines through and the yogurt-tahini sauce adds a delicious salty smoky flavour! 
Ingredients
Fritters:
1/2 large sweet potato
1 kohlrabi
1 1/2 teaspoons sea salt
1 1/2 teaspoons ground black pepper
1/2 teaspoon garlic powder
1 flax egg – Learn how to make a flax egg
1/4 cup coconut oil
Yogurt-Tahini Sauce:
1/2 cup greek yogurt
2 teaspoons honey
1 tablespoon tahini sauce
1/2 teaspoon sea salt
1/2 teaspoon ground black pepper
Chopped parsley, for garnish (optional)
Instructions
Yogurt-Tahini Sauce
Mix all ingredients together with a whisk. Store in fridge until ready.
Fritters
Preheat oven to 450 degrees Fahrenheit.


Poke holes in the sweet potato with a fork and bake at 25 minutes until almost cooked through and much softer. Allow to cool and peel skin off.


Cut the kohlrabi in half, and then peel kohlrabi's outer layer. Using a mandolin with a guard, julienne the kohlrabi until it resembles carrot sticks.

In a food processor, mix in all the ingredients (except the coconut oil) including the flax egg and pulse slightly until combined (but not pureed together).


Heat coconut oil in a large skillet over high heat. Whilst heating, form kohlrabi sweet potato mixture into fritter patties (I was able to make 6 fritters). Place in hot coconut and reduce heat to medium high, and cook on each side for 5 minutes until golden brown. They are delicate, so be careful not to break them.



When cooked through, place on a paper towel in a plate to absorb excess oil.

Serve with Yogurt-Tahini Sauce and top with chopped parsley (optional).
Notes
Depending on the size of your sweet potato, you might need to chill the patties first for about 15-30 minutes, or use another flax egg if they aren't holding together.
Calories: 144kcal, Carbohydrates: 9g, Protein: 3g, Fat: 11g, Saturated Fat: 8g, Cholesterol: 1mg, Sodium: 798mg, Potassium: 206mg, Fiber: 2g, Sugar: 4g, Vitamin A: 2681IU, Vitamin C: 16mg, Calcium: 40mg, Iron: 1mg
Disclaimer: Although jessicainthekitchen.com attempts to provide accurate nutritional information, kindly note that these are only estimates. Nutritional information may be affected based on the product type, the brand that was purchased, and in other unforeseeable ways. Jessicainthekitchen.com will not be held liable for any loss or damage resulting for your reliance on nutritional information. If you need to follow a specific caloric regimen, please consult your doctor first.