Strawberry Salsa
Strawberry salsa is sweet, savoury, and spicy, with a generous squeeze of fresh lime juice to liven things up. You're only 10 minutes and 5 ingredients away from the perfect partner for crispy tortilla chips!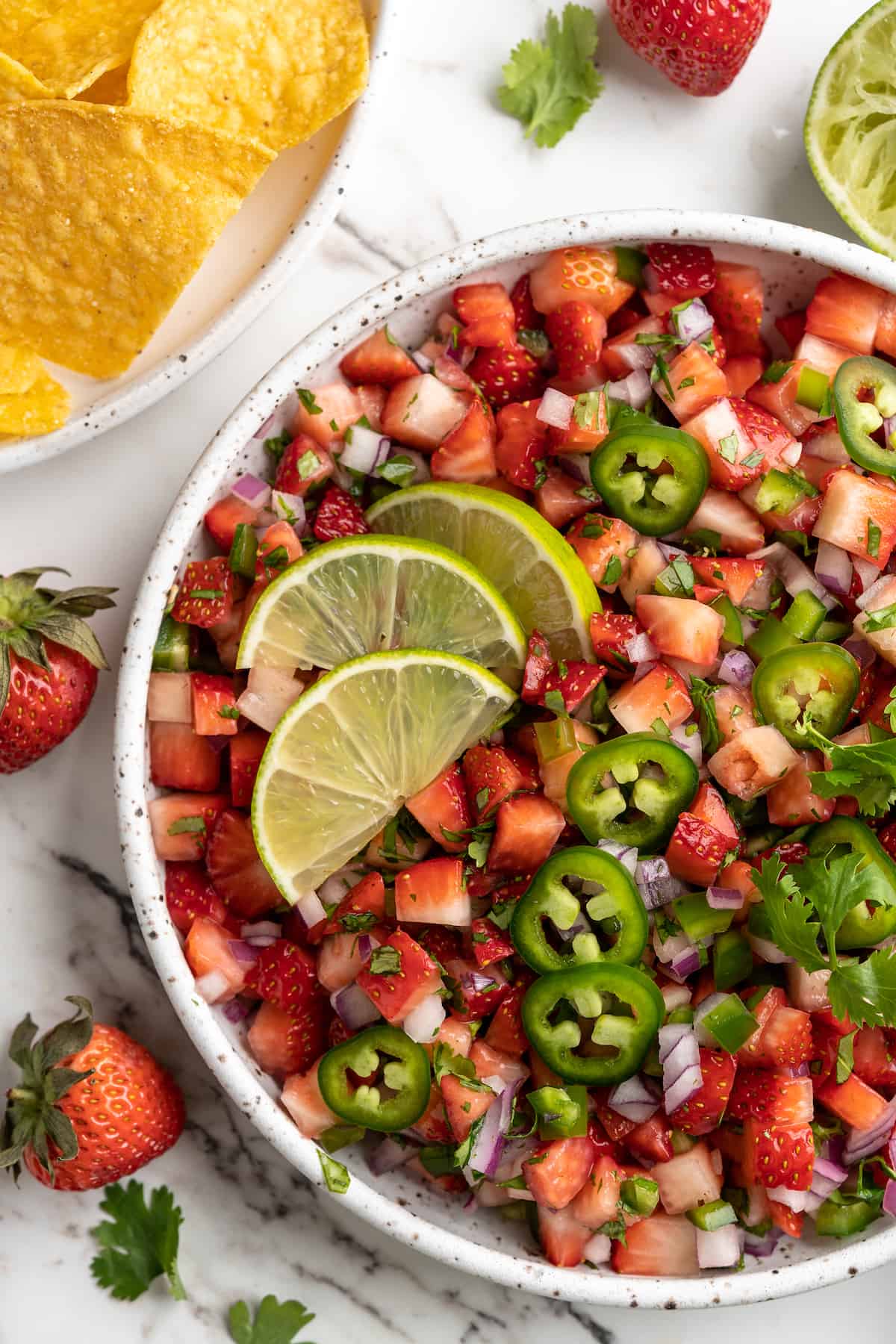 Are you a salsa traditionalist or a salsa trailblazer? While I love my restaurant-style blender salsa recipe, I have to admit that I have a weakness for non-traditional salsa recipes too. When strawberries are in season, this easy strawberry salsa is hard to beat.
It's easy to make as a healthy afternoon snack or while you cook crispy cauliflower tacos or vegan fish tacos for a weeknight dinner, but the flavours and freshness of this strawberry salsa make it fitting for a party, too. It's versatile like that!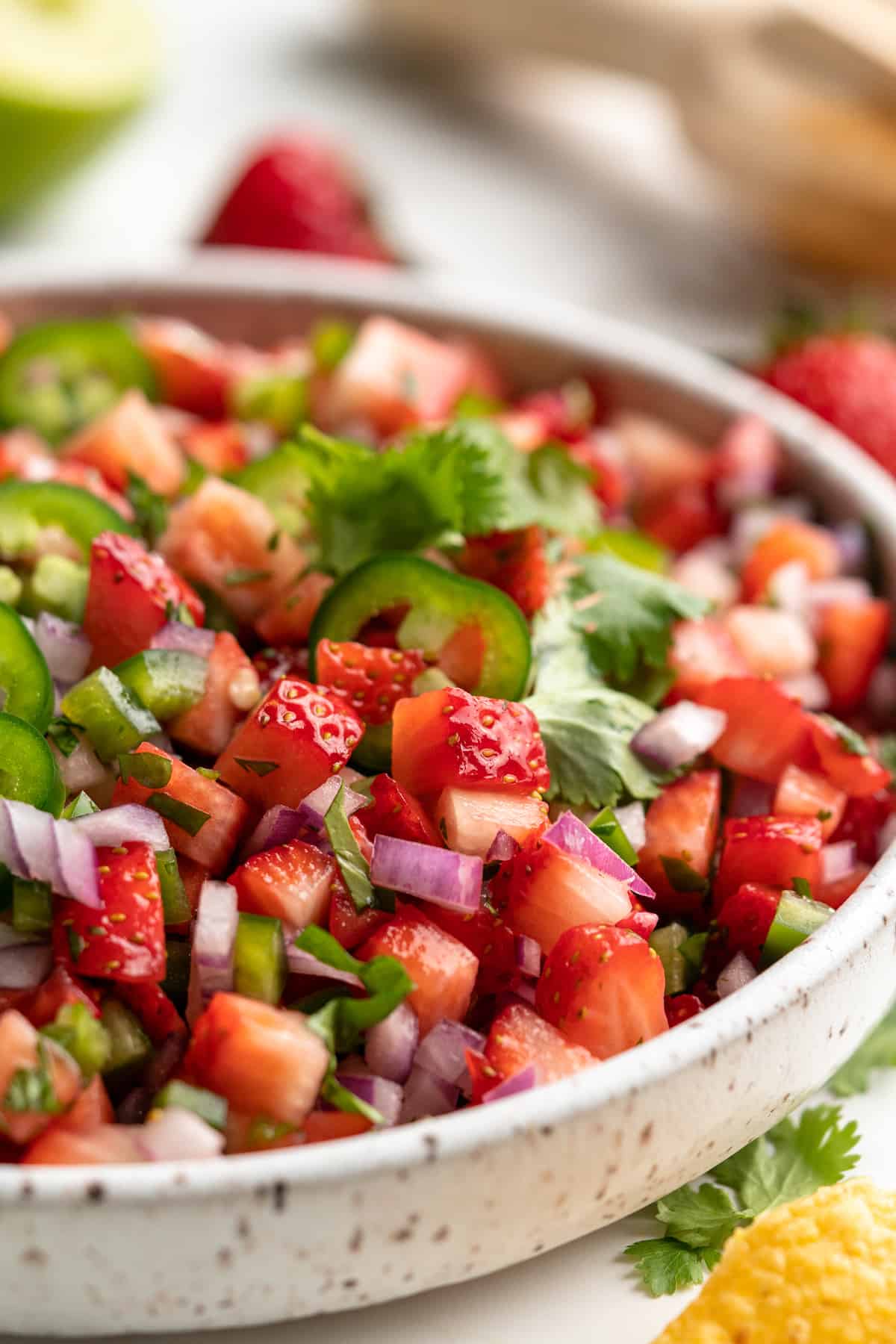 Why You'll Love This Strawberry Salsa Recipe
Here's what makes this strawberry jalapeño salsa such a winner:
Contrasting flavours. I mean, I could just say this salsa is delicious, and that would be true, but if you want to know why it works, it's because the sweet strawberries, tangy lime, pungent onion, and spicy jalapeño come together to create a perfectly balanced salsa.
Practically effortless. Simple ingredients, 10 minutes of prep time—it doesn't get much easier than this.
Healthy. Dips aren't exactly the healthiest of snack options. Creamy, cheesy dips are heavy, while even options like hummus can be calorie dense if you're not satisfied with the suggested 2 tablespoon serving. You can eat a whole bowl of this strawberry salsa without it weighing you down, and you'll get loads of vitamins and minerals in the process!
Crowd-pleasing. I don't think any summer party is complete without a platter of strawberry salsa and tortilla chips! It's the kind of appetizer no one can walk away from.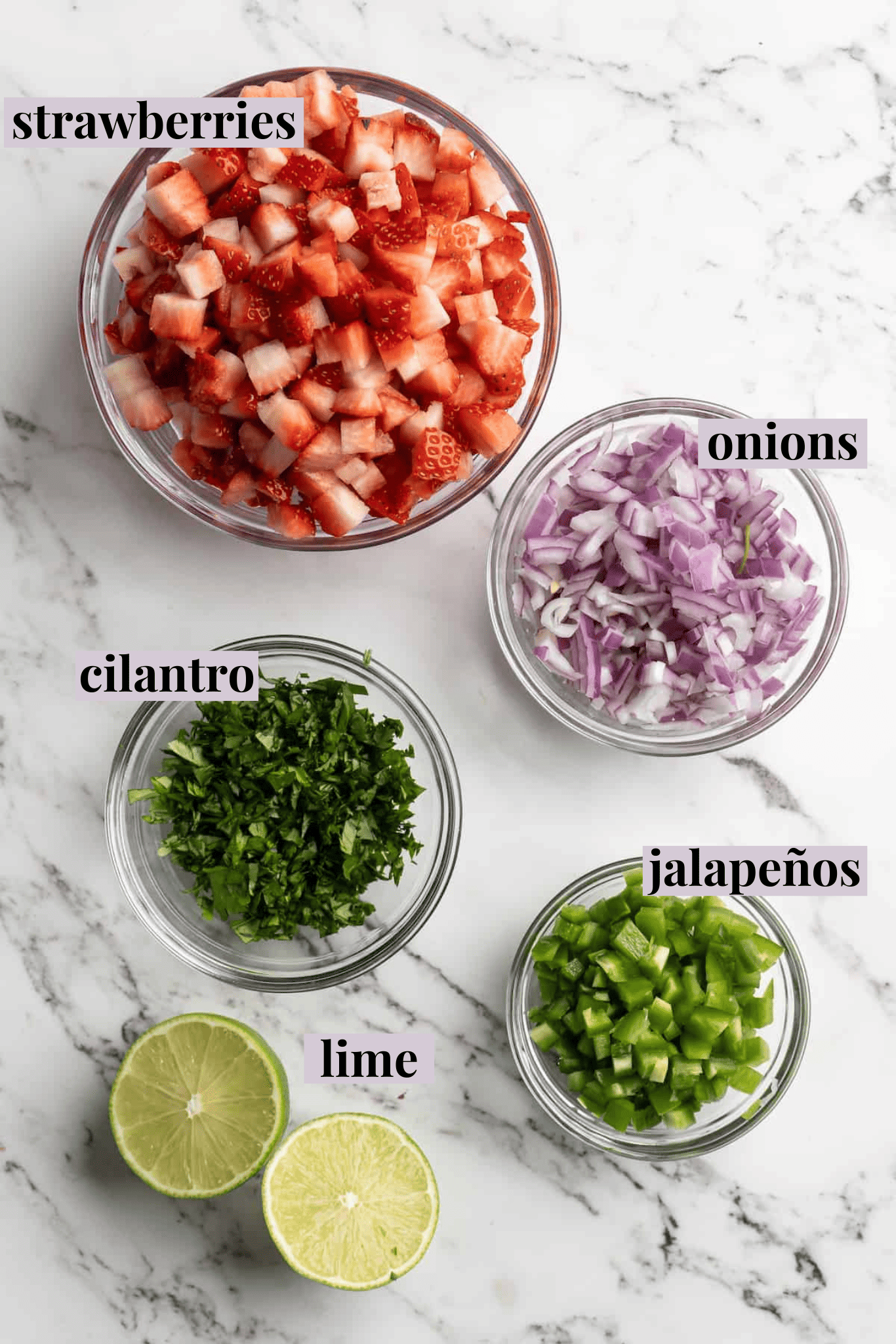 Notes on Ingredients
Scroll down to the recipe card to find the ingredient quantities and recipe instructions.
Strawberries – If you're lucky enough to find fresh, local strawberries, take advantage and use them here. They're much more tender and sweet than store-bought strawberries.
Red onion – You can cut the bite of the diced onions by soaking them in ice cold water while you prep the rest of the ingredients; you'll still get onion flavour, without as much sharpness.
Jalapeño – Use more or less, according to your taste preferences.
Lime – Lime juice adds acidity to balance the sweetness of the berries.
Cilantro – Finally, we get an herbaceous note from fresh cilantro.
What Can I Substitute for Fresh Cilantro?
Parsley is the most common substitute for fresh cilantro, but fresh basil or mint leaves also work well in this strawberry salsa recipe.
How to Make Strawberry Salsa
Here's how easy it is to make fresh strawberry salsa at home: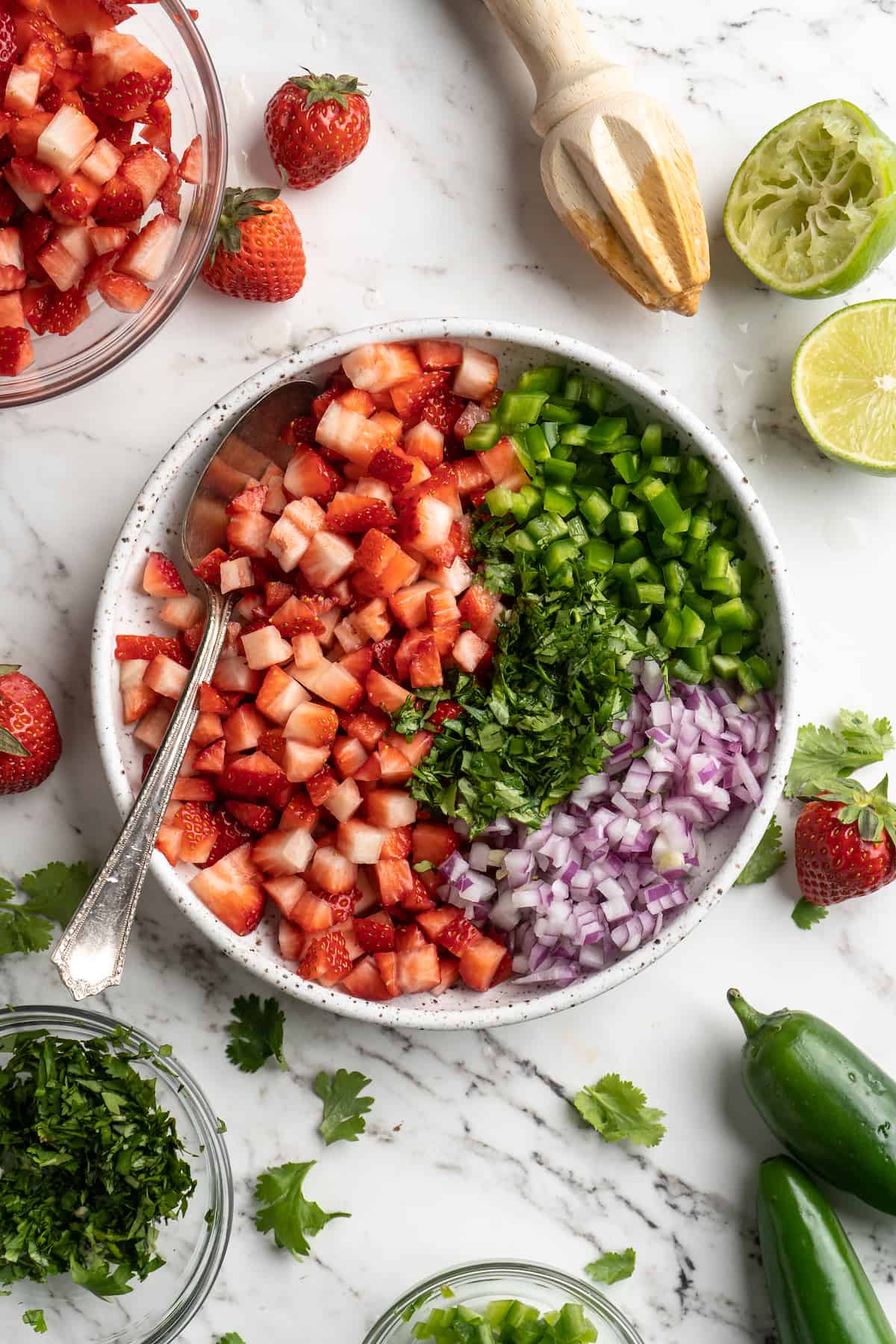 Combine. Add all of the ingredients to a mixing bowl.
Toss. Gently toss everything together until it's well-combined and all of the strawberries are coated in lime juice. 
Wait. Let the strawberry salsa sit for a few minutes to allow all the flavours to meld.
Tips for Success
This is a simple recipe, but these additional tips will help you make sure your strawberry salsa turns out perfect.
Hull the strawberries. Cut any flavourless white parts off of the berries and then hull them with a paring knife or strawberry huller, removing the inner core. This will improve the flavour and texture of your salsa.
Scale up for a party. This recipe does not make enough for a big get-together—it's just too popular! So double or triple the recipe if you're making it for a party.
Cut the onions into uniform sizes. No one wants a big chunk of onion in their salsa! Make sure all of the onion pieces are roughly the same size.
Ways to Use Strawberry Salsa
Dipping crispy tortilla chips into strawberry salsa is absolute perfection, but there are so many other ways to put this strawberry salsa to use:
Fruit Salsa Variations
In addition to swapping out the cilantro, you can switch up the fruit, too. Use half the amount of strawberries and for the other half, substitute diced mango or pineapple to add some tropical flavour. To add more lime flavour, zest the lime before juicing it and then add the zest to the salsa.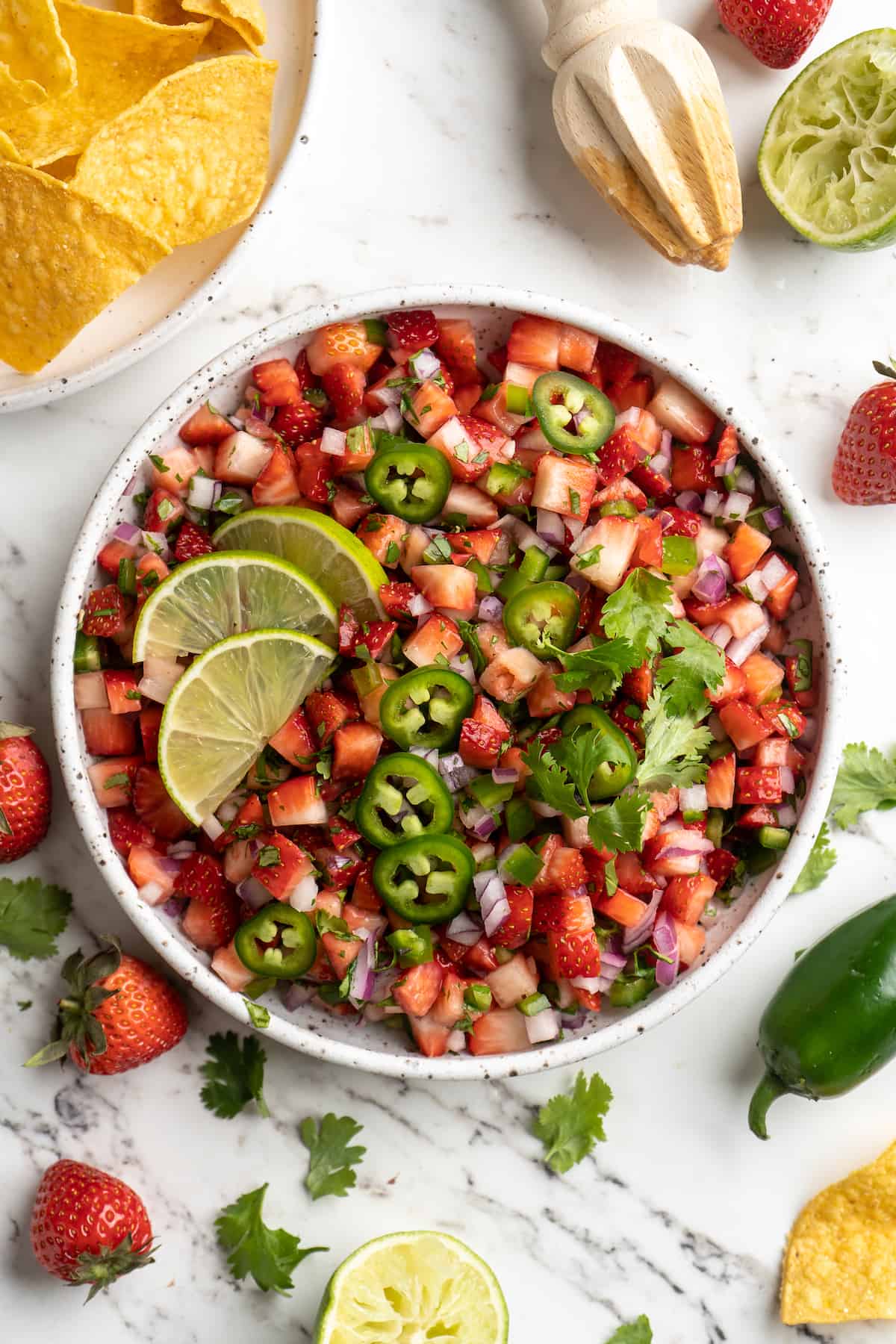 How to Store Leftovers
Store leftover strawberry salsa in an airtight container in the refrigerator for up to a day.
Can This Recipe Be Frozen?
With the fresh ingredients in this recipe, it's best not to freeze your strawberry salsa.
More Salsa Recipes
P.S. Here are some of the items I used to make this recipe if you'd like to use them too:
| WHAT YOU'LL NEED // SHOP MY FAVORITE INGREDIENTS & PREP PRODUCTS |


Enjoy friends! If you make this strawberry salsa recipe, please snap a photo and tag #jessicainthekitchen on Instagram! We'd also love it if you would leave a comment below, and give the recipe a rating! Thanks so much!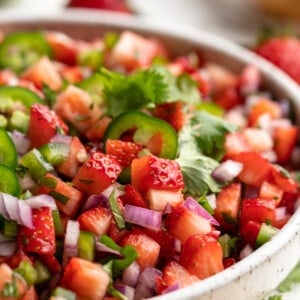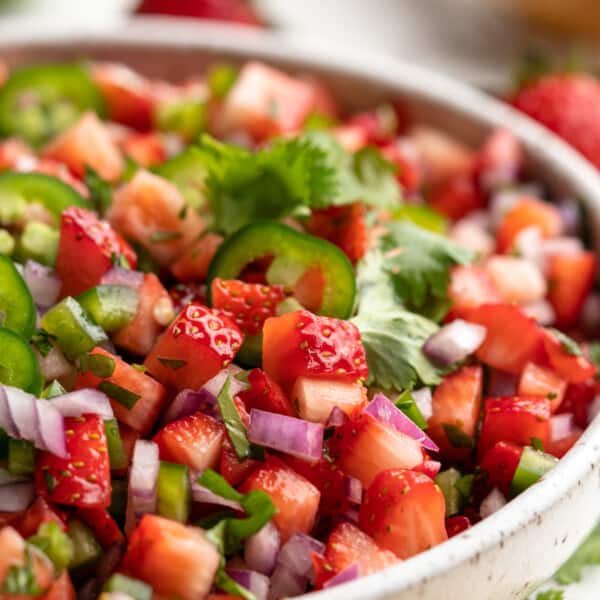 Strawberry Salsa
This 5-ingredient strawberry salsa takes only 10 minutes to make! It's a fresh, sweet, and spicy homemade salsa perfect for parties!
Ingredients
1 cup strawberries, chopped
1/4 large red onion, diced
1 jalapeño seeded and diced
juice of a large lime
3 tablespoons cilantro
Instructions
Mix all the ingredients together in a large bowl and toss lightly to combine.

Let sit for a few minutes for all the flavours to meld.

Serve with chips and enjoy!
Notes
This recipe is vegan and gluten free. You can easily double or triple the recipe depending on your party size.
This salsa is best made and served fresh. While you can store leftovers in the fridge, the strawberry will begin to wilt after being in the fridge for a day or so. I recommend making and serving it fresh.
I don't recommend freezing this salsa.
Calories: 41kcal, Carbohydrates: 11g, Protein: 1g, Fat: 1g, Saturated Fat: 1g, Sodium: 2mg, Potassium: 164mg, Fiber: 3g, Sugar: 5g, Vitamin A: 116IU, Vitamin C: 61mg, Calcium: 23mg, Iron: 1mg
Disclaimer: Although jessicainthekitchen.com attempts to provide accurate nutritional information, kindly note that these are only estimates. Nutritional information may be affected based on the product type, the brand that was purchased, and in other unforeseeable ways. Jessicainthekitchen.com will not be held liable for any loss or damage resulting for your reliance on nutritional information. If you need to follow a specific caloric regimen, please consult your doctor first.