Rum n' Raisin Cheesecake
Anyone who knows me, like really knows me, I don't eat fries. Or anything unhealthy for that fact. Baking is like, the only "unhealthy" thing I eat. 
That above line is now a complete and absolute lie. 
Thanks to my faithful and abusive relationship with my law degree, fast food is no longer a choice of yes or no. I spend majority of my day on campus at the library – it makes no sense to go home for lunch when Wendy's or a café is nearby. 
Fries? Hello best friend. At least I'm still staying away from soda.
P.S. – I personally don't think baking is unhealthy. It's more like, a priority.
A very important, tasty, everyday priority.
I'm thinking that as soon as my exams are over, I'll have to put this relationship to an end. It's not good for me. Or my waistline. It has also completely wiped my guilty conscience.
For example, it makes cheesecakes like this rum raisin cheesecake absolutely and completely justifiable.
*First slice bite* I'll go swimming tonight.
*Second slice bite* Okay, I'll go swimming for a bit more.
*Third*…you get my point. And then, after studying, I promptly fall asleep.
Well, I could definitely justify this cheesecake. My Dad is a rum and raisin fanatic; and I'm thinking he would love this cheesecake.
This is DEFINITELY RUM and Raisin. It's boozy alright but not too much; one bite and you can definitely taste it. I like that the amount of rum used isn't too little either – that would be very disappointing, and without it would be raisin cheesecake. Saying that out loud, raisin cheesecake doesn't sound very appealing in any case.
I used my base cheesecake recipe and then added the raisins and rum. At first I was a bit on the edge; the smell of the rum filled the whole kitchen from the batter. But it baked nicely and didn't overpower the taste of the cheesecake at all. I would definitely make this again; it was different from what I was used to but a very pleasant different.
Creamy, delicious, and boozy rum raisin cheesecake. Perfect to eat while watching Dexter. Sounds like a perfect phrase to me.
By the way, did you watch Dexter last night? Over-intense!! Sundays are now my favourite day of the week.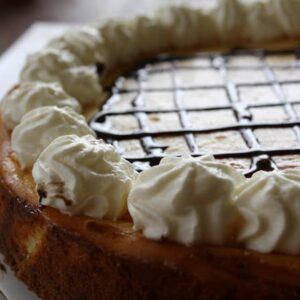 Rum n' Raisin Cheesecake
This is DEFINITELY RUM and Raisin. It's boozy alright but not too much; one bite and you can definitely taste it - so good!
Ingredients
Crust
5 ounces Graham Crackers
3 tablespoons sugar
4 tablespoons unsalted butter, melted and kept warm
Filling
1 1/4 cups sugar, 8 3/4 oz.
1 1/2 pounds packages cream cheese, cut into 1 inch chunks, at room temperature, 3 8-oz.
4 large eggs, at room temperature
1 teaspoons vanilla extract
1/4 teaspoon salt
1/2 cup heavy cream
pinch of salt
1 cup raisins
1/4 cup white overproof rum
Instructions
For the crust:
Adjust an oven rack to the lower-middle position and preheat the oven to 325F. In a food processor, process the animal crackers until you have fine crumbs. You should have about 1 cup. Add in the sugar and pulse. In a steady stream, add the butter while pulsing, about 10 1-second pulses. Transfer the crumb mixture to a 9-inch springform pan and press evenly into the bottom. Bake until fragrant and golden brown. The instructions say 15 to 18 minutes, but mine was done at about 12 minutes, so keep an eye on it. Cool on a wire rack to room temperature. When cool, wrap the pan with 2 18-inch square pieces of foil. Set the pan in a roasting pan.

For the filling:
In a bow of a stand mixer, beat the cream cheese to break it up and soften it slightly, about 10 seconds. With the machine is running, add the sugar mixture in a slow stream; increase the speed to medium and beat until combined, creamy and smooth - about 3 minutes. Scrape down the sides of the bowl as needed. Reduce the speed to medium low and add the eggs, 2 at a time. Beat until incorporated, about 30 seconds. Scrape the bowl before each addition. Add the lemon juice, vanilla and salt and mix to combine. Add the cream and mix until incorporated, about another 5 seconds. 

Sift raisins with some flour (so that they don't sink to the bottom of the cheesecake) then add to the mix. Finally, add the rum and mixed for about 20 seconds.

Give the bowl a final scrape and pour the mixture into the prepared springform pan. Fill the roasting pan with enough water to make it about halfway up the sides of the pan. Bake until the center jiggles slightly, the sides start to puff, and the surface is no longer shiny, about 55 to 60 minutes. The center should read about 150 degrees F. Turn off the oven and prop the door of the oven open with a potholder or wooden spoon. Allow the cake to cool in the water bath in the oven for about an hour. Transfer the springform pan to a wire rack and run a small paring knife around the edges of the pan to loosen the cake. Let it sit to room temperature for at least 30 minutes. Refrigerate for at least 3 hours before serving. Top with whipped cream if you want to.
Calories: 461kcal, Carbohydrates: 45g, Protein: 7g, Fat: 30g, Saturated Fat: 16g, Cholesterol: 141mg, Sodium: 361mg, Potassium: 233mg, Fiber: 1g, Sugar: 29g, Vitamin A: 1103IU, Vitamin C: 1mg, Calcium: 84mg, Iron: 1mg
Disclaimer: Although jessicainthekitchen.com attempts to provide accurate nutritional information, kindly note that these are only estimates. Nutritional information may be affected based on the product type, the brand that was purchased, and in other unforeseeable ways. Jessicainthekitchen.com will not be held liable for any loss or damage resulting for your reliance on nutritional information. If you need to follow a specific caloric regimen, please consult your doctor first.