Root Beer Float Cupcakes For Beer Month
The sweet, caramel-like, smooth flavour, moistness and surprise filling make these root beer float cupcakes the best ever!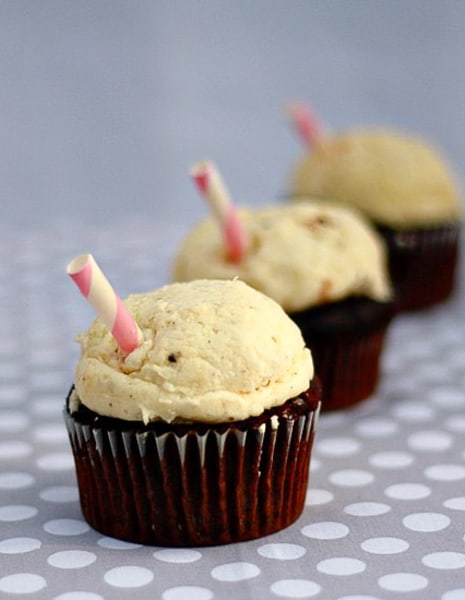 This was my first taste of root beer, and consequently root beer float cupcakes.
There! I said it! And what have I been missing all these years?! The sweet caramel-y, smooth flavour, moistness and surprise filling  that made these root beer float cupcakes the best ever.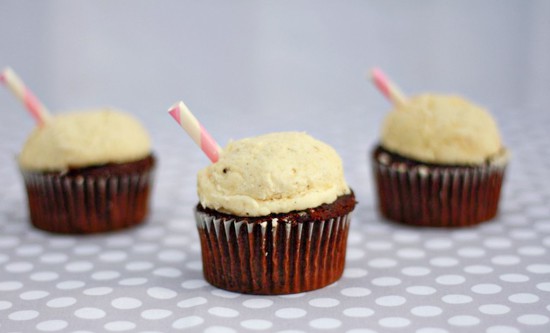 You heard me. I said best. ever. EVER. I love cupcakes, right. I love soft cupcakes. I die for moist cupcakes. And I go crazy for cupcakes with a surprise in the middle.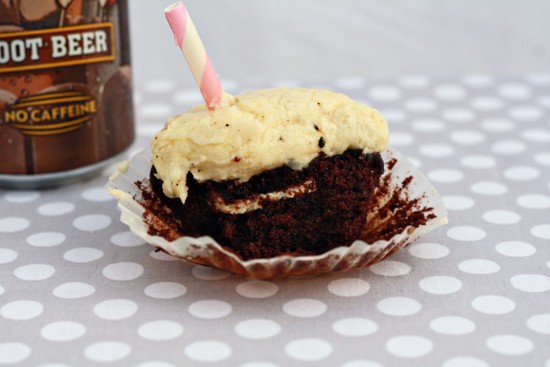 Hello? What did I just say? Everything that this cupcake is. I totally went on root beer overload. I used Jessica from How Sweet Eat's Root Beer Float Cupcakes Recipe and went in. I added root beer into everything she didn't have root beer in  and upped where she had root beer and I don't regret it. When I say that the root beer made these cupcakes soft, I mean almost melt in your mouth soft, and definitely very delicate. But that doesn't mean it wasn't packed with flavour. The root beer flavour was something that's hard to describe, but it's slight caramel and slight fizz.
Yes, fizz.
The chocolate taste. It's definitely there. Yet, it's subtle, meaning it's not overpowering but this is a chocolate cupcake that chocolate haters would love.
*Cough* Mr. Jessiker Bakes.
And the FROSTING! Exactly like ice cream, no doubt. I know I went overkill on eating these but when else will you get ice cream flavoured frosting? Root beer flavoured ice cream?
Okay, come on you have to try them now! I girly-fied them as you can see (well, duh) but they're perfect for guys too.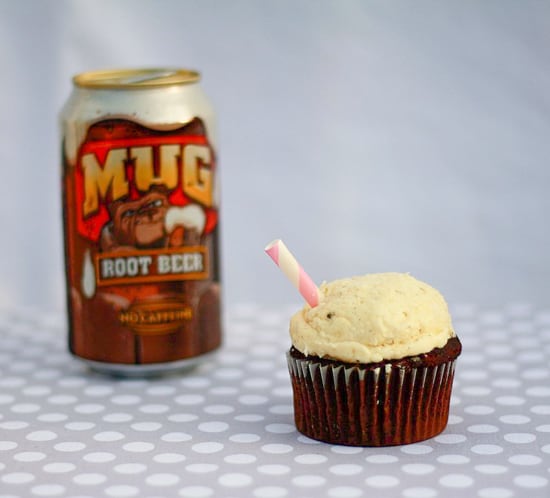 I did these cupcakes for Beer Month by NY Foodgasm and here are the other gals who posted today!
Sophia of NY Foodgasm – Bluepoint Blueberry Muffins
Lauren of Hall Nesting – Beer Cheese Soup
Jenni of Pastry Chef Online – Double Chocolate Stout Cake with Vanilla Porter Toffee
Camille of Croque-Camille – Porter Chocolate Mousse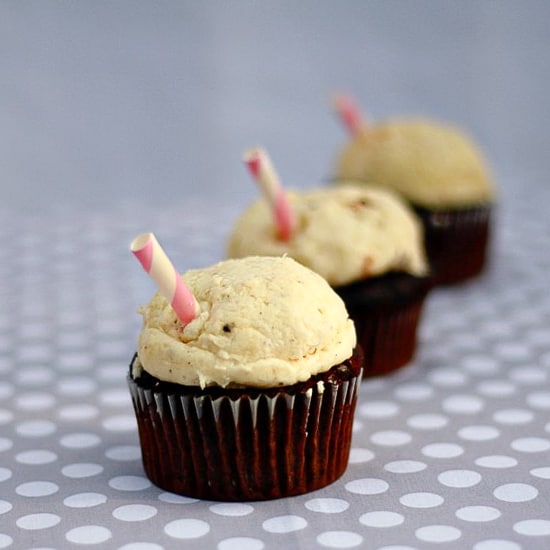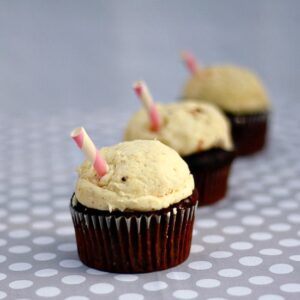 Root Beer Float Cupcakes
The sweet caramel-like, smooth flavour, moistness and surprise filling made these root beer float cupcakes the best ever!
Ingredients
1 1/8 cups all purpose flour
1/4 cup dark cocoa powder
1 1/4 teaspoon baking soda
1/2 teaspoon salt
3/4 cup brown sugar
1 egg
1 teaspoon vanilla extract
2 teaspoons root beer concentrate
1/2 cup root beer
1/2 cup + 1 tablespoon heavy cream
1/2 cup butter, melted
2 tablespoons sour cream
Vanilla Root Beer Frosting:
1 1/2 sticks butter, softened
4 cups powdered sugar
1 tablespoon vanilla extract
2 tablespoons milk
3 tablespoons root beer
1/4 teaspoon root beer concentrate
Instructions
Preheat oven to 350 degrees.

In a bowl, whisk egg and sugar until smooth and no lumps remain. Add cream, butter and vanilla, and mix until combined. Stir in sour cream.

Sift dry ingredients together and add to wet mixture. Add root beer concentrate and root beer. Mix until batter is smooth.

Line a muffin tin with liners and using a heaping 1/4 cup measure, add batter to each cup. Bake for 15-18 minutes. Let cool before frosting.
Frosting
In the bowl of an electric mixer, cream butter until smooth. On low speed, add powdered sugar one cup at a time, increasing speed to bring the frosting together. Add milk and vanilla extract. Beat until smooth. Add root beer concentrate and root beer.

Once the cupcakes have completely cooled, fill each one with root beer frosting, then top with vanilla root beer frosting.
Notes
I used an apple corer to get the middles of the cupcakes out. It's so easy – then just push back down to cover back the holes once fillings are inside. 2. I used an ice cream scoop to scoop my frosting onto the cupcakes. 3. I also used a simple syrup over the cupcakes to keep them very moist – equal parts water and sugar boiled together then cooled, and added about 3 tablespoons of root beer. 4. These cupcakes last a very long time – I was impressed that days later they were still soft, moist and delicious. 5. Do NOT refrigerate these cupcakes. I made that mistake testing one and the frosting became rock hard and the cupcake dried out. While more simple syrup did help it, it's best to store them in an airtight container.
Calories: 378kcal, Carbohydrates: 66g, Protein: 2g, Fat: 13g, Saturated Fat: 8g, Cholesterol: 49mg, Sodium: 298mg, Potassium: 74mg, Fiber: 1g, Sugar: 54g, Vitamin A: 424IU, Vitamin C: 1mg, Calcium: 32mg, Iron: 1mg
Disclaimer: Although jessicainthekitchen.com attempts to provide accurate nutritional information, kindly note that these are only estimates. Nutritional information may be affected based on the product type, the brand that was purchased, and in other unforeseeable ways. Jessicainthekitchen.com will not be held liable for any loss or damage resulting for your reliance on nutritional information. If you need to follow a specific caloric regimen, please consult your doctor first.