Callaloo, Feta and Roasted Tomatoes Pizza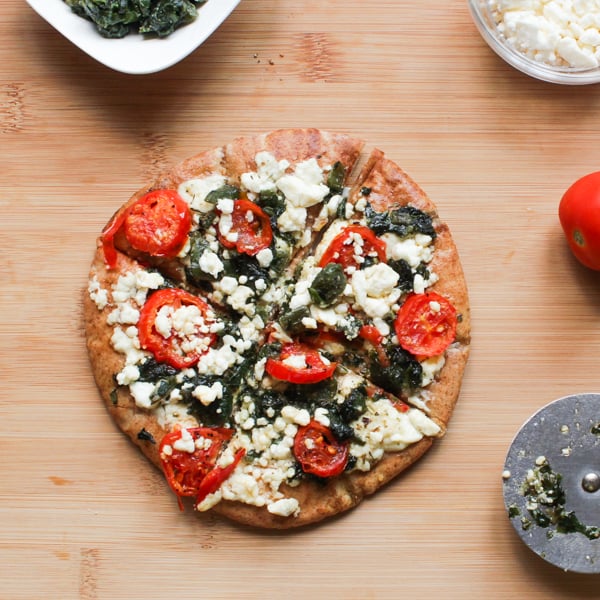 Today I get to share with you a mini history lesson about my country Jamaica! You see this pizza and you might be saying "what is callaloo?" Callaloo my friends, also known as calaloo is a very popular Jamaican green leaf vegetable that is typically cooked down and served along side a traditional Jamaican breakfast or used in a variety of ways. Why do I say Jamaican vegetable and not Caribbean? Simply because it is called different things and the callaloo here isn't the one in Trinidad and Tobago, for example. For a very easy comparison, it is referred to as water spinach outside of the Caribbean. Although we do import spinach, it's so nice to use callaloo in place of it since it's grown locally and as fresh as possible. Anything you'd use spinach for, you could use callaloo for; they as almost identical in looks. The callaloo you see me use here is already cooked down and seasoned, similar to sautee spinach in water or butter or heavy cream and seasoning it with salt and pepper.
Now, to the pizza.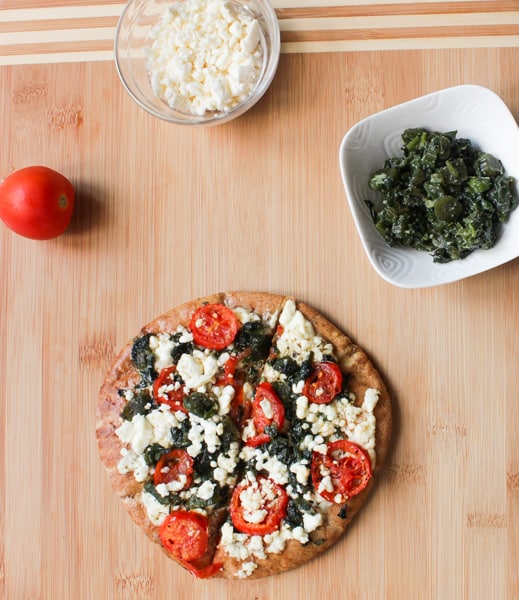 I've been on a feta obsession for a while. Earlier this month Mr. Jessiker Bakes and I went to a new Greek restaurant and for appetisers, he ordered baked feta cheese with toasted sesame seeds drizzled with honey; I ordered a Jamaican version of spanakopita (also had callaloo). Both had feta, and I wished that I had ordered 3 more spanakopitas. But when I tasted his baked feta…I was live with envy. Mine was delicious, but baked feta? How had I never thought of that? It was rich and delicious, with the honey being a delicious contrast. Since then, I've been on a feta binge. It wasn't an option to put it in this pizza; it was a must.
This pizza was very easy to make. Last year I posted a 10 minute pizza dough recipe that could easily be divided into mini pizzas, which is exactly what I did here. P.S. Always have pizza dough on hand; you'd be surprised how much more your pizza cravings will increase when you can make it so easily! I was feeling very greek and Jamaican (what a beautiful mix) and first baked the pizza crust, then laid it with olive oil that previously had sundried tomatoes in it. Now this sounds fancy but truth is any brushing of any olive oil will do. I was surprised at how easy it was to melt feta cheese which I used in place of tomato sauce, and then at the end since I'm obsessed I thought it would be a nice touch. The callaloo was an easy and delicious touch in place of traditional spinach and like I said, you could easily cook down spinach and use it in place. The tomatoes can be bought roasted or you can easily roast them at home (P.S. GREAT idea – it's essentially sundried tomatoes especially when steeped in olive oil for a day or two.
Now if you'll excuse me, my feta cheese is finished, and I need to load back up.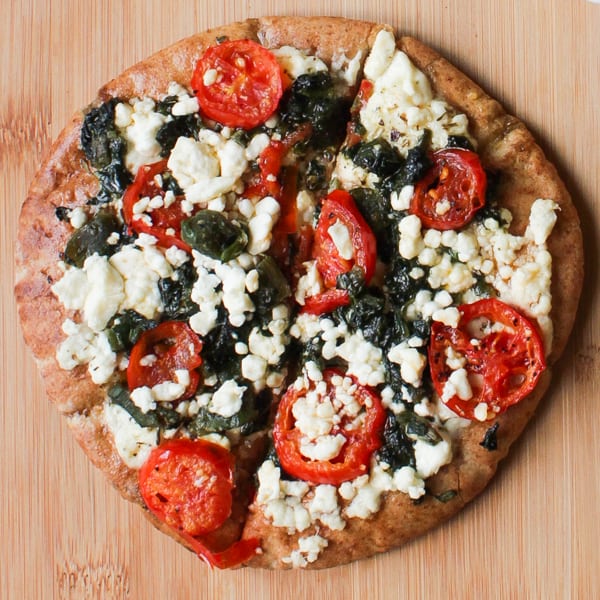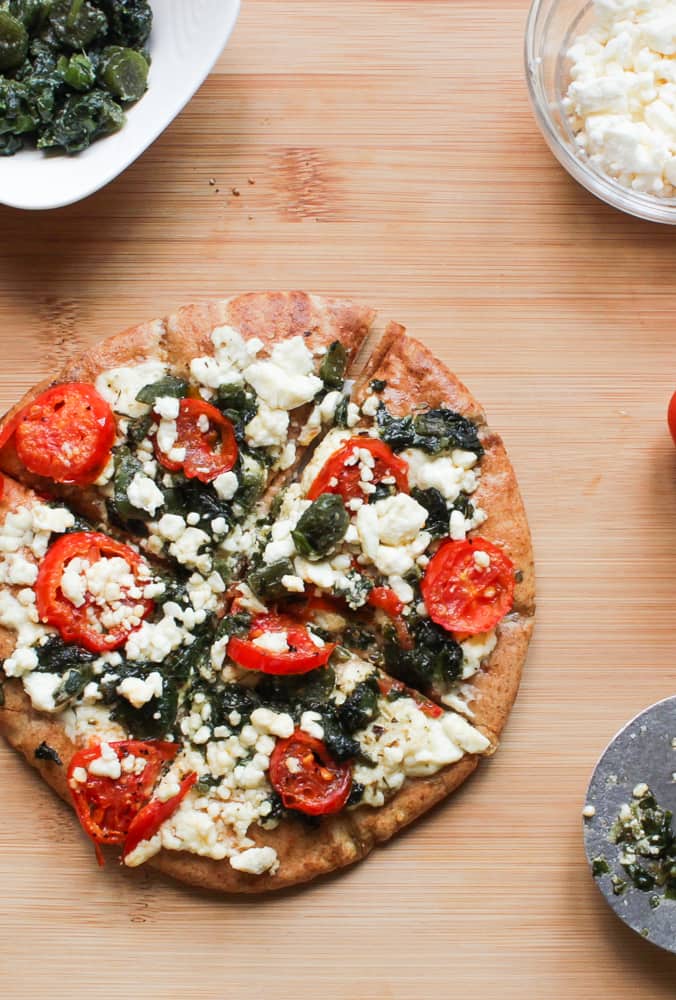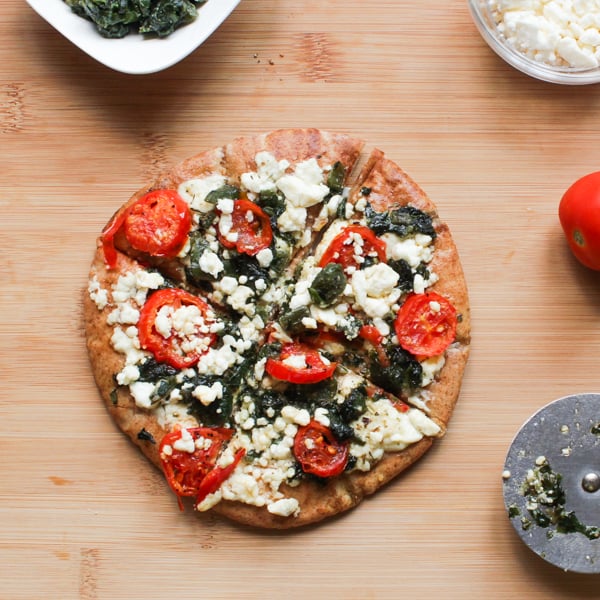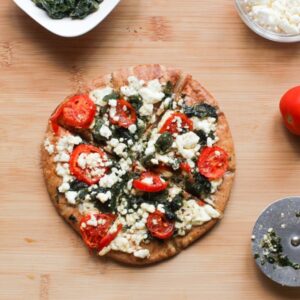 Callaloo, Feta and Roasted Tomatoes Pizza (For One)
calaloo is a very popular Jamaican green leaf vegetable that is typically cooked down and served along side a traditional Jamaican breakfast or used in a variety of ways. It's delicious!
Ingredients
DOUGH (for 4):
2 1/2 teaspoons rapid rise yeast, 1 packet
1 cup warm water
2 1/2 cups all purpose flour
2 teaspoons honey
1 teaspoon salt
2 tablespoons olive oil
Pizza (Makes one personal pizza):
¼ of the dough
1 teaspoon olive oil
1/4 cup cooked callaloo or spinach
1/2 cup feta cheese
1/2 teaspoon dried oregano
1/2 teaspoon basil
1/2 teaspoon parsley
Stove-Top Roasted Tomatoes:
5 Cherry tomatoes, to be roasted , sliced
½ teaspoon salt
1 teaspoon ground black pepper
2 teaspoons olive oil
Instructions
Pizza Dough
Pre-heat your oven to 400 degrees.

In a large bowl, combine water and yeast and stir until the yeast is dissolved.

Add in flour, honey, salt, and olive oil and use a wooden spoon to combine. Once the ingredients are well combined with the spoon, use your hands to knead the dough for a few minutes.

Form the dough into a ball, and let it rest for 10 minutes. Divide the dough into 4 equal pieces, sprinkle a little flour on your work surface and roll each piece of dough out so that it is very thin in the shape of a circle.

Bake 1/4 of the dough, to make one pizza, for 10 minutes.
Cooking Callaloo/Spinach
I used cooked callaloo, but you can easily cook raw spinach or callaloo via this link .
Stove-Top Roasted Tomatoes
Add 2 teaspoons of olive oil in a pan over medium high heat until hot.

Add the tomatoes and sprinkle salt and pepper over them for quickly seasoning.

The tomatoes will begin to crackle and reduce heat to medium heat until tomatoes break down slightly; about 5 minutes. Keep the remaining olive oil (to be drizzled over the pizza). Remove from heat.

Completing the Pizza
Cover the baked pizza crust with a teaspoon of the olive oil.

In a bowl, add 1/4 cup of feta cheese and microwave for 15 seconds. Spread the melted feta cheese on the pizza crust.

Arrange the callaloo and roasted tomatoes as you please. Sprinkle with remaining 1/4 cup of feta cheese and drizzle with the remaining olive oil from the stove top roasting.

Bake for 5 more minutes in the oven.

Remove and enjoy!
Calories: 1441kcal, Carbohydrates: 176g, Protein: 46g, Fat: 64g, Saturated Fat: 20g, Cholesterol: 67mg, Sodium: 4897mg, Potassium: 694mg, Fiber: 14g, Sugar: 19g, Vitamin A: 1435IU, Vitamin C: 21mg, Calcium: 494mg, Iron: 11mg
Disclaimer: Although jessicainthekitchen.com attempts to provide accurate nutritional information, kindly note that these are only estimates. Nutritional information may be affected based on the product type, the brand that was purchased, and in other unforeseeable ways. Jessicainthekitchen.com will not be held liable for any loss or damage resulting for your reliance on nutritional information. If you need to follow a specific caloric regimen, please consult your doctor first.