Red Velvet Cake Cheesecake
This Red Velvet Cake Cheesecake is a thick, delicious and decadent cheesecake layered between layers of Red Velvet Cake and covered in cream cheese frosting. It's the ultimate comfort cake and is a family favourite!
There are some mornings where I sleep in until 11 am.
At the sense of sunlight, the comforter is drawn over my eyes.
But then there are those mornings where, it seems the day is too precious to waste. I awake before sunrise, stretch, day dream for a bit, watch the sunrise and make my plan for the day. The world really is the most beautiful at that time. When they aren't noisy dogs barking nearby, no loud music from parties, in fact no movement around you; just you, the sunrise, and the chill of a new day. All I need is a sweater, a fresh, open mind, and a pen and paper – I sit on the roof and watch the sunrise, and write anything that comes to my mind.

In short, I like to cease the day.


Then, after a long day, nothing is more rewarding than a slice of Red Velvet Cake Cheesecake. When I saw a similar version on the Cheesecake Factory site I nearly flipped out. You've seen me tweet and facebook about it…


This is truly a dream come true. 
Literally; I dreamt about this cake.
Should I be embarassed by that?
Cause I'm not.




I love love love cheesecake. Then there's red velvet cake – not only do I enjoy it so much that I don't mind red dye all over my hands, I pride myself on the fact that its Jessiker Bakes' most sold item. Combined? Wow.


Oh my…who thought of this? Oh yeah, the Cheesecake Factory. Thank you SO much. 



Best of all, this cheesecake fits right into my "Happy Gingerbread Man Month" blog posts. Red and white…how much closer could I have gotten to the theme of Christmas? Christmas posts all month long, and I wanted to save this until closer to Christmas, but it seemed cruel to deprive you of this gem. I used my cheesecake recipe, the red velvet recipe I always use which is the original Waldorf Astoria Cake recipe with a few changes from Pinch My Salt, and then I made a change after that. 


This cake is truly the best excuse ever for anything.
"I didn't study because I was eating Red Velvet Cake Cheesecake."
The name alone is a mouthful!…*insert lame pun here*


Enjoy 😉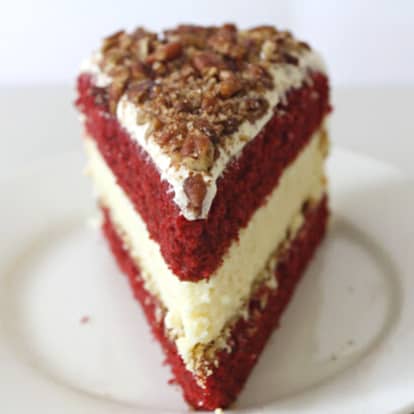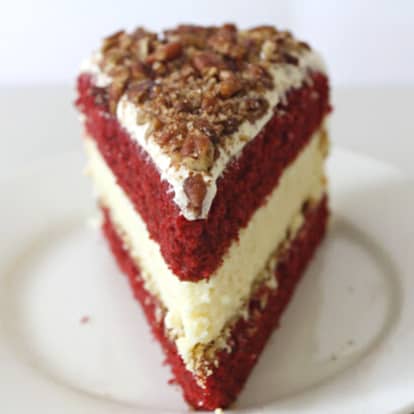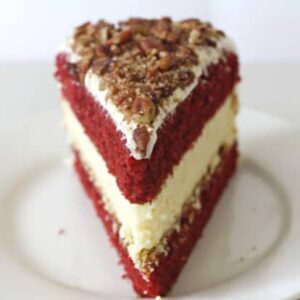 Red Velvet Cake Cheesecake
This Red Velvet Cake Cheesecake is a thick, delicious and decadent cheesecake layered between layers of Red Velvet Cake and covered in cream cheese frosting. It's the ultimate comfort cake and is a family favourite!
Ingredients
Crust:
8 oz. Graham Crackers, 1 pack inside of the box
2 tablespoons sugar
3 tablespoons unsalted butter, melted
Cheesecake Filling:
1 1/4 cups sugar, 8 3/4 oz.
1 1/2 pounds packages cream cheese, cut into chunks, at room temperature, 3 8-oz.
4 large eggs, at room temperature
1 teaspoon lemon juice
2 teaspoons vanilla extract
1/4 teaspoon salt
1/2 cup heavy cream
Red Velvet Cake:
2 1/2 cups pastry flour
1 1/2 cups sugar
1 teaspoon baking powder
1 teaspoon salt
2 Tablespoons cocoa powder, unsweetened
1 bottle red food colouring, 2 oz.
1/2 cup oil, coconut, canola or vegetable
2 eggs, at room temperature
2 teaspoons vanilla extract
1 cup buttermilk
1 teaspoon white vinegar
1 teaspoon baking soda
Cream Cheese Frosting:
16 oz. cream cheese, softened
1 teaspoon vanilla extract
1/2 cup unsalted butter, softened
3 cups powdered sugar, sifted
1/4 teaspoon salt
Instructions
For the crust:
Adjust an oven rack to the lower-middle position and preheat the oven to 350 degrees Fahrenheit.


In a food processor, process the graham crackers and the sugar until you have fine crumbs, about 1 cup. Add the butter while pulsing, bit by bit, for about 10 1-second pulses.



Transfer the crumb mixture to a sprayed/ buttered and floured 9-inch springform pan and press evenly into the bottom. Bake until fragrant and golden brown for 10 minutes. Cool on a wire rack to room temperature.
For the Cheesecake filling:
Change the temperature to 325 degrees Fahrenheit.

In a bow of a stand mixer, beat the cream cheese to break it up and soften it slightly, about 10 seconds. With the machine is running, add the sugar mixture in a slow stream; increase the speed to medium and beat until combined, creamy and smooth – about 3 minutes. Scrape down the sides of the bowl as needed.

Reduce the speed to medium low and add the eggs, 2 at a time. Beat until incorporated, about 30 seconds. Scrape the bowl before each addition.

Add the lemon juice, vanilla and salt and mix to combine.

Add the heavy cream and mix until incorporated, about another 5 seconds.

Give the bowl a final scrape and pour the mixture into the prepared springform pan. Add a roasting pan in the oven, in the shelf above. Fill the roasting pan with enough water to fill it halfway.

Bake until the center jiggles slightly, the sides start to puff, and the surface is no longer shiny, about 55 to 60 minutes. Turn off the oven and prop the door of the oven open with a potholder or wooden spoon. Allow the cake to cool in the in the oven for about an hour.

Transfer the springform pan to a wire rack and run a small paring knife around the edges of the pan to loosen the cake. Let it sit to room temperature for 2 hours. Place the cheesecake in the fridge to set for at least 6 hours.
Red Velvet Cake
Preheat oven to 350 degrees. Butter and flour two 9-inch round cake pans.


Mix the flour, baking powder, and salt into a medium bowl; set aside.

In a small bowl, mix food coloring and cocoa powder to form a paste without lumps; set aside.


In a large bowl, using a hand mixer or stand mixer, beat oil and sugar together until light and fluffy, about three minutes.


Add eggs one at a time.


Add the vanilla and cocoa mixture. Remember to scrape down the sides of the bowl.

Add the flour and buttermilk interchangeably, ensuring to end with the flour. I do mine in thirds.


In a small bowl, mix vinegar and baking soda. Yes, it will fizz! Add it to the cake batter and stir well to combine. Working quickly, divide batter evenly between the cake pans and place them in a preheated 350 degree oven. Bake for 25-30 minutes. Check early, cake is done when a toothpick inserted in the center comes out clean.


Cool the cakes in their pans on a wire rack for 10 minutes. To remove the cakes from the pan, place a wire rack on top of the cake pan and invert, then gently lift the pan. Allow cakes to cool completely before frosting.
Cream Cheese Frosting
With an electric mixer, blend together cream cheese and butter until smooth. Turn mixer to low speed and blend in powdered sugar, salt and vanilla extract. Turn mixer on high and beat until light and fluffy. Use immediately or refrigerate, covered, until ready to use. If refrigerated, the frosting will need to be brought to room temperature before using (after frosting softens up, beat with mixer until smooth).
To assemble:
Freeze the cheesecake for at least 3 hours so that it's firm enough to place on top of the first layer of red velvet cake.

Place first layer of red velvet (leveled) down, and then place the cheesecake on top of it. Mine was a little bit wider, so I carefully and patiently cut around it to even it out. Find a, erm, useful purpose for the scraps of cheesecake.


Place the next layer on top (Note - if you want to frost the insides as well, go ahead. But I thought it would've been way too rich so I opted out).


Refrigerate the cake for about 30 minutes to 1 hour.


Apply a base coat of frosting around the cake (red velvet cake can be very hard to frost because you may keep ending up with little red flecks of cake). Refrigerate for about 30 minutes to set the base coat.


Finish frosting, and refrigerate a bit more to let the frosting set.


Enjoy and send me pictures!
Calories: 492kcal, Carbohydrates: 56g, Protein: 7g, Fat: 29g, Saturated Fat: 14g, Cholesterol: 110mg, Sodium: 434mg, Potassium: 167mg, Fiber: 2g, Sugar: 41g, Vitamin A: 907IU, Vitamin C: 1mg, Calcium: 87mg, Iron: 1mg
Disclaimer: Although jessicainthekitchen.com attempts to provide accurate nutritional information, kindly note that these are only estimates. Nutritional information may be affected based on the product type, the brand that was purchased, and in other unforeseeable ways. Jessicainthekitchen.com will not be held liable for any loss or damage resulting for your reliance on nutritional information. If you need to follow a specific caloric regimen, please consult your doctor first.