Quinoa and Black Bean Burrito Bowl
This Quinoa and Black Bean Burrito Bowl is such a quick and easy meal that is deliciously nutritious, filling and topped with a creamy chipotle dressing!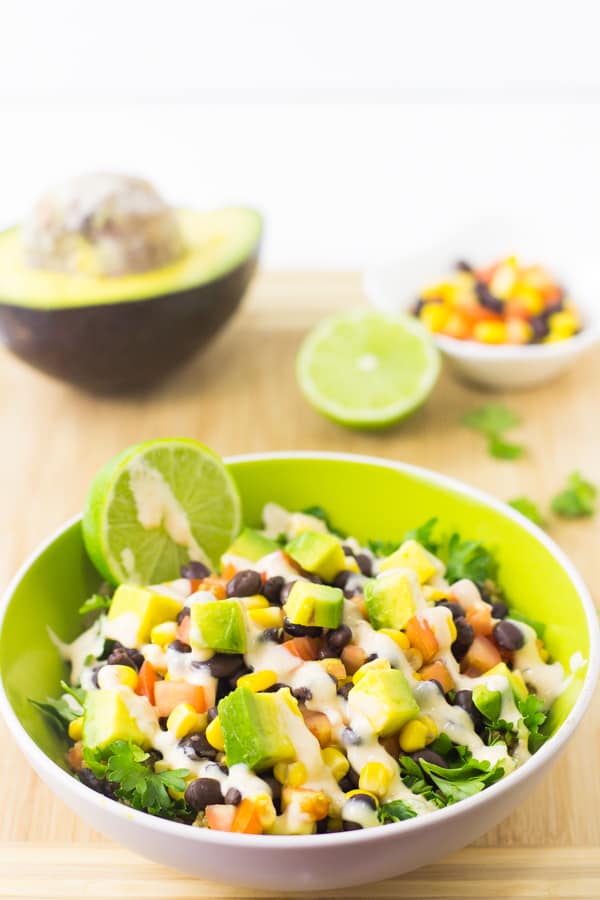 I've spent the entire weekend lamenting on the fact that I avoided black beans for two (TWO) decades of my life and NOW I CAN'T GET ENOUGH OF THEM. Why oh why did I take so long to realise they are amazing gems? If you were at my house this weekend you'd be in for quite the Mexican buffet since I pretty much made all the things black bean and Mexican. I've been waiting to share this burrito bowl with you because it is AMAZING.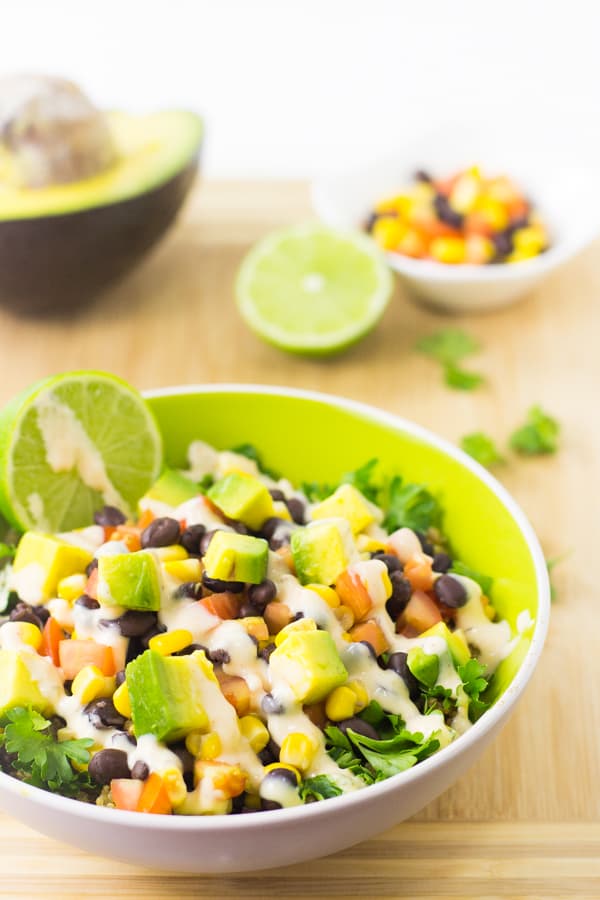 I know it's custom to make New Year's resolutions, and while I didn't make any written resolutions I have decided to in 2015 I'll be happier. I know it sounds cliche, but I'm completely committed to doing things that make me happy this year, including (watch how I connect this) eating more Mexican food.
I'm actually very serious.
I've always been into bowl meals, but burrito bowls take it to another level. This Quinoa and Black Bean Burrito Bowl is loaded with all the layers you'd expect in your burrito – beans, tomatoes/salsa, corn, cilantro and avocado and I swapped out the rice for quinoa. Why? Because I'm kind of obsessed with quinoa: see HERE, HERE, HERE and HERE.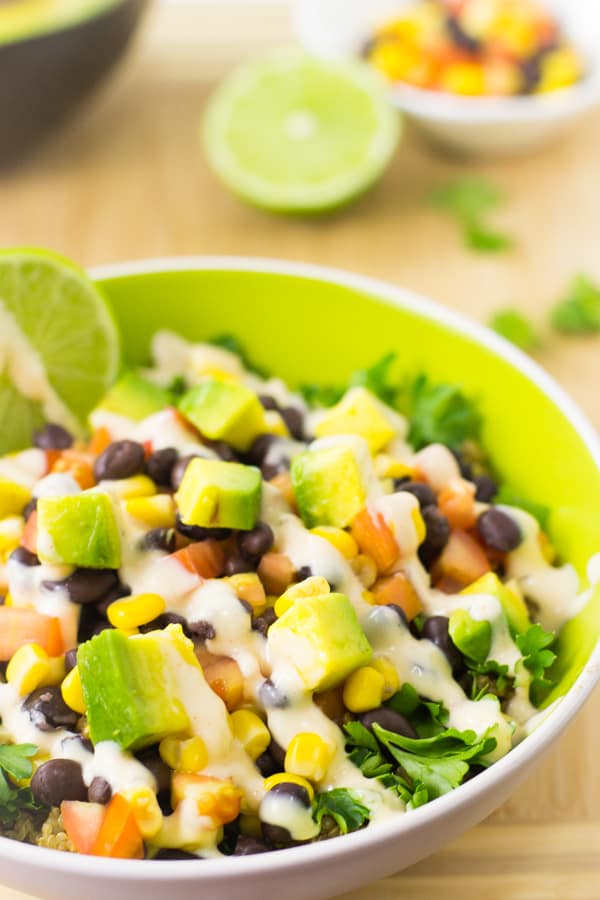 The quinoa itself is amazing. Mixed with very Mexican seasonings, I could eat it alone, but then becomes the ultimate bowl meal by all of the layers on top of it. Then on top of all of that I added a chipotle dressing which seriously, makes this the BEST Quinoa and Black Bean Burrito Bowl. Yup I went there – and I'm not even afraid to say that since it was proven by how quickly I shovelled this down. That good.
My favorite thing about this quick and easy burrito bowl is that you can customise it just like you'd customise your burrito – I've already planned that next time I'll make the avocado into guacamole and add it on top and layer the elements side by side like I did in this Tropical Quinoa Bowl – just because. See? Making progressive future plans for 2015 already.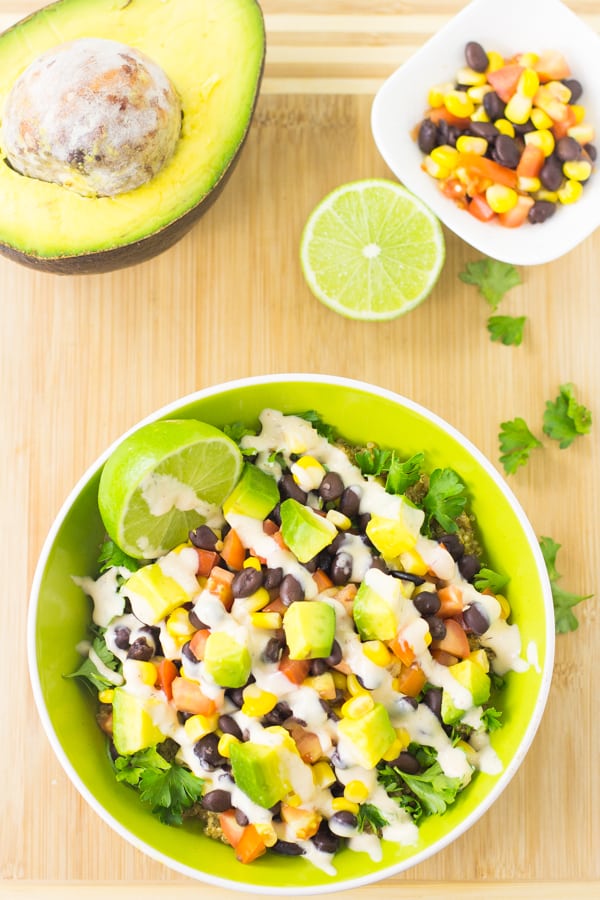 Even more reasons I love this bowl? It's ALL HEALTHY. Isn't that amazing? I love healthy food that's also delicious and nutritious but tastes like comfort food. This bowl is low carb, loaded with tons of protein from both the quinoa and the black beans, healthy fats from the avocado, and all the other ingredients add a ton of benefits inclusive of Vitamin C, Vitamin A and Vitamin K. It's also completely gluten free.
The Mr. and I actually shared this bowl and we were both full but we did add extra quinoa to our own personal bowl – which again points to how much you customise this recipe. I squeezed half a lime over the top because I love lime and the acidity it adds, so if you want to that's always a great option too. If you try this let me know!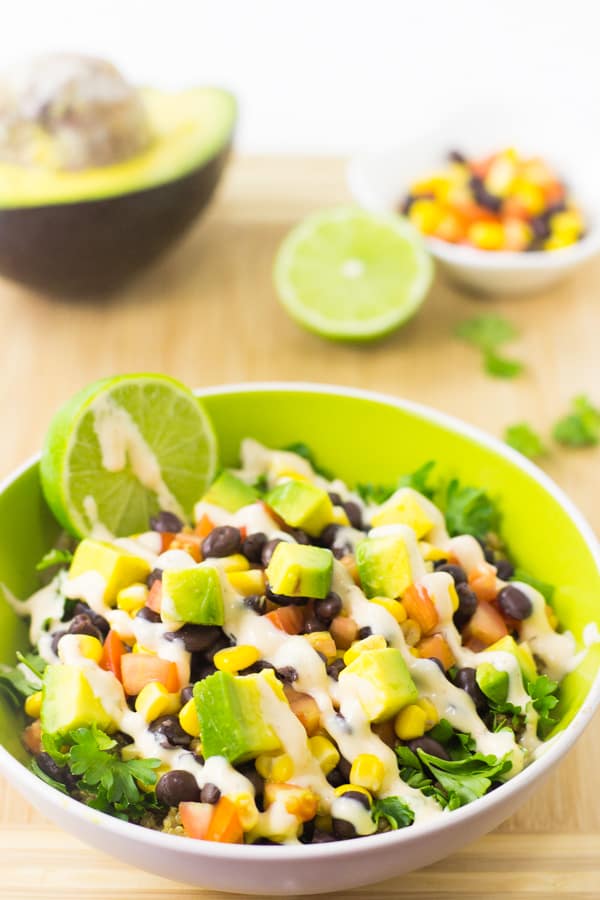 Check out more of my favorite bowl foods:
Tropical Quinoa Salad Bowl with Spicy BBQ Chickpeas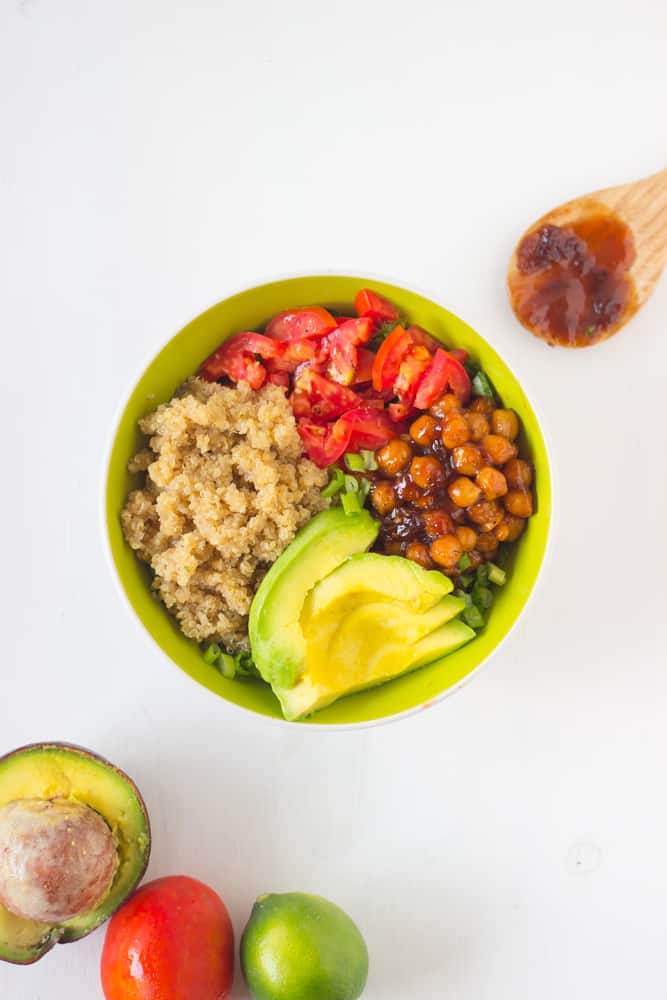 Crunchy Kale & Chickpea Salad with Lemon Poppyseed Dressing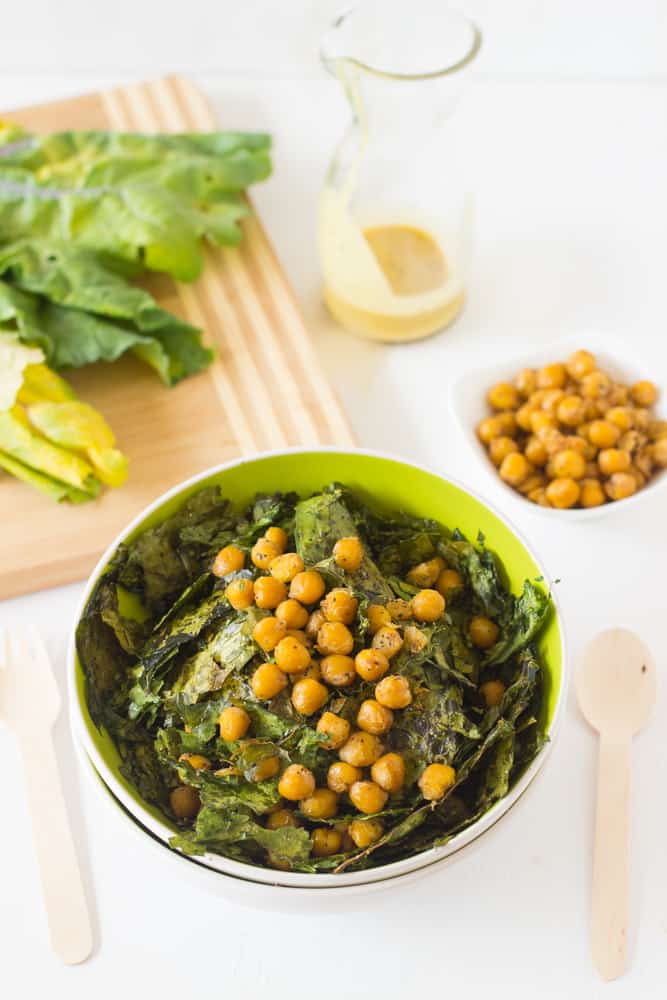 More Black Bean Recipes: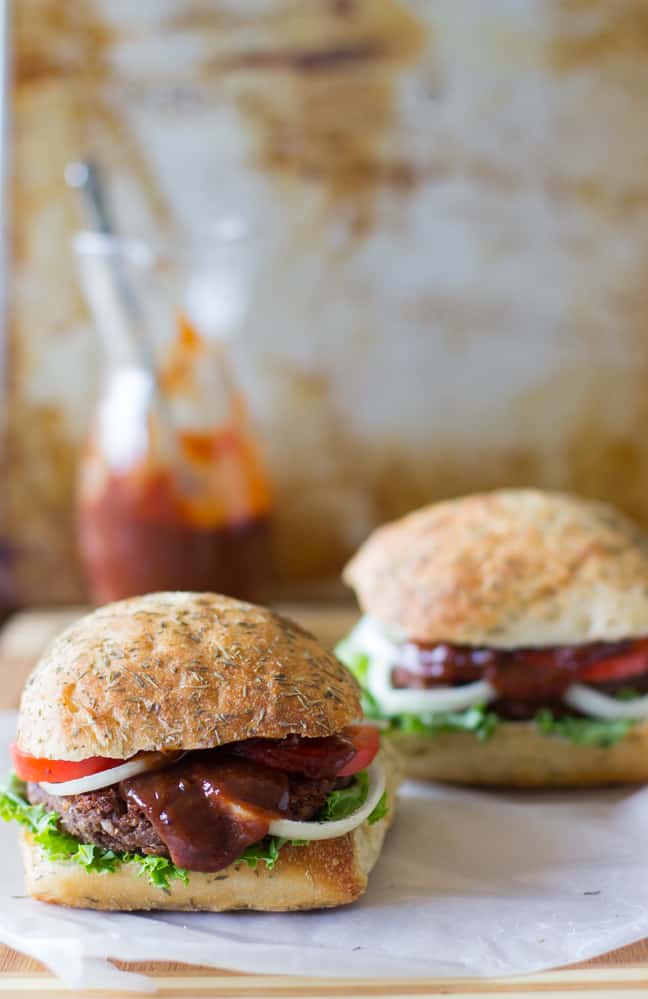 Vegan Crockpot Quinoa and Black Bean Chili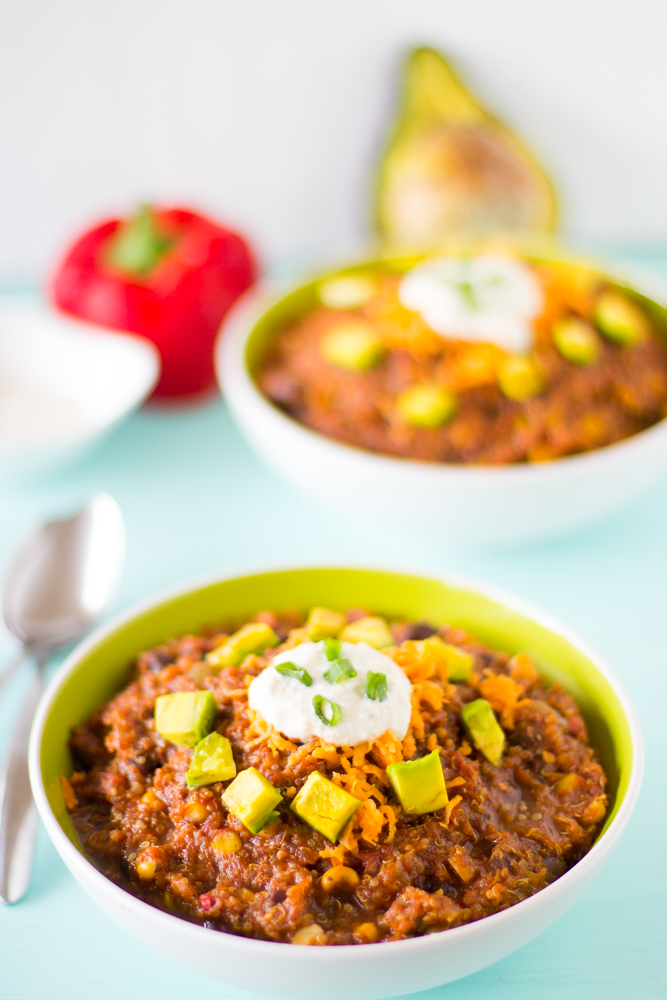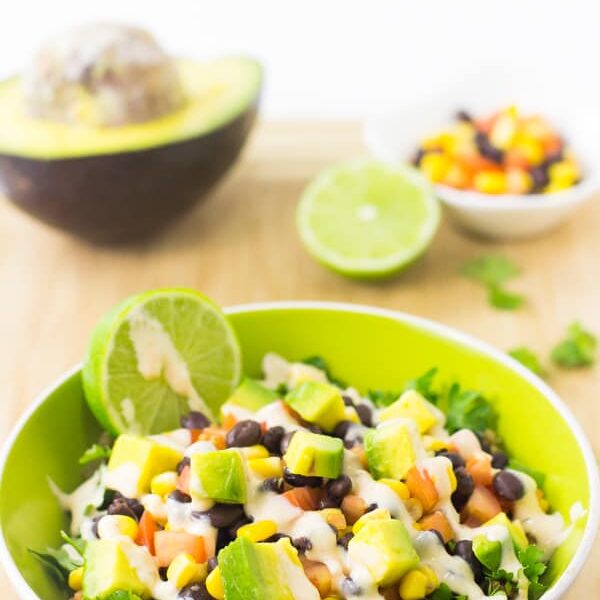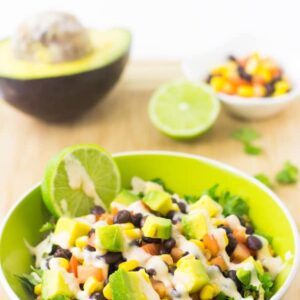 Quinoa and Black Bean Burrito Bowl
This Quinoa and Black Bean Burrito Bowl is such a quick and easy meal that is deliciously nutritious, filling and topped with a creamy chipotle dressing! 
Ingredients
3 cups cooked quinoa
1/2 onion, diced
1/2 teaspoon chili powder
1/4 teaspoon oregano
1 teaspoon cumin
1/2 teaspoon salt
1/2 teaspoon ground black pepper
1 cup diced avocado
1 cup cilantro
1 cup black beans
1 cup corn
1 cup diced tomatoes
PER BOWL::
3/4 cup quinoa mix
3 tablespoons diced avocado
1/4 cup cilantro
1/4 cup black beans
1/4 cup corn
1/4 cup diced tomatoes
Instructions
In a pan over medium heat, add 1 tablespoon olive oil and heat. Add the onions and cook until translucent (alternatively, add the onions to the quinoa while the quinoa is cooking) for about 3-5 minutes.

Add to pan the quinoa, chili powder, oregano, cumin, salt and ground black pepper and mix all together. Remove from heat.
ASSEMBLE THE BOWLS:
Add the ingredients in layers as per "Per Bowl" suggestion or add to suit your own preference. I like to mix the black beans, corn and diced tomatoes together first, then into my bowl. Top with your favourite chipotle dressing and enjoy!
Notes
This Quinoa and Black Bean Burrito Bowl such a quick and easy meal that is deliciously nutritious, filling and topped with a creamy chipotle dressing!
Calories: 502kcal, Carbohydrates: 82g, Protein: 19g, Fat: 13g, Saturated Fat: 2g, Sodium: 322mg, Potassium: 1143mg, Fiber: 16g, Sugar: 6g, Vitamin A: 698IU, Vitamin C: 17mg, Calcium: 91mg, Iron: 6mg
Disclaimer: Although jessicainthekitchen.com attempts to provide accurate nutritional information, kindly note that these are only estimates. Nutritional information may be affected based on the product type, the brand that was purchased, and in other unforeseeable ways. Jessicainthekitchen.com will not be held liable for any loss or damage resulting for your reliance on nutritional information. If you need to follow a specific caloric regimen, please consult your doctor first.