Q&A: Cognitive Function Foods aka Brain Boosting Foods
Happy Friday, friends! Today I want to try something different. There are a lot of questions that I get via email from you my readers, and I wanted to share one of them today. Often times the answers can help everyone, so why not? If this is something you want to see more of, or you want your questions answered publicly, let me know!
One thing I get asked a lot especially around this time of the year, is what can we eat to help with our brain health? I wrote a post about boosting brain health last year, so think of this as part two!

QUESTION
Hi Jessica, one of my goals for this year is to eat more intentionally, and to eat foods that I know are nourishing me. Such as my brain. What can/should I be eating that can help with the way my brain functions? Thank you so much!
ANSWER
Okay, this is a great question. One thing I really love is eating intentionally. It's one of the reasons that I love golden milk so much, since every single ingredient is having a positive effect on my body. For me, the meal/drink tastes way better when I know all the good it's doing to my body.
First of, what you're referring to are known as cognitive function foods. Cognitive function foods, or as I like to call it, brain boosting foods, are great for helping to boost your focus, memory and your mood and overall promoting healthy cognitive function. I think it's important for us all to know what foods make a direct impact on this by doing a little of our own research on it, but for now knowing what foods can help are just as important too. These are all things that you can slowly incorporate into your breakfasts, or smoothies/shakes, and other meals. You can also snack on a lot of them! Even though you won't have them and immediately feel your brain growing, you will notice that you'll be feeling clearer, brighter and in a better mood. For me, this happens when I have matcha latte, which is a whole other lovely story.
These are my top 10 favourite foods:
Dark chocolate/Cocoa powder
Yum! I put this first because, chocolate is actually really good for you! Also, I don't mean the one where lots of sugar and additives have been added, but good ole raw, dark chocolate/cocoa or cacao powder. I like to use cocoa powder in my oatmeal and my smoothies for its rich anti-oxidants which help to improve memory. This is a great high quality dark chocolate bar as a snack. My favourite cocoa powder is Jamaican cocoa powder, which is raw, but I also love Navitas Organic Cacao Powder.
Recipes: Chocolate Peanut Butter Blender Pancakes & No Bake Chocolate Avocado Pudding
Flaxseeds for Omega-3s
Just 2 tablespoons of flaxseeds provides your daily ALA intake, and omega-3s are great for heart-healthy effects such as helping with high cholesterol, heart disease and high blood pressure. Plus they help to keep you full. I like to sprinkle flaxseeds over cereals, in smoothies, into my oatmeal and over whole grain cereals.
Recipes: How to Make a Flax Egg
Nuts and seeds
If you aren't already, it's time to start incorporating nuts and seeds into your breakfasts! Walnuts are loaded with omega-3s, and are definitely the top nut choice for brain health. Almonds and hazelnuts are loaded in vitamin E which is typically associated with less cognitive decline as you get older. I love incorporating nuts in my oatmeal (oatmeal sounds like a superfood right now, right?!), in smoothies for body and texture or just on the side.
Recipes: Vegan Asian Lettuce Wraps & Banana Oatmeal Breakfast Cookies
Dark, leafy vegetables (such as spinach and kale).
I LOVE dark, leafy vegetables!! These veggies help with memory and with preventing dementia. They also help to provide iron which helps to improve memory and focus. I love incorporating these into savoury breakfasts! If you're making eggs in the morning, you can saute them and add them to your dish, or add them to a baked egg muffin, quiche, or freezer friendly breakfast burritos. You can also add them to your smoothies!!
Recipes: Healthy Kale Cabbage Slaw & Tropical Green Smoothie
Turmeric
Turmeric, which contains curcumin, is one of the most powerful antioxidants available, and so easily incorporated into your breakfast! You can add it to your eggs (my favourite way), into smoothies or make turmeric milk to go with your breakfast.
Recipes: Pumpkin Spice Golden Milk & Turmeric Mango Smoothie
Beans
Beans add a healthy dose of glucose to your brain so they help to keep you energised. Plus they're very filling. You can add beans to a breakfast scramble or breakfast burritos.
Recipes: Protein Breakfast Bowl & Black Bean and Quinoa Burgers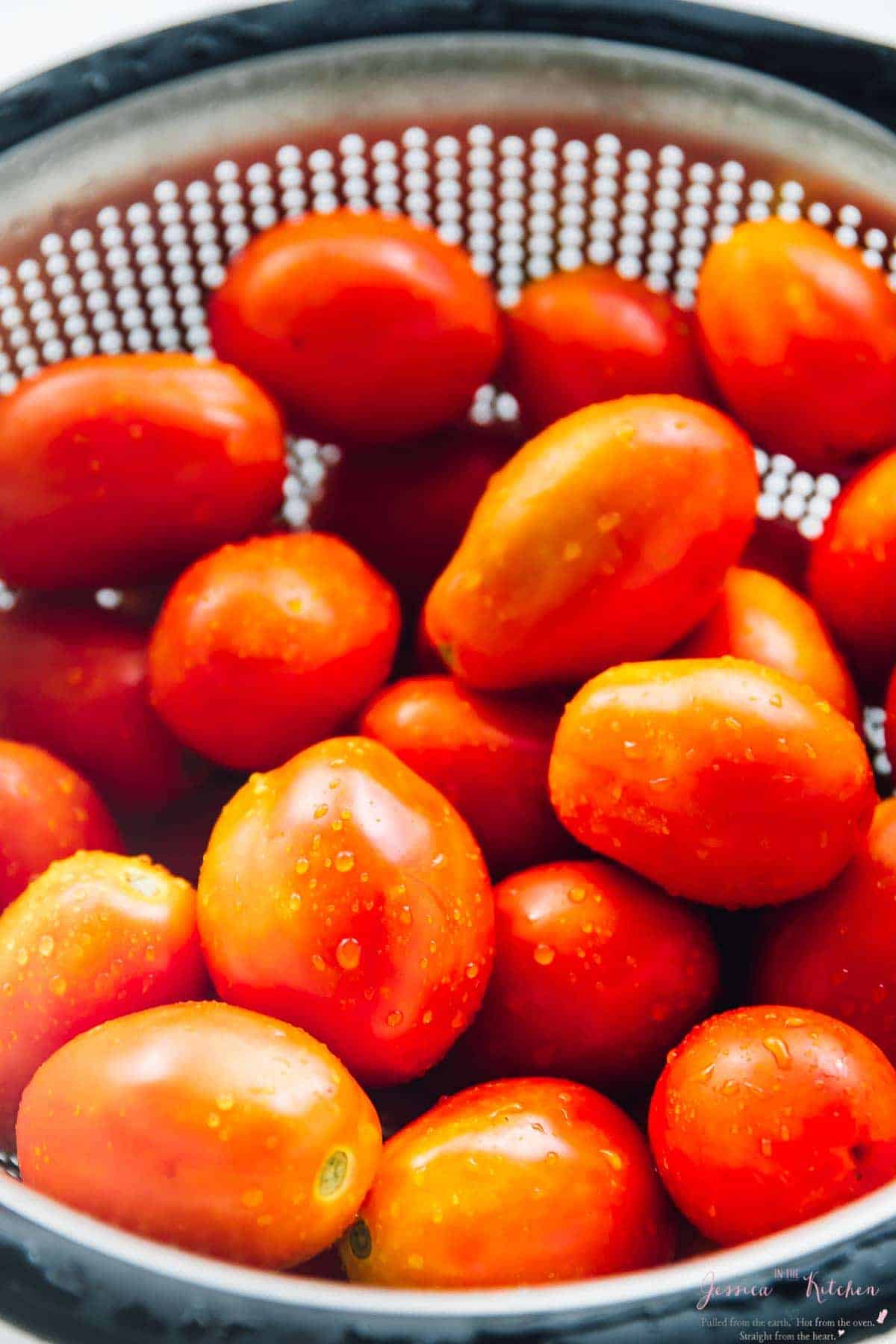 Tomatoes
I literally snack on tomatoes. Tomatoes contain carotenoids (lycopene and beta-carotene), which help to protect the fat in your body, which by the way is great because your brain is mostly made up of fat. They also work to eliminate free radicals, protect against inflammation and help prevent heart disease. Tomatoes are one of my favourite foods to eat, and I love having them in breakfast burritos, omelettes, quiches or sautéed in some coconut oil with some sautéed kale, spinach and an egg on top.
Recipes: Homemade Roasted Garlic Sauce & Loaded Taco Salad Bowl with Lime Crema
Avocado
Avocados are SO good for you! They contain amazing monounsaturated fat which is directly linked to improving your overall mood and reducing the risk of depression. I love avocado toast, or having avocado with eggs for breakfast. They're also great as a creamy factor in your smoothies!
Recipes: No Bake Chocolate Avocado Pudding & Creamy Vegan Avocado Dressing
Coconut Oil
There's a reason coconut oil gets a whole lot of love other than it's fragrant smell – its great as a brain boosting healthy fat. When I say coconut oil by the way, I mean the unrefined version. The MCTs found in coconut oil help to improve your mood, balance hormone levels and help you to think more clearly. I love using coconut oil to cook with.
Recipe: How to Make Coconut Butter
Eggs (in specific, egg yolks)
Egg yolks are rich in choline, which actually help to maintain the structure of of brain cell membranes. If you need to meal prep your eggs ahead of time, making boiled eggs are a great way to eat your eggs in the morning. If you're vegan, peanuts are also high in choline!
Recipes: Protein Breakfast Bowl & Sriracha Poached Eggs and Avocado Smash Toast
I hope this post has helped you! What are going to start incorporating now/more of?