How to Make Homemade Marinara Sauce
Homemade marinara sauce is a cinch to make and it'll save you money, too. Of course, the best reason to make your own marinara is that it tastes so much better than store-bought!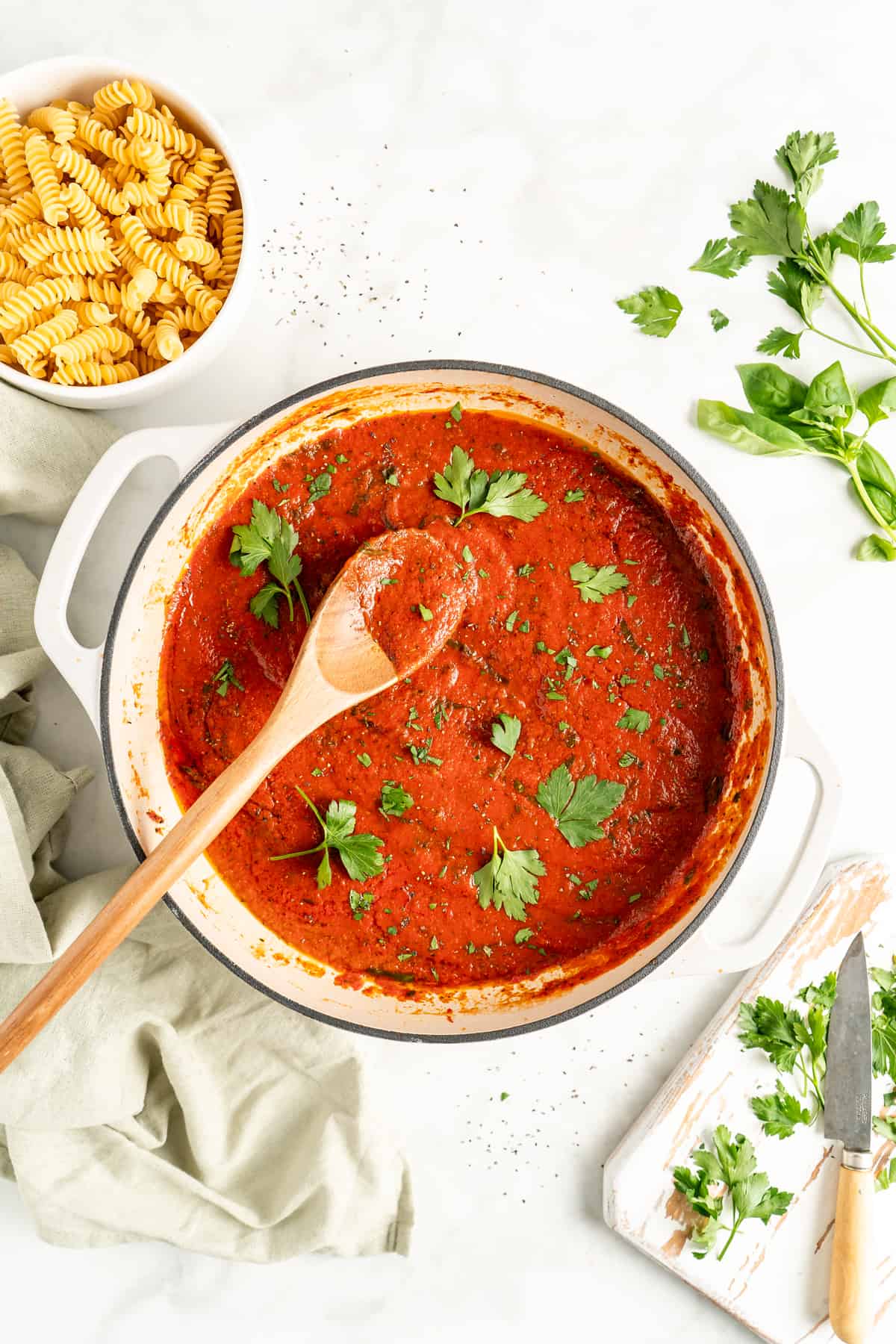 When I say that this marinara sauce is easy to make, I mean it! If you've made pasta sauce at home in the past, you probably remember the hassle of peeling and chopping pounds and pounds of tomatoes, and then all the time you had to spend standing at the stovetop while it cooked. This homemade marinara sauce is different—there's no peeling and chopping, and the whole recipe comes together in a matter of minutes!
The seasonings in this sauce are the perfect complement to the tomato, and like all marinara sauces, this recipe is ideal for pairing with pizzas, pastas, and sandwiches. It packs in all the flavor you want in a classic marinara, without adding so much flavor that it detracts from the dishes you add it to. Basically, it's the perfect supporting player for so many recipes! It also freezes beautifully so you can keep it on hand for whenever you need it.
Here are some recipes where you can put this marinara to use!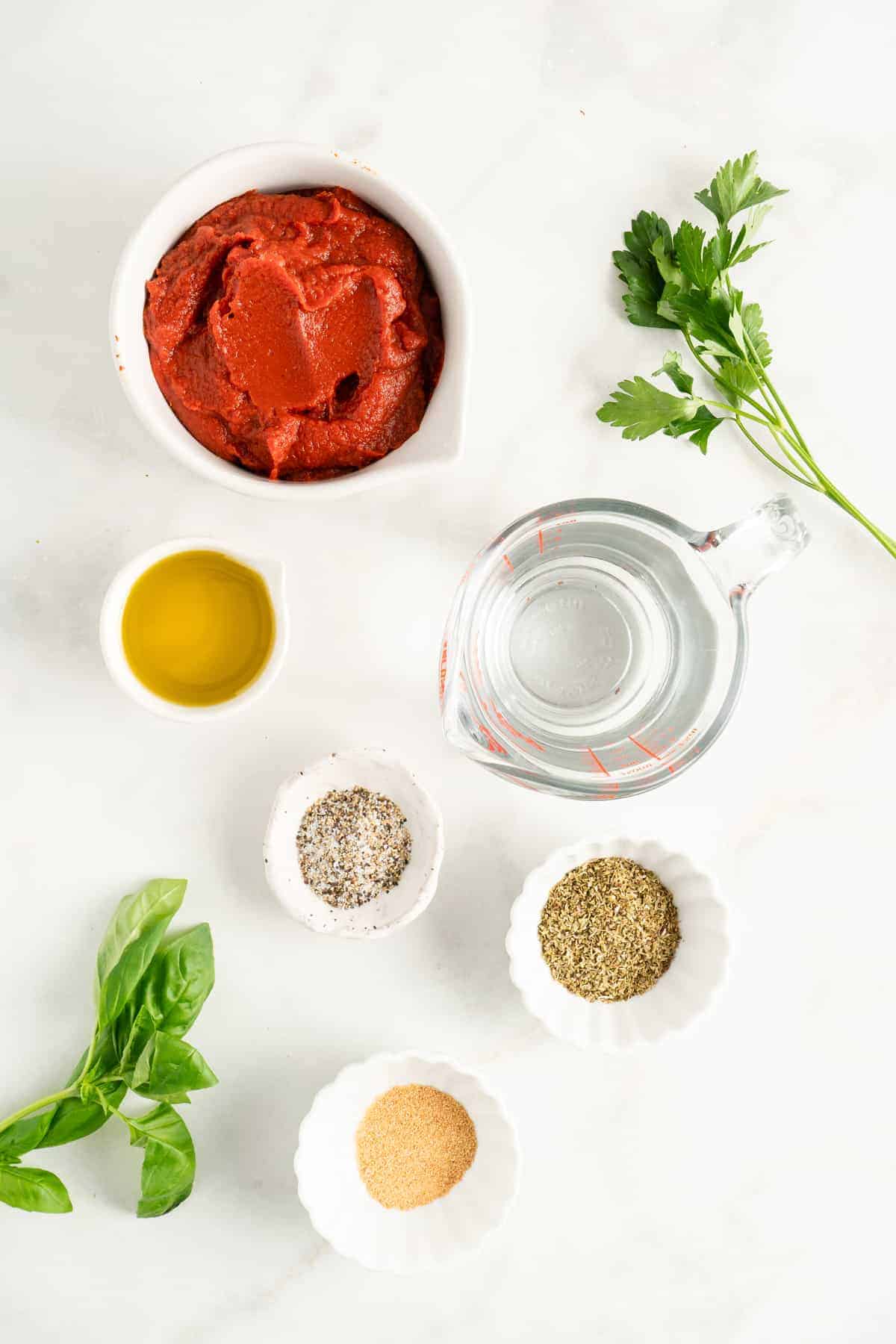 Notes on Ingredients
Please note that this is important information on the ingredients and instructions and the FULL recipe with amounts and details can be found DOWN BELOW (scroll to it) in the recipe card.
Tomato paste – You know how so many recipes only call for a tablespoon of tomato paste and then you have a whole can left over? This recipe is perfect for using those extras.
Water
Olive oil
Oregano
Fresh basil – You can use dried basil instead, but you'll need to use about a third of the amount.
Fresh parsley – For the parsley, stick with fresh. Dried parsley doesn't have much flavor.
Salt
Garlic powder – You can use minced fresh garlic if you prefer.
Pepper
How to Make Homemade Marinara Sauce
So how easy is it to make this recipe? I think the time you spend making your own marinara is about the same amount of time it takes to open up a jar of store-bought sauce and warm it on the stovetop!
Start the tomato base. Heat a medium saucepan over medium-high heat. Add the tomato paste, water, and olive oil and stir to combine. Bring to a boil for about a minute, then season with salt and pepper to taste.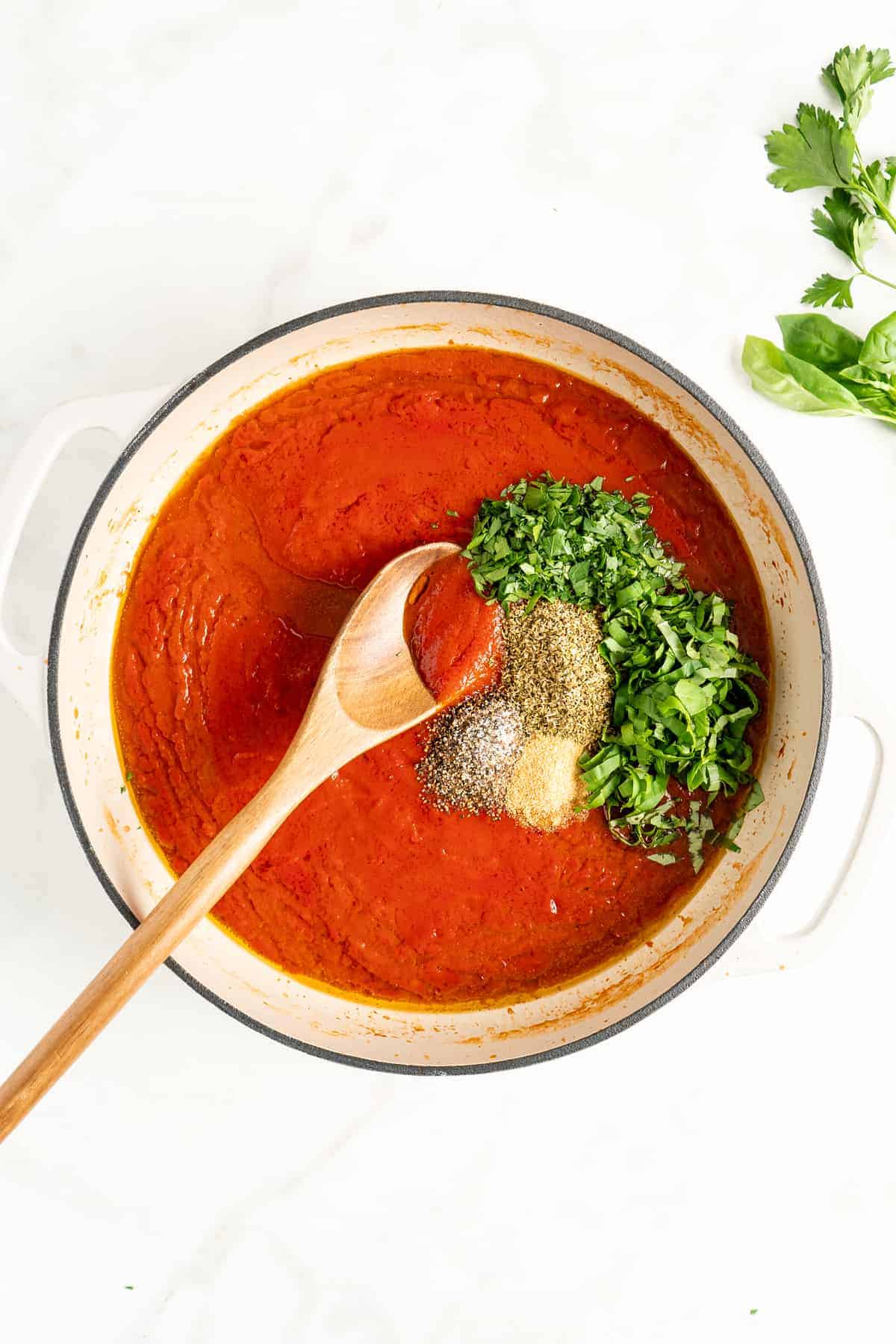 Add the seasonings. Stir in the rest of the ingredients, setting aside some of the parsley for garnish. Reduce the heat to low and cover; simmer for 5 to 8 minutes.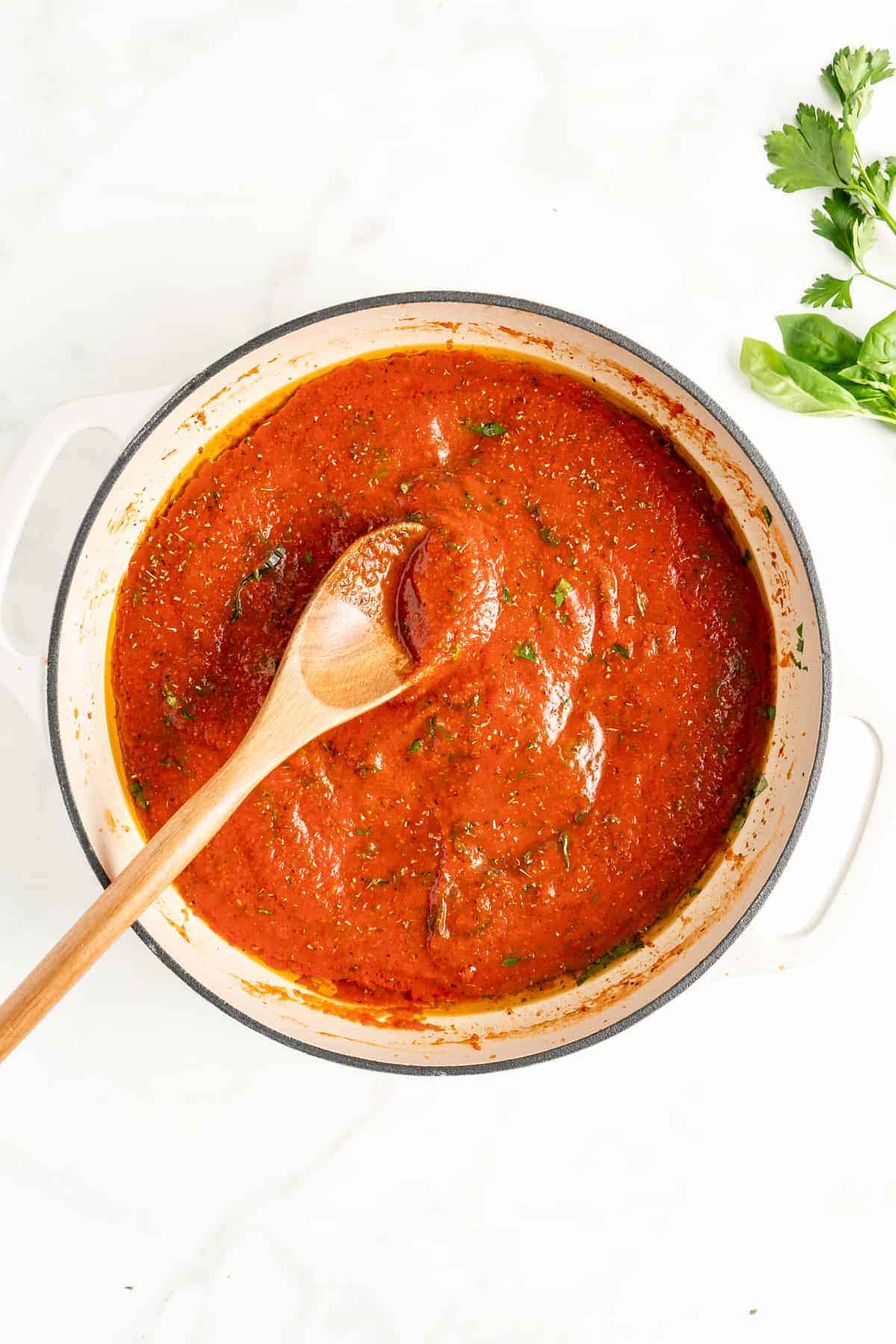 Finish. Add more water by the tablespoon if you'd like a thinner sauce, then garnish with the parsley.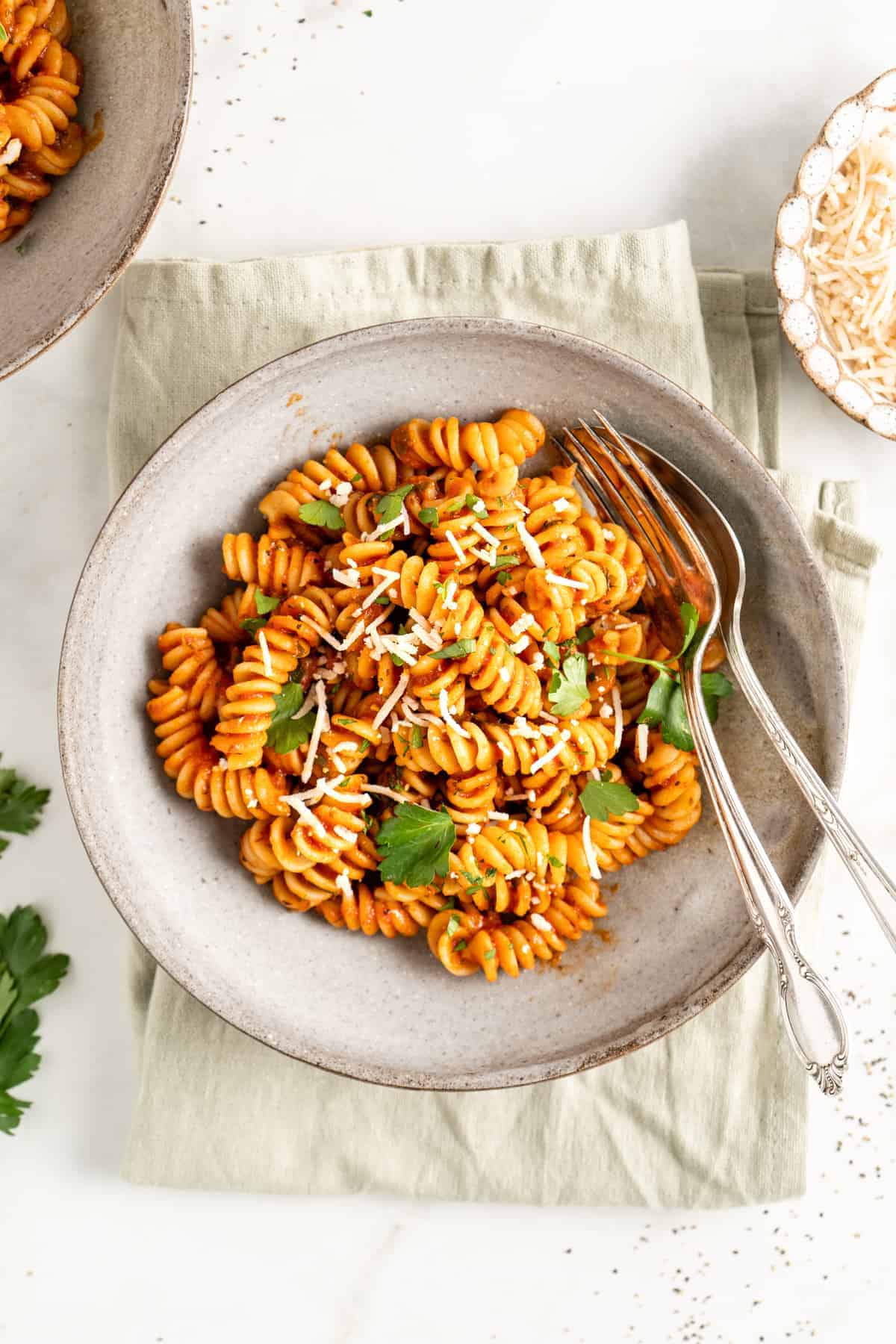 Tips for Success
This recipe is pretty straightforward, but these tips will help make sure it turns out perfect!
Use a high-quality tomato paste. Since you're using paste instead of tomatoes, you want to make sure you buy the best tomato paste you can find. (Tubes of tomato paste are generally more flavorful than canned, although they're not sold everywhere.)
Make sure you use a stainless steel or other non-reactive saucepan. Aluminum, cast iron, and copper react with the acid in tomato sauce, so they're not the best choice.
Add a pinch of sugar if you need to. Taste the sauce and if you need to cut the acid a bit, a pinch of sugar helps.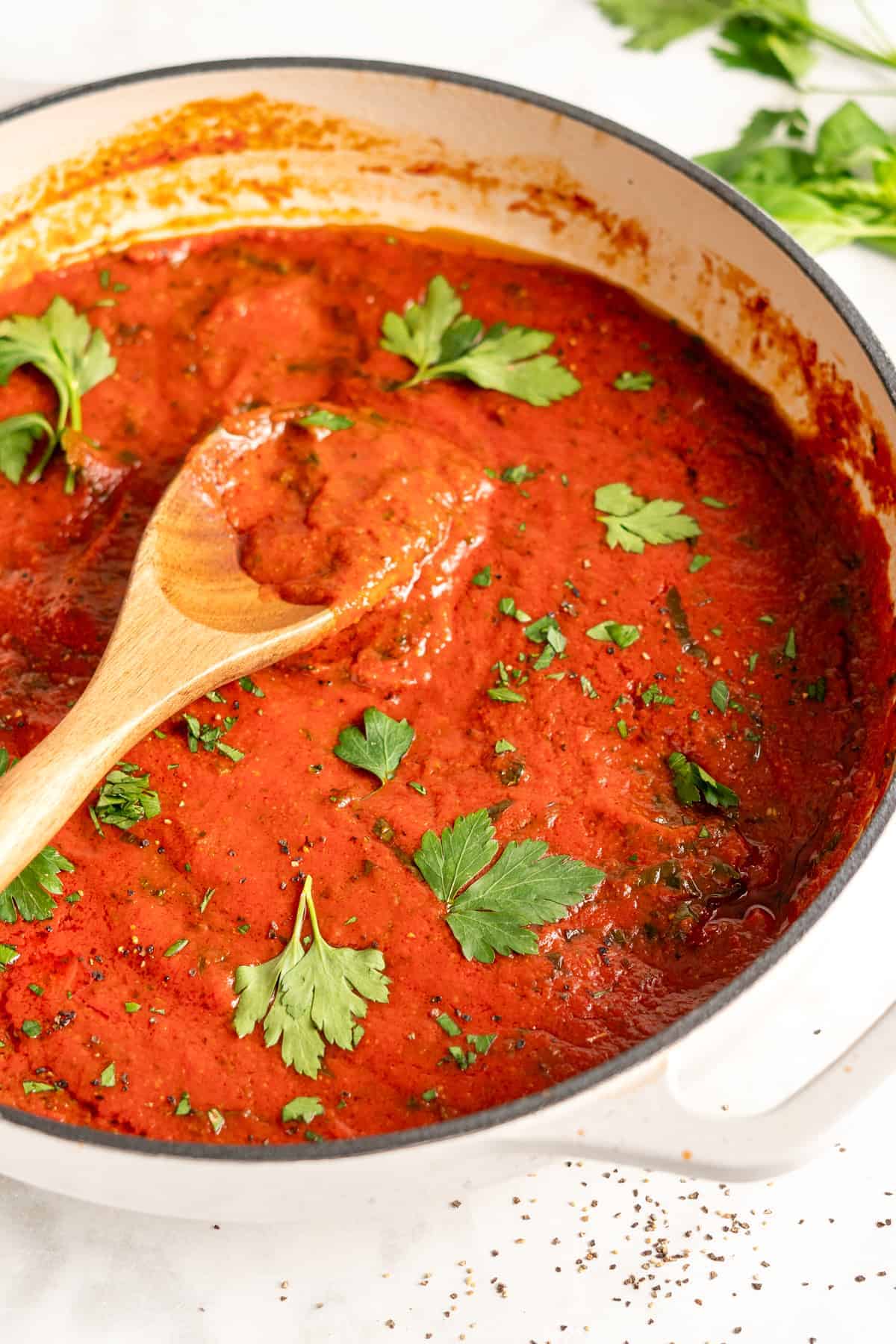 How to Store
Store your homemade marinara in a jar or airtight container for up to a week in the refrigerator.
Can I Freeze This Recipe?
Yes, marinara sauce is great for freezing! I like to transfer it to freezer bags and freeze them flat for easy storage. Then, when you're ready to use it, you can place the bags in a bowl of hot water until they thaw, then heat the sauce in a saucepan on the stove. Marinara will last up to 3 months in the freezer.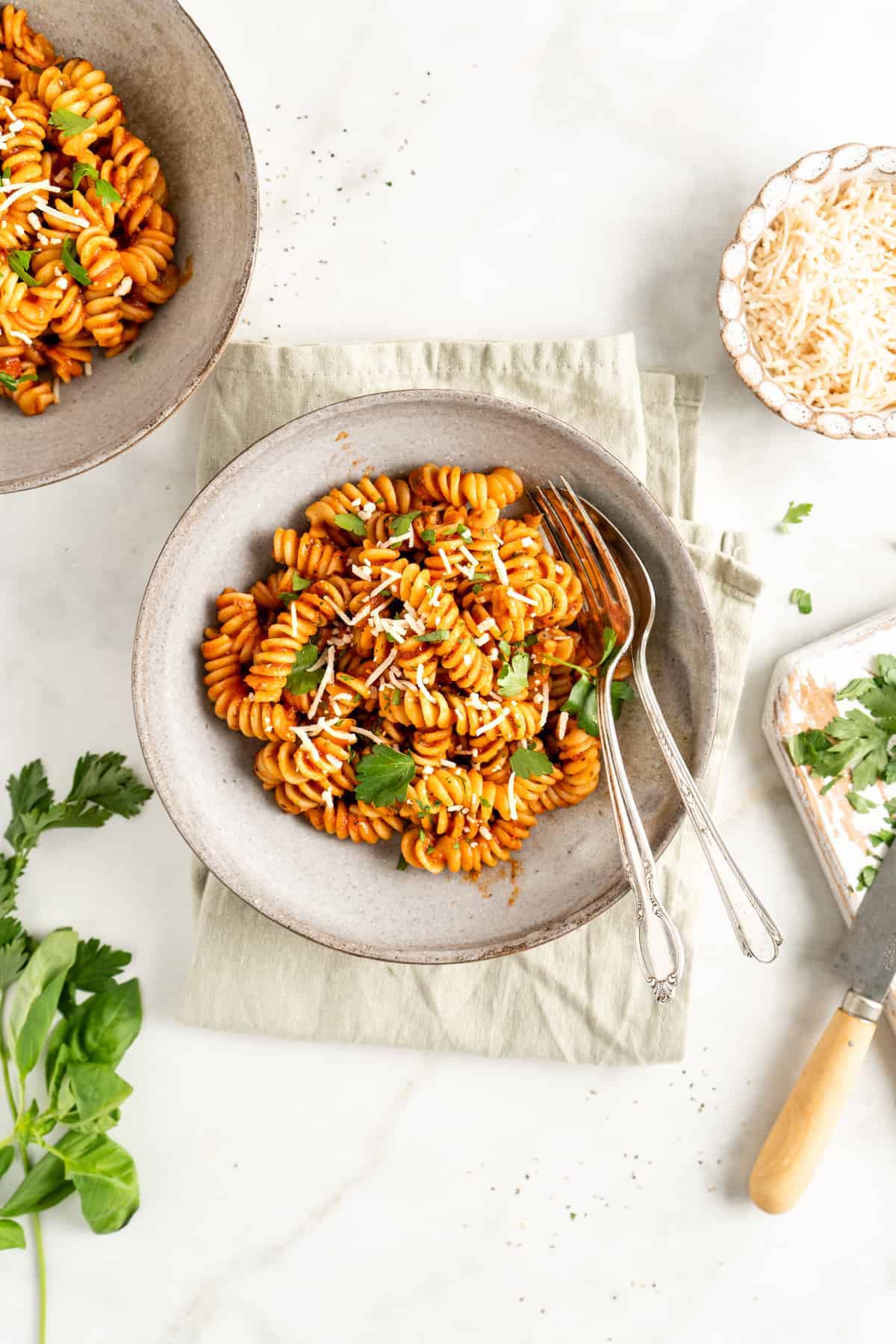 RELATED DELICIOUS RECIPES
Homemade Sundried Tomatoes Bruschetta!
Classic Bruschetta with Balsamic Glaze
Enjoy friends! If you make this homemade marinara recipe, please snap a photo and tag #jessicainthekitchen on Instagram! We'd also love it if you would leave a comment below, and give the recipe a rating! Thanks so much!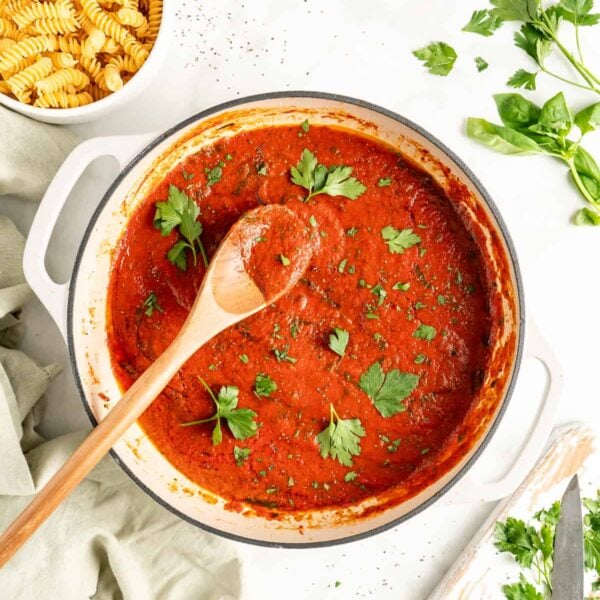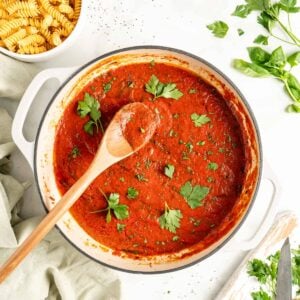 How to Make Homemade Marinara Sauce
Homemade marinara is easy to make, inexpensive, and it tastes so much better than store-bought!
Ingredients
6 oz. of tomato paste
6 oz. of water
2 tbsp olive oil
2 teaspoons of oregano
1 teaspoon fresh basil, chopped
1 tbsp of fresh parsley, chopped
1/2 teaspoon of salt
1 teaspoon garlic powder
1/2 teaspoon of pepper
Instructions
Heat a medium pot over medium-high heat. Add the tomato paste, water and olive oil to heat. Using a spatula or spoon, stir ingredients together frequently until incorporated and begins to boil a little for about 1 minute.


Add salt and pepper to taste and incorporate. Then add the rest of the ingredients, leaving a little parsley behind. Stir ingredients and lower heat to low. Cover the pot and leave to simmer for about 5 minutes to 8 minutes, checking to make sure the basil and parsley don't burn. If it's too thick for you, you can add more water by the tablespoon.

Garnish with remaining parsley.
Notes
To refrigerate: Store marinara sauce in a jar or airtight container in the refrigerator for up to a week. To freeze: Freeze sauce in an airtight container or freezer bag for up to 3 months. Thaw in the refrigerator or immerse in hot water, then heat on the stovetop.
Calories: 69kcal, Carbohydrates: 6g, Protein: 1g, Fat: 5g, Saturated Fat: 1g, Sodium: 420mg, Potassium: 302mg, Fiber: 2g, Sugar: 3g, Vitamin A: 500IU, Vitamin C: 7mg, Calcium: 21mg, Iron: 1mg
Disclaimer: Although jessicainthekitchen.com attempts to provide accurate nutritional information, kindly note that these are only estimates. Nutritional information may be affected based on the product type, the brand that was purchased, and in other unforeseeable ways. Jessicainthekitchen.com will not be held liable for any loss or damage resulting for your reliance on nutritional information. If you need to follow a specific caloric regimen, please consult your doctor first.