How To Make Creamy & Cheesy Herbed Scrambled Eggs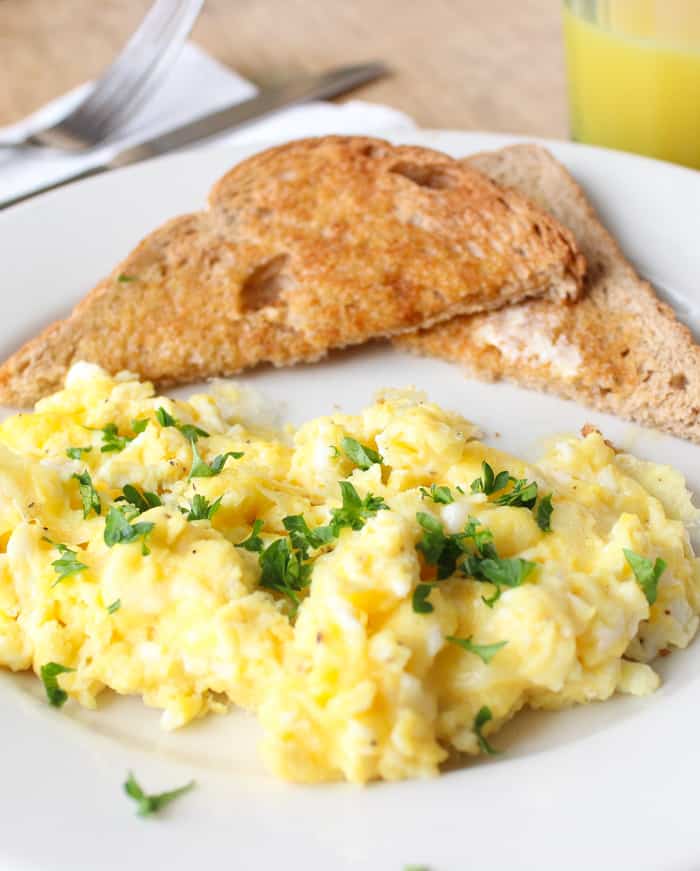 With all the overtop delicious posts that I've (not to brag) seen on my blog and several others of my favourite blogs, sometimes it is not to bring it down a notch to simple, classic meal that we have known since childhood and to amp it up. Since I'm pretty much a Food Network and Cooking Channel drone, I could tell you numerous tips I've learned from the different shows if you woke me up at midnight. Hopefully you would have a dessert consolation prize if you did that, though.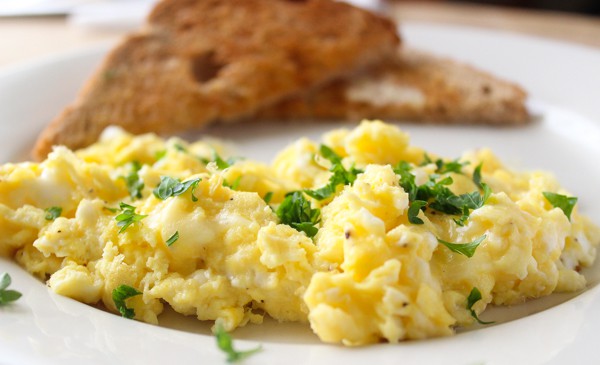 One of my favourite tips was from Alton Brown, who not only taught me how to amp up my omelettes, but also my scrambled eggs. I've always been great at making them (yes, I've tasted terrible scrambled eggs) and finding the balance between the right amount of salt and pepper, but when Alton taught us how to add a splash of milk and the right way to heat the eggs, it took it over the top for me.
The right method of heating prevents the mistake I have tasted from some restaurants and hotels where the eggs are dried out but hot, or soft but cold; it creates a great balance of hot, but soft and fluffy eggs. I also had a small handful of shredded cheese which I learnt from Mr. Jessiker Bakes (confession #2: he is really the baker and blogger behind this blog…just kidding, but he has inspired several meals). The cheese melts with the eggs and you're left with creamy but firm, cheesy and herbed eggs. I added the herbs, which actually add way more than garnish. There is a fresh flavour that is added to your eggs that make you feel as if they were hatched yesterday and fresh out of a garden (I know eggs don't come from a garden…just go along with ). This is even better if you're lik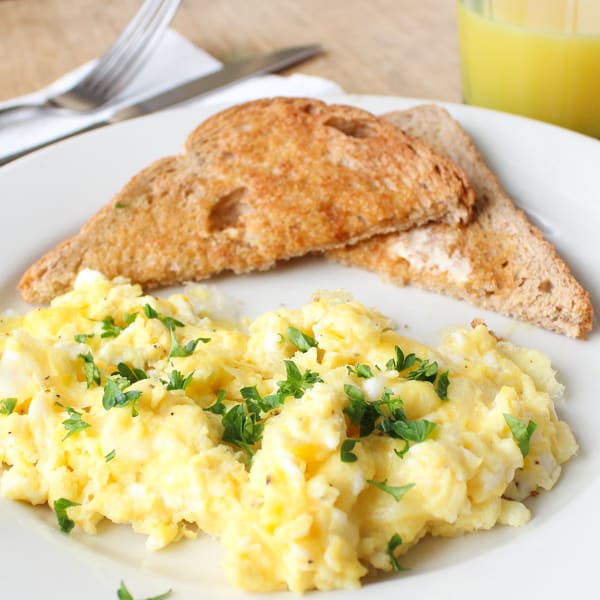 e me and you grow herbs either in your backyard or in your apartment/home, which can I say, nothing beats freshly picked herbs! If you're like myself and the Mr. who seem to eat pepper with anything, a splash of hot sauce takes these eggs to my safe heavenly place.
So give these eggs a try, changing up a few little tricks and trust me you will see a difference. I confess that many times I don't eat as extravagant as my blog may portray, but instead of hiding that from you, I wanted to show you one of my favourite simple pleasures.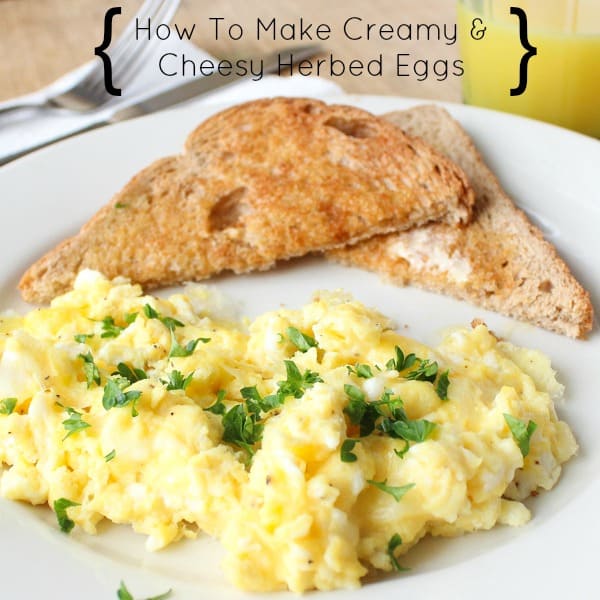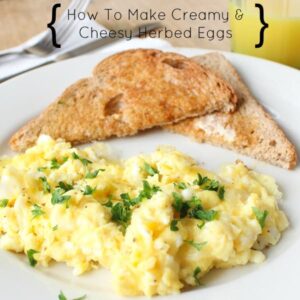 How To Make Creamy & Cheesy Herbed Scrambled Eggs
A classic meal that we have known since childhood, amped it up!
Ingredients
3 large eggs
1 pinch of kosher salt
1 grind of black pepper
3 tablespoons whole milk
2 teaspoons of parsley or green onions
sprinkling of shredded cheese
2 teaspoons of hot sauce
Instructions
Whisk the eggs, salt, black pepper, hot sauce and milk until light and foamy in a separate bowl.

Add 1 tablespoon unsalted butter to a 10-to-12-inch nonstick skillet and put it over high heat. When the butter bubbles (after about a minute), pour the eggs straight into the middle of the pan, which will force the butter to the edges, where it's needed.

Stir slowly with a rubber or silicone spatula. As soon as curds (big soft lumps) of eggs begin to form, drop the heat to low and shift from stirring to folding the curds over on themselves while gently shaking the pan with the other hand. Add the sprinkled of shredded cheese, folding the curds over once again to incorporate.

As soon as no more liquidous egg is running around the pan, kill the heat and gently transfer the scramble to the warmed plate. Let the eggs rest for 1 minute to finish cooking before serving.

Sprinkle with herbs of your choice.
Notes
TIP by Alton Brown: Odds are you're going to be serving these on a plate. If so, I strongly suggest you park an ovensafe one in a low oven or in hot water while you're cooking. Cold plates suck the heat right out of food.
Calories: 244kcal, Carbohydrates: 4g, Protein: 20g, Fat: 16g, Saturated Fat: 6g, Cholesterol: 502mg, Sodium: 511mg, Potassium: 241mg, Sugar: 3g, Vitamin A: 842IU, Vitamin C: 6mg, Calcium: 167mg, Iron: 2mg
Disclaimer: Although jessicainthekitchen.com attempts to provide accurate nutritional information, kindly note that these are only estimates. Nutritional information may be affected based on the product type, the brand that was purchased, and in other unforeseeable ways. Jessicainthekitchen.com will not be held liable for any loss or damage resulting for your reliance on nutritional information. If you need to follow a specific caloric regimen, please consult your doctor first.