How To Start A Food Blog – Bluehost Step By Step
How To Start A Food Blog
Are you wondering How To Start a Food Blog? I've broken down the step by step process into just 3 simple steps: and you'll be on your way to clicking "Publish" on your very first post in no time! I hope these tips help you whether you're brand new or you want to learn something new about the food blogging creation process. Ready to get started?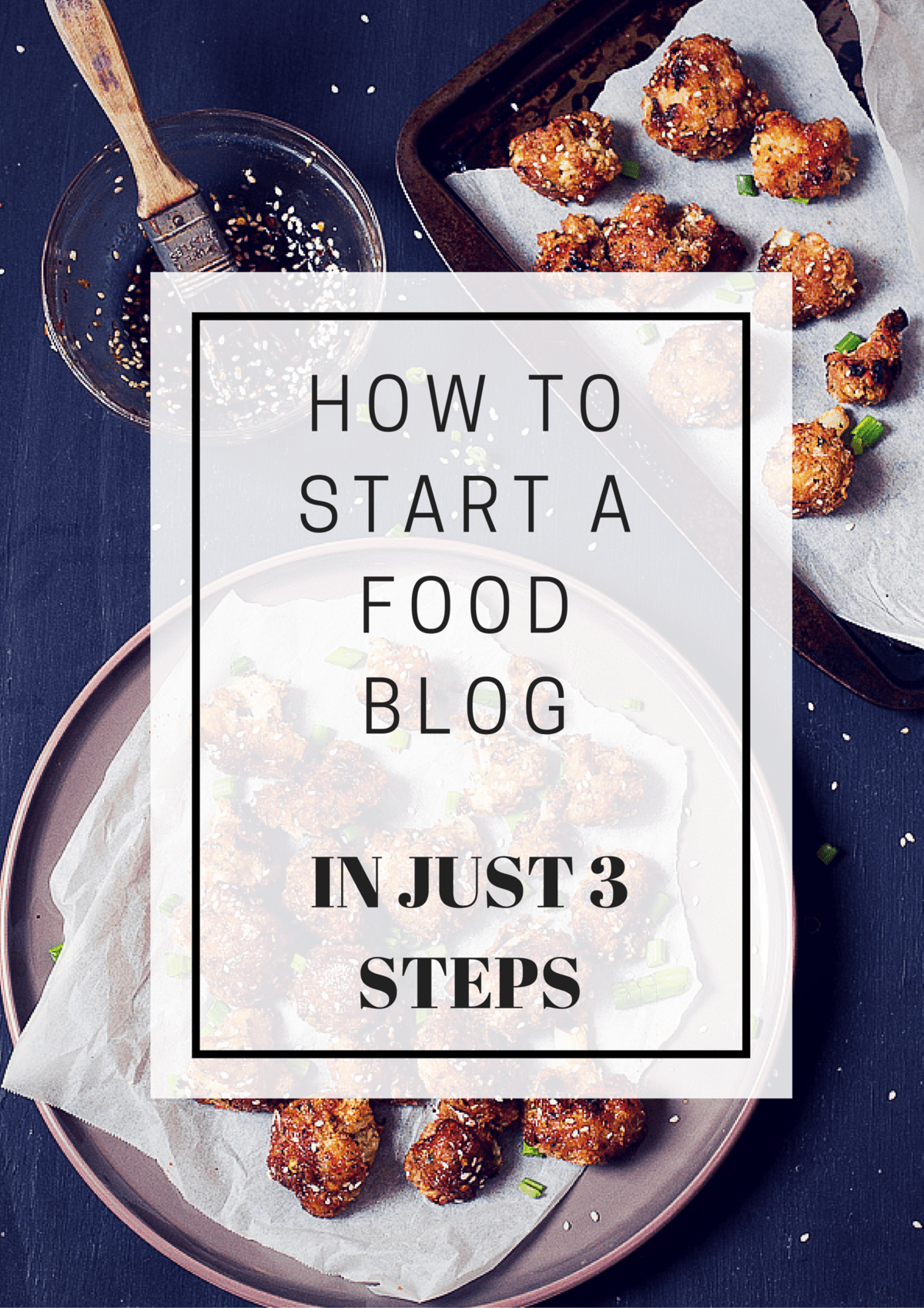 FTC Disclaimer: P.S., some of the links below are affiliate links, which means that if you click through on some of these links, with no extra cost to you, I will get a small portion of the sale if you buy something. Thanks for supporting me!
DOMAIN NAME & HOSTING
The first thing you need to do to start a food blog is of course, think of a name for your soon-to-be amazing food blog. Best idea? Jot down a lot of ideas for a name and have a mission statement/tag line and that will help guide you. I went with Jessica in the Kitchen because I wanted to share a wide category of food, and my tag line helps to keep a focus on delicious, healthy foods.
Now that you've got a great name, it's time to buy it and host it on a site. Bluehost is an excellent option for both new and experienced food bloggers, and you get your domain name free with your hosting plan! I've laid out a bluehost step by step guide below.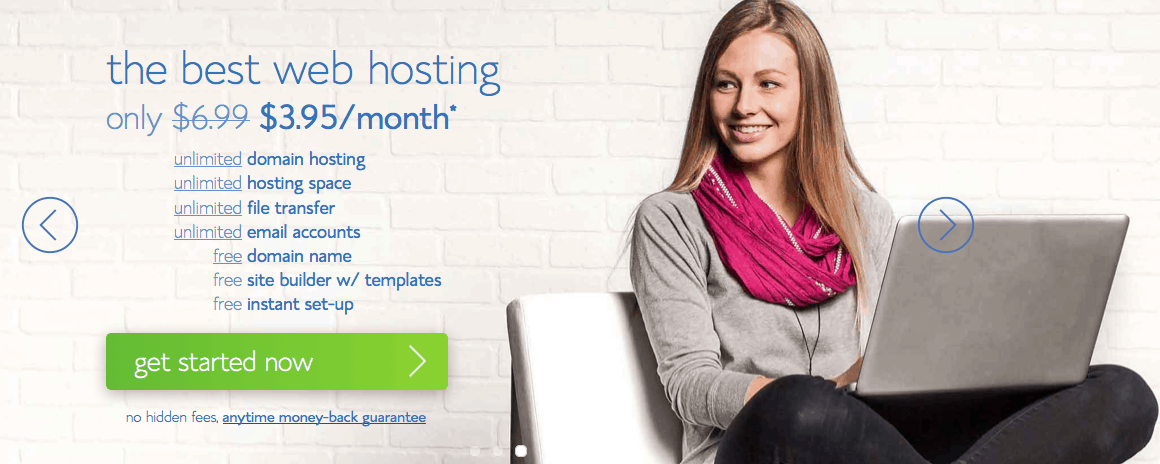 BlueHost is affordable, reliable, easy to set up and has great 24/7 customer service. Their start pack is only $3.95/month and includes a free domain name!
P.S. you can get this rate by clicking through any of my links to Bluehost. No promo code needed!
Here's how to start:
First, you're going to want to choose your plan. I would recommend the Starter plan which is great to get started and the least expensive.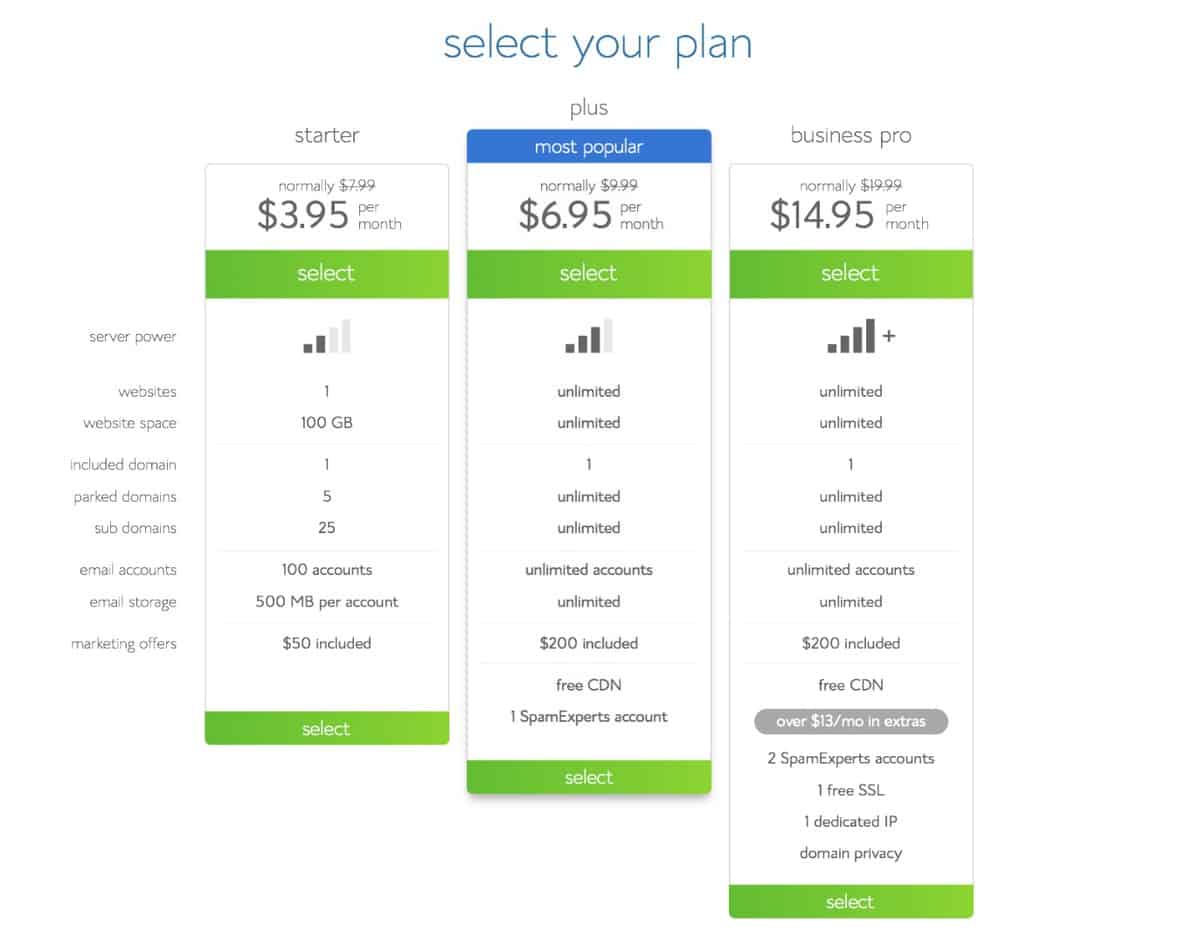 Next you'll need to enter the domain name that you want OR transfer a domain you already own.

Enter your account information.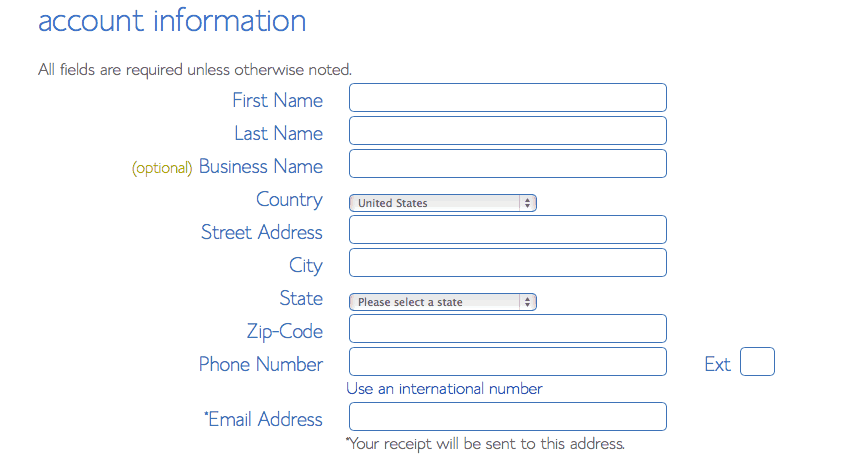 Next, you'll need to host your domain, which is basically like a fee for your space on the internet to show your blog. Remember you get your domain name for free with Bluehost so it's a win win.
I recommend Domain Whois Privacy since it hides your personal information such as your address and phone number from being displayed to the public. I made the mistake at first not to choose this option, and I would definitely go back and do it.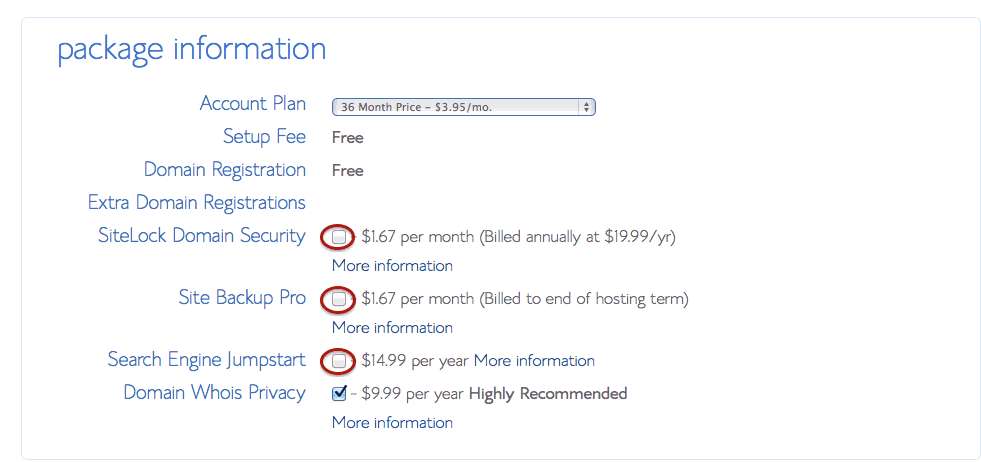 Next you just need to enter your billing information and you've completed registration! Now you can continue to setting installing WordPress. You're almost there!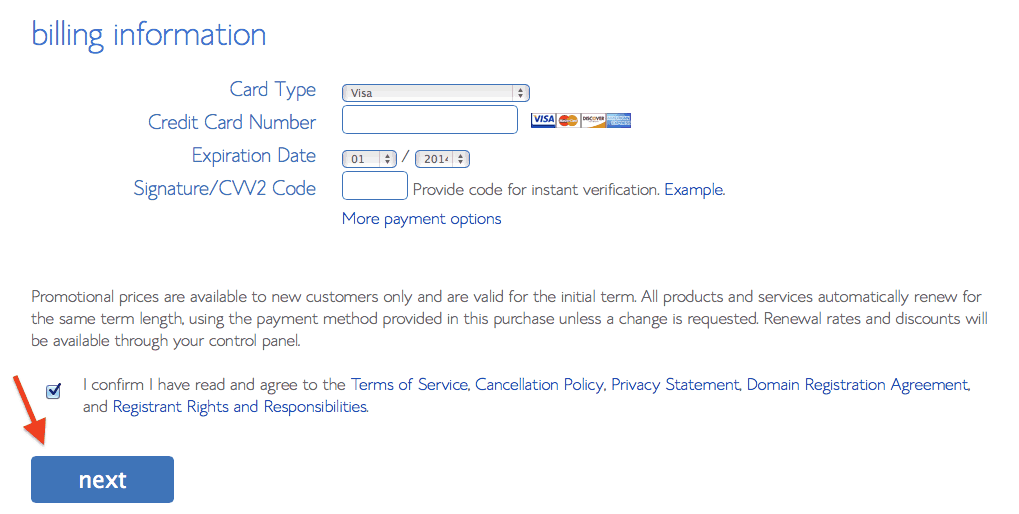 2. INSTALLING WORDPRESS
WordPress is the blogging platform that I recommend; that sacred place that holds all of your posts, pictures, comments and blog data. WordPress.com is very easy to use, I use it for Jessica in the Kitchen, and it's definitely user-friendly.
Installing WordPress is very easy. Just log into
Bluehost
, go to your cpanel, go down to "website builder" and click "Install WordPress".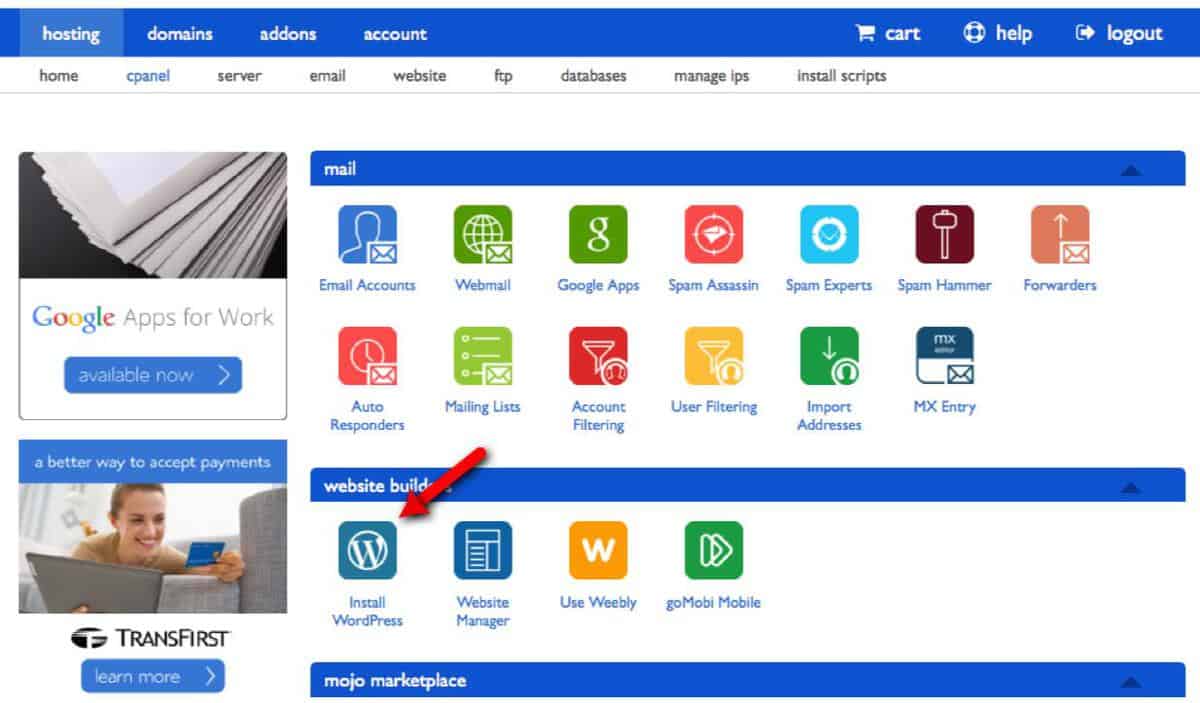 Hit "Start" for a brand new install.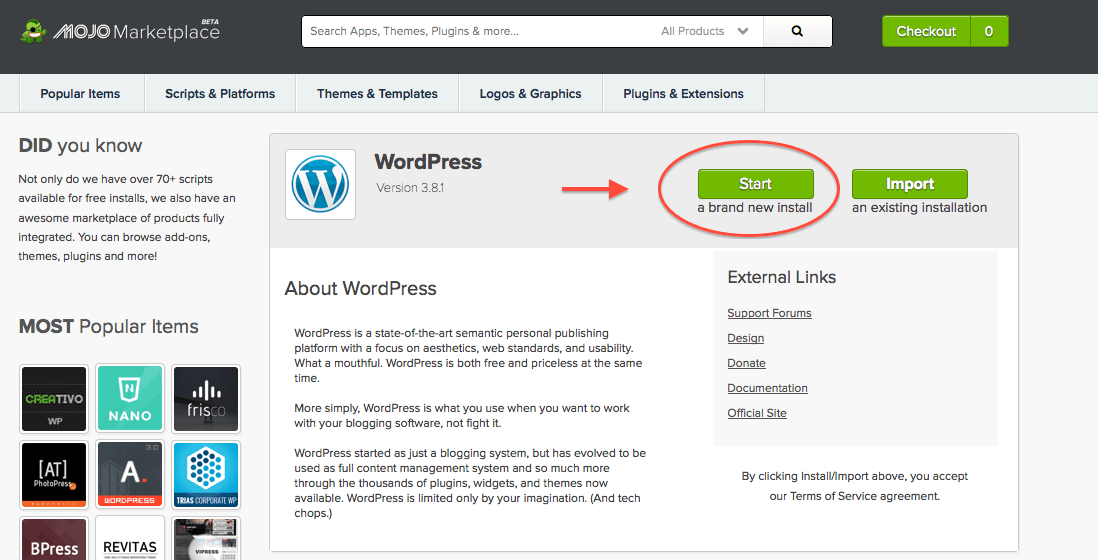 Hit the "Check Domain" button.

Double check your information, check the terms and conditions box and then hit the "Install Now" button.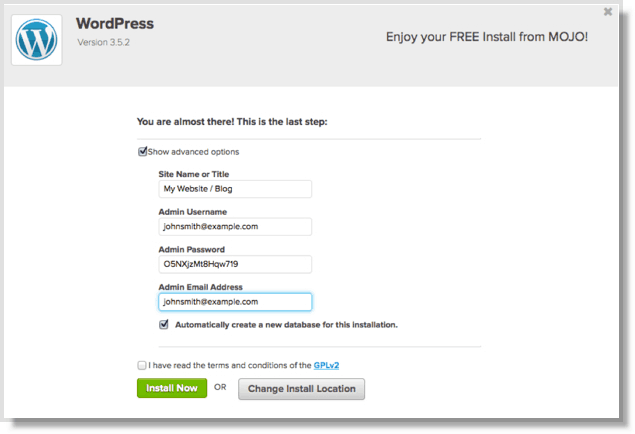 After the below step, you'll receive a message that says "Your install is complete!". Remember to click on the "View Credentials" button and write down your Admin URL, Username, and Password.

Lastly, type your Admin URL into your web browser to log into WordPress. Enter your Username and Password and Log In. You can change these details at a later dater if you desire.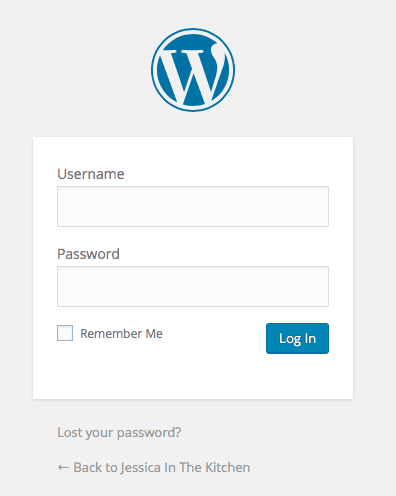 And…you've logged in! Congrats! You have a website and WordPress!
3. INSTALLING A WORDPRESS THEME
Installing a WordPress theme will probably be the most fun part of all of this. Your theme can make the difference between how beautiful your blog is, and how efficient it runs. You'll want a theme that's responsive, will make your blog super fast and reliable, and still be really user friendly. Here are the themes that I recommend:

I have been through so many themes and spent so much money until I found the Genesis Framework. Like, whoa! Where was this my entire life? I recommend this theme 100%. Never before have I had so much customisation, and it help to boost your blog's SEO traffic (more on that later). Genesis is a parent theme, and you can use it alone and customise your blog any way you want, or you can choose a child theme (think of a parent folder on your laptop and a folder within it) which tends to be already customised, but able to use everything from the Genesis Framework. This is what I did, and I went with the Foodie Theme by Shay Bocks.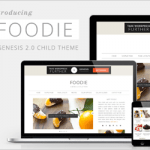 The
Foodie Child Theme.
is essentially the best food blog specific theme there is out there. I hosted this theme on my blog before I got a custom theme (I still use the Genesis Framework). I would HIGHLY recommend Foodie and Foodie Pro since these themes are absolutely user friendly, facilitate growth on a blog and are of course, beautiful and clean. There are several tutorials for edits on Shay (the creator's) website. This Child Theme works for the
The Genesis Framework
.
The Thesis Theme
is another great start theme for your WordPress blog; it embodies the ease of Blogger with the expertise and flexibility of a WordPress site all in one. Basically, you don't need to know HTML to customise your blog because Thesis adjusts, allowing you to just drag and drop to customise your site. It's a well known "Smart Theme" since it pretty much adapts to your needs.
WordPress has a ton of free themes that are great if you haven't made up your mind yet or you just want to go free for now. If you Google "Free WordPress Theme 2014" a ton of great themes will come up. Or, you can get free themes here on
WordPress
.
Congrats! You have a food blog!
I wanted to link to some really important food blog resources that you can install on your blog (such as plugins) or tools to optimise how you use your blog.
Resources for Food Bloggers
2.
Google Analytics
– This is a crucial plugin if you want to keep track of the analytics of your blog – your page views, most popular recipe, and deeper information about your reader.
3.
SEO by Yoast
– Integrating SEO quadrupled my Search Engine referrals in just two weeks! The plugin lets you know how to improve your SEO easily and it's like a set it and forget it.
4.
EasyRecipe Plus
– This is the best recipe plugin I have used. I use the Pro because it offers a lot more customisation.
5.
Comment Reply Notification
– This is such a great plugin! Basically, if your user comments and you reply, it goes straight to the email address inbox that they commented with. So ideal and it wasn't until I kept getting these in my own inbox I realised how ingenious this plugin was.
6.
Akismet
– great for removing spam; This is an essential.
7.
Limit Login Attempts
– I have to thank Lindsay from Pinch Of Yum for mentioning this plugin, since it's saved my blog. This plugin lets you know when someone tries to login beyond a certain amount of times incorrectly aka trying to hack your blog! It locks them out and blocks the IP address. When I received my first email from this plugin it was terrifying but crucial.
If you have any more questions you can just leave them below or email me at askjessicainthekitchen@gmail.com!