Gluten Free 4th of July Strawberry & Blueberry Cheesecakes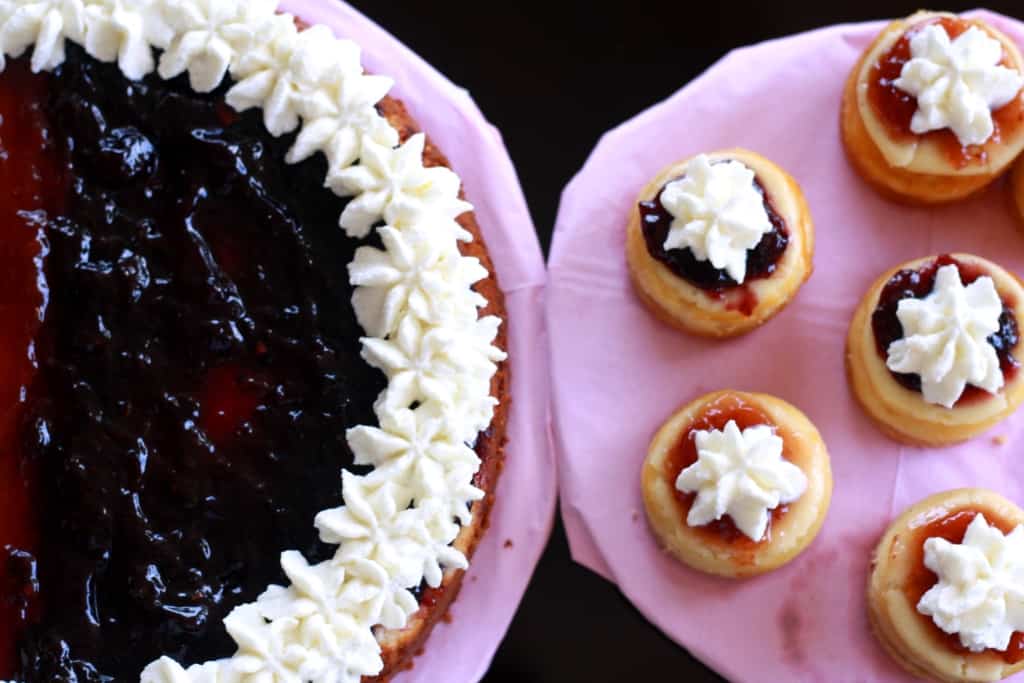 Happy Almost 4th of July my American friends! Or as I like to say anyone who will be there to celebrate it also including myself! I will be seeing the beautiful fireworks and I'm super excited! My summer has SPED by what with my mandatory internship for law school (ahh yes) although that has been fun – it's like I go to work, come home, and pass out. Then repeat. Ex-hausting!!  I'm glad to be finally blogging again – let me get into the recipe!
On the left is a beautiful half strawberry half blueberry cheesecake and on the left are mini cheesecakes with alternating flavours. The great thing about these mini cheesecakes? They're gluten free! I made them for some people that have become very dear to me including my beloved uncle who is on a gluten-free diet and I didn't want him to miss out on the celebrations. The verdict? Everyone who tasted both loved the gluten free crust over the graham cracker crust! THIS is proof that gluten free doesn't have to be "yucky healthy". Okay, let's be real. It usually doesn't even mean it's healthy.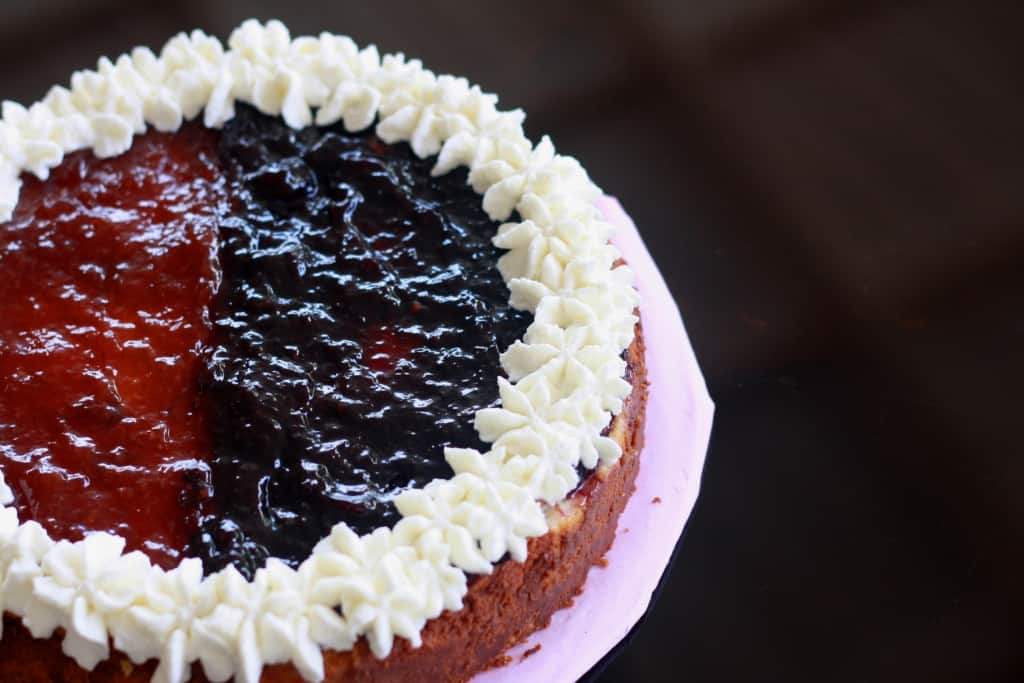 I made the cheesecake with my usual recipe (which I will share below) and for the gluten free crust I used Bob's Red Mill Gluten Free Flour and macadamia nuts. If you bake and you're on a gluten free diet maybe you already knew that but nuts are gluten free! NO I'm not getting into contamination because this would last all day. The best thing is that nuts have a natural oil so you don't have to add butter to make the crust hold together. I actually didn't bake it first I baked it with the cheesecake and that was an AMAZING idea! It came out firm but soft and didn't crumble or anything.
This was for me an early 4th of July celebration to ensure you'd have the option of making it for your celebrations if you wish! Speaking of which, what will you be doing on the lovely day and weekend? As for me, I might as well spill the beans since I will blog about it – I will be at the lovely Walt Disney World eating my heart out – I know it would disappoint you all if I did otherwise. As a matter of fact, today is my anniversary 🙂 so I'm in a super great mood and finally got the time to blog! Happy Anniversary to Mr. Jessiker Bakes <3 I will update you all on those celebrations!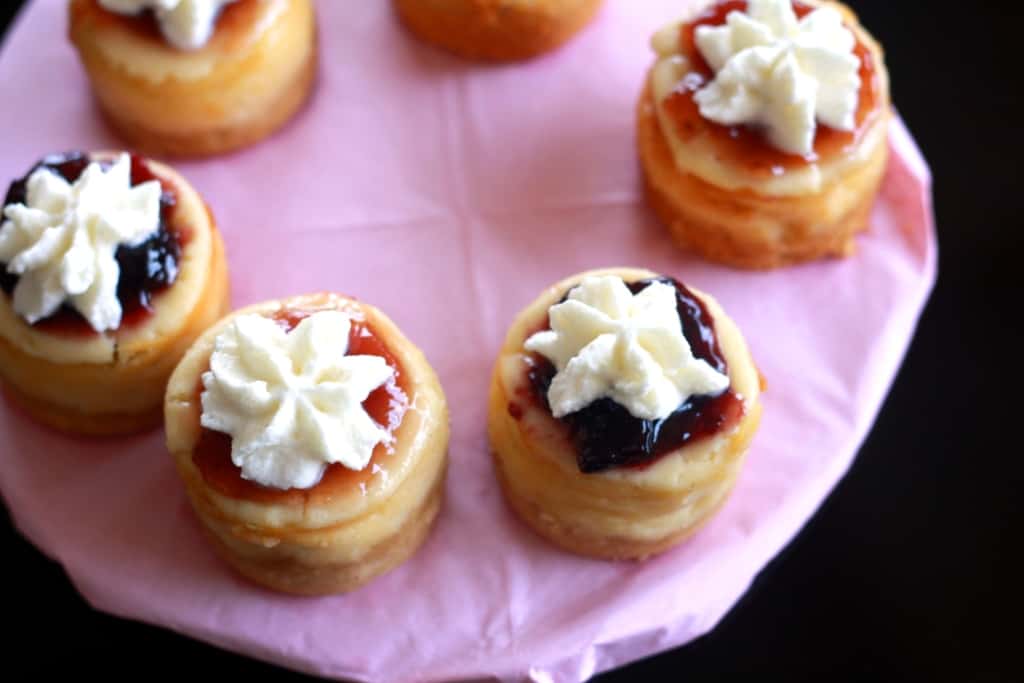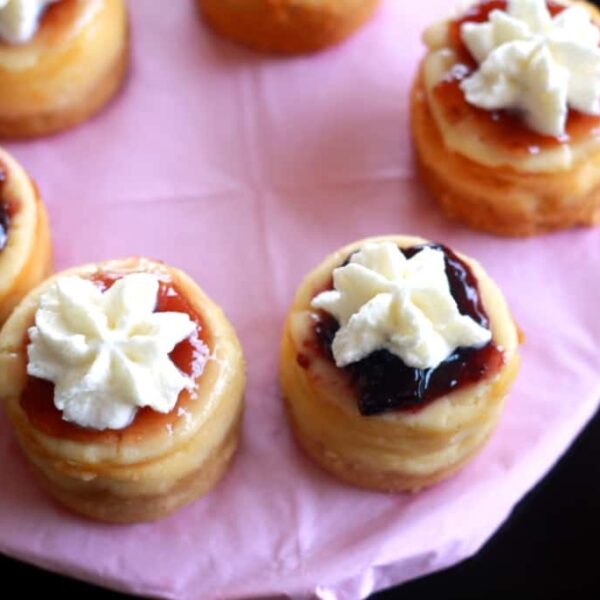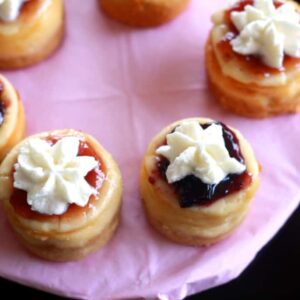 Gluten Free 4th of July Strawberry & Blueberry Mini Cheesecakes
On the left is a beautiful half strawberry half blueberry cheesecake and on the left are mini cheesecakes with alternating flavours. The great thing about these mini cheesecakes? They're gluten free! 
Ingredients
Gluten Free Crust:
1/4 cup gluten free flour
1/2 cup frozen macadamia nuts, I freeze my nuts so they last but you can use unfrozen
Regular Crust:
1 cup graham cracker crumbs
3 tbsp of melted butter Note: you should let this cool first
2 tsp sugar, mixed in afterwards
Filling:
1 packet, 8oz cream cheese
2 tbsp of heavy cream
2 eggs
1/3 cup sugar
Blueberry Sauce:
1 1/2 pints 3 cups blueberries
3/4 cup sugar
2 tablespoons unsalted butter
2 tablespoons fresh lemon juice
1 tablespoon cornstarch
Strawberry Jam here - for some reason I put it as a picture and thought that would be cute:
Instructions
Preheat oven to 350 degrees F.

In a food processor, mix nuts and gluten free flour until well combined. Jessica's Note: You have to pulse this for a while so they integrate. Add a bit more gluten free flour by the tablespoon so the consistency is a bit smoother.

If using regular crust, mix together Jessica's Note: Don't over process this or it will became like one big ball of dough. Process slowly until you see the melted butter slightly combining. You really just want enough so that it doesn't crumble, and so that it stays to the cheesecakes. 4 pulses should be enough, more if you're upping the amount.

Divide crumb mixture evenly between the mini cheesecake pan's 12 slots. Using the back of a small spoon press crumbs firmly onto the bottom and set it aside. Jessica's Note: about a tablespoon or a tablespoon and a half of crumb mixture is enough

Using a mixer, mix cream cheese and sugar until blended and combined, about 3 - 4 minutes. Add the eggs one at a time, allowing 15 seconds between each egg. Using a spatula, scrape down the sides of the bowls. Jessica's Note: remember to check the eggs by using the sink or swim rule. Put eggs in a big bowl of water; if they sink they're good, if they swim (float) they're spoilt and shouldn't be used. You can also shake the eggs by your ear; if you hear it moving it's spoilt

Add heavy cream and then the Bailey's. Mix again for about 10 seconds. Jessica's Note: Before putting into cheesecake pan, use spatula to make sure all the cream cheese is mixed in properly. If not, mix it again for about 1 minute.

Spoon cream cheese mixture into each hole (they should be 1/2 filled). Jessica's Note: I originally said 3/4, but I use a different pan now, and if I fill more than 1/2 it puffs up in a way I don't like. If you're pan is 2" it's 3/4. If it's even a little bit less make is 1/2 on the safe side. Or, bake just one to see the result if you have time, then adjust accordingly.

Bake for 18 - 20 minutes.

Allow to cool for at least 20 minutes until pan is cool enough to take cheesecakes out, and place on a wire rack.

Allow to cool completely and then chill in the fridge for at least 2 hours.

Top with blueberry or strawberry sauce/jam and whipped cream! Enjoy!
Blueberry Sauce
Combine all ingredients in a saucepan over medium-high heat. Bring to a simmer, and cook until berries break down, about 4 minutes. Let cool, then refrigerate, covered, until cold (or up to 2 weeks).
Notes
If you want to make a regular 9″ cheesecake please see my regular cheesecake recipe here
Calories: 239kcal, Carbohydrates: 36g, Protein: 3g, Fat: 12g, Saturated Fat: 5g, Cholesterol: 43mg, Sodium: 59mg, Potassium: 93mg, Fiber: 2g, Sugar: 27g, Vitamin A: 254IU, Vitamin C: 7mg, Calcium: 23mg, Iron: 1mg
Disclaimer: Although jessicainthekitchen.com attempts to provide accurate nutritional information, kindly note that these are only estimates. Nutritional information may be affected based on the product type, the brand that was purchased, and in other unforeseeable ways. Jessicainthekitchen.com will not be held liable for any loss or damage resulting for your reliance on nutritional information. If you need to follow a specific caloric regimen, please consult your doctor first.