Easy Lentil Soup (Vegan & Spiced)
This flavourful Indian-spiced lentil soup is simple to make and packed with veggies for a filling meal!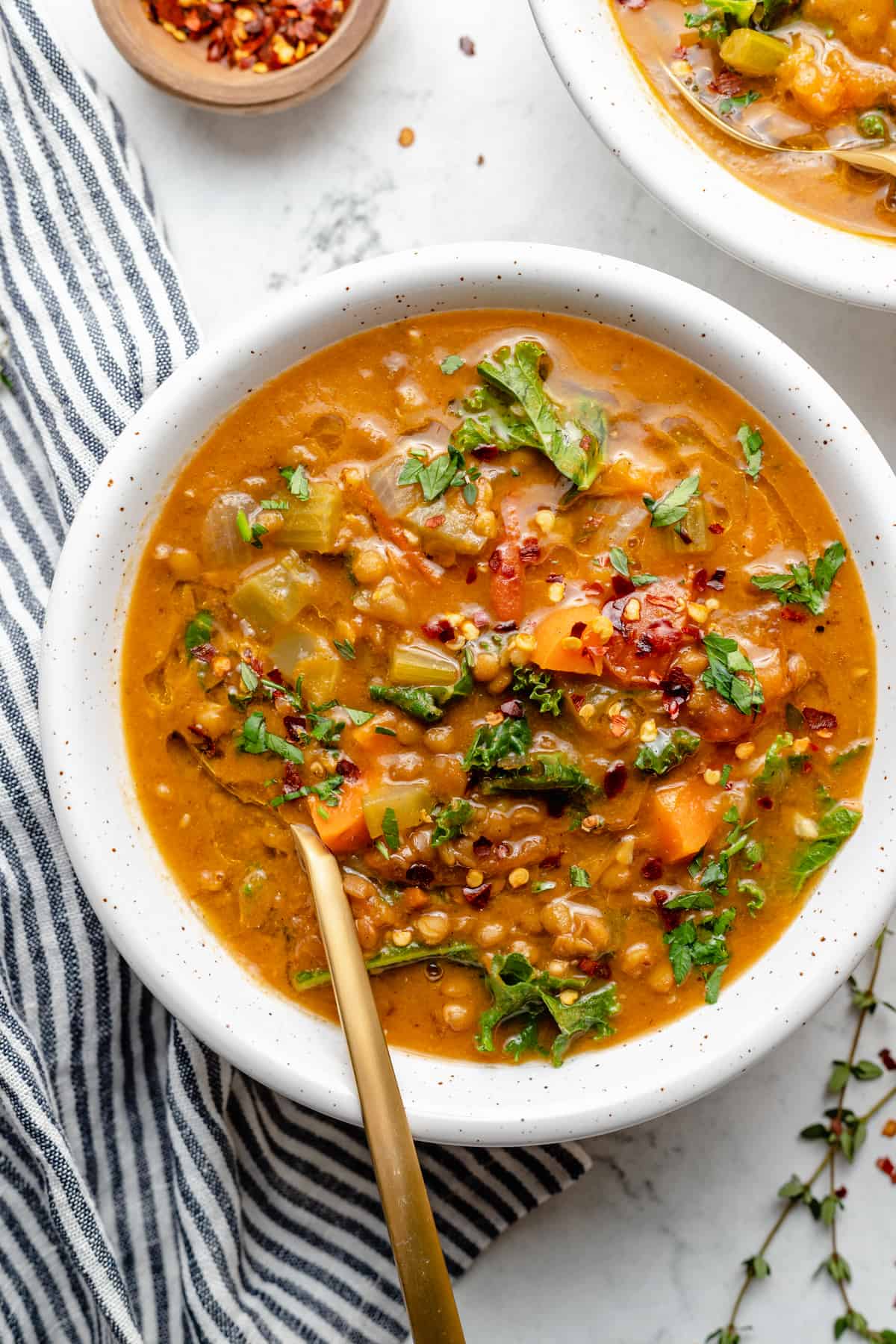 The idea for this lentil soup came out of necessity. After recipe testing the broth for my homemade vegetable broth post, I had loads left over. Rather than freezing it, I decided to put it to use by making a soup with ingredients I had on hand in my fridge and pantry—a "clean out the kitchen" kind of soup, if you will. And whoa, it ended up so delicious, I just had to share the recipe with you!
The process for this soup came from my cauliflower soup recipe. I love pureed soups, but I knew I couldn't blend ALL of these veggies down. I wanted both chunks of veggies and a thick, creamy base. So, why not blend some of the soup? Fortunately my little experiment worked out beautifully and I ended up with a lentil soup loaded with veggies, but the broth wasn't thin and watery either.
To amp up the flavour in this lentil soup, I added garam masala. It's the only powdered spice in the whole recipe, but it goes such a long way. It brings out all the flavours, without making this taste like a lentil curry soup. (It will also make your kitchen smell amazing as the soup simmers away on the stove!)
LENTIL SOUP VIDEO: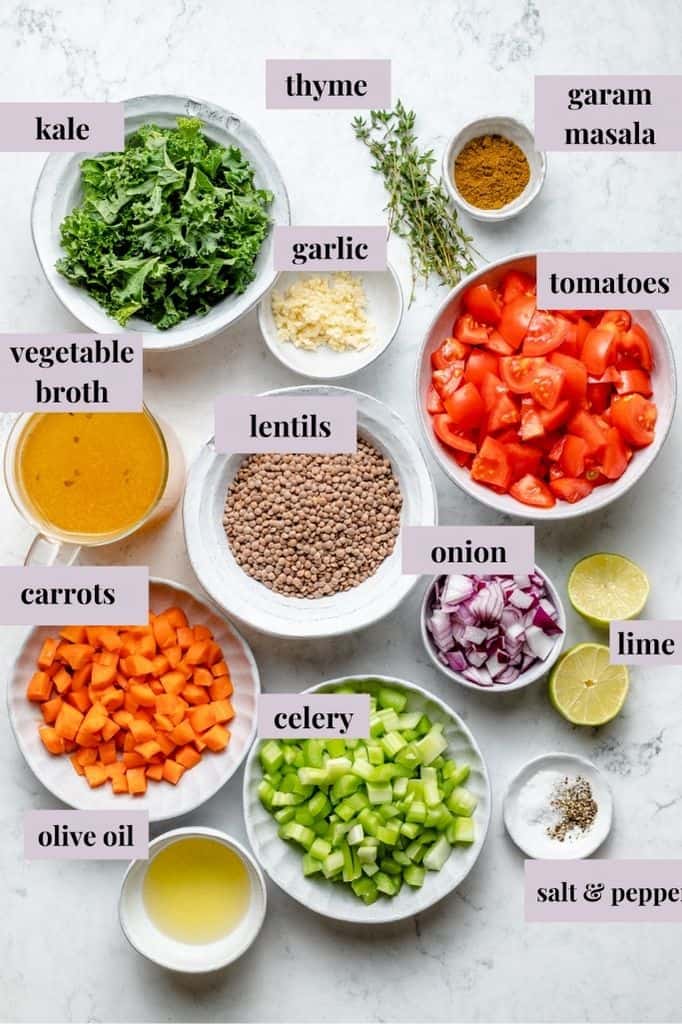 Notes on Ingredients
Please note that this is important information on the ingredients and instructions and the FULL recipe with amounts and details can be found DOWN BELOW (scroll to it) in the recipe card.
Olive oil
Red onion diced – A yellow or white onion will work too!
Celery
Carrots
Garlic
Tomatoes – Use fresh or canned.
Dried brown lentils
Garam masala
Salt and pepper
Vegetable broth – Here's how to make vegetable broth.
Thyme
Kale – Use any variety of kale, or swap in spinach or chard.
Lime juice
Optional Lentil Soup Garnishes and Pairings
A drizzle of high-quality olive oil
Red wine or sherry vinegar
Red pepper flakes
Parsley or cilantro
Za'atar
Homemade croutons
Naan or crusty bread
How to Make Lentil Soup
This is a pretty standard soup recipe as far as the process goes! Here's what you'll need to do.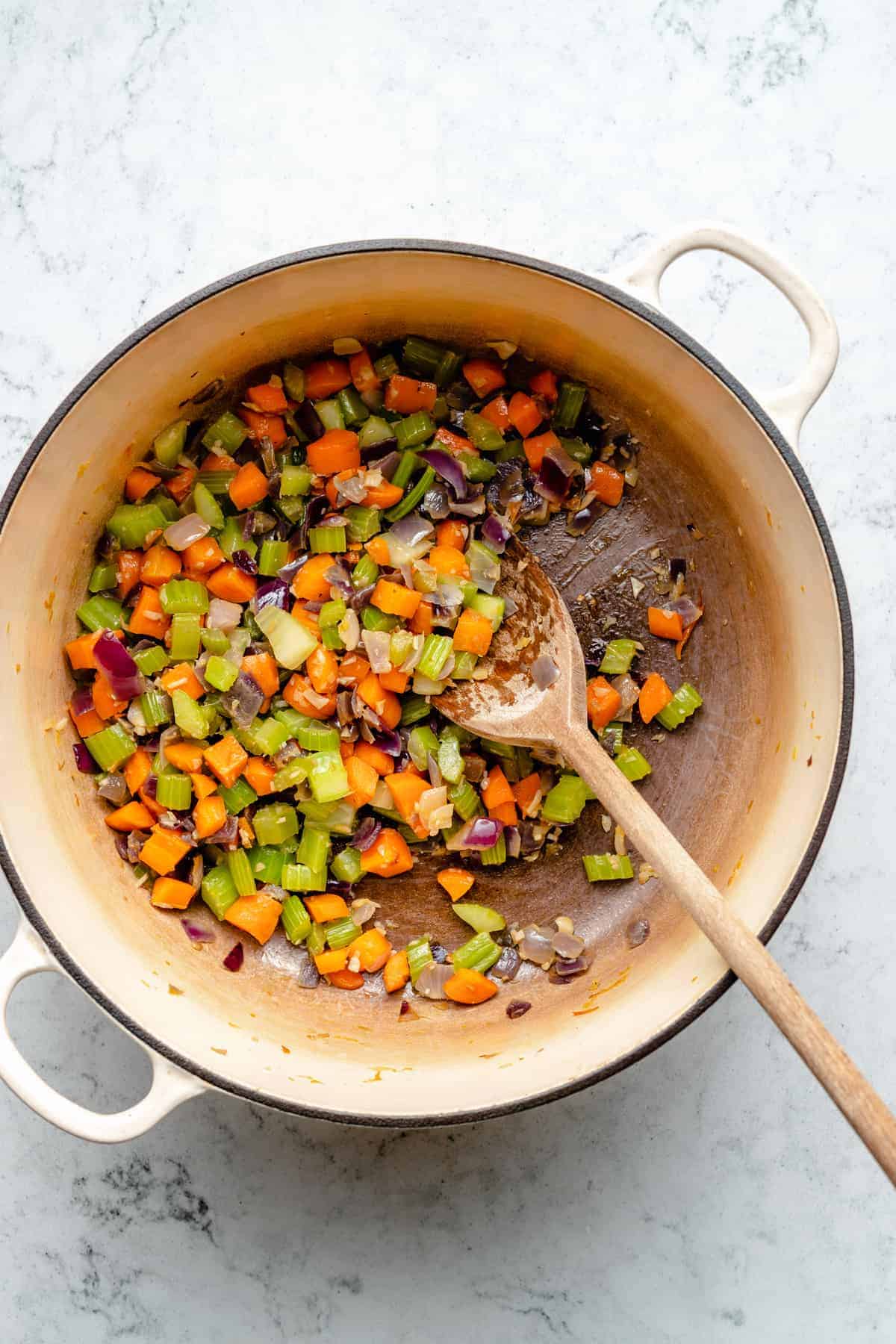 Cook the vegetables. Warm half of the olive oil in a large, deep pot set over medium-high heat. Add the onions, celery, carrot, and garlic. Stir and let the vegetables cook for about 8 minutes, or until softened.
Add more ingredients. Stir in the tomatoes, lentils, garam masala, salt, and pepper, then pour in the broth and add the thyme.
Simmer. Bring the soup to a boil, then reduce the heat to a simmer and continue to cook for 30 minutes, or until lentils are soft.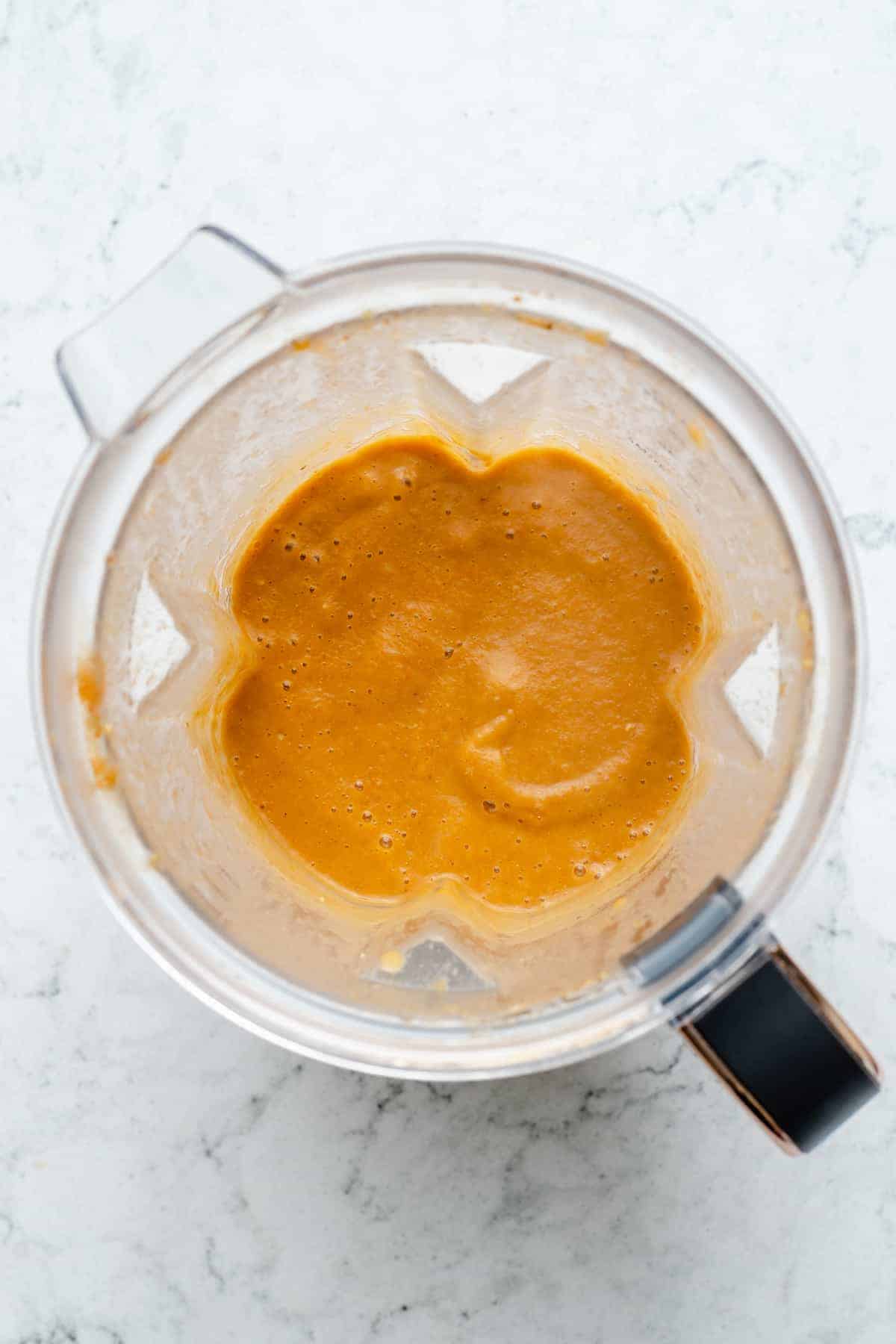 Puree. Scoop out two cups of soup with liquid and pour into your blender. If you have a glass blender, ensure it cools down a bit first! Press the soup setting or blend until the mixture is smooth and creamy.
Finish. Stir the pureed soup mixture back into the pot, then add the kale and lime juice; stir to combine. Ladle into bowls and serve with your favourite toppings.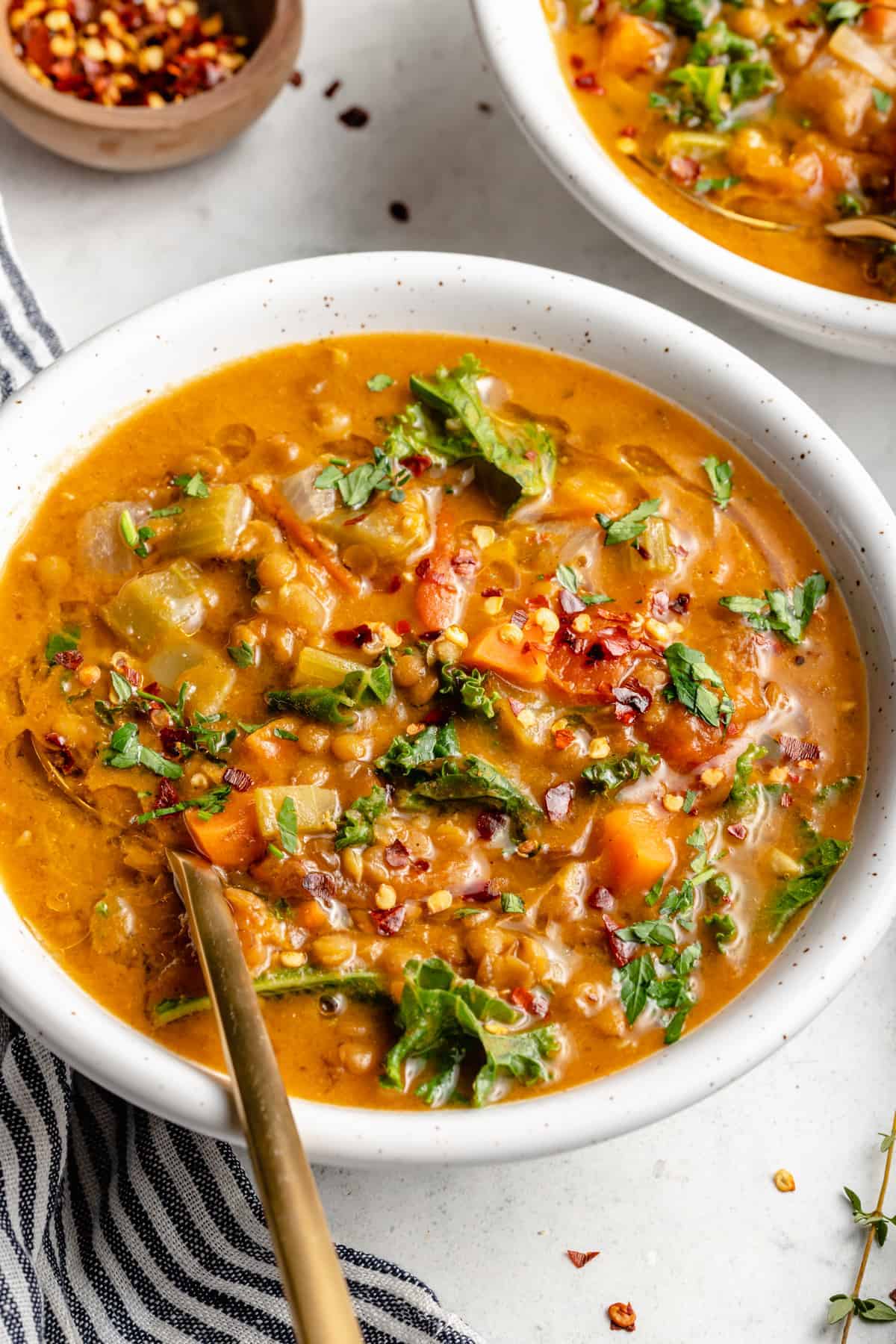 Tips for Success
Here are my best tips for making perfect lentil soup:
Swapping in different lentil varieties. You can use another type of lentils if you happen to have them on hand. Puy lentils will be a bit firmer, while red lentils will completely break down into the soup. Learn more: How to Cook Lentils
Using an immersion blender. If you have an immersion blender, you can use that instead of a traditional blender to puree the soup just enough to thicken it.
Letting the flavours develop. This is the kind of recipe that tastes better after a day or two in the fridge! If you're planning to make it for dinner, you might just want to make it the night before.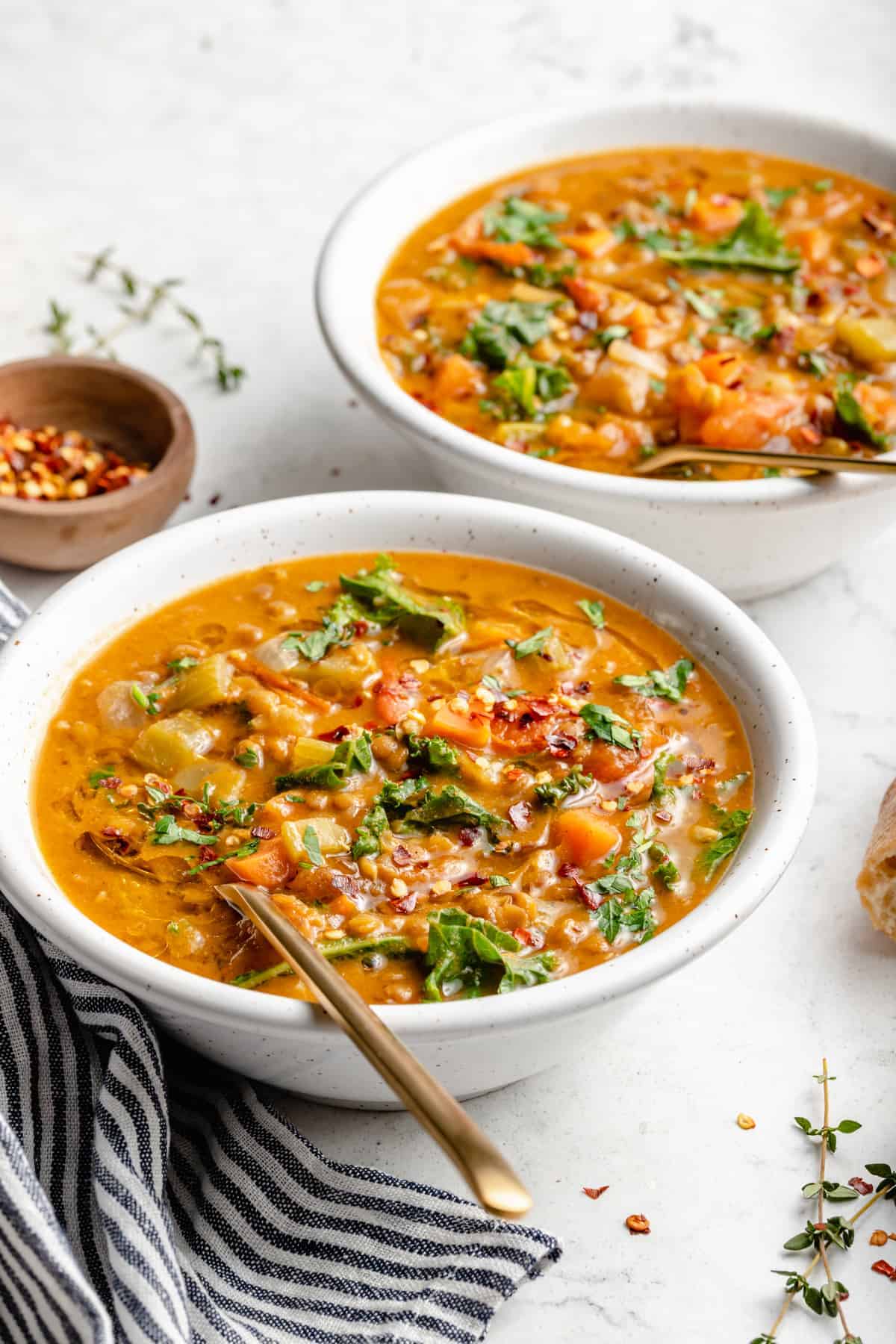 How to Store and Reheat Leftovers
Transfer the soup to an airtight container and refrigerate it for up to 4 to 5 days. Reheat it in the microwave or in a pan on the stovetop.
Can This Be Frozen?
Yes, this lentil soup is great for freezing! Transfer it to a zip-top freezer bag or airtight storage container and freeze it for up to 3 months. You can reheat it from frozen or let it thaw in the refrigerator, then heat it up.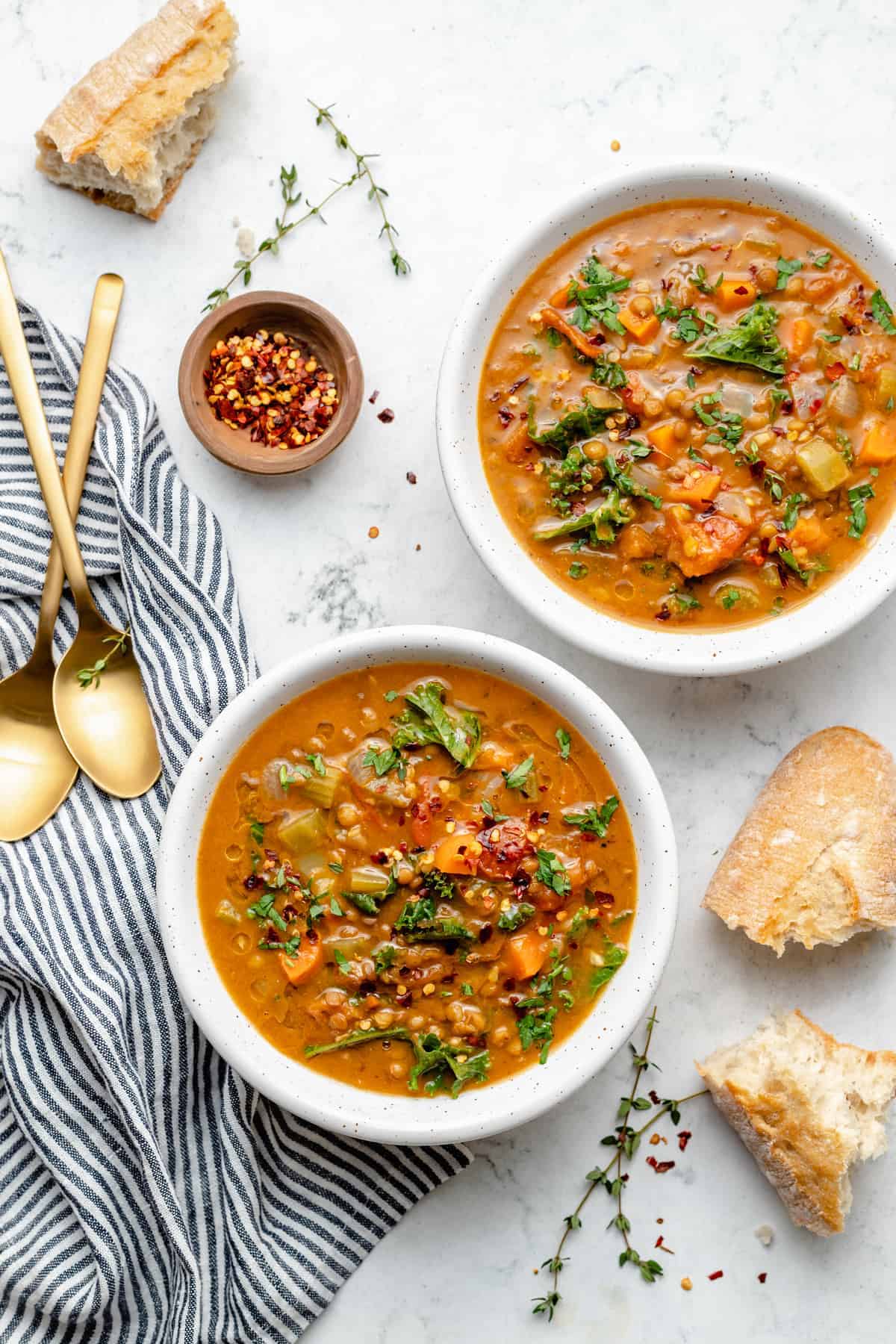 Enjoy friends! If you make this vegan lentil soup recipe, please snap a photo and tag #jessicainthekitchen on Instagram! We'd also love it if you would leave a comment below, and give the recipe a rating! Thanks so much!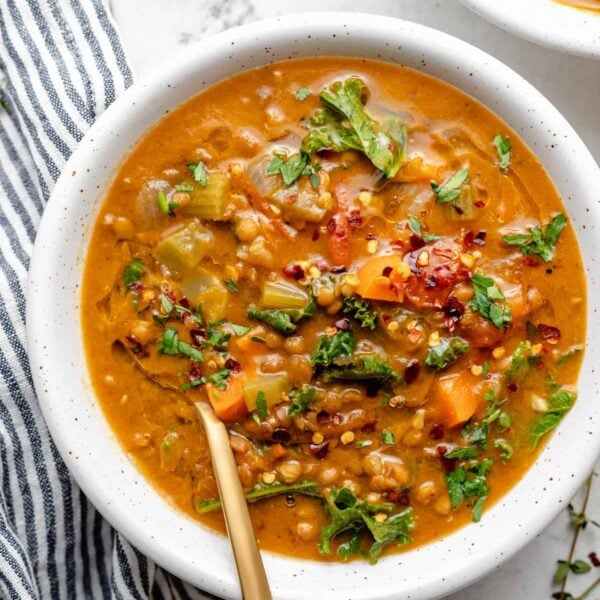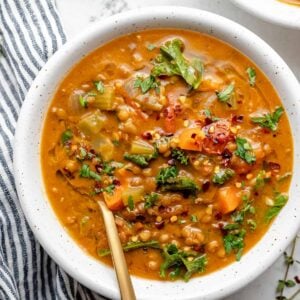 Indian-Spiced Lentil Soup
This easy Lentil Soup is loaded with delicious spices and very simple to put together. It tastes wonderful alone or as a side dish, and it's vegan, gluten-free and loaded with whole food ingredients.
Ingredients
1 ½ tablespoon olive oil
1 large red onion, diced
4 stalks celery, diced
1 large carrot, diced, or two medium size carrots
5 cloves garlic, minced
26 ounces fresh tomatoes, chopped – you can also use a 28oz can diced tomatoes and drain the liquid – (737g)
1 cup dried brown lentils, 7.1 ounces/200g, picked over, rinsed and dried
1 tablespoon garam masala
salt & pepper to taste, I use 3/4 teaspoon sea salt and 1/4 teaspoon ground black pepper
6 cups vegetable broth
2-3 sprigs thyme, to be removed at the end
1 cup kale, roughly chopped
2 tablespoons lime
Toppings, Optional: Oil drizzle, red wine vinegar, red pepper flakes, parsley, and/or sprinkle of zaatar Crusty bread
Instructions
In a large, deep pot over medium high heat, add the olive oil to heat.

Add the onions, celery, carrot and minced garlic. Stir together and allow to sweat for about 8 minutes, to soften and release natural juices from the veggies.

Add in the tomatoes, brown lentils, garam masala and salt and pepper. Stir together. Pour in the vegetable broth, and add the thyme and stir again.

Bring to a boil, and then to a simmer for 30 minutes, until lentils are fully cooked.

Remove the thyme. Scoop out two cups of soup (with liquid) and pour into your blender. If you have a glass blender, ensure it cools down a bit first!

Press the soup setting or blend until fully blended out. Pour back into soup pot and mix the soup together one more time to combine everything.

Add in kale and lime juice and stir to combine.

Serve the soup and top with your favourite toppings and enjoy!
Notes
To store: Transfer soup to an airtight container and refrigerate for 4 to 5 days. Reheat it in the microwave or in a pan on the stovetop. To freeze: Transfer to a zip-top freezer bag or airtight storage container and freeze for up to 3 months. Reheat from frozen or let it thaw in the refrigerator, then heat it up.
Calories: 206kcal, Carbohydrates: 33g, Protein: 10g, Fat: 5g, Saturated Fat: 1g, Polyunsaturated Fat: 1g, Monounsaturated Fat: 3g, Sodium: 1033mg, Potassium: 784mg, Fiber: 13g, Sugar: 8g, Vitamin A: 4794IU, Vitamin C: 33mg, Calcium: 84mg, Iron: 3mg
Disclaimer: Although jessicainthekitchen.com attempts to provide accurate nutritional information, kindly note that these are only estimates. Nutritional information may be affected based on the product type, the brand that was purchased, and in other unforeseeable ways. Jessicainthekitchen.com will not be held liable for any loss or damage resulting for your reliance on nutritional information. If you need to follow a specific caloric regimen, please consult your doctor first.
P.S. Here are some of the items I used to make this recipe if you'd like to use them too:
| WHAT YOU'LL NEED // SHOP MY FAVORITE INGREDIENTS & PREP PRODUCTS |