Chocolate Peanut Butter Blender Pancakes
These Vegan Chocolate Peanut Butter pancakes are healthy pancakes made in a blender and done in just 30 minutes! It's gluten free, vegan and topped with a delicious raspberry compote. They are perfect for the entire family!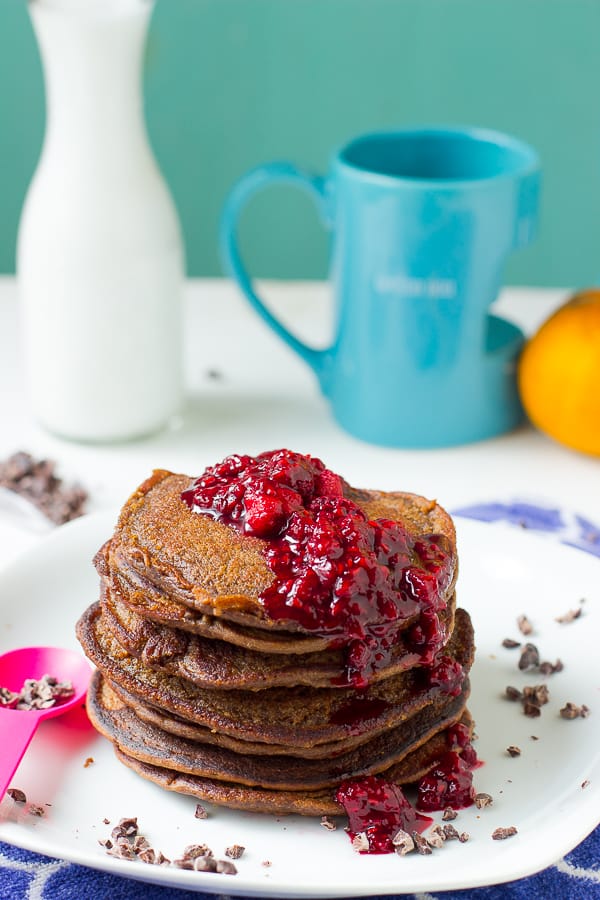 I caved! I decided to share these Chocolate Peanut Butter Pancakes just in time for Valentine's Day. Do you know why? Because whether you're part of a couple or not, you deserve to have these pancakes in bed on Sunday morning. Or you know, on a sturdy dining room table or breakfast nook where you preferably won't spill everything onto your favourite sheets and regret it all.
Just saying. Whatever you prefer!
I can tell you that, you'll have no regrets with these pancakes. I'm talking vegan blender pancakes aka world's easiest pancakes. Throw everything into a blender, blend, and start pouring your pancakes. This is while the raspberry compote is churning away in the background doing all it's work itself. Everything, coming together in 30 minutes.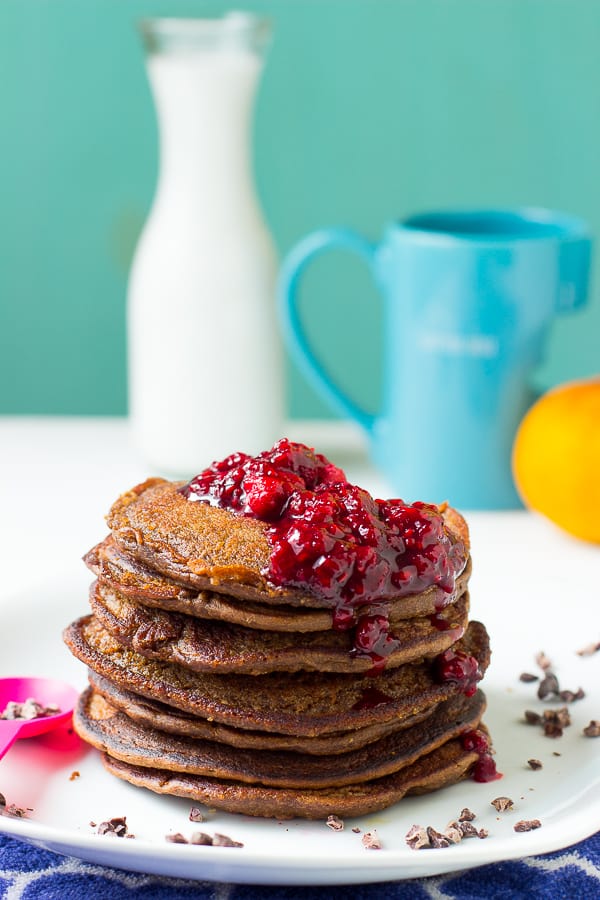 I'm kind of pancake-obsessed. Ever since I was a little kid, I'd have pancakes of all variations. I'm pretty sure my obsession started at the Disney family breakfasts where I could have pancakes in the shape and formation of ANY character's face (kind of morbid now that I think about it). From then I looked forward to pancakes whether they were homemade or out of a freezer box.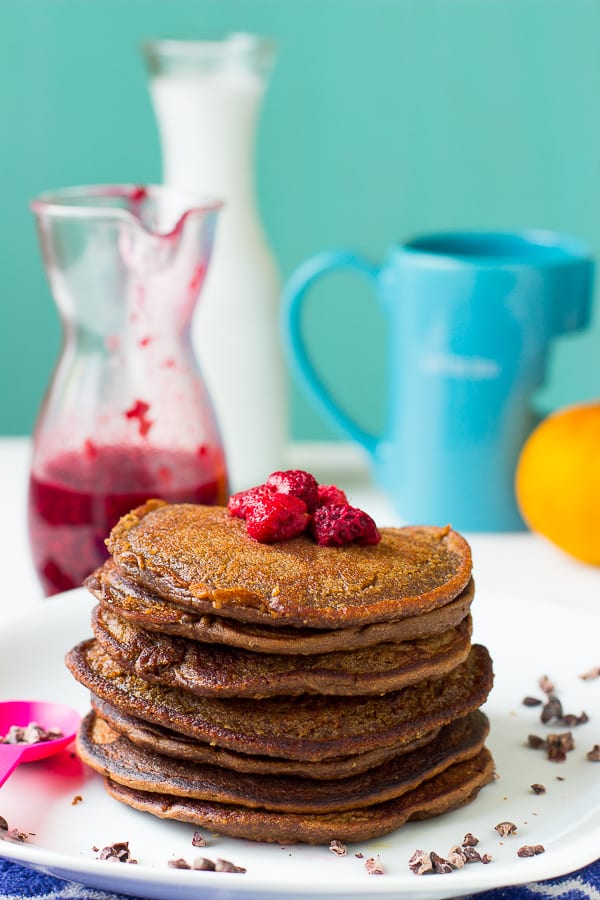 Let me assure you, these not only taste way better than freezer box pancakes, but they are genuinely good for you. I've started to include Nutritional Facts on posts and I got an "A" rating for Nutritional Value for these! These pancakes are made with only the best ingredients: oat flour, raw unsweetened cacao powder (you could use unsweetened cocoa powder), banana, almond milk, natural peanut butter, and a variety of spices. I love to use oats in place of flour, especially in breakfast items. I usually make a lot of oat flour in advance and keep it in a seal-tight jar in my pantry. PS ever since getting a Silhouette for Christmas, I'm going label crazy over here. I definitely need to show you all my pantry labels!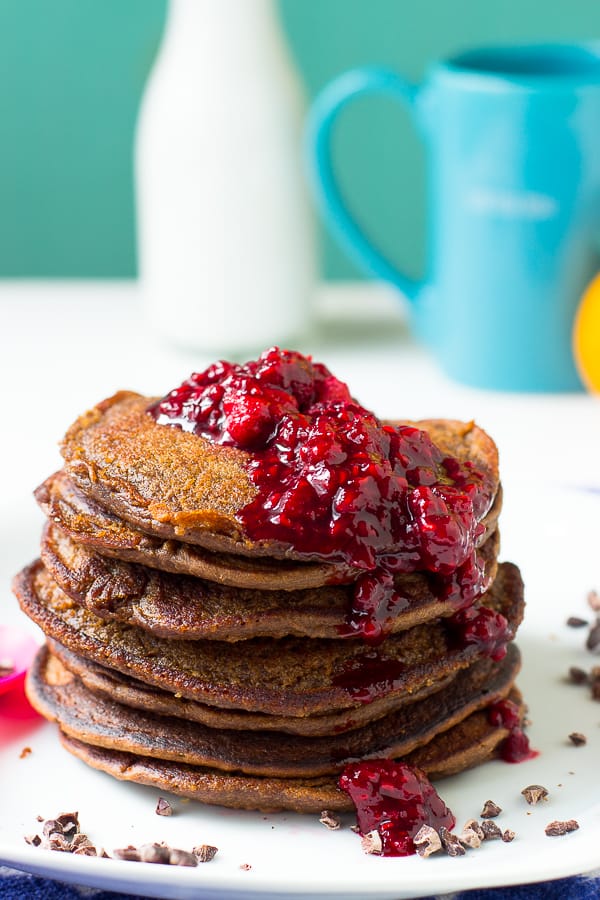 Back to the pancakes, and specifically, the flavour of them. I love that they taste just like any other fattening pancake that you'd eat. They are fluffy, light, and pack a punch of chocolate flavour + peanut butter without being overwhelming on either side. I also love that you can serve these to anyone since they are both vegan and gluten free.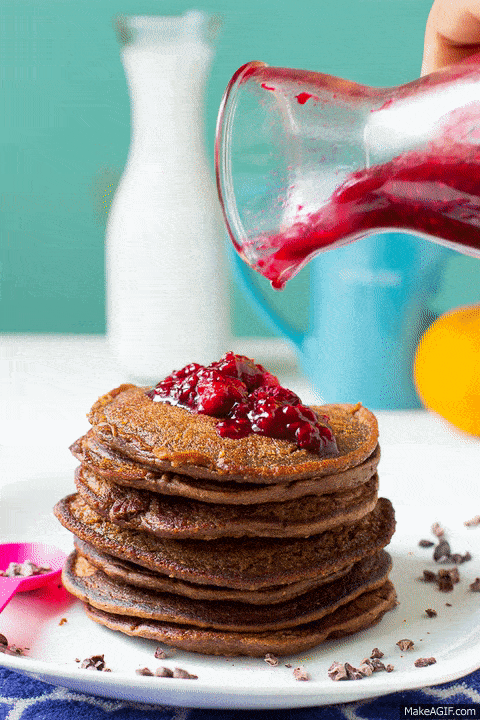 The Raspberry Compote was certainly one of my favourite parts of this dish. The truth is that I have like, 6 bags of frozen raspberries in my freezer (…don't ask) and then I was watching Chopped on tv and they used a raspberry compote. Ding ding! I've made a strawberry compote before over waffles and loved it, so I swapped in the raspberries, used the same recipe, and made this compote. It's beautiful, bright, red and perfect for Valentine's Day, and adds a great variety at the breakfast table if you can't decide between this or maple syrup.
Choose this one. Trust me. Or both. I'm not judging.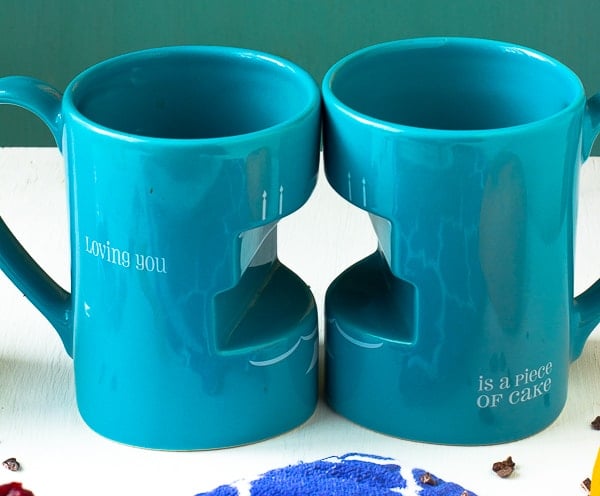 P.S. aren't these mugs the cutest? My best friend got them for myself and the Mr. He seems to really be into it!
I do hope you not only try these vegan peanut butter pancakes, but enjoy your Valentine's Day! As a kid I celebrated it every year, buying gifts for my parents (or at least I was convinced dad buying a gift on my behalf for mom was the same thing) but it taught me that it's about LOVE in general, so celebrate it with someone you love! I'm going to go now, before I start to sob all over this post.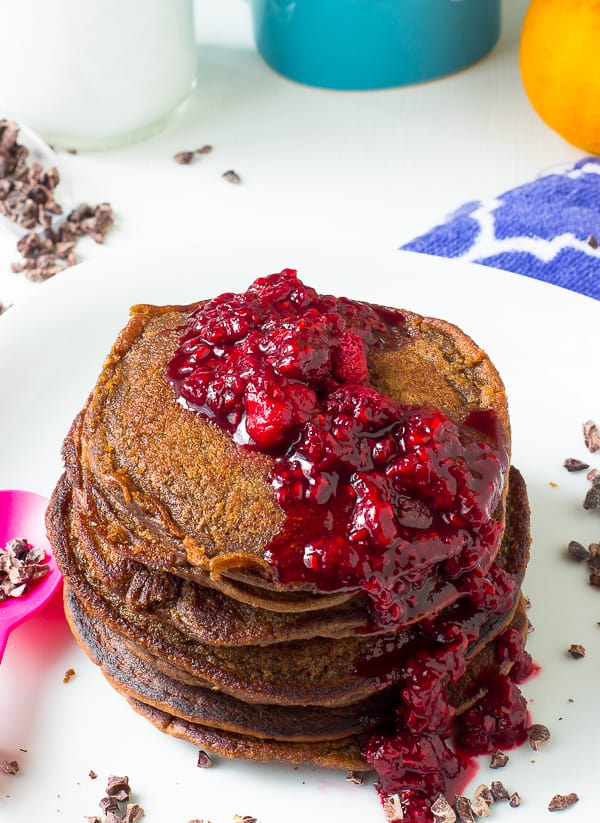 If you give these Chocolate Peanut Butter Blender Pancakes a try, please let me know in the comment section below, or tag me on instagram with the hashtag #jessicainthekitchen!
RELATED RECIPES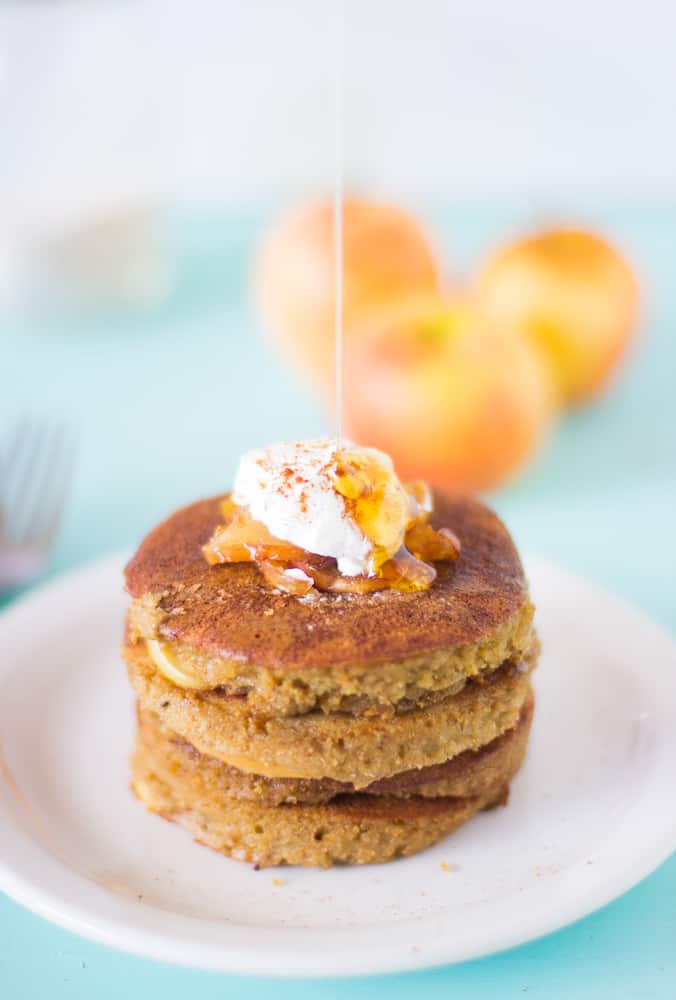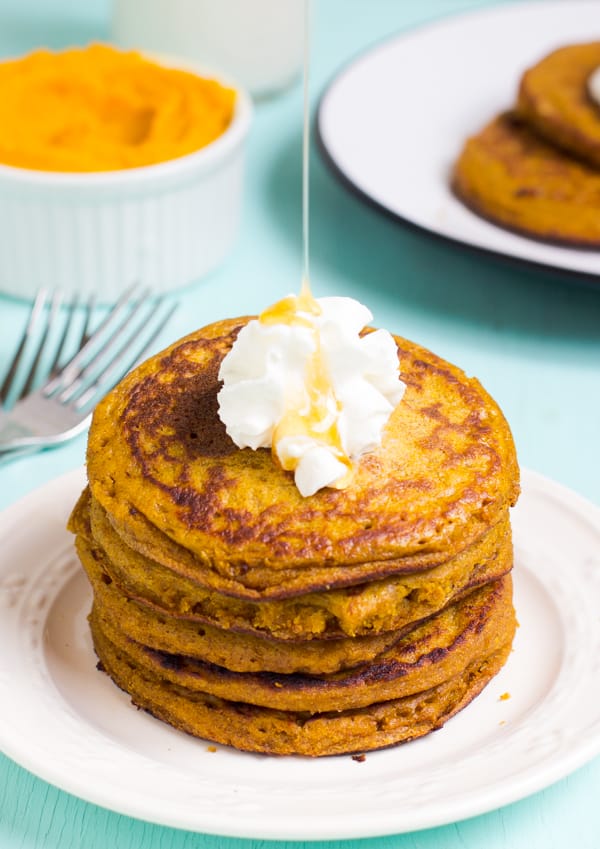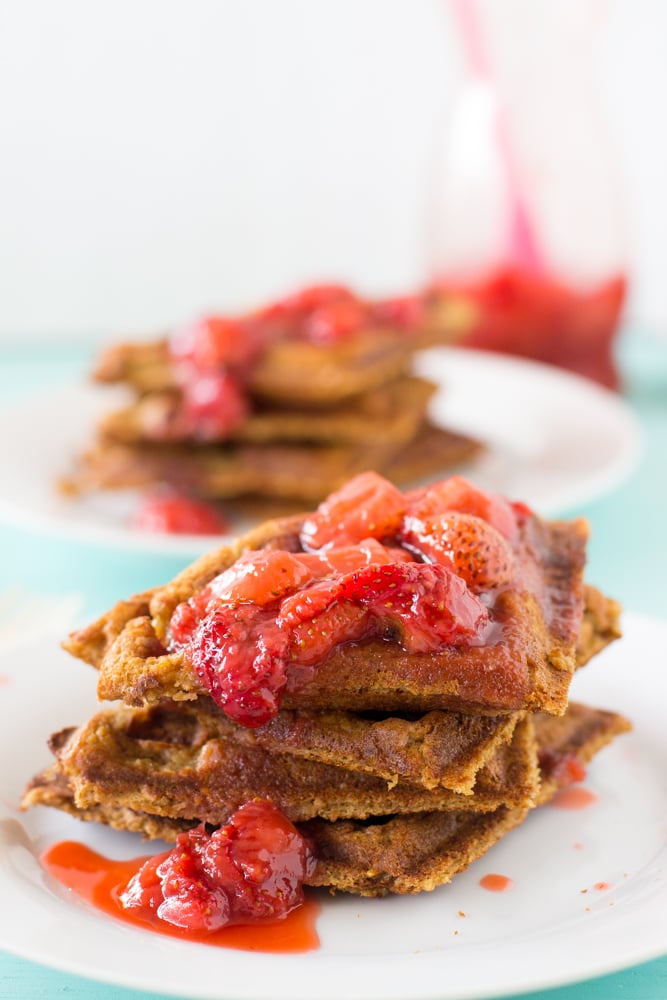 Peanut Butter and Strawberry Jelly Compote Waffles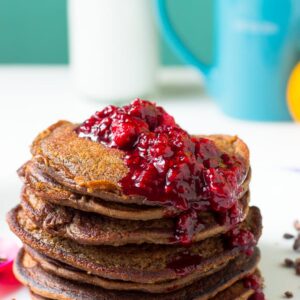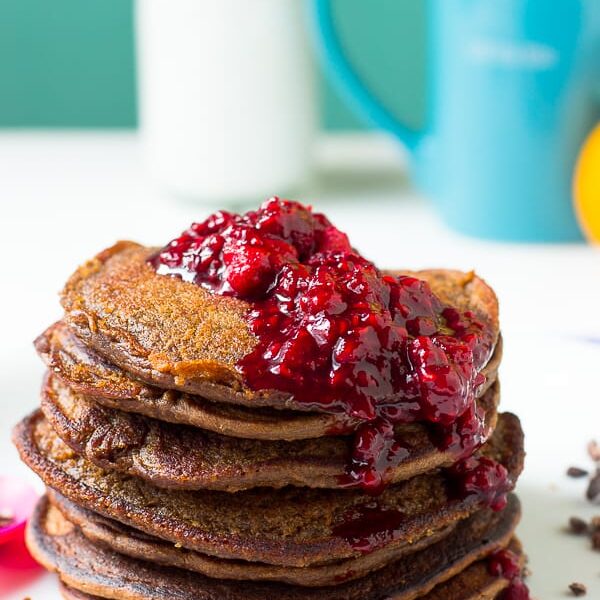 Chocolate Peanut Butter Pancakes
These Vegan Chocolate Peanut Butter pancakes are healthy pancakes made in a blender and done in just 30 minutes! It's gluten free, vegan and topped with a delicious raspberry compote.
Ingredients
1 1/4 cup oat flour
1 tsp baking powder
1/2 tsp baking soda
2 tablespoons cocoa powder
1/2 teaspoon salt
1 small banana, about or less than 1/4 cup if it was mashed
1 1/2 tablespoons maple syrup
1 cup almond milk
1 1/2 tablespoons peanut butter
1 teaspoon cinnamon
1/4 teaspoon nutmeg
Raspberry Compote:
1 1/2 cup raspberries
3 teaspoons lemon juice
3 tablespoons maple syrup
Instructions
Raspberry Compote
This can be made while the pancakes are being made or in advance.

In a pan over high heat, add all the ingredients for the compote, stirring with a wooden spoon or spatula. Allow to come to a boil, then reduce to medium heat, simmering for about 10 minutes, stirring often. When reduced to your liking, remove from heat and place in an ice bath or freezer to stop cooking for about 3 minutes. Pour from pan into a container to store it in, or straight over pancakes if serving all.
Pancakes
In a blender add the oat flour, baking powder, baking soda, salt and cocoa powder and blend for about a few seconds to combine.

Add the remaining pancake ingredients and blend until just combined. Scrape down the sides to ensure that all the ingredients are mixed in.

Heat a griddle pan or a cast iron skillet over medium heat and grease with oil or cooking spray.

Scoop 1/4 cup worth of batter out of the blender for one pancake and then until the griddle. Wait until bubbles start to form and then flip, after about 2-3 minutes. Ensure Cook for about 3 more minutes until batter is cooked through. Repeat for the other pancakes.

Serve pancakes hot and drizzle with raspberry compote on top.
Notes
Freezer Friendly Tips: These pancakes freeze well. Put in a tupperware container and separate each pancake with wax paper. The Raspberry Compote stores well in a sealed container for at least 3 days. These Chocolate Peanut Butter pancakes are made in a blender and done in just 30 minutes! It's gluten free, vegan and topped with a delicious raspberry compote.
Calories: 180kcal, Carbohydrates: 32g, Protein: 5g, Fat: 5g, Saturated Fat: 1g, Sodium: 394mg, Potassium: 252mg, Fiber: 4g, Sugar: 12g, Vitamin A: 19IU, Vitamin C: 9mg, Calcium: 120mg, Iron: 1mg
Disclaimer: Although jessicainthekitchen.com attempts to provide accurate nutritional information, kindly note that these are only estimates. Nutritional information may be affected based on the product type, the brand that was purchased, and in other unforeseeable ways. Jessicainthekitchen.com will not be held liable for any loss or damage resulting for your reliance on nutritional information. If you need to follow a specific caloric regimen, please consult your doctor first.