Caprese Sandwich with Parsley Pesto
This vegan Caprese Sandwich layers thick slices of fresh tomato with herbaceous parsley pesto and creamy plant-based mozzarella, all on a crusty bread. The perfect summer lunch!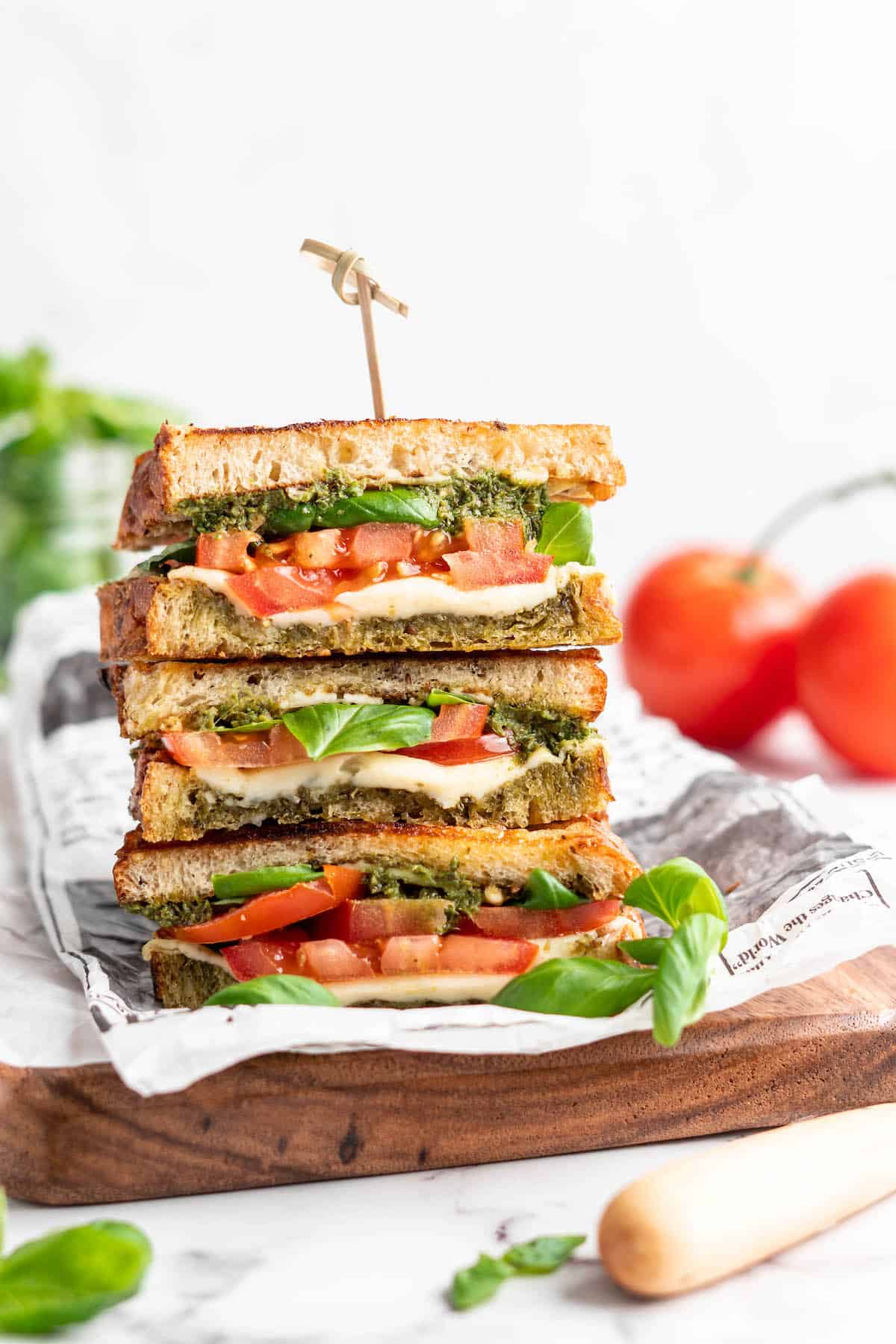 There's a time and a place for an over-the-top sandwich piled high with toppings, and there's also a time to keep it simple. This vegan Caprese sandwich is an example of the latter—it's full of big, bold, bright flavours, but you don't need eleventy-billion different ingredients to achieve that. All you need are tomatoes, pesto, vegan mozzarella, and bread!
Traditionally, Caprese is an Italian salad made with fresh mozzarella, tomatoes, and basil, then drizzled with olive oil. If you like to stick with tradition, you can layer your sandwich with basil leaves or basil pesto, but I highly recommend breaking with tradition and trying parsley pesto instead. It's nutty, garlicky, and brings a bright herbal note to the table.
Also not traditional? The vegan mozzarella.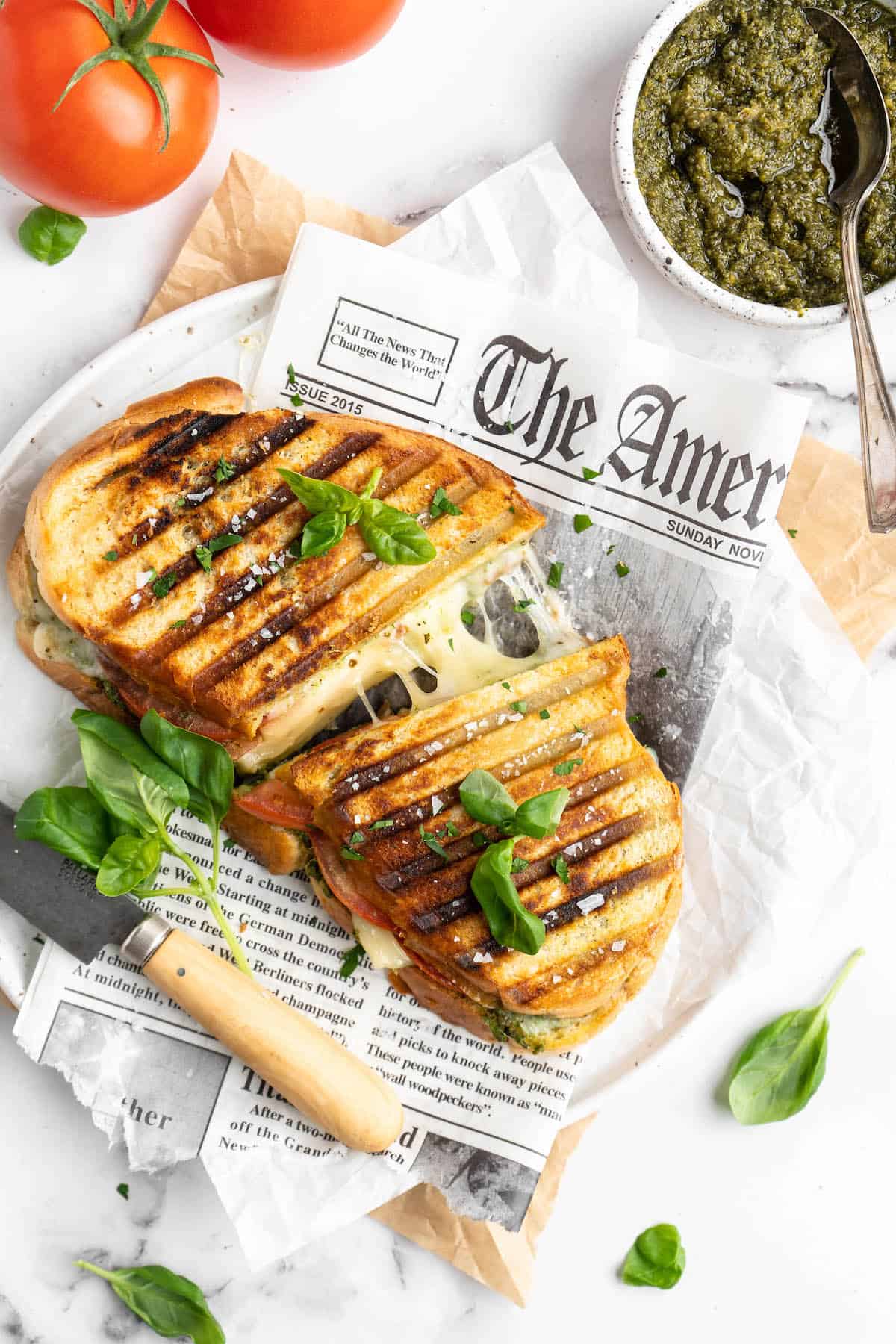 Is Vegan Mozzarella Any Good?
If you've been vegan for a while, you know that in recent years, plant-based cheese makers have upped their game in a big way. Today's vegan mozzarella is creamy, milky, and has a stretchy texture very much like a dairy mozzarella.
In this recipe, I used slices of vegan mozzarella, but if you can't find them locally, you can use more readily-available mozzarella shreds instead, or substitute slabs of homemade tofu feta.
If you're especially lucky, your grocery store might sell balls of cashew milk mozzarella, which mimic the flavour and texture of fresh mozzarella. This type of vegan mozzarella is especially good on a Caprese sandwich!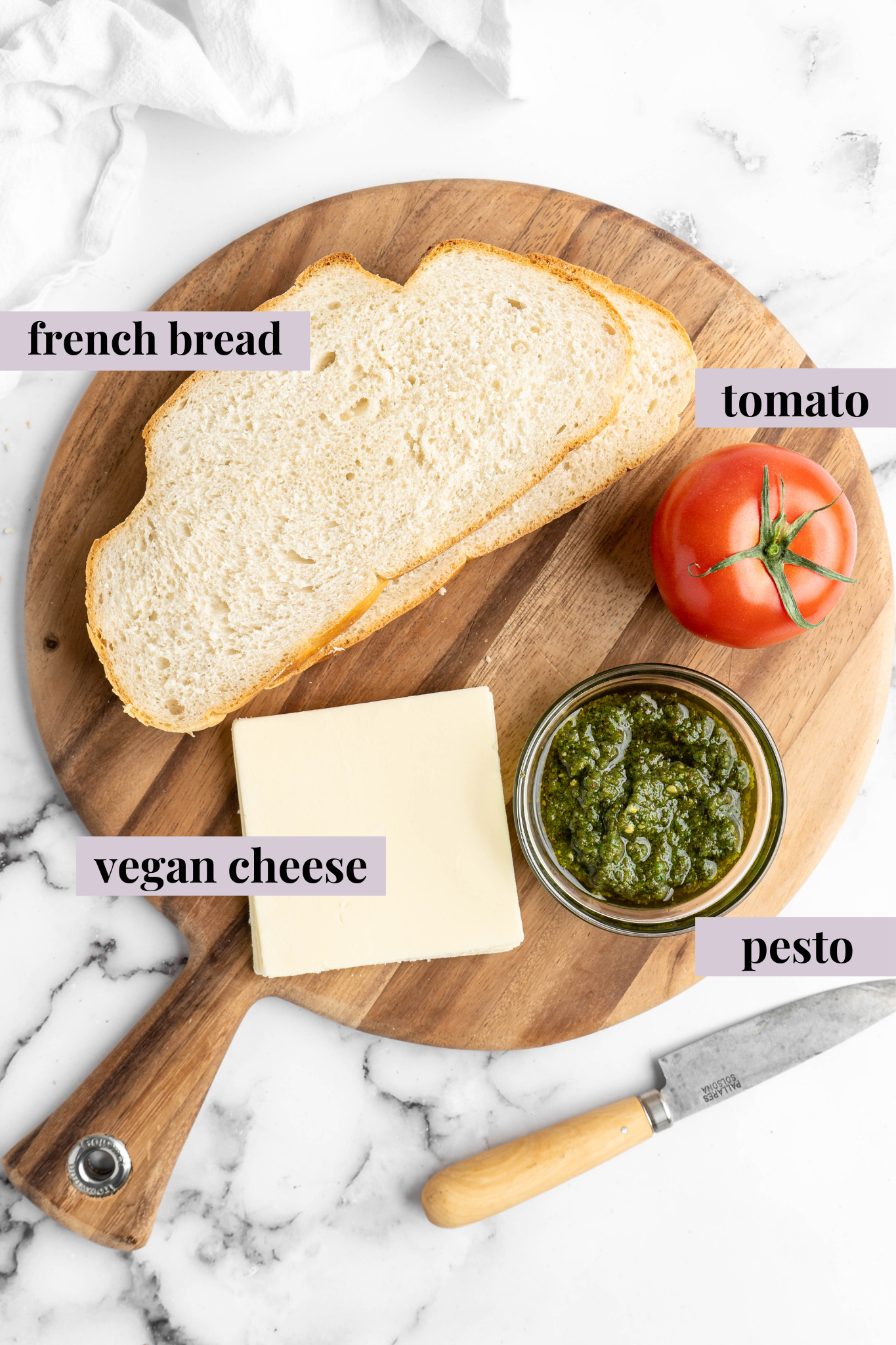 Notes on Ingredients
Please note that this is important information on the ingredients and instructions and the FULL recipe with amounts and details can be found DOWN BELOW (scroll to it) in the recipe card.
French bread
Tomato – Choose a medium tomato that fits the width of your bread without a lot of overhang. Heirloom tomatoes are great for this recipe!
Vegan mozzarella cheese slices
Parsley pesto – Make my parsley pesto recipe, or you can substitute another vegan pesto that you enjoy.
Are Roma tomatoes good for sandwiches?
Yes, Roma tomatoes are good for sandwiches because they tend to have fewer seeds and less liquid than many other tomato varieties. While many people know Romas as the go-to tomato for making sauce, they're perfect for sandwiches too!
How to Make a Vegan Caprese Sandwich
Although these instructions are for a warm caprese sandwich, you can also serve this cold and skip the panini press!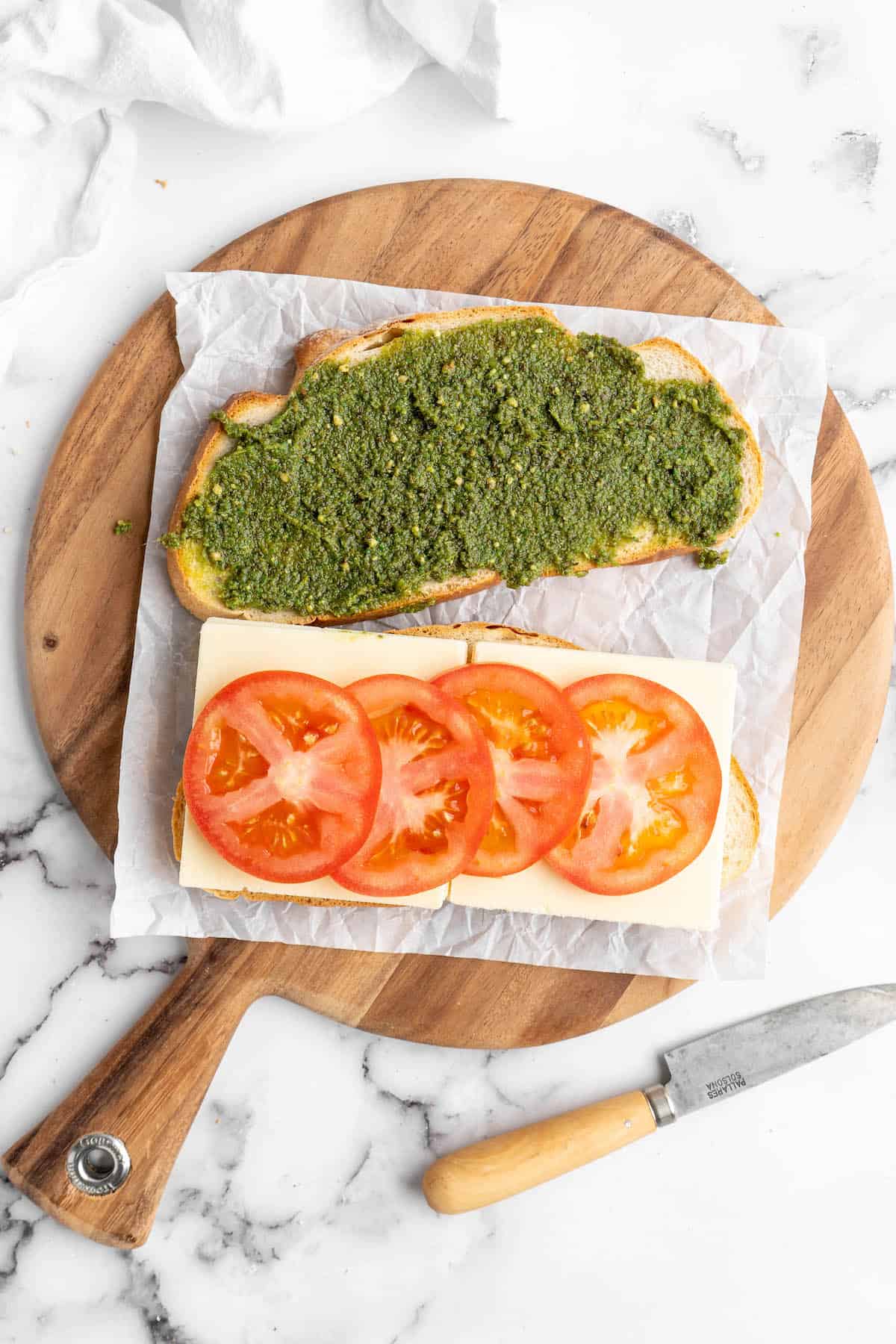 Assemble. Layer the mozzarella and tomato slices on one slice of bread, then spread the pesto onto another. Place the slice with the pesto on top, with the pesto side facing in.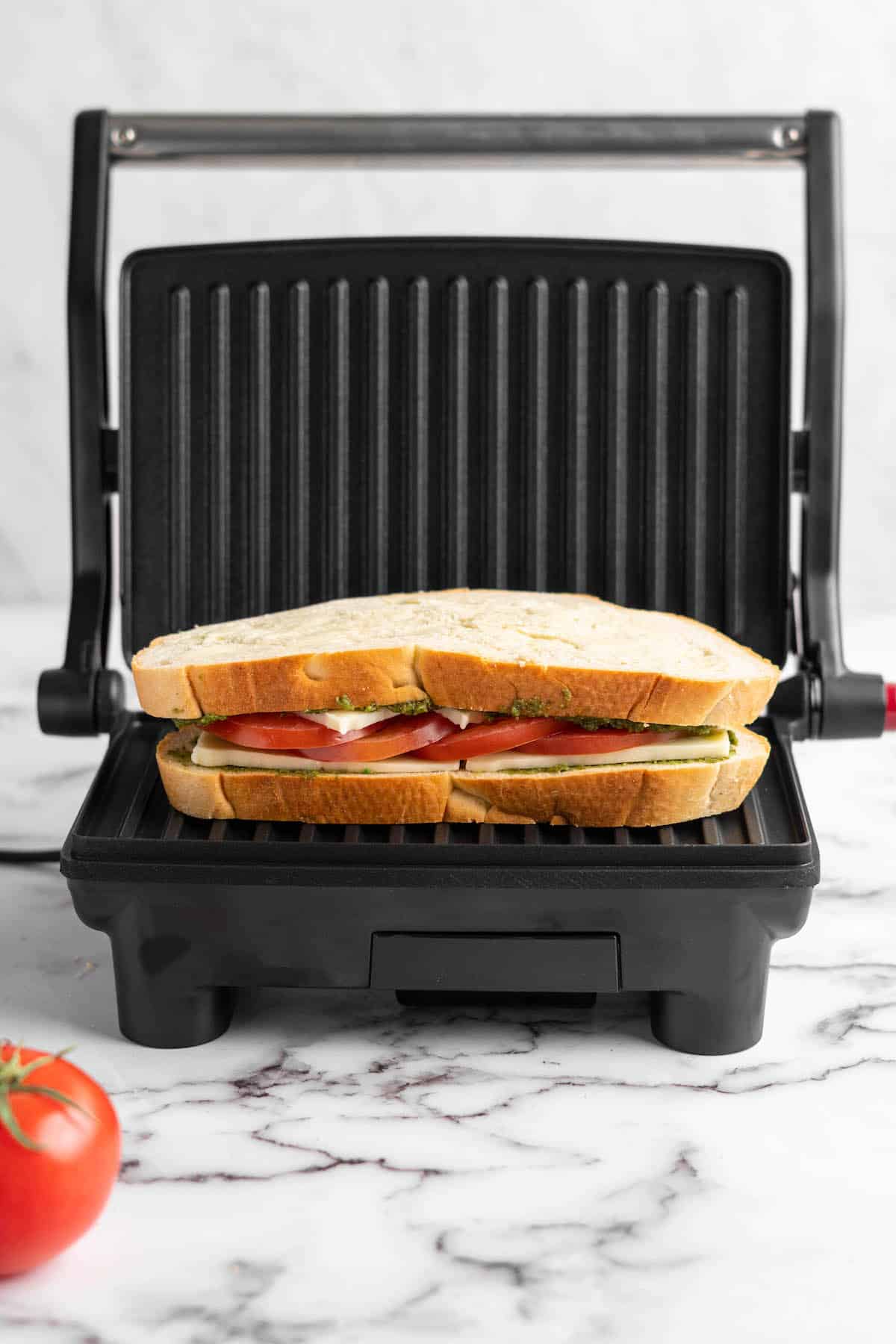 Cook. Place the sandwich on a panini press and cook on medium for about 5 minutes, or until the bread is toasty and the cheese has melted.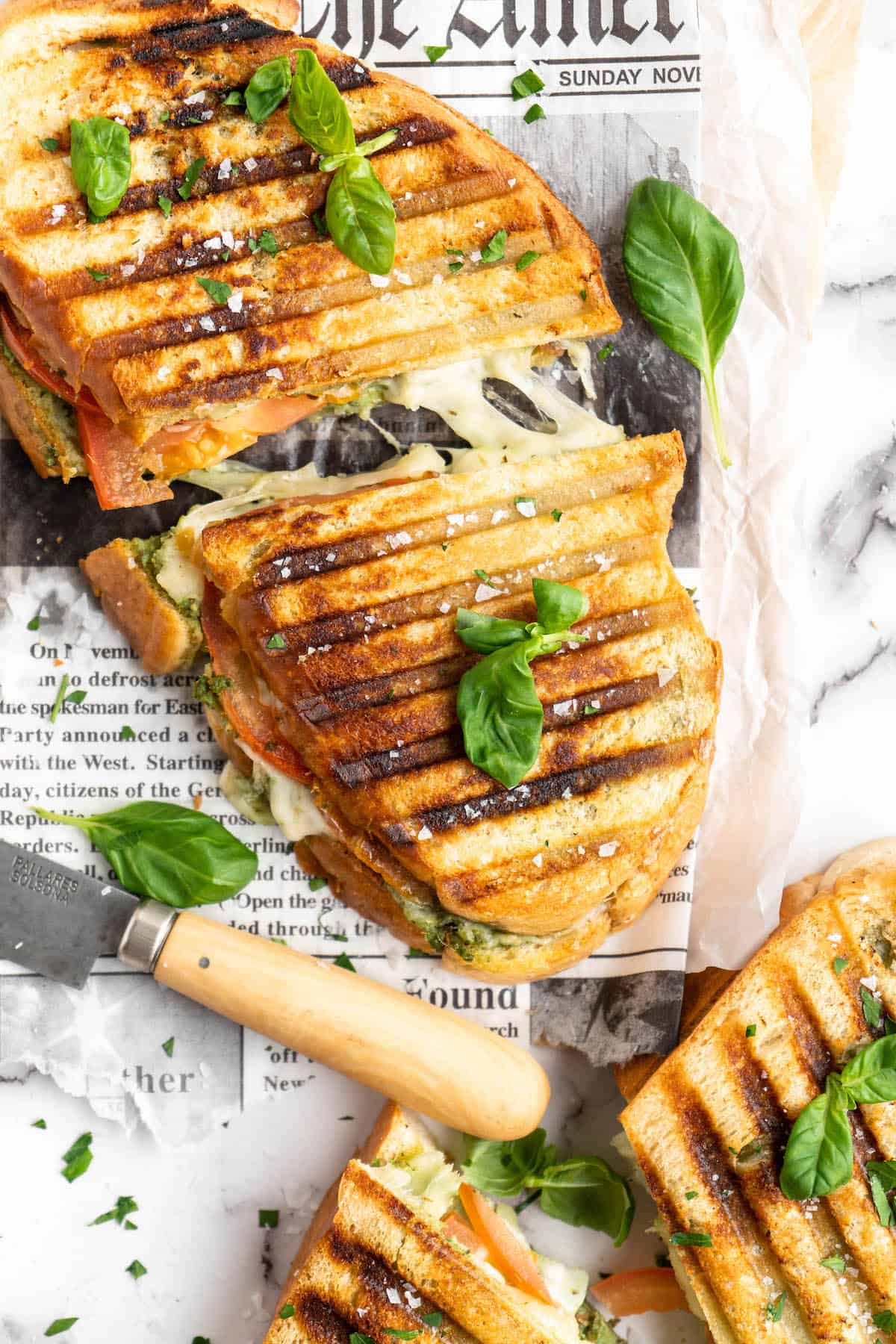 Serve. Remove the sandwich from the panini press, then cut it in half before serving.
Do You Butter Bread for the Panini Press?
You can spread vegan butter (or oil) on the outside of your sandwich before placing it in the panini press for a crispier exterior, but it's not necessary.
Tips for Success
Here are some hints and tips for a perfect sandwich!
No panini press? No worries! You can cook the sandwich on a griddle or in a skillet, then place a smaller skillet on top to press it down.
A note on the bread. French bread isn't the same as a baguette; while both are crusty, a baguette is much crispier on the outside and not well-suited for making a panini.
Making it your own. You can substitute the fresh tomatoes for sun-dried or roasted tomatoes, or if you're not a tomato fan, you can use roasted red peppers.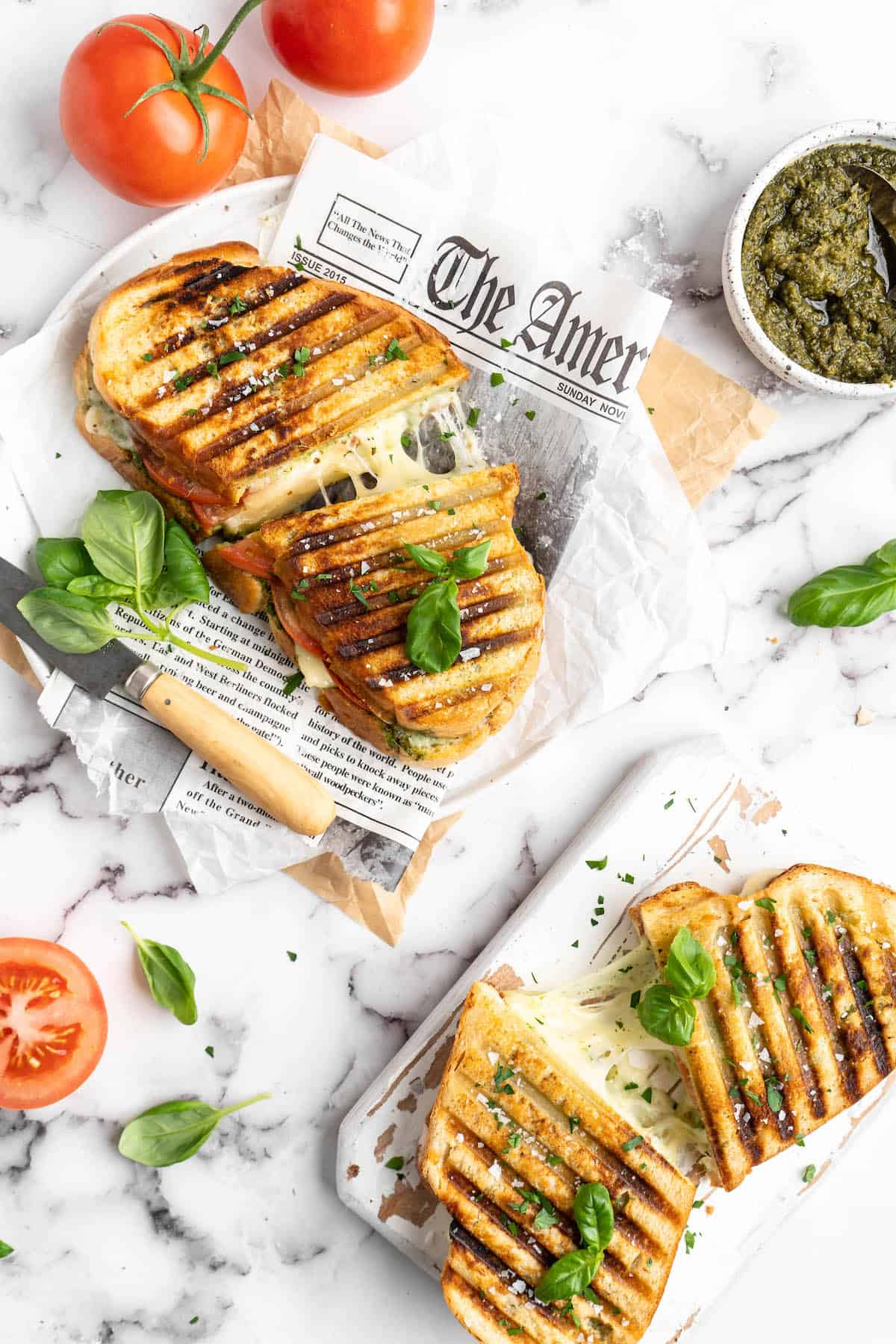 How to Store Leftovers
You can store any leftover sandwiches wrapped in the refrigerator for about 2 days. Reheat them in a 350ºF oven until they're warmed through. (The microwave will work too, but an oven will restore some of the sandwich's crispiness.)
Can This Recipe Be Frozen?
This recipe isn't ideal for freezing; after freezing and thawing, the tomatoes will release a lot of liquid into the bread, resulting in a mushy sandwich. If you're looking for a freezer-friendly lunch idea, try my vegan burritos instead!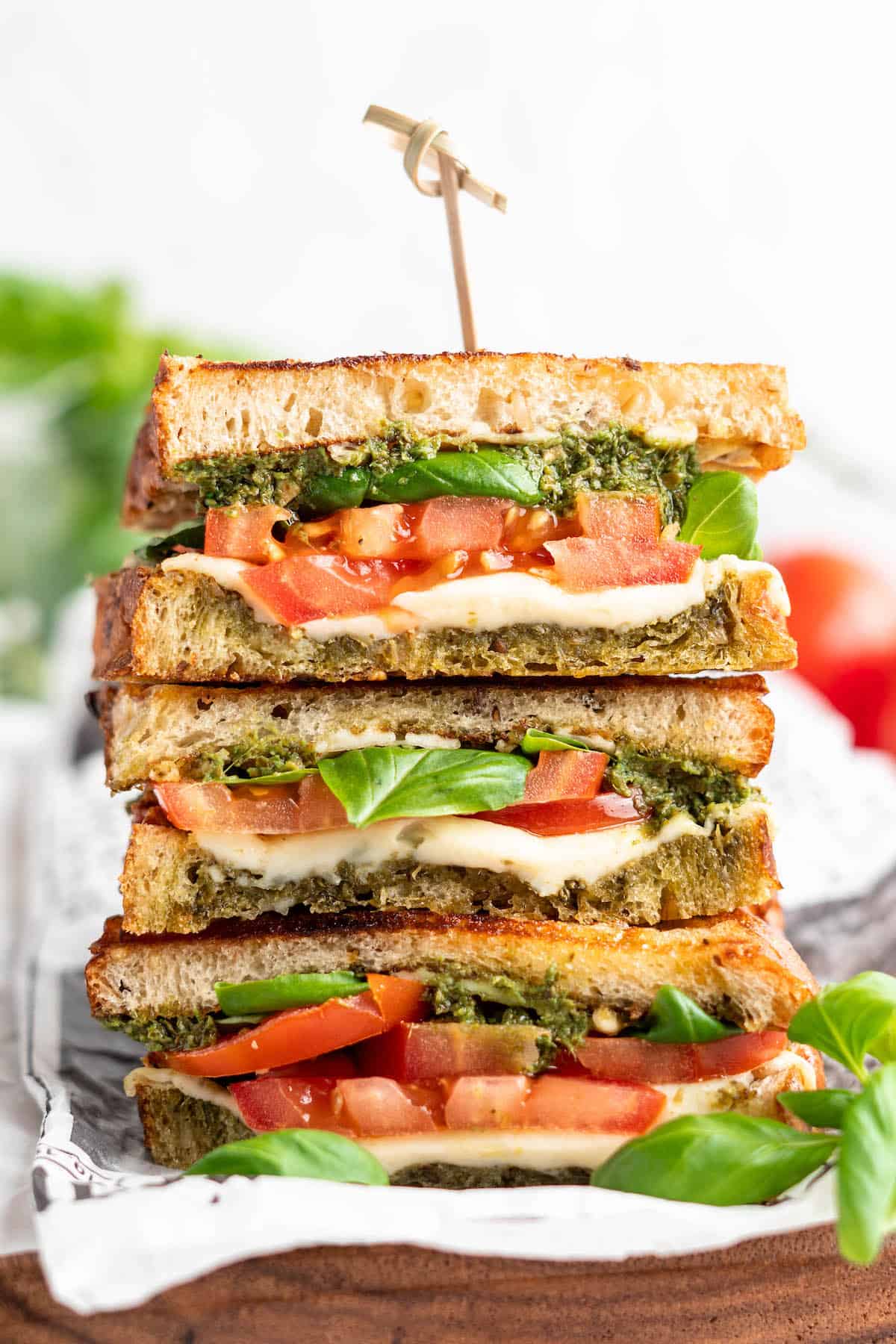 Enjoy friends! If you make this vegan Caprese Sandwich recipe, please snap a photo and tag #jessicainthekitchen on Instagram! We'd also love it if you would leave a comment below, and give the recipe a rating! Thanks so much!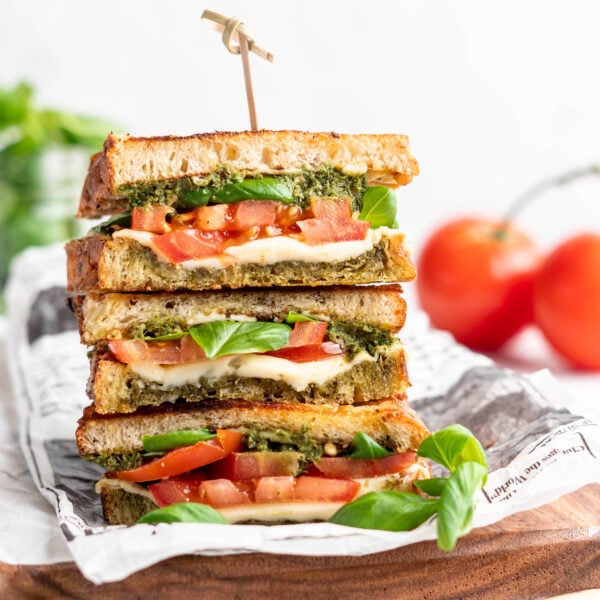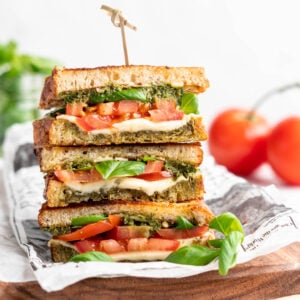 Caprese Sandwich with Parsley Pesto
This toasty vegan caprese sandwich is quite possibly the perfect plant-based lunch!
Ingredients
2 slices French bread, gluten free if you're gluten free
1 medium tomato, sliced
3 slices vegan mozzarella cheese, halved
3 tablespoons Parsley Pesto
Instructions
Layer the mozzarella cheese slices and tomato slices along the bottom of the sandwich.

Spread the parsley pesto on the top of the sandwich. Press the sandwich closed. Toast in a panini machine on medium for about 5 minutes, until crispy and cheese is melted.

Remove, cut in half and enjoy!
Notes
This would also taste amazing with my basil pesto and my cashew pea pesto!
How to store: Store leftover sandwiches wrapped in the refrigerator for about 2 days. Reheat them in a 350ºF oven until they're warmed through.
Calories: 737kcal, Carbohydrates: 90g, Protein: 19g, Fat: 33g, Saturated Fat: 8g, Polyunsaturated Fat: 1g, Monounsaturated Fat: 1g, Cholesterol: 4mg, Sodium: 1797mg, Potassium: 441mg, Fiber: 7g, Sugar: 11g, Vitamin A: 1932IU, Vitamin C: 17mg, Calcium: 194mg, Iron: 6mg
Disclaimer: Although jessicainthekitchen.com attempts to provide accurate nutritional information, kindly note that these are only estimates. Nutritional information may be affected based on the product type, the brand that was purchased, and in other unforeseeable ways. Jessicainthekitchen.com will not be held liable for any loss or damage resulting for your reliance on nutritional information. If you need to follow a specific caloric regimen, please consult your doctor first.