Baked Eggs with Parmesan, Spinach and Tomatoes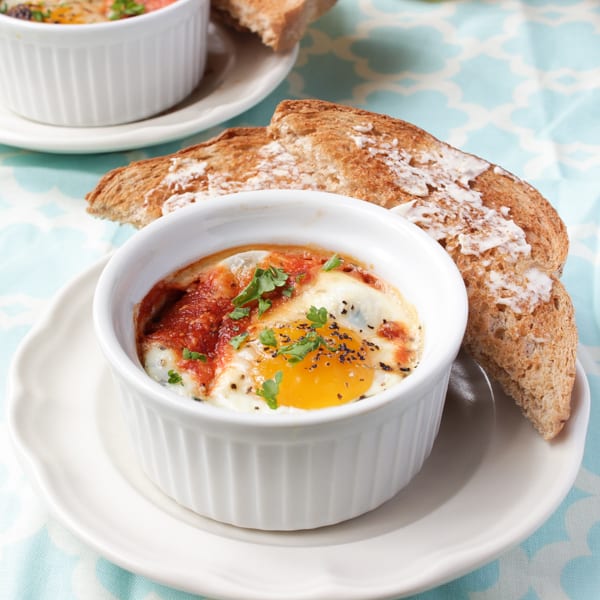 They say breakfast is the most important meal of the day. Not only do I agree with this statement, but it's my favourite meal of the day. Though I do admit that sometimes in the rush the only thing that can be afforded is a quick scarfing down of cereal (I love Special K), breakfast has the ability to set the tone of your entire day. For me, a delicious, prepared homemade breakfast calms me down for the day ahead and helps me to make better decisions. Something like this breakfast of the champions (go Seahawks! A team I picked last night whilst watching the game) of Baked Eggs with Parmesan, Spinach and Tomatoes was a staple for my daily breakfast for one entire summer. I lived, breathed and consistently ate this dish every day until I had to take a small break from it, although I didn't want to. It's just that good!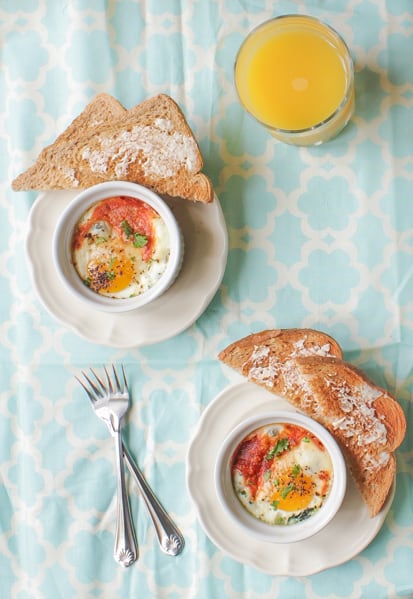 There is something about baked eggs that is much more enticing than regularly cooked eggs. Firstly, I think once we take time to put our meal together, we appreciate it more. Secondly, the baking process allows you to experience the flavours of an egg without oil to fry it, without butter to scramble it, and without water to poach it. Just the pure egg, mixed into delicious cream spinach that is found on the bottom, and a nice sprinkling of cheese and tomato sauce. While I said the tomato sauce is optional, I highly recommend it. Eggs are a staple group that seem to be able to be dressed up with anything and still be delicious. The tomatoes add a hint of the classic huevos rancheros to this meal (another meal to try!) and makes it easy to turn this into a brunch idea. It might not look like a lot, but one dish fills you up, unfortunately for me who tried to justify eating the other one too but I was just too full to. And with the dawn of Valentine's Day upon us, your spouse of significant other will be happy of that fact. This is such a great breakfast in bed option because the mess is actually extremely easy to control, and very portable. While I'm usually not a huge fan of garnish, I love parsley or basil as a garnish here because it just adds another layer of freshness to the dish. Gives this dish a try, you'll probably fall in love like I did!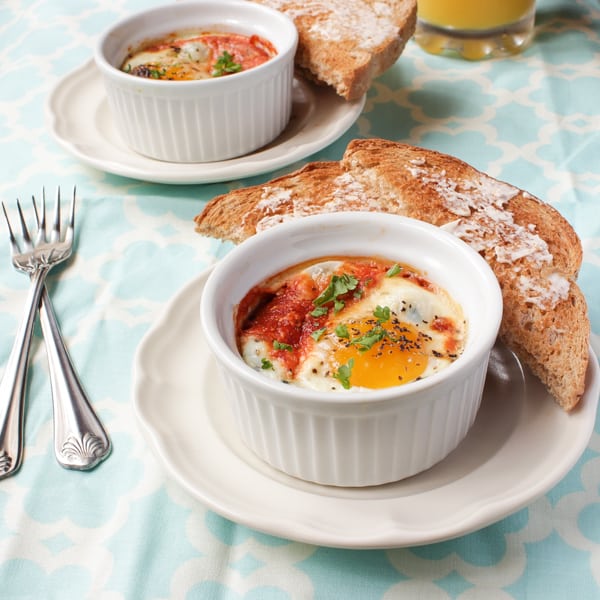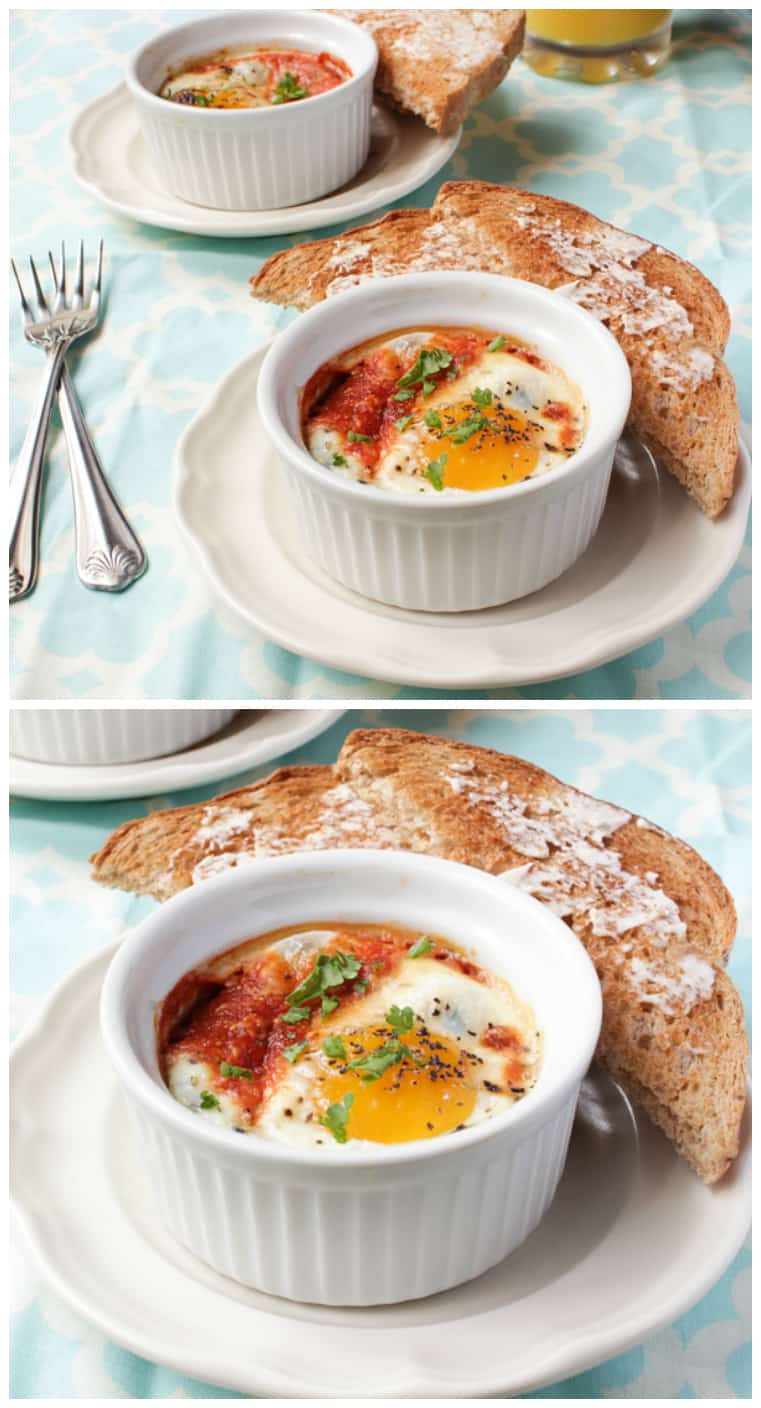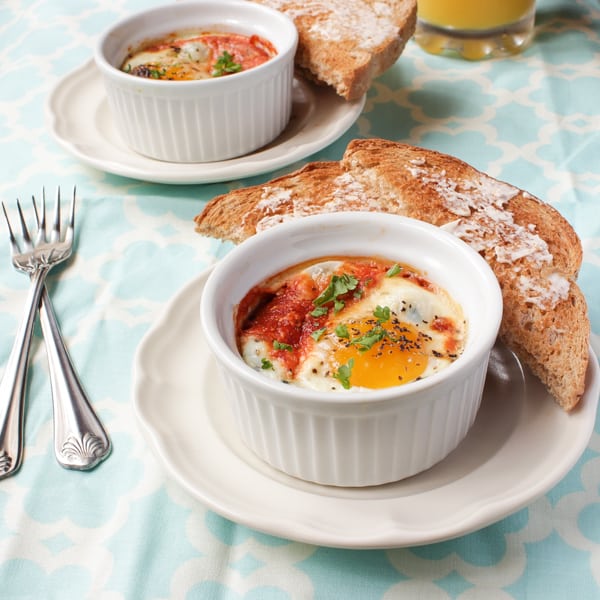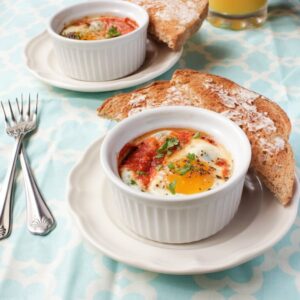 Baked Eggs with Parmesan, Spinach and Tomatoes
There is something about baked eggs that is much more enticing than regularly cooked eggs. This easy egg cups are so delicious and so easy!
Ingredients
2 eggs
1/2 cup spinach, washed
4 tablespoons milk or heavy cream
1 teaspoon vegan grated parmesan cheese
1 teaspoon tomato or marinara sauce, optional
1/2 teaspoon salt
1/2 teaspoon pepper
Parsley, to garnish
Two slices of toast, buttered
Instructions
Preheat oven to 350 degrees F.

Place washed spinach in a pan over medium high heat with 2 tablespoons of the milk/cream and swirl together until heated and the spinach begins to wilt with heat while absorbing the milk. Cream for about 3 minutes and remove from stove. NOTE: This can be done ahead in large quantities and reduces the preparation time to about 3 minutes.

Divide the spinach equally between two ramekins.

Crack an egg into each ramekin.

Add a tablespoon each of milk to each egg, to the side of the yolk (for added creaminess similar to a scrambled egg)

Season the egg with salt and pepper.

Add a swirl of the tomato sauce, dividing equally between each ramekin.

Sprinkle with a 1/2 teaspoon of parmesan cheese each.

Bake for 15 minutes for a slightly runny yolk, and up to 18 minutes for a mostly hard yolk.

Top with parsley to garnish and serve alongside toast.
Calories: 162kcal, Carbohydrates: 16g, Protein: 10g, Fat: 6g, Saturated Fat: 2g, Cholesterol: 167mg, Sodium: 829mg, Potassium: 193mg, Fiber: 1g, Sugar: 4g, Vitamin A: 989IU, Vitamin C: 2mg, Calcium: 111mg, Iron: 2mg
Disclaimer: Although jessicainthekitchen.com attempts to provide accurate nutritional information, kindly note that these are only estimates. Nutritional information may be affected based on the product type, the brand that was purchased, and in other unforeseeable ways. Jessicainthekitchen.com will not be held liable for any loss or damage resulting for your reliance on nutritional information. If you need to follow a specific caloric regimen, please consult your doctor first.